I have a number of favorite places in the world.  All for different reasons.  Utah is one of them for its beauty and diversity of landscape.  It is simply amazing and I highly encourage all my friends to visit it.
We spent a week in Utah with Uly, Xandra, and Gene.  This is the second time that Trin and I have visited Utah and the first time for the rest of the group.  Uly, Trin's brother, and his wife Xandra have provided a home base for us during our nomadic life. We have been staying in their Phoenix home for over a month and we love our evenings of laughter with them. They are happy and easy-going, never once have they made us feel uncomfortable in their home.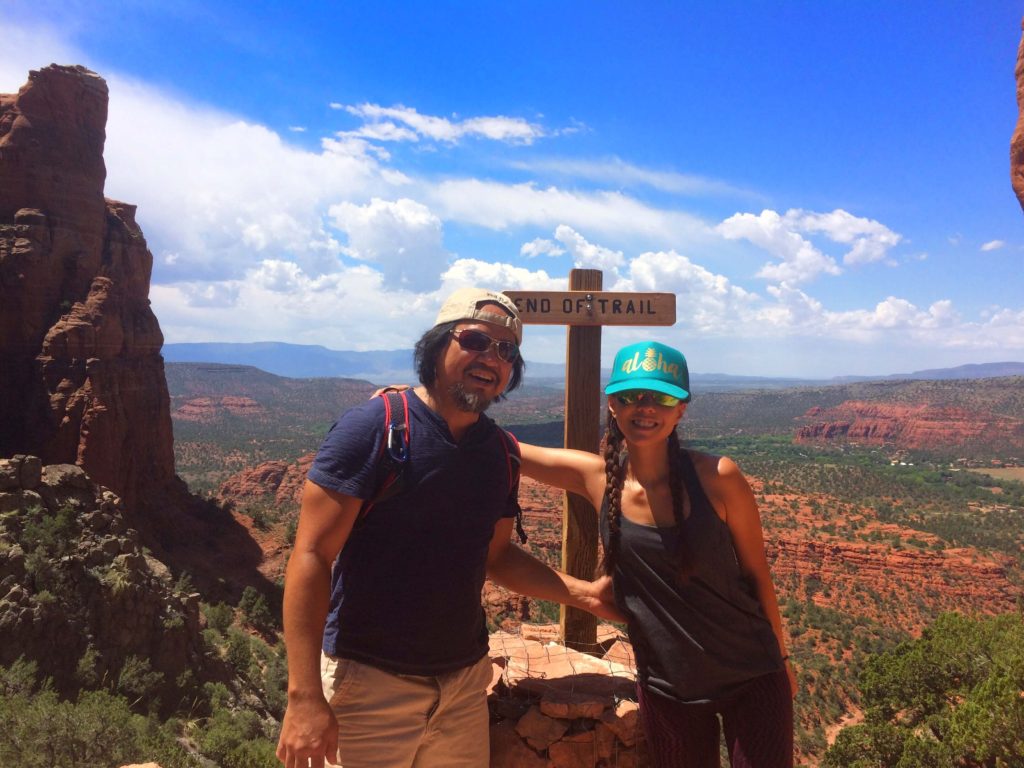 We spent many days lounging at their pool and hanging out with their adorable Boston Terrier named Coco.  I am going to miss this dog when the time comes for us to move on.
Uly and Xandra are great cooks and we have increasing waste lines to prove it.  Uly cranks out some insane steak and seafood dinners out of his grill while Xandra cooks amazing meals and bakes decadent desserts.  We have been so spoiled by them so much that we might just stay here forever.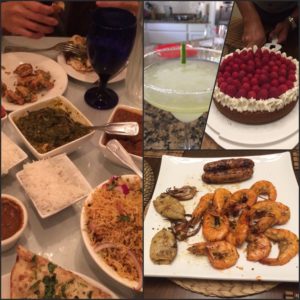 We drove out to Las Vegas in the good ole' Subie Outback to meet up with Gene who flew in from Raleigh.  Gene is a realtor extraordinaire who helped us buy some properties in North Carolina and he has been a good friend ever since.  We've hung out with him and have also gone backpacking with him.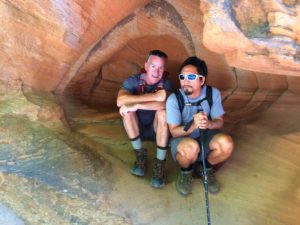 From Las Vegas, we headed towards Utah in an RV that we rented from Road Bear RV Rentals. We got a 25-footer that sleeps five.  It was a 2016 model with only about 12K miles on the odometer.  This was the first RV experience for all of us and it was a blast.  I highly recommend Road Bear RV.
ZION NATIONAL PARK
The first stop was Zion National Park.  We arrived at the park late so we only had time for a quick hike to the emerald pools.  The guys got a huge kick out of the warning signs for the slippery rocks, they are trying to emulate it here: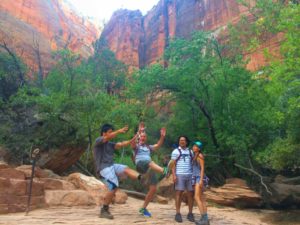 ANGELS LANDING
The next morning we headed up to Angels Landing.  In my opinion, this is one of the two top hikes in the park. It is best to start super early. The first time we did this hike back in 2012 we started at 5 AM.  It is nice to have some cooler temperatures when climbing Walter's Wiggles.  This 5-mile round trip hike gains 1,488 feet in elevation and provides a spectacular view of the canyon from the top.
The last part of the hike is very narrow and sports dramatic drop-offs of a few thousand feet.  There are chains to hang onto for a little peace of mind, but there were a few hikers who only went to the first viewpoint and did not risk the chains.  We hung out at the top for a while just drinking in the beauty.  I have never seen anything man-made that can even come close to the beauty of nature.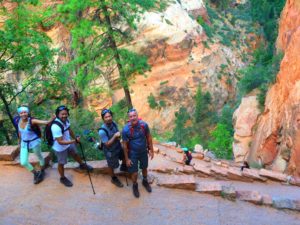 After we've had our fill of the beauty of the Zion valley we hiked back down and caught the shuttle back to the visitor center at the beginning of the park.  Zion has implemented a shuttle system to take visitors all over the park.  It's a great idea. It keeps traffic down and makes it very easy to get from trailhead to trailhead.   Wait time for shuttles is normally less than 7 minutes.
THE NARROWS
We ate a quick lunch back at the RV then hopped back on the shuttle to ride to the end of the park and hike The Narrows.
En route to The Narrows trailhead, Xandra and Uly caught some shut-eye.
The Narrows is also on my list for the top two Zion hikes. The first mile of the hike is paved and follows the Virgin River up a canyon that gradually narrows.   At the end of the pavement, it is time to get your feet wet.  Most sections on this hike are not on dry ground. The creek touches both sides of the canyon wall and it is stunning.  Thankfully the water was not too cold and the air temperature felt perfect.  It is best to wear close-toed shoes that have good traction.  An old pair of sneakers works great.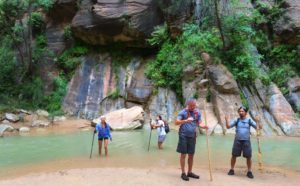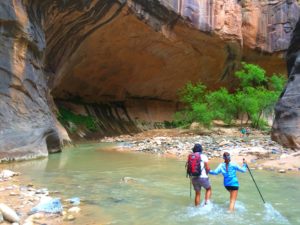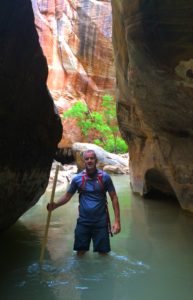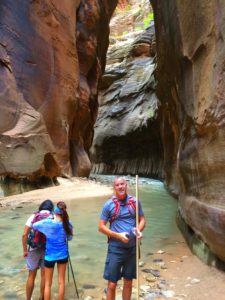 CAMPING IN UTAH
One of the awesome features of Utah that I really like is camping in areas owned by the BLM (Bureau of Land Management).   Visitors can camp free on BLM-owned land.  This is also known as dispersed camping.  This is my favorite kind of camping because generally the sites are in the middle of some beautiful spot of Utah with no one else around for miles.  I love the peace and beauty of these spots- plus it is FREE!
On the night after we did the Zion Park hikes, we found a spot off Route 9 on Sheep Bridge Rd.  After dinner, we stood outside the RV watching a thunderstorm that had settled over the narrows, now miles away.  It was beautiful to see the clouds light up.

BRYCE CANYON
Bryce Canyon also has a shuttle system.  It is best to park at the visitor center and just take the shuttle to all the viewpoints.  We ended up parking the huge (seemed huge on these roads) RV at a picnic spot in a campground in the park after driving around and realizing that we could not park anywhere.
The viewpoints in Bryce are stunning and often people describe its beauty as unique as if they were on Mars.  We hiked the Queens/Navajo loops that gave us an opportunity to hike down in the midst of some of these amazing hoodoos.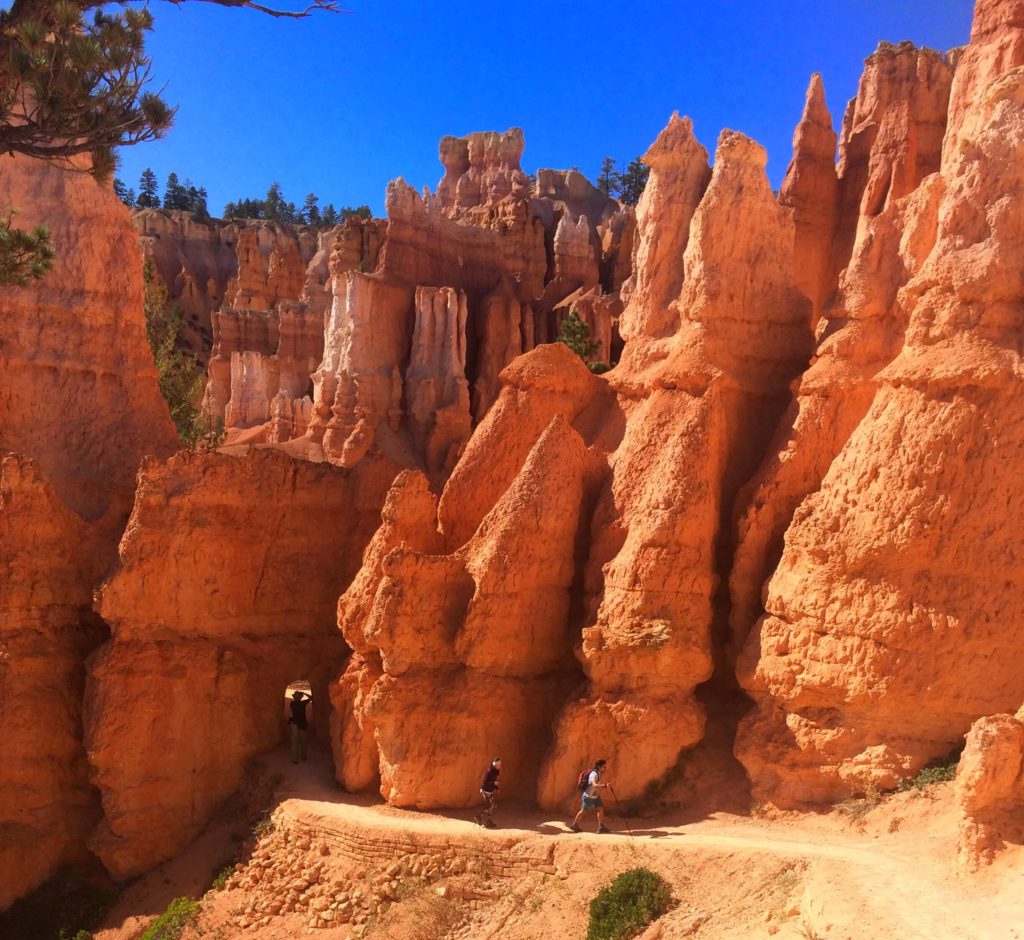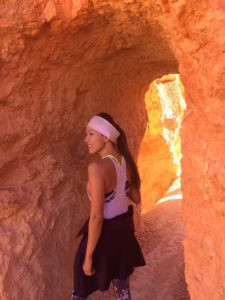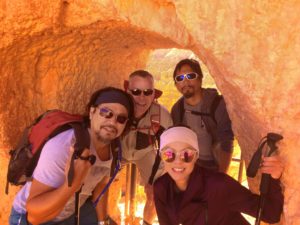 That evening we headed to the Hole in the Rock Rd to get as close to Spooky Gulch as we could.  Early in the morning, we heard what seemed like a huge pack of coyotes that started singing, all in different notes.  I loved it.
SPOOKY GULCH
Spooky Gulch is one of my favorite places in Utah (ok so I have a lot of favorites, I can't help it).   It provides access to three spectacular slot canyons.  We went to two of those on this trip.
We camped at the beginning of the Hole in the Rock Road and got up early and began our 26-mile drive down a dusty washboard road.  It was slow going but Trin is a great driver even if Gene reached for the dashboard a few times.  Thankfully it was quite scenic as well.  We parked at the beginning of Dry Fork road and walked a mile to the trailhead.
A short hike down a mild cliff and through some boulders brought us to the sandy bottom of Dry Fork.  Very shortly after that, we saw what appeared to be a crack in the canyon wall.  This is the opening of Peek-a-Boo canyon.  We climbed up the few feet into the start of the slot canyon.
Not only is this canyon narrow but it also has a few fun scrambles up rocks.  At times we had to push our backs against a wall while planting our feet on the opposite wall, trying to crawl our way up.  At the end, the canyon simply climbs up into the open.
We traced our way back to the Dry Fork bed and followed it towards Spooky Slot Canyon.
This canyon is even more narrow and required all of us to take off our packs and slide sideways between the walls in many spots.
We eventually reached the end of the canyon, took some pics, and turned right back around excited to go through it again.  At one point I heard Gene yell.  He was ahead of us all and we wondered what he found.   A moment later when I slid down the same winding rock and squeaked, he said, "Oh you found it."
We headed back all the way out of Hole in the Rock Rd and continued on a breathtaking scenic drive through the Grand Staircase Escalante National Monument.  Gene and I discussed many of the theories on how this all formed.  I don't believe it was gradual because gradual often produces smooth surfaces.  This landscape depicts something very dramatic.  I believe my creator is the original artist, and we are all just students.
We found another BLM camping spot for the night.  The weather was so nice that just opening the windows kept the RV at a cozy temperature.
At this point, we were running behind schedule and had to make the decision to skip Arches National Park.  Arches is a beautiful park.  My suggestion is to go around sunset to get great photos of the arches.  For this group, however, it will be a great excuse to come back to Utah sometime in the next few years.
MONUMENT VALLEY
In the morning we headed for Monument Valley through another spectacular drive.  The landscape continually changes.  The vast depth cannot be captured in photos.  Please visit Utah it is amazing.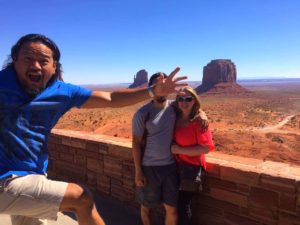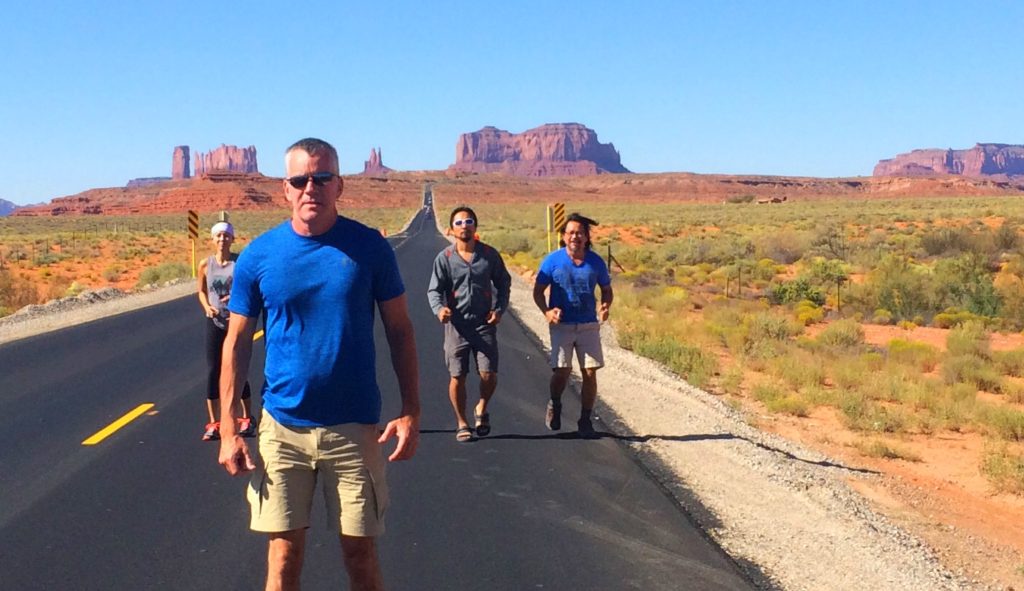 We were going to stop at Antelope Canyon but the crowds deterred us.  Instead, we went for a swim in Lake Powell.  Gene and I swam out further to the buoy and hit an outward current on our way back.  Made for some great exercise on a mostly driving day.
HORSESHOE BEND
We started heading back towards Las Vegas and did a quick stop at the horseshoe bend.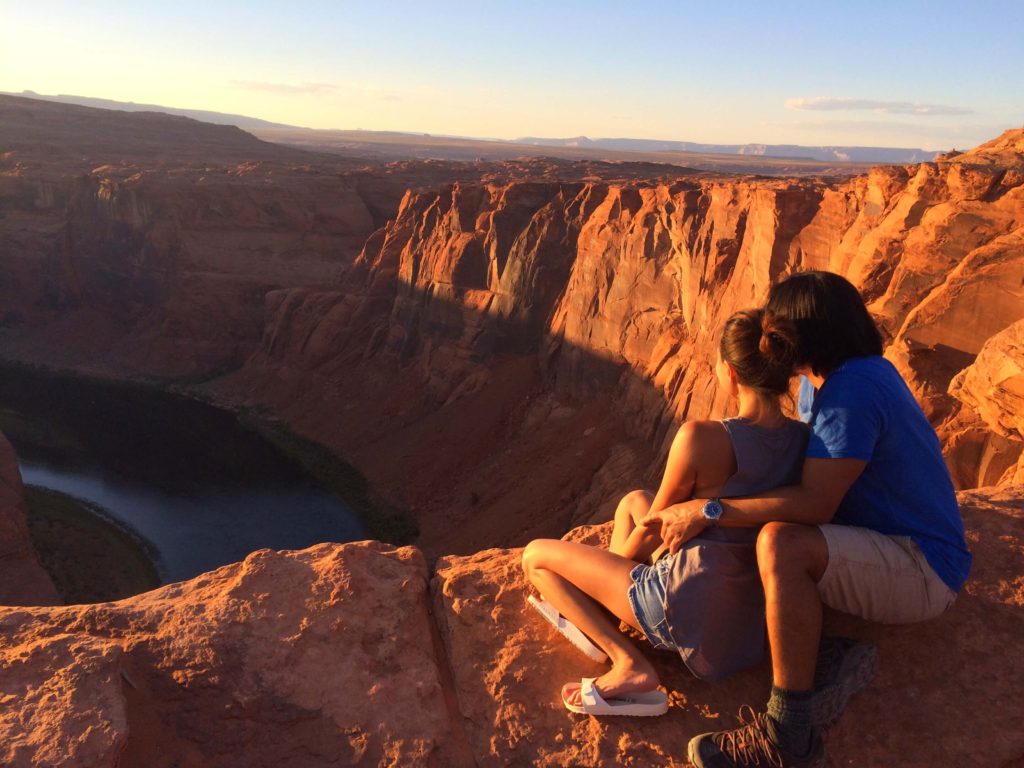 This was a long day for us and we got started looking for a BLM site a little too late.  It is best to start early as side roads that lead to camping spots are difficult to find – especially in an RV that does not stop quickly or U-turn well.  A couple of times we stopped to check out a possible spot.  It was already dark.  At one of the stops, Trin ran across the road to look at a turnoff and we saw him jump up and away from something that was on the road.  When he came back, he said he almost stepped on a snake.  He laughed nervously. He hates snakes!  Later he told me it was probably just a stick.
We ended up stopping at a BLM office to cook dinner but were not comfortable staying the night in this lot in the middle of town.
We trekked on and found a spot around midnight.   It was another awesome spot at a trailhead.  Since the moon was full and the landscape was amazing we decided to go for a quick hike before turning in for the night.
The next morning we drove back to Vegas and returned the RV.  We had some time before we needed to drop off Gene at the airport so we went to a Filipino restaurant to have lunch.
MEMORIES OF FRIENDS AND UTAH
This was a week I will remember when I'm old and can no longer get around, Utah bliss.  The key to such a beautiful memory is doing this with people whom you love.  Each night we set up camp pulled out a bottle of wine then talked and laughed and had a great time getting to know each other better.
Trin is the love of my life and I'm happy to be on this adventure with him.
Friends abound, but finding friends who truly listen is rare. Gene for me is one of these friends.  We can talk, not see each other for months then pick right up again.
Xandra and Uly make it so easy to hang around with.  They don't get upset and can laugh about any mishaps then move on.  Over the past month or so it has been a huge pleasure talking with Xandra and getting to know her.  She accepts people for who they are and loves them anyway.  I love these people!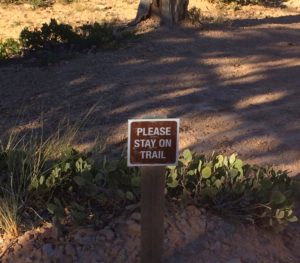 Maybe your next opportunity will be visiting a National Park?
---
Note: If you click on our product links, 43BlueDoors will receive a small commission on anything you purchase within that session- at no additional cost to you. 43BlueDoors donates all net proceeds to

support freedom for young girls

rescued from human trafficking.