It was nine months ago when Bonnie and I made the decision to sell everything and travel the world.  That was January of 2016.  We were still working in the corporate world.  We had a home and all the trappings of a comfortable life. It seems like ages ago.
Since then we've sold our house and all our belongings told everyone of our plans, and have been moving towards this goal.  We chose South and Central America as our starting point with Costa Rica as the first destination country.
LEAVING THE USA
The day finally came on October 3rd.  We said goodbye to Coco, Uly and Xandra's Boston Terrier, and put her in her cage.  I backed Xandra's Honda CRV out of their garage as Gwen Stefani was singing Don't Speak on the radio.  I could see that Bonnie was so sad to leave Coco.  It was 9:30 PM.
We drove out to I-10 toward the airport under the clear Phoenician night sky.  We were excited and nervous, with a slight sense of disbelief that this was finally happening.  I guess one could call it surreal but I've grown to loathe that word.
Oddly, the feeling was not the same as when we head out for a two-week vacation.  With this, there was a bit of trepidation which I believe was born out of a nagging thought that we forgot to take care of something and that something would rear its ugly head at the worst possible time.  With a two week vacation, you could take care of the issue when you come back.  This trip which has no end date is totally different.  But why worry about something you can't control.
Natasha Bedingfield was singing on the radio about reaching for something in the distance that is so close you can almost taste it, no one else can feel it for you, feel the rain on your skin.  I know, the song has been used in a shampoo commercial, and countless graduation ceremonies, and a show on MTV, but it's still a cool song.  Just wait, it will be playing on repeat in your head for a couple of hours after this.
There we were cruising along, and I was thinking, wow, even the radio station is serving up the appropriate soundtrack, and I started to relax.  The next song came.  Angus Young playing an awesome riff as the late Bon Scott started singing:  Living easy, living free, season ticket on a one-way ride, … don't need reason, don't need rhyme, ain't nothing I would rather do.   I was jivin' on the wheel.  And then the chorus kicked in (I was going to type BOOM right here, but who says that anymore) and it goes I'm on a highway to hell!
I hope AC/DC wasn't warning us of things to come.
SAYING GOODBYE
At the Phoenix Sky Harbor Airport, we checked in and met up with my brother Uly and his wife Xandra.  They were flying back from Seattle on the same night that we were heading out.  We sat and chatted at one of the airport snack bars for an hour before it was time for Bonnie and me to go through the security gates.
Uly and I just did a quick hug.  Ours is a family of short conversations.  It's just the way we are.
Bonnie and Xandra said their emotional goodbyes.  They have developed a close friendship in the last couple of months.
We had a connecting flight in Fort Lauderdale, Florida and we worried about the impending approach of Hurricane Matthew.  Thankfully, our flights were not affected.  The final leg of our flight began to descend as the pilot's lazy drawl announced that we'd be in San Jose in about twenty minutes.  It was just past 11 AM, October 4th.
Immigration was a breeze.  The agent stamped our passport with a 90-day stay.  It took a while for our Home Depot moving box containing our two backpacks to appear in the baggage carousel.  I purchased Kolbi/ICE SIM cards for our unlocked, formerly AT&T iPhones in the meantime, and we now have 8-digit Costa Rican phone numbers.
We emerged from customs and got ready to face the onslaught of taxi drivers as we exited the airport.
DENTAL TOURISM
Here's the other reason why we chose Costa Rica: Dental Tourism.
I needed dental implants to replace two of my molars.  To have this done in the US would cost a lot of money.  But having it done in Costa Rica is about a quarter of the cost and you get a great vacation to boot.
I had researched Costa Rican dentists and have chosen Dr. Marco Muñoz Cavallini.  I set up an appointment with them and they had a driver pick us up from the airport at no charge.
The driver's name was Carlos.  He didn't talk much.  But I convinced him to stop by our hostel first so Bonnie can stay there while I went to the dental clinic.
Within three hours of landing in Costa Rica, I had a panoramic x-ray and dental impressions of my teeth taken, and I was in a reclined position on a dentist chair, staring up at the dentist while his fingers were probing my mouth.  Then we sat down and the dentist explained to me the proposed treatment plan and estimated cost.
HOLES IN MY JAW
Two days later they drilled a couple of holes in my jawbone and put in titanium grade 23, 2-stage dental implants.  They also had to do a bone graft to beef up the bone structure surrounding one of the implants.  Then they stitched up my gums to close it all up.
I was a little concerned about getting a bone graft.  In the past, they had to harvest donor bone from your hip.  Ouch.  As if dental visits needed more horrific prospects.
Of course, I did not know it then but nowadays they use processed bone (sterilized extracts of bone minerals called xenografts) harvested from animals.  The xenograft pretends to be a natural human bone, and the human body falls for the trick.  Over time, the body resorbs and replaces the graft with the patient's own bone.  Amazing.
My xenograft was harvested from a cow (her name was probably Daisy.  She used to model for Chick-fil-A.  Thanks Daisy.  I promise to eat mor chikin).
So I'm part bovine now.  Moo, y'all.
I suppose I could have given fair warning to the readers (all three of y'all, two of them our moms) who are squeamish, in case those details are too much.  But where's the fun in that?  At least I did not post the pics, though they are available upon request.
I'm very happy with my choice of dentist.  I read anecdotes of long wait times but it wasn't the case in my experience.  I never had to wait more than 15 minutes in the waiting room.
For now, my implants are being osseointegrated into my jawbone.  In four to six months, they will be ready to accept the abutments and the crowns.
Right before I quit my job I was working on building a new system for dental insurance, and we pored over ADA dental procedure codes with so much anguish.  Experiencing some of those dental procedures myself made it a full-circle experience for me.  Maybe half circle.  The full circle would have been to actually enroll and submit claims using the new system.  But the new system is still being constructed at this time.  As far as I know.
We took it easy during the week that followed.  I had some swelling in my cheek which was normal for the procedures that I went through, and I had to limit physical activity to a minimum.
HOSTEL IN SAN JOSE
The hostel hosts, Many and Carolina, were very nice and super friendly.  They are a husband and wife team.  He used to be a tour guide and he gave us a lot of information about places all over the country.  He is also into nature and ecology.  With unadulterated enthusiasm, he talked to us about the plants and butterfly and moth cocoons in the place.  The wife was such a happy person. We would hear her laughter several times during the day.  Bonnie describes the laughter as an all-out loud outburst that somehow is not annoying at all.
They call their place the Costa Rica Love Hostel.  Now in many countries, you call a place a love hostel, it conjures up thoughts of trysts and pay-by-the-hour places.  I can assure you, folks, that this was not that kind of a place.  Sure, people come and go at hostels, but not that way.  It had basic amenities.  They had free coffee all morning and they served free pancakes for breakfast. The pancakes were great.  I still can't figure it out.  They cook it out of Krusteaz pancake mix, but it tastes so much better somehow.
Gooooooooooooool!
The owners' son was a common fixture in the hostel.  When not in school, he would channel surf through all the sports shows on TV.  He'd watch baseball most of the time.  Occasionally it would be the NFL.  He also watched a lot of futbol (football), the kind that is true to its name, not Futbol Americano.  Every time a team made a goal, the announcers call it with a loud and prolonged 'Gol' that everybody is accustomed to, and it drove Bonnie nuts every single time. She describes it as a cross between scratching nails against a chalkboard and a screeching siren.
Another fixture in the hostel was a guy that barely spoke to anybody.  He would come down from his room and cook his dinner or head out the door and barely utter a word.  One evening, I was cooking dinner and he came into the kitchen to use the microwave.  It was so unexpected and I almost ignored him, but he actually spoke to me.
"He speaks!" I almost exclaim.  I found out that he was Russian and he'd been staying in the hostel for six months, working on animal research.  That was the longest time I ever saw him speak and that was only a few short exchanges.
For about a week I suppose we became a fixture in the hostel as well.  There was a guy from Venezuela who stayed there for three days and all he did was lay in bed in the dorm room or sit on the couch.  He said that he was taking a break from his mattress business and was enjoying relaxation with nothing to do for a few days.
FARMERS' MARKET
On Saturdays, there is a farmers' market along the streets a few blocks from the hostel.  We went there and bought some fruits and vegetables and the prices were much cheaper than in the grocery stores which they call super mercados or super for short.
San Jose is nestled in the Central Valley of Costa Rica and you can see the mountains in the distance unless they are blanketed in clouds or the rain mist.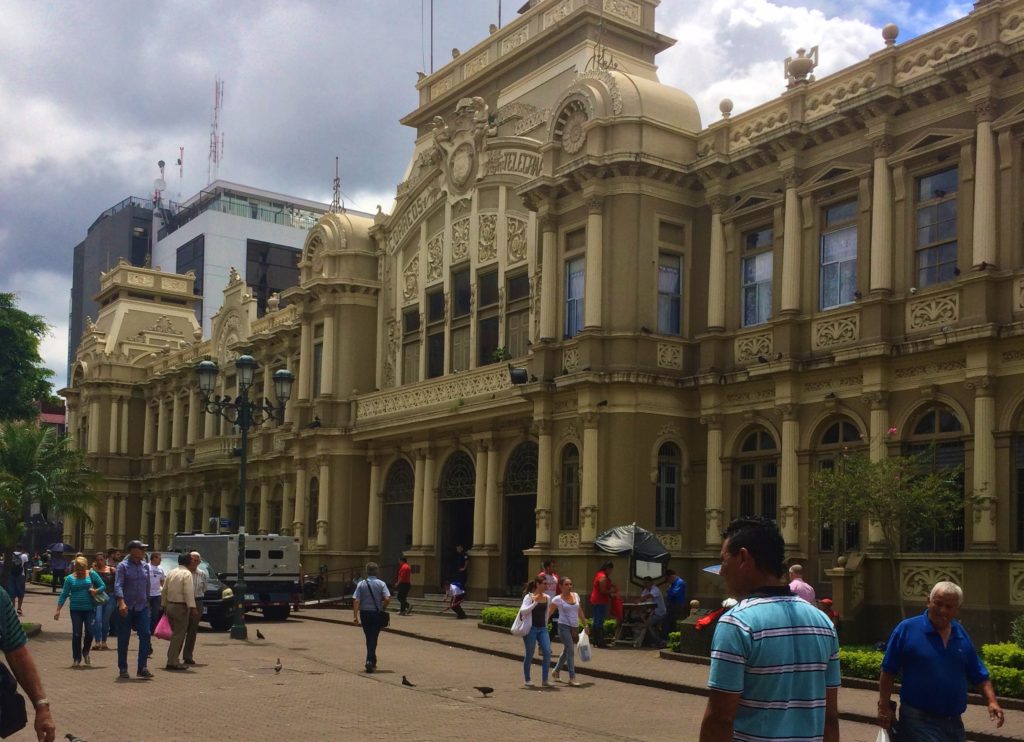 The average temperature stays at the upper 70s in the morning and cools down about ten degrees lower during the night.  I still don't have my bearings on Celsius.  It's the rainy season, so the rain begins at around 2 PM and peters out after 6 PM.  The sun sets consistently at around 5:30 PM.
I'm starting to get used to taking public buses again.  Growing up in the Philippines, public buses were the norm. It has also been fun staying under the budget we set.  So far our average spending is under $30 a day.  For both of us, not each.  This includes everything: lodging, food, transportation, and other fees, but not health insurance.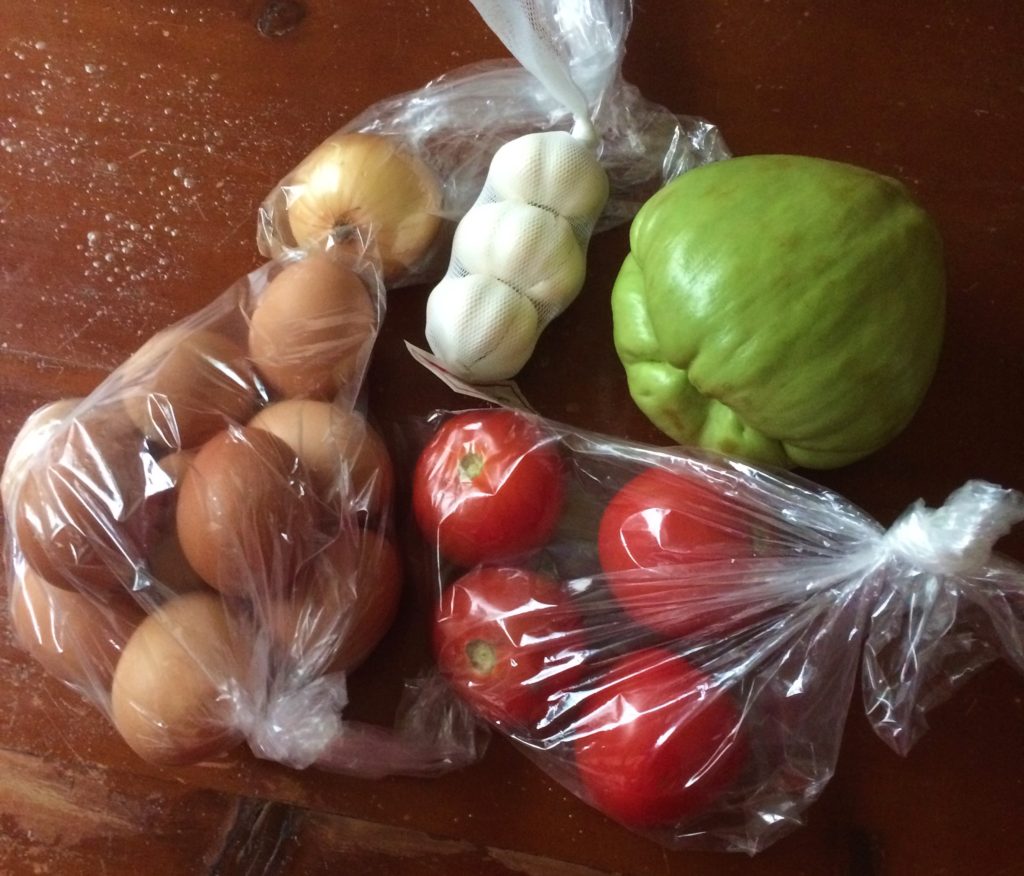 DOWNTOWN SAN JOSE
Downtown San Jose has a few interesting places depending on what floats your boat.  There are museums, parks, a central Mercado, and restaurants.  I'm not really a big fan of the city, but it is the hub of most bus services that take you to all other parts of the country.  So it's something I tolerate.  Just like the hole in my jaw.  It gets me somewhere I want to be.
A week after my surgery the swelling in my cheek subsided and I started to feel normal again.  On our ninth day in Costa Rica, we headed out to Tortuguero where we hope to witness giant green turtles nesting and baby turtles scampering to sea.  Read all about it in our next post.
---
Note: If you click on our product links, 43BlueDoors will receive a small commission on anything you purchase within that session- at no additional cost to you. 43BlueDoors donates all net proceeds to

support freedom for young girls

rescued from human trafficking.