"You will get sick," they said.
"Last year, one of the little boats capsized and a lot of people died," one gentleman told me the morning we were leaving Granada.
Others at that hostel suggested that we really should fly to our destination. They've heard too many horror stories about the sea journey. Many of the bloggers who traveled there also wrote horrific stories about the journey.
We were headed to the Corn Islands, a tiny duo of island paradise off the Caribbean coast of Nicaragua. There is a big island and a small one, creatively named Big Corn and Little Corn. Many choose to fly to Big Corn, a flight that gets you there in an hour and a half. But if you want to do it on the cheap then it's a series of bus and boat rides that take at least 13 hours. Ominous. We chose this option.
On Tuesday morning, we left not-so-blog-post-worthy Granada, of which we shall write no blog post if only to use this pretty picture and a couple of BlueDoor BestDeals at the bottom of this post.
Managua to El Rama
We arrived at blah Managua and bought bus tickets to El Rama right away at the Terminal Ivan Montenegro. We heard they sometimes sell out. Since the bus would not leave until 9 PM that evening we had the day to wander around Managua and also buy food supplies from Pali.
Everyone assured us we would get sick on the boats, so we ate very light meals. We made sure we were back at the bus station around 5:30 PM before it got dark as the station was not in the safest part of town. The bus left on time and thankfully the seats were not just school bus seats but something a bit taller and more comfortable so we were able to sleep a bit on the way to El Rama where we arrived at 3 AM.
El Rama to Bluefields
At El Rama, we stood in line again to get a boat number that would head out at 6 AM for Bluefields.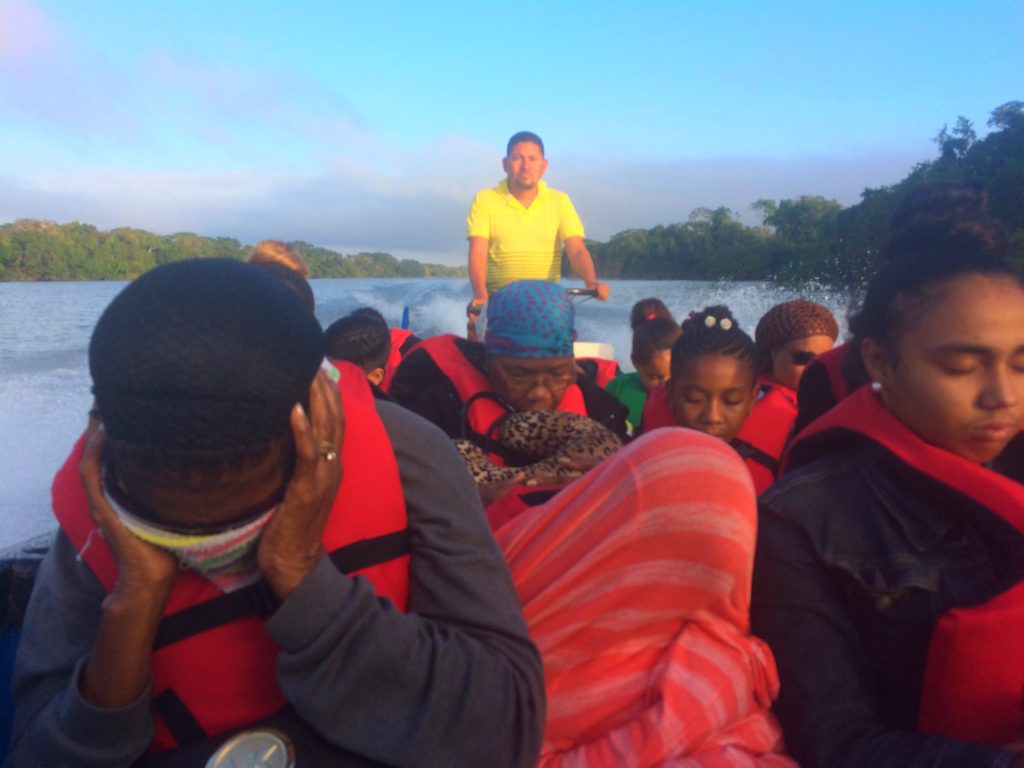 Everyone was handed a life jacket and we all put them on. We boarded the high-speed panga, a small motorboat that had six rows of seats. They packed as many people as would fit into each then we headed out for a two-hour river ride.
It rained a couple of times during this ride. We had to pull a large tarp over our heads and we hunkered down, the sound of the engine overpowered by the rain pelting the plastic.
Bluefields to Big Corn
We arrived in Bluefields about an hour before the ferry would leave for Big Corn. Once again the boat was overfilled and many people had to ride the journey outside the cabin where they would be soaked by the waves and baked by the sun.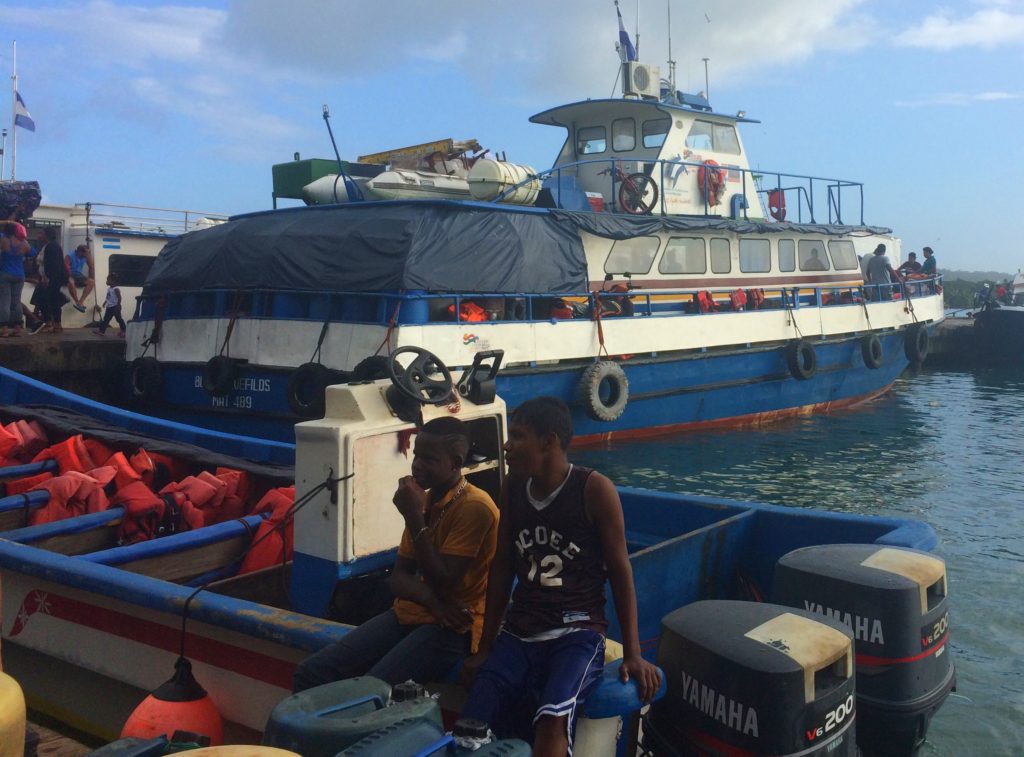 We went into the cabin as soon as we boarded only to find it completely filled already. We stood in the aisle at the very back hoping to score a seat. Thankfully we did, even if it was a very tight squeeze as this ride would last six hours. They handed out life jackets and plastic puke bags, many of them would be used before the arrival at Big Corn. We hoped that being in the cabin would not be a bad idea if the sick smell got too bad.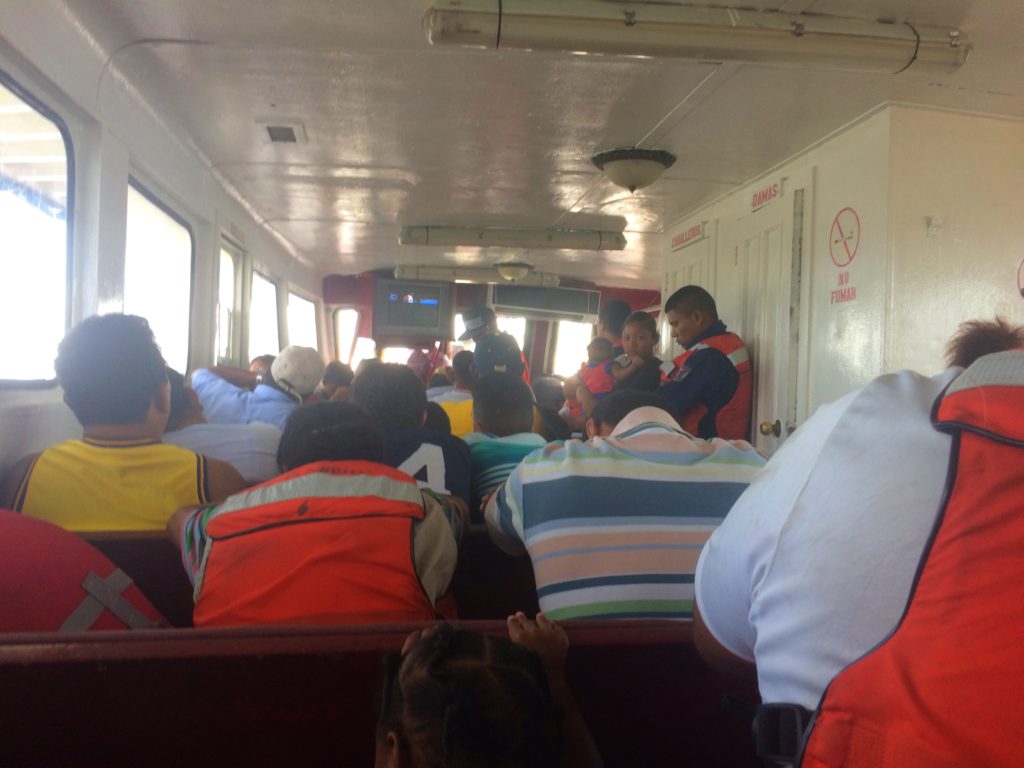 For good measure, we took some Dramamine that was given to us by one of the missionaries when we built homes for the poor people in Waslala. I really did not want to know today if this kind of ride would make us sick. The motion sickness medicine did make us drowsy which was great as the six hours didn't seem quite as long.
The sea was rough and made for a rocky ferry ride, but our stomachs held and we eventually made it to the Big Corn Island. From there we immediately hopped on to the final panga ride to Little Corn.
Big Corn to Little Corn
This final leg was short, a half-hour, but it was not sweet. The ride would take us across the open sea where last year, in this very same route, one of the pangas capsized and many of the patrons died. We hit a rain squall on the way to the island and the boat jumped around trying to stay afloat.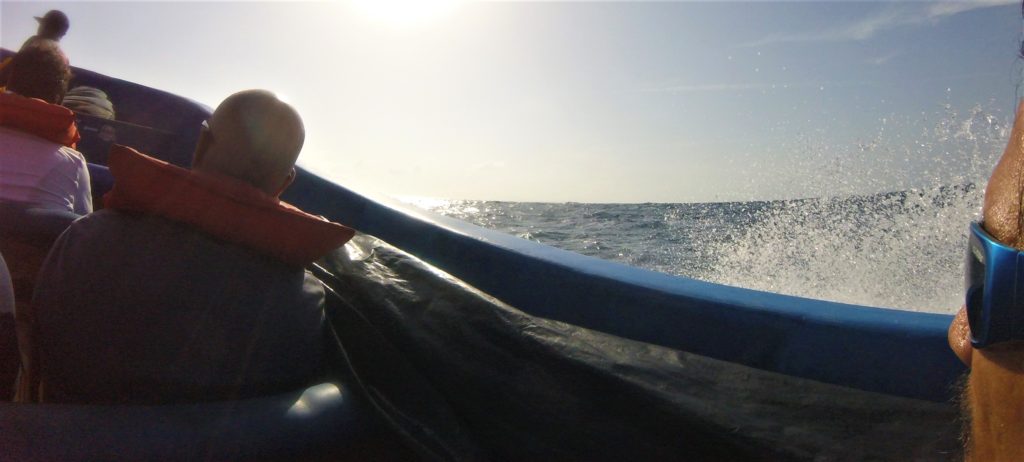 Since you are reading this you know we arrived at Little Corn Island. We got a room at Shell Hostal. The owner, Evaristo Gomez, is a bit of a character. He talked non-stop in a peculiar English derivative that had an island tone and cadence. Not creole. A dedication in one of the doors described him as a man who can speak five languages within one sentence. It sounded exactly like that. Still, we could make out much of what he said.
Not so little things in Little Corn
Over our time here Senior Gomez would give us a full history lesson from the perspective of one who lived it. The last few decades were difficult and sometimes horrific here in Nicaragua. Those who are willing to talk about their experience tell a much different story than that written in the museum of the Sandinistas, the current rulers.
It is also interesting to hear about America from the eyes of the rest of the world. They speak of hurricanes that devastated entire villages and Americans and Canadians who came and helped them rebuild. They speak of oppression by conquering countries and the Americans who came to help them stop the oppression.
Over the next two days, we walked around the entire island of Little Corn. It boasts beautiful ocean views and an awesome swimming beach on the north end of the island near the Yemaya resort. Our hike around the north end required quite a bit of navigation through rocks in the surf to get around small cliffs and rocky shores, but it was a beautiful hike and the water was very clear in most places.
This journey to Little Corn Island was long and not all of it was pleasant, but it was worth the reward at the end.
Best Blue Door Deals
Little Corn Island
Enjoying the well-maintained turquoise beach area at Yemaya without paying the $300 per night accommodation, just walk up and enjoy the ocean. Also, the beach right next to the resort is just as nice.
Granada
Hostal San Jorge – best value lodging, excellent kitchen and common areas, and a pool to boot at $12 a night for double;
Laguna de Apoyo day trip offered by The Bearded Monkey, $2 cheaper than any of the other hostels and tour companies.