The bike slid and I saw it all happen in slow motion. Our bodies approached the dusty rocky road surface and I knew that we would lose a bit of skin. Before I could think any further, we got really intimate with the beautiful island of Ometepe, skin to gravel.
Ometepe Island
Ometepe is an island is composed of two beautiful volcanoes in the middle of the vast Nicaragua lake. At just over 3,000 square miles, Lake Nicaragua is the largest lake in Central America. Standing on the eastern side of the island looking out into the water could not see land on the horizon, much like looking out over the ocean.
Volcan Concepción, the larger of the two volcanoes, is almost a perfect cone with three sides covered in lush vegetation. The smaller volcano, Volcan Maderas, seemingly changes shape as we rode around it. It was beautiful to watch. Ometepe is the only place in Nicaragua where it is safe to drink tap water. It is also the only place in Nicaragua where we have seen wildlife in the jungle.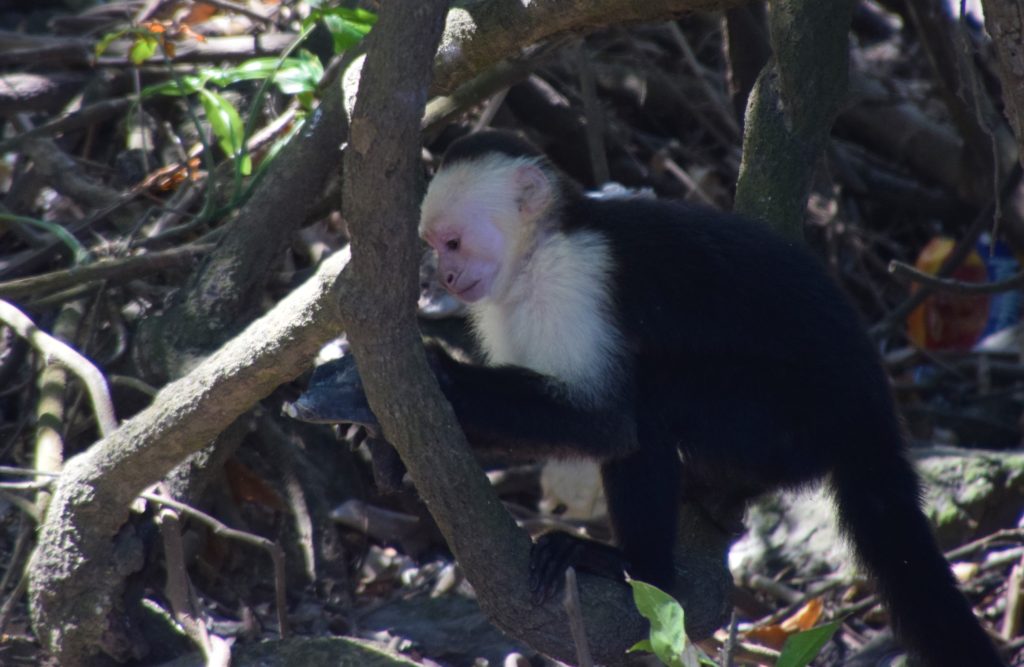 We rented a moped for the day to drive to take in the sights. Our planned path looked like a figure 8 that followed around the two volcano island. Alvaro and Perrine, a couple we met the day before, joined us for the ride. Alvaro is from Spain and Perrine is from Belgium and they have been traveling for a year.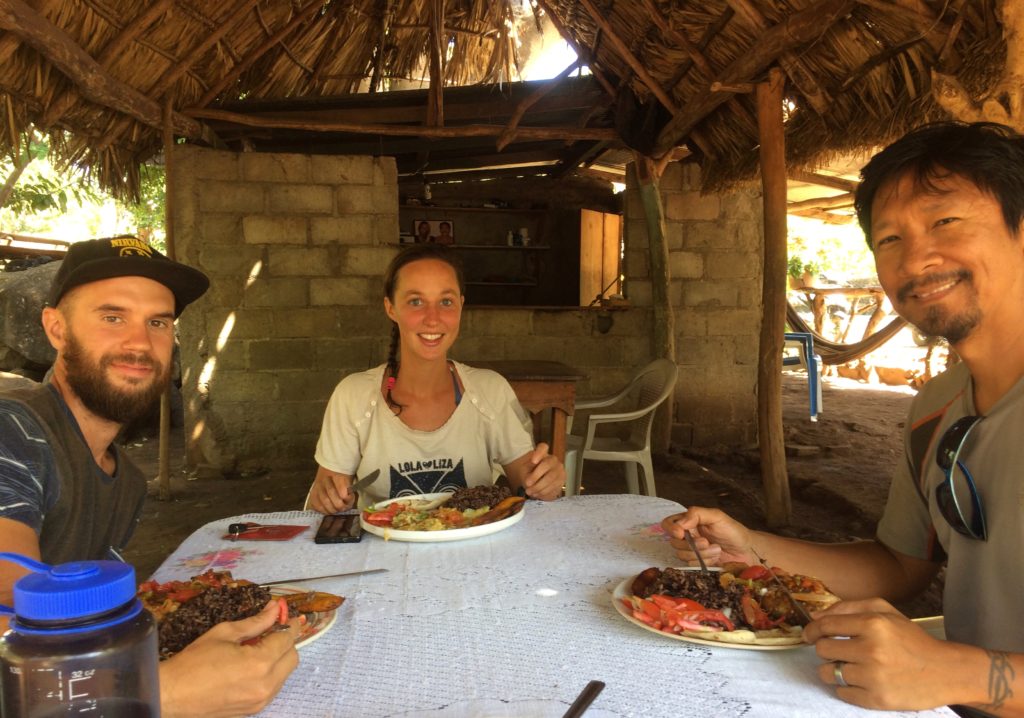 RENTING MOPEDS
We rented the mopeds from Charlie, the owner of the hostel where we were staying. He told us that the mopeds should have no problems going around both volcanoes. He wove his hand dismissively as if asking about road conditions was silly. His mopeds would have no issues with gravel roads.
I love the feeling of riding bicycles and motorcycles. A moped was close enough for me, especially for this tiny island. The wind gushing by feels like freedom. The looming figure of Volcan Concepcion with its changing wisps of clouds clinging to the top was a constant sight to our right. Soon we were on the far side of the volcano where the road turned to dirt. Large rocks jutting from the ground and ruts decorate much of the road.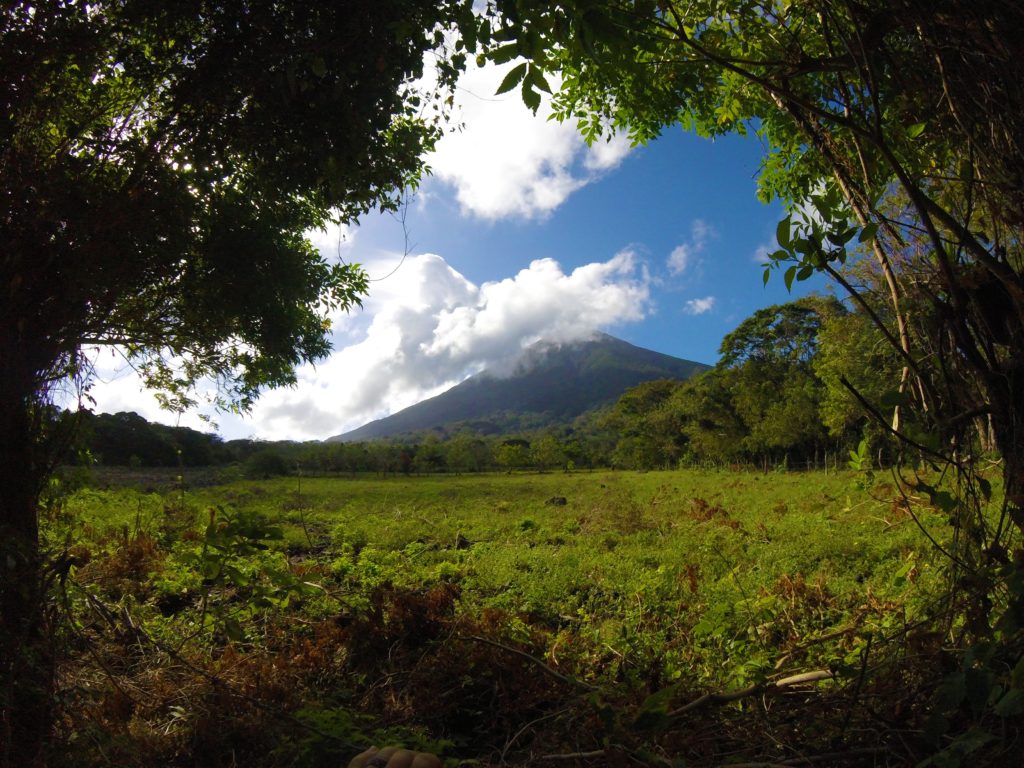 The Accidents
On one particular downhill, we hit a sandpit. The bike began to slide and the front tire hit a rock. The bike jackknifed and spewed us onto the ground. Thankfully we were going slow enough to avoid major injury. I stood and then ran over to Trin. He assured me that he was fine but I saw a lot of blood on his leg.
Alvaro and Perrine were quickly catching up. We didn't want them trying to stop in the sand and ending up in the same predicament. So we hopped back on the bike quickly and continue down the road. We were a bit more cautious however going forward.
When we finally arrived in the town of Altagracia we took a look at Trin's leg and realized we needed to get his knee cleaned and treated. We did not know it then, but he should have gotten stitches. His knee looked like raw meat. The pharmacy offered us iodine when we asked for antibiotics. We cleaned the wound and continued to San Domingo beach.
San Domingo is said to be the best beach on the island. We went for a swim. Trin hoped to get more of the dirt out of his wounds. It was shallow for quite a ways and the waves were calm. It made for a nice swim on a decent beach.

The Second Accident
Halfway around the second volcano, we were following Alvaro and Perrine on a rough downhill when they hit a rock and we helplessly watched as their bike toppled over. We stopped and I rushed down the hill to try to help. Alvaro had a large wound on his ankle and Perrine banged up her knee. We offered them some of our newly acquired iodine.
We began to wonder why Charlie said these roads were okay. Even with a lot of care, mopeds cannot handle the conditions of this road no matter how good the driver may be. Then we began to wonder if this was a scheme. The bikes were beaten up as if they had skidded across these gravel roads far too many times. We wondered how much he would try to collect from each of us for damages. Damages that he obviously never fixed.
We stopped at a local food stand for a break. The local told us that it was not uncommon to see bruised and wounded people on mopeds.
The sky treated us to a beautiful sunset on the way home. We stopped at a park near the pier for a beer. We watched the sunset beyond the boats and discussed travels and blogging. Alvaro and Perrine both maintain blogs. Perrine's is named Verwonderweg and Alvaro's is City Collections both have great pictures of the destinations they have visited.
Attending to wounds
Back at the hostel, we spoke with Peter, another traveler who also rented a moped that day. He is an avid Harley rider and said that these road conditions were too rugged for mopeds. He tended to both Trin's and Alvaro's wounds. Peter told Trin that he must go see the doctor the next day and not wait. Peter was kind and expressive. It's a shame that I could not speak French (the only language he spoke). I would have loved to talk to him more.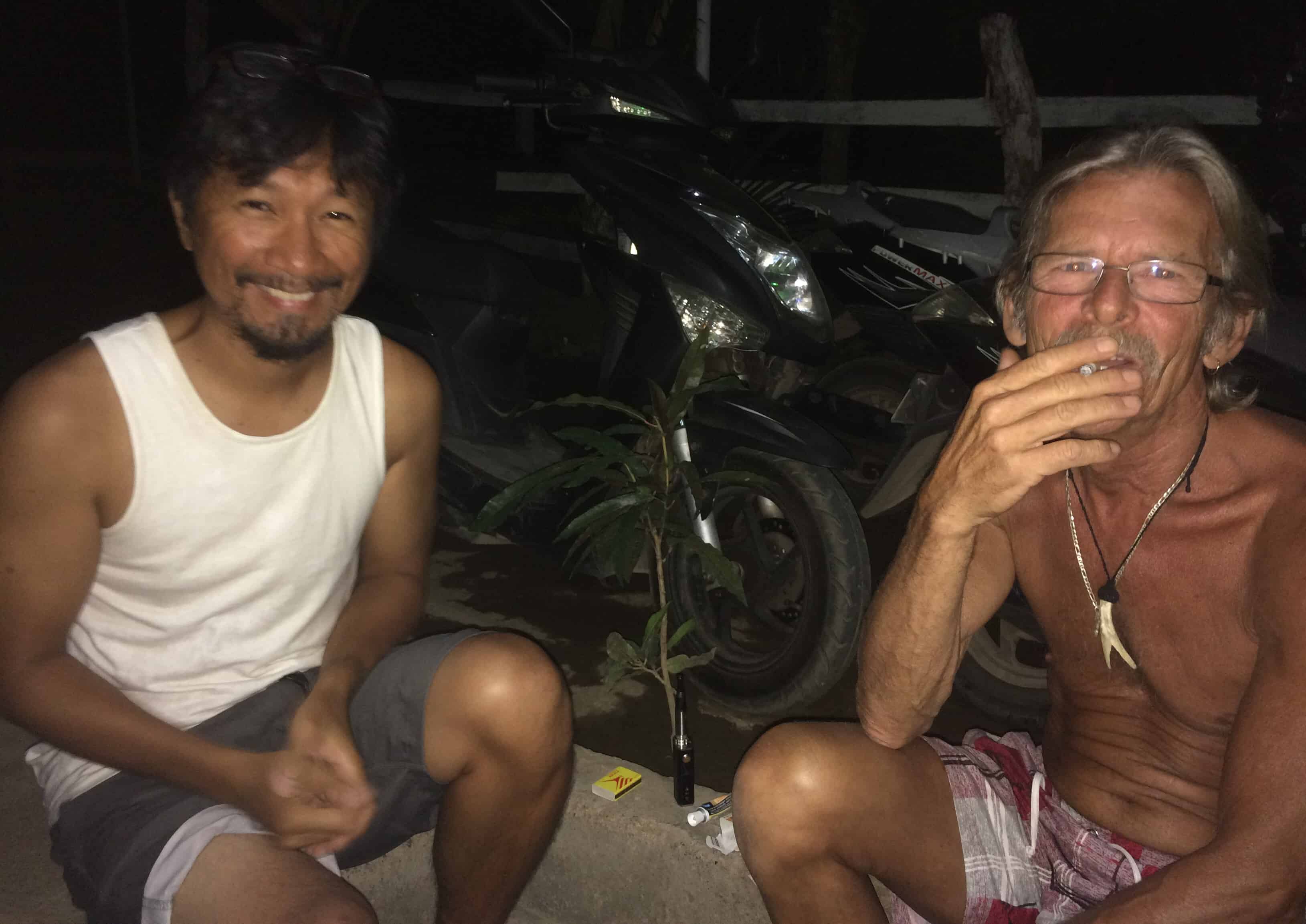 Charlie and his goons
Charlie and his goons showed up to pick up the mopeds. After seeing the scratches on the fender he demanded a large sum of money. He launched into a spiel telling us that he would protect us from the actual bike owners. Charlie assured us that he was only going to charge us a small amount for the damage because we were staying at his place. It all sounded like a load of bullcrap, practiced and familiar.
I think the worst part is that he cared little about anyone getting injured. We were willing to pay a fair price for the damages even though we felt he purposely assured us that the roads were fine. We were determined not to pay the exorbitant price he was asking. I told him that we would pay him in the morning after we went to the ATM. We wanted time to determine a fair price.
"No, tonight" he yelled. He was adamant about getting the payment that evening. When he offered to drive us to the ATM it was more like a threat. There was no way we were going to let this gangster force us to our ATM in the middle of the night in Nicaragua. Not going to happen.
Trin and I left to discuss privately what we should. I got out some money – what we thought was a fair price in Nicaragua and took it back outside.
"If you want the payment tonight this is all we have on us. Take it or leave it."
He got angry, yelled, hemmed, and hawed but we stood our ground. He finally took it and left.
Beautiful Island
After dinner, we walked into the town center of Moyogalpa. Alvaro and Perrine have not yet tried Flor de Caña, our favorite Nicaraguan spirit, so we went looking for it. It was late and the Pali was already closed but we found a convenience store next to the Petronic that sells liquor. We bought a 5-year-old Flor de Caña, coke, and ice. We enjoyed the rest of our evening on the lawn chairs outside our hostel.
Despite the mishap and what we felt was a dishonest play by our hostel owner we really enjoyed the island. It seems to have the healthiest environment in all of Nicaragua. The domestic animals, most of them seemingly free-range are healthy and happy.
Hogs, dogs, horses, and cattle all wandered around with a good amount of meat on their bones. We enjoyed the small island atmosphere where everyone smiled and waved as we drove or walked by.
Rivas
Back in the mainland, in the town of Rivas, we went to the Gaspar Garcia Laviana Hospital to have the wound on Trin's knee checked out. We were hesitant to go but it was an interesting experience. People filed in and out of the waiting room who appeared to be in various stages of pain. I stood by the open window for a breeze and smelled sewage wafting through. We could see the intensive care unit behind the reception desk. Curtains hung askew in leu of doors for each room.
After being ushered in to see the doctor Trin was instructed to sit on the bed while the doctor scrubbed his wound clean. She rinsed off her hands in the large stained sink nearby and rummaged through the cupboards for supplies.
She pulled a metal tin from the cupboard and fished around for some gauze. After pouring disinfectant on the gauze she scrubbed Trins knee.
"You should have gotten stitches, but it is too late now." The accident was two days prior. Stitches should be sown in within eight hours.
After cleaning and dressing the wound she gave Trin oral antibiotics and painkillers along with a prescription for something to clean the wound ourselves each day. The entire bill, medications included, was $1 USD.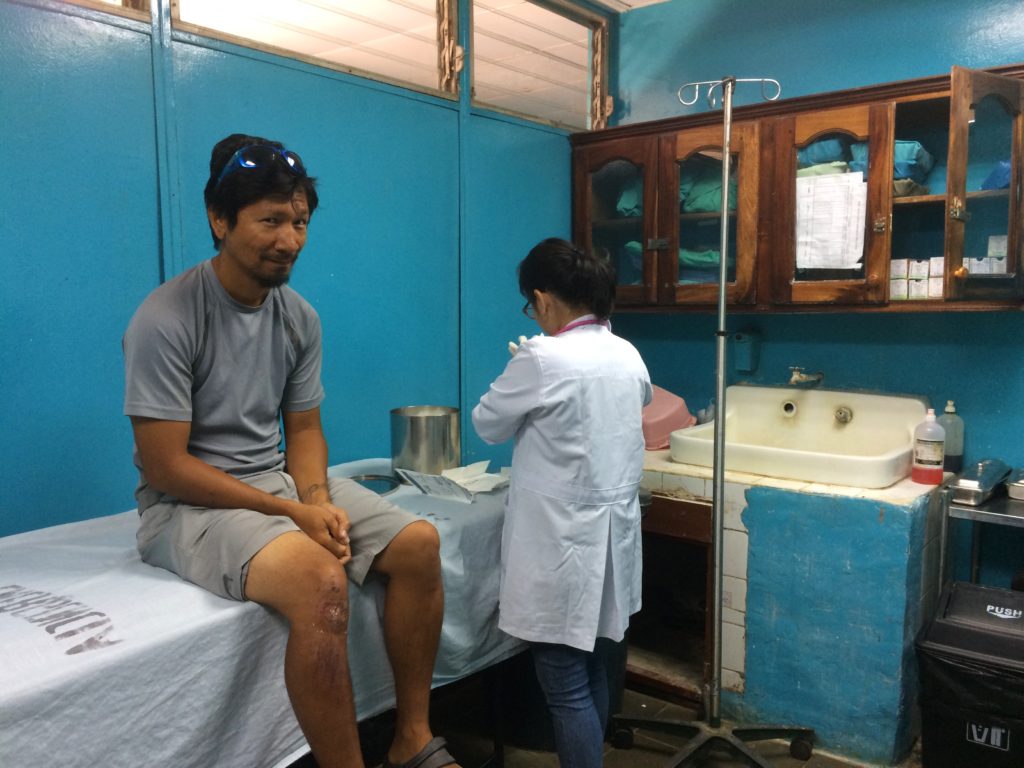 This was our last day in Nicaragua. Despite the poverty and lack of resources the people of Nicaragua cared. There are always some in every culture who take advantage of others, but they are the minority. We felt safe most of the time in this country.
---
Blue Door Best Deal

: 
The bus ride from the Rivas bus station to the San Jorge port, and vice-versa.  Cost: 7 Cordobas.  It is a yellow short school bus that you can catch along 7ma Calle NE starting near the bus terminal. The alternative is a shared taxi (collectivo) that will cost at least 25 Cordobas.
Find out more about Nicaragua here!
---
Note: If you click on our product links, 43BlueDoors will receive a small commission on anything you purchase within that session – at no additional cost to you. 43BlueDoors donates all net proceeds to support freedom for young girls rescued from human trafficking.