The look of hope in her eyes broke my heart. Just a moment ago she lay there sleeping in the dust. A tan coat stretched over her hip bones and ribs. Ears twitched as she dreamt. I waited on the bench nearby till she opened her eyes. She looked around sadly till I moved toward her. She saw the bag in my hand and immediately stood taking a step toward me. The look in her face as she met my eyes was one of hope, hope that someone had seen her. I knelt down and turned out the bits of chicken and bones left over from dinner wishing I had more. Soon she was all consumed in the measly gift offered. I walked away promising myself to be back tomorrow with more.
There are many stray, emaciated dogs here. Most of them humble and sad. They lay sometimes in the middle of the sidewalk not moving as we walk by knowing that they are invisible. They do not approach for a loving pat on the head. The dogs walk around resigned to their lot. They longingly watch if someone is eating, but aggression seems to be something long forgotten, left behind with any hope of home.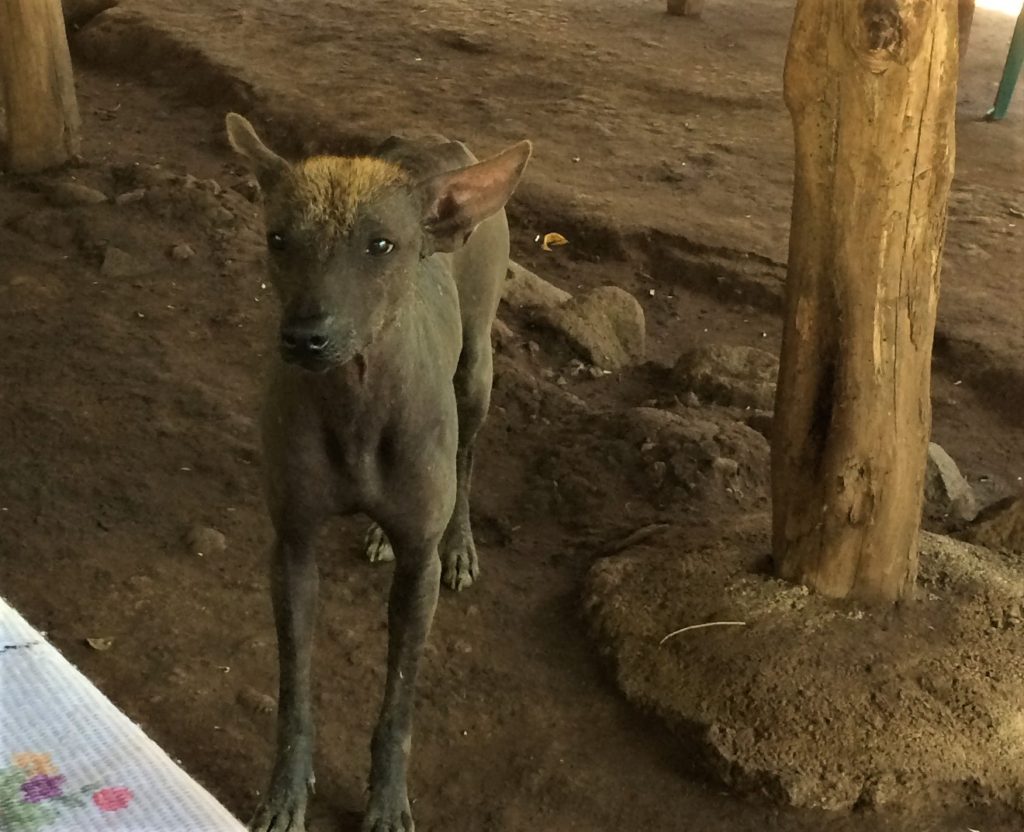 THE HAPPY DOG IN SAN JUAN DEL SUR
There was one exception we met in San Juan del Sur, where I almost got mugged. This dog ran up to us and rubbed up against our legs and stuck out her head for a pat. Then she pranced around us as if to say "I'm so cute you love me, everybody loves me".  She was right, she was cute and we did love her. Just couldn't help the smile all her happiness brought to us. But she was an exception. My guess is that she did have someone who loved her back home, and that love passed to us giving us a bright spot to our afternoon.
HAPPY DOGS IN OMETEPE
As we traveled through Nicaragua, the dogs in each town were a telling sign.  The cleaner and happier the people in the town were, the happier the dogs also seemed to be.  Ometepe, the only place in Nicaragua with clean water and a healthy environment, had the happiest dogs we saw in all of Nicaragua.
It seems that the way dependent beings around us are treated directly reflects  – maybe even is a cause of – the quality of our lives.