The pain in my ears was greater than any pressure I have ever felt on a flight. My eyes seemed to be bulging as if they were going to come out of their sockets and my throat was constricting. I was 30 feet (10 meters) underwater and desperate to return to the surface to breathe.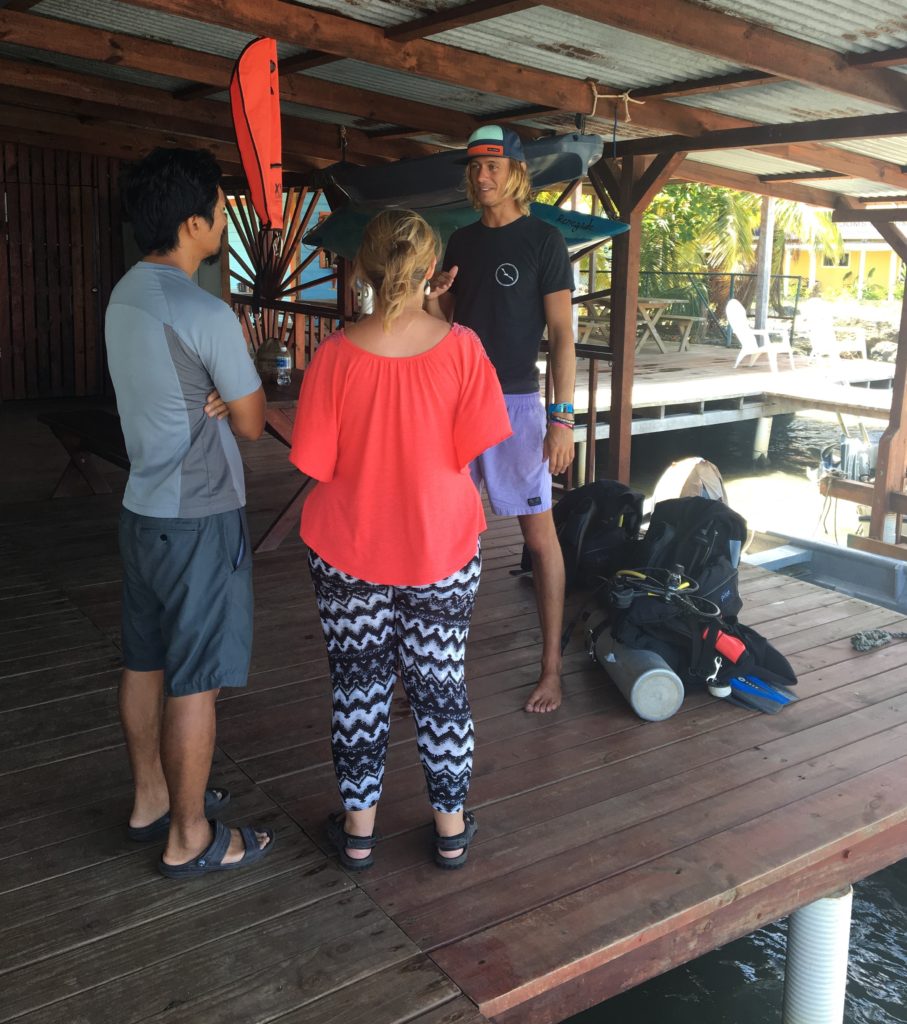 JUST BREATHE
I signaled to go up but Kody, our scuba instructor, signaled me to stay and breathe. Kneeling on the sandy ocean floor I closed my eyes and thought only of slow breaths in and out hoping the pain would go away and that my throat would loosen. I knew I could overcome this. Lots of people have done this. I'm no better and no worse than anyone else. I needed to calm down and allow air to flow freely into my lungs. I forced myself to not think about where I was, only to breathe.
I calmed down a bit and we began with a few basic drills in scuba diving. We did things like clearing our masks if water gets into it, removing and then reattaching our weight belts and BCD, swimming near the ocean floor without our masks. I began to feel a bit more comfortable. I told myself I would do this. Trin and I had decided to become PADI-Certified Open Water Divers and I would do this.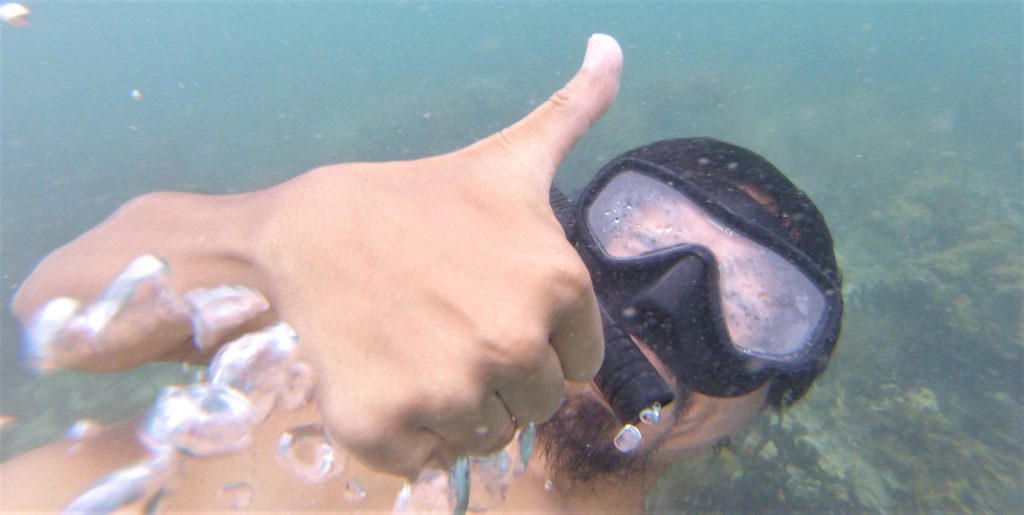 We emerged from the water 47 minutes later. Not long after getting back in the boat we proceeded to another dive site, switched our tanks and dove again. We practiced a few more skills. Kody led us to some corrals and we followed the downward slope of the ocean floor for a bit and then he showed us his depth gauge. It read 60 feet (18 meters). Again I experienced the terrible pain in the ears and suction of the mask felt like it would take my face off. I needed to equalize but sometimes it doesn't always happen.
EQUALIZING THE PRESSURE
I breathed a little air through my nose into the mask and the relief from the suction feeling was instantaneous. The ears were still an issue and I was happy when we finally ascended to relieve the pressure.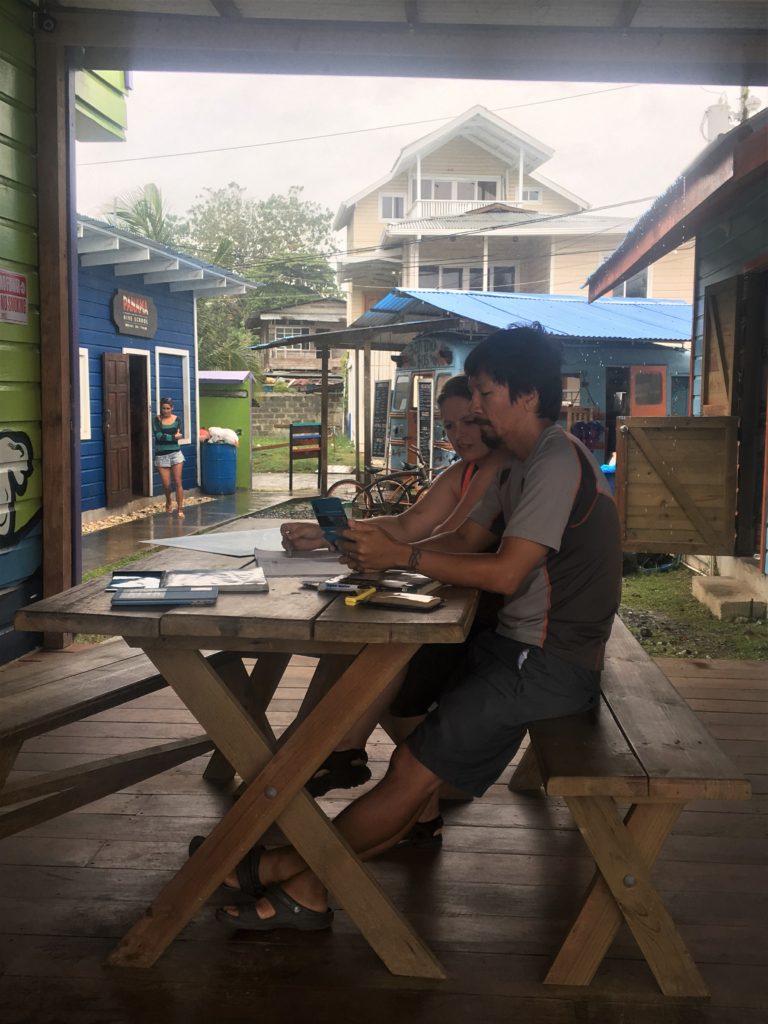 The next morning we finished our coursework for the certification. During this course, they taught us how to equalize the pressure in our "spaces" to avoid the pain I was experiencing the day before. I needed to do it more often and earlier before I feel discomfort. The dives on the second day were much better since I knew now how to relieve the pain a bit and I had gotten used to breathing through the regulator.

GETTING THE HANG OF IT
We headed out once again in the afternoon to a dive site called The Greenhouse. We dove in and swam over a beautiful coral reef full of life and color. At one point I looked at the diver in front of me and realized I was doing it. We were really diving! I was practicing buoyancy in the water with my arms tucked into my chest. Proper buoyancy allows the diver to swim just above the coral near the bottom of the ocean moving only the fins.
We moved to another dive site called The Lunchbox, so called because there are a lot of fish there (food). This site has a sunken catamaran. It is amazing to see how life at the bottom of the ocean takes over a vessel and makes it its own.
BETSY THE SHARK
Kody signaled us to stay for a moment while he entered the vessel. I misunderstood and followed him, excited to see what was inside. I was doing well with having my arms tucked in until we turned a corner inside the ship. Using my hand to keep myself buoyant I brushed my fingers against some barnacles. Ouch! I squeezed my hand to keep the cut closed and blood from seeping out. This happened just as we swam over a large shark, longer than our very tall instructor.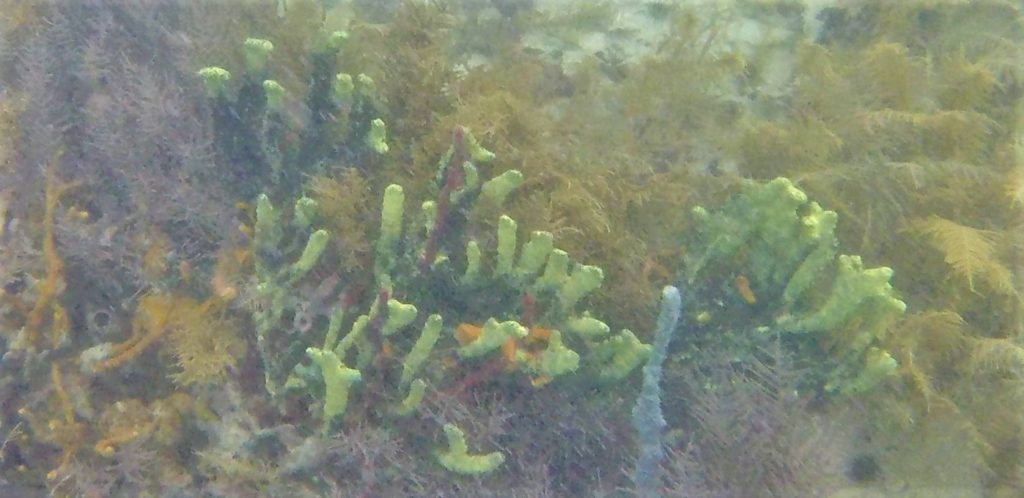 It was a nurse shark, whom they call Betsy, hanging out for the day at the bottom of the vessel. She was beautiful. We swam over the shark and out the front of the ship. I later learned that I was not supposed to follow him in and he was surprised I did. I'm glad I did. It was a great adventure and I have fallen in love with diving. Little did I know that our next dive trip would be on just the other side of Panama in Coiba.
---
BlueDoors Best Deals in Bocas del Toro:
Valerie Emanuel Apartments. $25 per night. You have your own well-equipped kitchen.
Getting PADI-Certified in Bocas del Toro. It is one of the most inexpensive places to get certified. We went with Panama Dive School. Tony has a pretty good crew over there. Our instructor Kody was very patient and explained things clearly.
Doing a day trip to Playa Estrella. Catch the minibus at Parque Simon Bolivar from 10AM onwards, every two hours. You pay $5 and they give you a ticket for the return trip. The bus takes you to Bocas del Drago. From there follow the path to Playa Estrella. It's a pretty 20-minute walk. The beach has calm turquoise water and if you are there early enough, you will see some starfish.