Cost Rica has much to offer and beautiful places to see.  Even though it is more expensive than Nicaragua, we were still able to average a spend of only $32 a day for both of us combined.   This includes all of our living expenses except health insurance.
The map below shows the places that we visited in Costa Rica.  We have ranked them based on what we like.  We love spending time in nature and seeing wildlife, but not as much on the beach.  Beach lovers may rearrange this list completely.
1) La Fortuna
We enjoyed three wonderful days in La Fortuna.  We spent one day climbing Cerro Chato, a dormant volcano that has a green crater lake at the summit, followed by a day at SkyTrek Adventure Park for zip lines and hanging bridges in a rain forest.  All these capped by a relaxing day soaking in the gorgeous natural hot springs of Tabacon.  La Fortuna is touristy and very popular for good reason, and it is quite expensive as a result, perhaps too expensive for budget backpackers, but we think it is worth the splurge.
2) Manuel Antonio Park
Beautiful Manuel Antonio National Park competes with La Fortuna for Costa Rica's most popular destination.  The park itself covers a very small area (it is the smallest national park in the country in terms of area) but it is feature packed with beaches, wildlife and nature hikes that offer amazing coastal views.
3) Tortuguero
I think what I like best about Tortuguero is the peace and quiet, and the feeling of being remote.  With no cars allowed, the small network of pedestrian streets and footpaths make you think that you are in an island, with the Caribbean on one side and a river on the other.  We were enthralled by a mother turtle laying her eggs, we watched hatchlings scrambling towards the surf, and we enjoyed evenings sitting by the campfire with Bill.
Skip the boring flight to Tortuguero and see much more of the country by taking a bus from San Jose to La Pavona (a bus switch at Cariari), then hopping on a speed boat that will take you down a river out to the coastal town of Tortuguero.  It is a beautiful boat ride.  Tortuguero offers several accommodations from budget to luxury resort.
For the budget travel we recommend Bills Place via AirBnb.  Bill will meet you at the docks, give you a tour of the town, and provide you with excellent money-saving tips for sightseeing and activities.
4) Puerto Viejo
Our favorite part of Puerto Viejo was the Jaguar Rescue Center.  I'm not a fan of zoos and seeing perfectly healthy animals caged up and on display.  But the Jaguar Rescue Center is not a zoo.  They take in sick and injured animals, rehabilitate them and work on releasing them back into the wild.
In some cases, the animal is deemed not fit to be released for one reason or another.  Such is the case of the poor anteater whom they call Tommy.   He has brain damage and can no longer climb trees without falling off and sometimes spontaneously starts spinning in circles.  They have made him as comfortable as possible and try to acclimate him to humans giving him free rein around the property.  One volunteer is assigned to follow him around and take him down from trees that he start to climb lest he fall out.
We met Congo while we were there.  Congo is a howler monkey who years ago had been injured and was rehabilitated by this rescue center, and eventually released.  Some months later, she paid a visit to the center and showed them her first baby.  Over the years she has built up her own tribe.  Congo and her tribe visit often.
You are not guaranteed to always see a specific kind of animal.  The entrance fee that you pay goes directly to the care of the animals. Many of the workers are volunteers and the focus is not on the visitors but rather on the animals and rehabilitating them.  It is a beautiful place and we highly encourage everyone to visit.  We hope you enjoy it as much as we did.  After all who doesn't enjoy seeing baby sloths and baby monkeys?
5) Uvita
Staying in Uvita was a highlight of our time in Costa Rica.  We spent two weeks at Refugio Solte through WorkAway and thoroughly enjoyed our time in the jungle with the howler monkeys bellowing each morning and coatis roaming around the property as we worked.  We painted a lot of chairs, and varnished several beds and furniture, and it was a very relaxing, beautiful place.
Uvita Beach was nice, and coupled with the opportunity for the jungle experience in Refugio Solte, made for a memorable experience for us.
6) Tarcoles
The draw of Tarcoles is the crocodiles, big beautiful crocodiles.  We stopped for a boat tour on the Tarcoles river.  The captain of the boat brought chicken with him to call in the crocs so we could see them up close and personal.
It is generally dangerous to feed wild animals, both for the well being of the animals and for humans.  Feeding them makes them more aggressive causing more attacks on humans and forcing the animal to be put down.
I was a bit conflicted whether we should take this tour even though many claim that the small bits they feed the crocs do not make them aggressive.  But we did take the tour and the animals were magnificent.
7) Cartago & San Jose
If you need dental work San Jose is a great place to get it done.  The expertise and facilities are at par or even better than those in the United States and costs so much less.  San Jose does not make a good initial impression but being the central hub for bus transportation in Costa Rica, the city is unavoidable and you will soon grow to like it.  There are many parks and cultural places to visit but try to avoid the red zone.
The historical town of Cartago is a great day trip from San Jose and the train between the two towns is a pleasant ride.
8) Samara & Santa Teresa Beach
Trin and I enjoyed some time at the Samara & Santa Teresa Beaches.  Other travelers have rated these beaches very high.  I guess we are just more mountain lovers, and visiting both of these beaches felt like a lesson in beach appreciation for us.   We walked all over Samara and watched a beautiful sunset.
This was around the time when Hurricane Otto threatened to hit Costa Rica, a historical first as there has been no hurricane landfall in recorded history of the country.  Fearing an imminent disaster, we half-fled inland into the nondescript town of Nicoya to ride out the hurricane.  What followed were three beautiful sunny days spent getting to know and conversing with a lovely couple, Hector and Gina, who were our AirBnb hosts. Not a drop of rain.  Otto went through Nicaragua with minimal damage.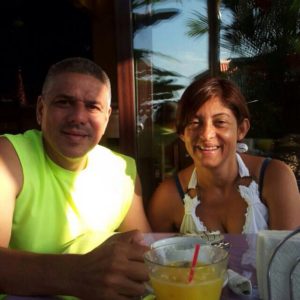 9) Peñas Blancas
Peñas Blancas is a border town between Costa Rica and Nicaragua, and as most border towns go there is a certain element of uncertainty because you never know if you are going to deal with a border official who is having a bad day or who is itching to give somebody a hard time.  Fortunately, border crossings are discussed in detail in many travel blogs and you can do a lot to prepare for them.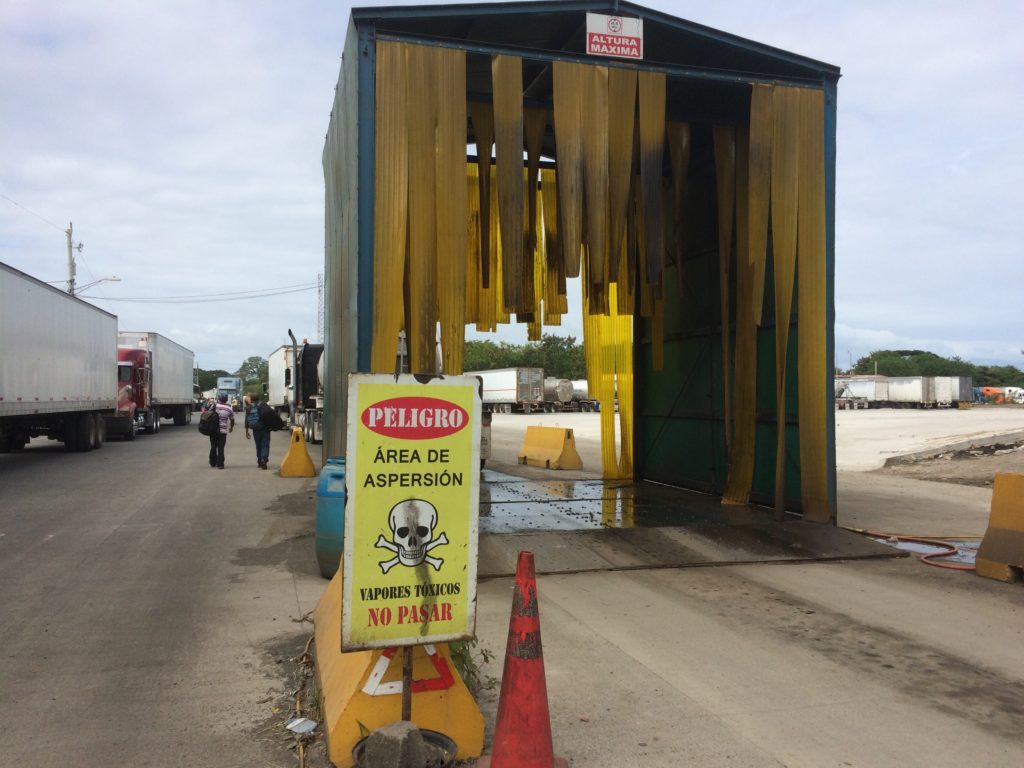 The only advise we have that is not touched upon in most blogs for crossing the border is that if you are going out of Costa Rica by land, whether going to Nicaragua or to Panama, pay the Costa Rica departure tax days in advance, at a Bancredito branch.  This way, you only pay $7 instead of $8 that you pay at adhoc stalls outside the immigration offices. You can also avoid walking back and forth trying to find the adhoc stalls. There are machines at the border for this purpose and it charges only $7 but they're usually not working.
Pura Vida
The unofficial Costa Rica slogan is Pura Vida.  It literally means "Pure life" and is a synonym for "excellent" and "Life is wonderful; enjoy it."
After being in Costa Rica for a while we began to feel the meaning of the phrase.
---
BlueDoor Tips:
Overall for accommodations we found the best way to find a budget place was through Airbnb.
Public transportation in Costa Rica felt quite luxurious after riding the chicken buses in Nicaragua (not to say they were not fun).  To find out bus schedules, we use the following resources:
http://thebusschedule.com/  – excellent site where you can search among a comprehensive database of destinations, schedules, and approximate trip durations.
https://centrocoasting.com  –  you can find bus schedules with pictures and some approximate bus fare costs.  Not as comprehensive as TheBusSchedule but still a good resource.
https://www.facebook.com/groups/CostaRicaByBus/  –  A Facebook group dedicated to sharing and helping folks figure out the Costa Rica public transportation system.  Rob Evans has amassed a ton of useful information there.  Do a search within the group first before posting a question.
---
Don't forget to shop on Amazon at this link for Black Friday to help girls rescued from human trafficking!