A little over one year ago we decided to sell everything we owned except what would fit in our two backpacks and take off to travel the world, as light as possible. Over the next eight months that followed we quit our jobs, sold our stuff including cars, a motorcycle, our home and just about everything in it. During that time we also set up some investments that would hopefully keep a bit of income coming in while we travel.
The question of what to pack, trying to figure out what we might need over the next two years, was one I didn't know the answer to. When we finally left the USA in October of 2016 with our bags packed and everything else sold I still didn't know the answer. Many of you asked us to post what was in our bags. I waited on purpose, this way I can tell you what we packed and what I would do differently now. Ask me again in a year and I'll probably have modified the list. There is no single answer for everyone.
GET RID OF STUFF FIRST
After deciding to divest ourselves of all the stuff that we had become slaves to, our focus was more on getting rid of rather than figuring out what to take. As we began the selling process, however, I carefully set aside anything I thought we might need for the next few years on the road and sold everything else. This "needs" pile, consisting of a medical kit, personal items and many things that we eventually got rid of. It became our pseudo packing list which we continually reviewed.
As our departure date drew near we finally evaluated "needs" pile and tried to determine if there was anything else we should buy for the trip that we did not already have. Two things we bought that I highly suggest for any backpacking or long-term travel trip: A Sawyer Mini water filter and a dry sack.
PACKING LIST
What we use all the time:
Water filter. The Sawyer water filter is convenient and saves us the cost of buying bottled water, plus we are not wasting all those plastic bottles.

Clothesline.  A braided clothesline needs no clips, just slip the corners of the clothes between the braids.  We use this often when hand washing our clothes.
Dry Bags. Laptops and anything that should not get wet go into the dry bags when packing up the backpacks to move on. We have, on numerous occasions, been caught walking in the rain. It's nice to not have to worry about it knowing everything is safe inside our packs.
Padlocks. We get a sense of security with padlocks on the zippers of our packs. They are not impenetrable but everything done to make the target just a little more difficult is helpful. A quick thief's hand can't just reach into the bag to take items.
Backpacks.  We left our 70-liter conventional backpacks at home and bought a 40-liter REI backpack for me, and a 50-liter Kelty backpack for Trin.  These are front-loading packs that allow you to open up the front of the pack like a suitcase so you can access your stuff, and not have to dig out as much as you would in a top-loading pack.
Tote bag. We brought a tote bag on the trip just for our first flight, but we have found it so convenient both for grocery shopping as well as being a good travel bag for things we want easy access to.
Other items such as the Tupperware are convenient for extra grocery supplies such as tomatoes, onions or garlic. The Tupperware keeps them from getting crushed in our packs from one city to the next. When there are no fresh items to fill it we stuff it full of the extra spices or other food items we have for cooking.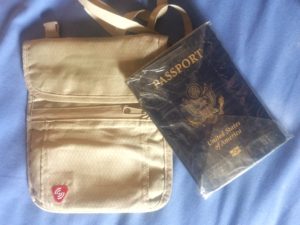 The ID holder is primarily to keep our passports from getting rain or sweat-soaked as it is carried inside my clothes between lodging.  Most passport holders you can purchase are too bulky.  Instead, I used leftover plastic from a storm window.  It is thin and flexible but strong.  I cut it to form a nice pocket that perfectly protects my passport without adding bulk.
Our pillows are lightweight REI backpacker pillows that can be inflated. Many places where we have stayed have pillows that were hard as rocks. We have been glad to have our travel pillows along with us.
Women only: If you don't have or know about what a Diva cup is I encourage you to research it. Even if you are not traveling. They will save you money, reduce waste, and provide much more comfort.
THE NOT-SO-SMART CHOICES
For clothes, we tried to select quick-drying durable material. Trin did a good job on his shorts and slacks. I, however, did not select well. My yoga pants, while comfortable, don't dry well and are not durable. I have repaired them about ten times and noticed yet another hole in them last night. They also have paint from our Uvita workaway in Costa Rica, a rip from the metal beams in the homes we built in Waslala, Nicaragua along with additional paint from the horse trough I painted here in Boquete. They are just about done.
I'll probably cut them up to use in repair of other things now. What I would do differently is to go out and splurge on a nice pair of hiking pants or something of similar material.
I bought my Salomon Quest boots for hiking and traveling with my backpack. They have been great. Sadly, I can't say the same for my choice of walking-around footwear. I purchased a pair of Skechers with a nice cushioned sole. They capture moisture such as sweat and never dry, eww. They got left behind in Uvita (sorry Wim & Marriane, I forgot to throw them away and left them outside our door). Someone who had been to the refuge in Uvita before us left a nice pair of leather top sandals. Jason said I could have them, they were a better choice but did not hold up to the wear and tear of walking miles a day and sometimes getting wet.
Eventually, I purchased a pair of Ecco sandals at a "Ropa Americana." These are second-hand stores of all the items that Americans give away – thank you! I looked at brand new shoes in Nicaragua, but they were not of a quality that would hold up.
The Ecco sandals were perfect. All the straps expand since my feet swell in the heat down here, that is very important. They are ergonomic to walk in for miles. Best of all, and everyone else will thank me for this one – I can wash the smell out of them.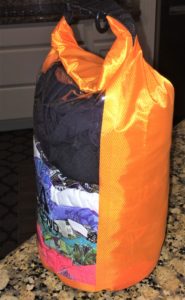 A word on women's apparel:
Bras, ugh. I bought three bras. One is a sports bra (as the gang in West Vale wanted to know – thanks for letting me tag along on the morning walks). I hate sports bras. They are hot, cause uniboob and are a royal pain to get in and out of. I did bring one that could double as a bra, and on days at the beach, as part of a swimsuit. In our list above I suggest a bikini top instead of a sports bra. When this one wears out that is what I will be replacing it with.
In a moment of flawed brilliance before we left I purchased a sports bra that zips close in front. Within the first week of our trip, the zipper broke and nothing would stay inside (woohoo!!!) [Trin edits each post, he added that last note]. I've had to sew it closed. Now it is just as much a royal pain to get in and out of as a normal solid one piece. Lesson learned. Always test drive clothes. I thought I learned this year before when buttons on my brand new shirt broke just before getting up to speak in front of the executives. Hopefully, you won't make the same mistakes.
Above all, pack a good attitude, and keep it with you at all times. That should be first on everybody's list.
Pin this to save for later!
---