It was early evening and we had just started heading out on the long driveway out of the property when across the headlights of the Ford Escort ran a tiny white furry blur.  Roger stomped on the brakes and the car skidded to a stop on the crunchy gravel road.
He backed up to where the thing disappeared on the side of the road and we saw a white and tan cat standing there looking at us.  The previous night we had heard it trying to get to the new addition to the stable: twenty tiny, little baby chicks.  They are such adorable, bundles of furry yellow and black cuteness chirping and shuffling around in their enclosure.
THE BIG BANG TABBY
I knew exactly what Roger was going to do as soon as he had started backing up the car, so I was not surprised at all when he pulled out his Walther PPK from his backpocket and fired two warning shots towards the cat.  The cat took off and we have not seen it since.
The incident had just a tinge of absurdity and I somehow found it comical.  Trin and I laughed about it later.  But that's Roger as we've come to know him.  He is serious about protecting his property and everything in it.  A few nights ago he did a spot-on impersonation of Clint Eastwood, with all the grit and the icy squint, "You can mess with me but don't mess with my horse."  That goes for baby chicks as well.
He was taking us out for dinner to celebrate the tenth year wedding anniversary of Trin and me.  Before heading out he opened a bottle of champagne to begin the celebration.  We relaxed in the ornate living room to finish the bottle.  We then headed to the Panamonte.  It is a beautiful restaurant in Boquete, Panama with a wonderful ambiance.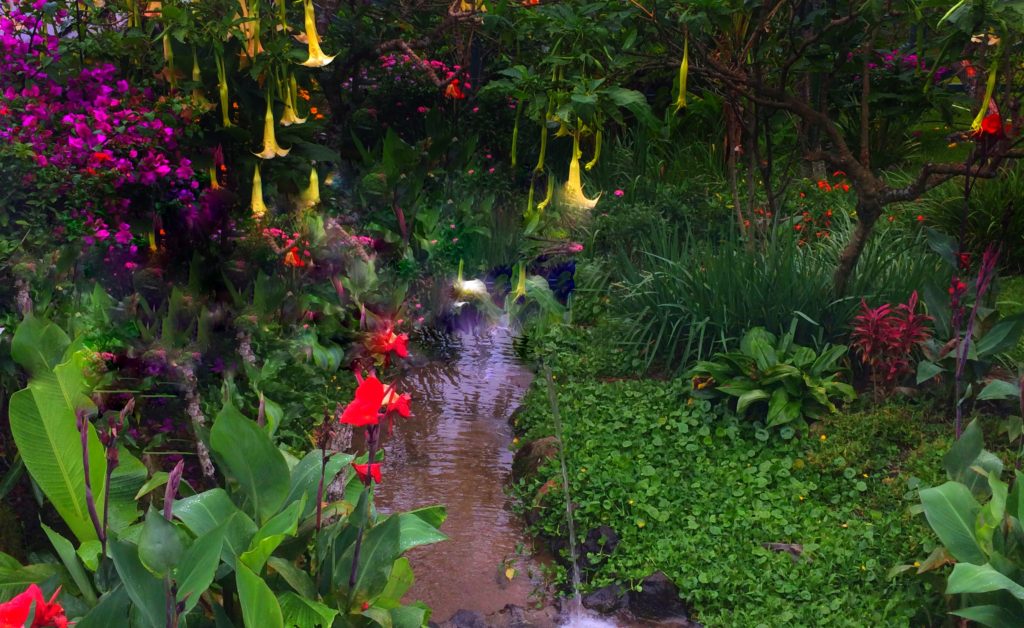 A RELAXING EVENING
Roger ordered a very nice, earthy bottle of Chilean Merlot and the three of us relaxed on couches by the crackling warm fireplace waiting for the food to arrive.  A nice cool breeze wafted through the open windows mixing with the warmth of the fire creating the perfect mixture of radiating dry heat with the occasional wisps of cooler air.  The smell of the wood smoke made me reminisce about the many campfires out in the woods that we have enjoyed.  We gazed at the flames and smiled in contentment.
I've had rough times, and I've had prosperous times.  I've been hated and loved.  There have been years of nightmares and years of blessing.  I sat back in this beautiful place looking back over the last ten years with Trinity.  The best decade of my life so far.  What a blessing to be here on this journey with the love of my life.