After 80 days in beautiful Boquete, Panama we bid farewell to Roger, our gracious host, but not goodbye.  We hope to see him again somewhere along our travels. For now, we're off to Coiba.
We boarded a series of buses that took us to the little town of Santa Catalina on the Pacific coast of Panama.  Here we met up again with Glenn, one of Roger's friends whom we met in Boquete, who owns Coiba Dive Center.  We signed up for a three-day diving trip in the Coiba National Park, one of the last virgin areas in all of Central America.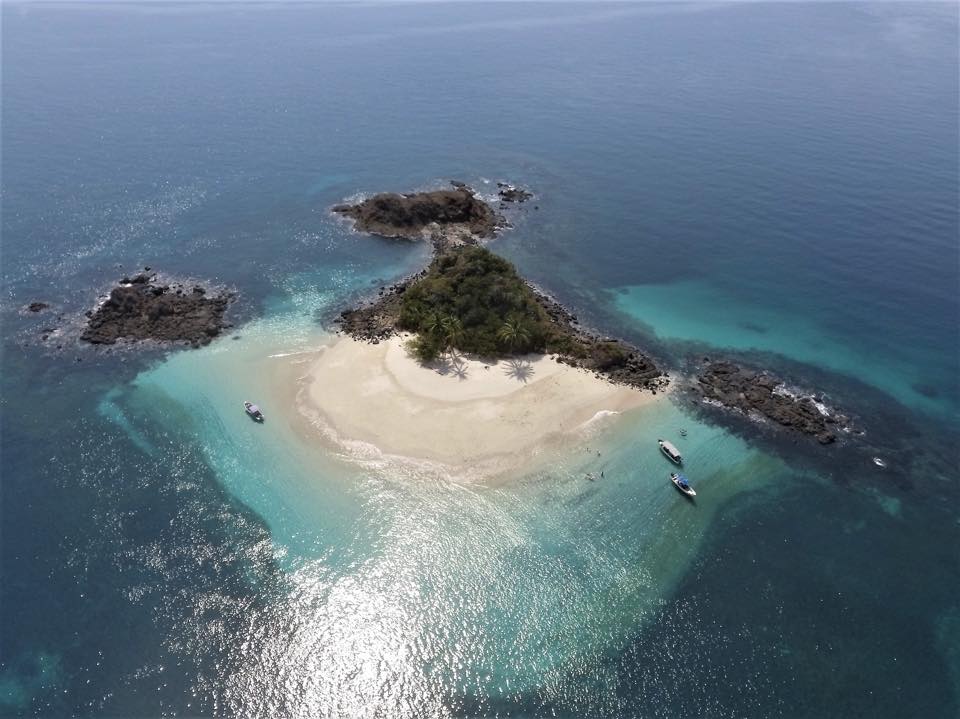 COIBA DIVING
Bright and early the morning of Day 1, Alberto our divemaster suited us up with wetsuits, masks, and fins.  He speaks English well, with a distinct Italian accent, and his easygoing attitude put us at ease with him right away.
We met the other divers as we were getting ready: Jenifer is a laboratory professional who is in the middle of a long vacation throughout Panama.  Toshi and Tosha are dive buddies who work together – he is a documentary film director from NY and she works in the arts sector in FL.  They had been in Coiba a few weeks prior and they liked it so much that they simply had to return.  All of them have years of diving experience.
The small group of five was a perfect size.
SWIMMING WITH SHARKS
It is an hour and a half boat ride to the Coiba Islands but Alberto mixed it up with a couple of dives along the way.  Within the very first dive of this trip, we saw sharks.  Some of them hung out on the ocean floor while the others swam around.
"Sharks Guaranteed," claims the Coiba Dive Center website.  And they deliver right off the boat, right off the bat.

After the first dive, we were taken to an island beach where we had snacks and beverages while the crew changed out the tanks.  The sand was white and the water was clear.  There was a huge boulder sticking upward in the middle of the tiny island.
"That kind of looks like James Bond island," Jenifer said.  I've never been there, but an Asian tour is in our future, and Thailand is a definite stop.
HERMIT CRABS IN SWEATPANTS
There were a lot of tiny hermit crabs on the sand and they started grabbing the little pieces of food that fell between our pruney fingers.  Several hermit crab brawls broke out as the clumsy, asymmetrical crustaceans fought for the airdropped Stax chips.
Back in the boat as we headed for the second dive site, Tosha started laughing.
"I just had a thought," she said, "If we keep feeding those hermit crabs like that, one day when we come back, they will all be in conch shells."
"And eventually they will just wrap themselves in seaweed, like sweatpants!" Jenifer said.
We had us a funny bunch.
IGNORING ANXIETY
I was feeling a bit of anxiety before each dive but tried to ignore it and instead thought about the feeling on my last dive in Bocas del Toro where I fell in love with diving.
The second dive was just as good, teeming with underwater life.  We saw more sharks, moray eels, turtles, rays, sea snakes, lobster, all kinds of fish, and an octopus whose body was the size of two softballs.
It's the stuff of underwater documentaries that you see on TV, and we did it like they do on the  Discovery Channel.  The diving part.
Our GoPro Hero Session was only rated waterproof for up to 10 meters so we couldn't take it diving with us.  Fortunately, Toshi and Tosha had underwater cameras and they sent us some of their pics and videos.  We made a note to purchase a dive case for our GoPro.
In time for lunch, we arrived at the northern tip of the main island of Coiba which would be our home for the next three days.  Our chef prepared delicious meals for us and we ate heartily before we filled out our dive logs.
We had a few hours before the afternoon dive.  Time to relax.  We lay on the hammocks, walked the beach, hiked in the woods, or just hung out.
REGULATOR MALFUNCTION
On the third and last dive of the day, my regulator stopped working and no air was coming in at all.  Thankfully we were at our five-meter safety stop on the way up so I was right next to Alberto.  I took the regulator out of my mouth and signaled out of air, reaching out with my other hand requesting his emergency regulator.  As I brought his yellow emergency lifesaver to my mouth I hoped that there was enough air left in my lungs to purge the regulator and get air.
Thankfully it worked and I faced downward enjoying some air and trying to relax.  Then I saw a large long tail sting ray below us and excitedly pointed it out.  Alberto tested my regulator and it worked for him so we switched back before the three-minute safety stop was up and I was able to ascend on my own.
After the dive, we moored again to another island beach for snacks.  Since it was the last dive of the day, we popped beers and they tasted better than what a Panamanian island lager could ever hope to be.
CROCODILE TITO
Dinner time back in the main Coiba island had more beer and a couple bottles of wine.  We filled out our dive logs and exchanged stories.  Later, we walked in the dark beach to look for Tito.  He is a saltwater crocodile who hangs out on the beach.  He didn't make an appearance although we saw him the next day in the surf.
This was how it went for the two days that followed: two dives in the morning with a secluded beach stop in between, lunch at the main island, a few hours to relax, third dive in the late afternoon with a beach stop, beers, dinner, and more beer.  And the company of a really good group.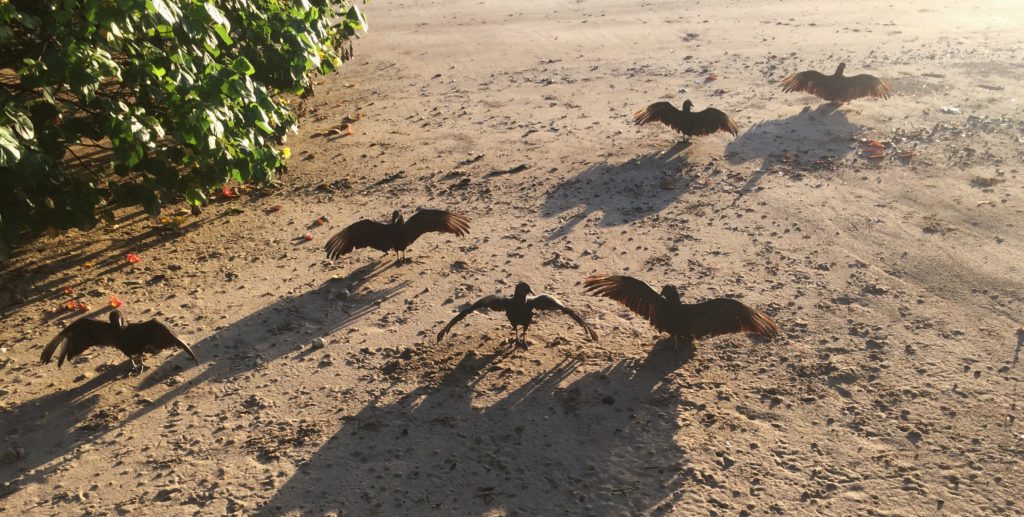 STRUGGLING TO BREATHE
On the first dive of the second day, my increasing anxiety took over.  The entire 55 min under water I struggled to pull in air through my regulator.  I had to talk myself out of a panic and force myself to simply breathe and calm down.  I was 90 feet (27 meters) underwater and struggling to breathe.
Focusing on my breath I told myself to calm down. Anxiety I knew was a contributing issue.  People die from letting fear take over.  I knew I needed to fight this fear and I wanted to conquer it.  I kept my sight on our dive master in front of me and tried to push all other thoughts from my head except to simply breathe and follow him.  Oh, and also look at that cool octopus!
"I think I'll sit out the next dive," I told Alberto our dive master.
I was feeling lightheaded on the beach during the interval after that dive.  He had my regulator swapped out for a new one but I was still too lightheaded to go down again and did not want to put anyone else on the team in jeopardy because of my weakness.  I felt like a failure letting fear hold me back.
SITTING ONE OUT
When we arrived at the next dive location I suited up and told Alberto I would get in the water but would stay at the surface.  I hoped that doing this would help me get used to the equipment and get over my increasing anxiety and near panic that I was feeling on the ocean floor.
I had a very pleasant hour in the water, one hand on the anchor rope just floating along breathing easily underwater, getting comfortable with the equipment.  A large school of barracuda came toward me and swam around me, it was amazing.
The most beautiful jellyfish floated by, it was clear with tiny pink and yellow neon strips down its sides.  I looked down to see a white tipped reef shark swimming just below me and I smiled.  The ocean truly is spectacular.
Trin later teased that I was snorkeling with too much equipment.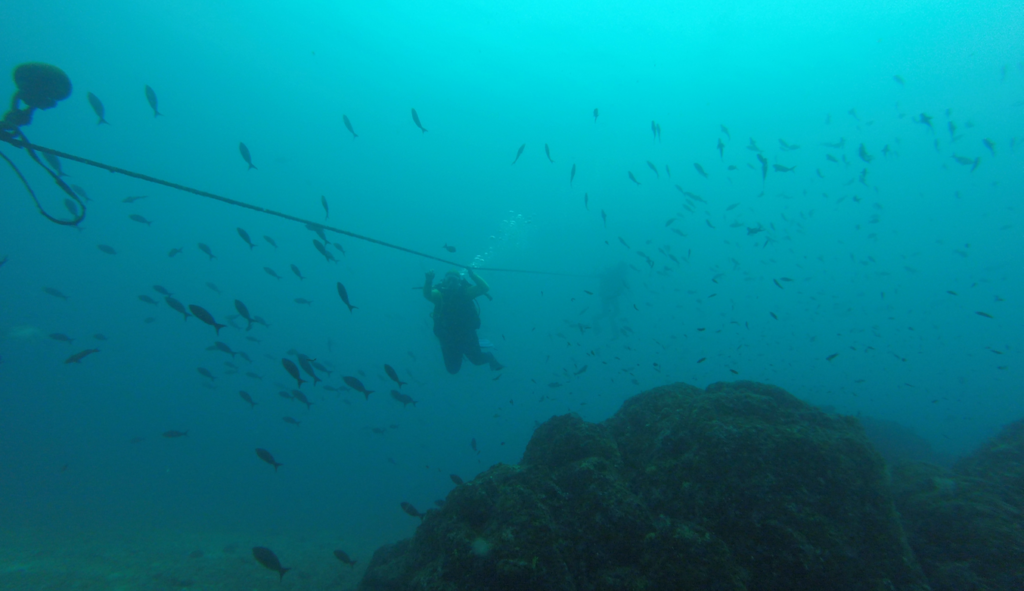 DIVING BACK IN DEPTH
The hour on the surface with my equipment seemed to give me the positive reinforcement I needed.  I got used to the regulator and did not feel any anxiety the remainder of the trip. The rest of the dives were absolutely amazing and I was able to enjoy them panic-free.
At one point we approached a massive school of grunt fish.  The school was so thick that from a distance they appeared to be a huge underwater rock jutting up from the ocean floor.  As we approached, the school opened slightly and surrounded us, like being in a small tornado of fish. Tosha was able to capture this wall of fish as we approached.
We floated in the center and gazed through our masks in sheer joy.  Schools of fish swam and moved together turning back and creating patterns just like huge flocks of birds do in the air. The repeated patterns of nature whisper again to me of a common Artist.
AN UNDERSEA RIDGE
On another dive, we stopped at a large drop-off of an undersea ridge where the currents met.  In front of me was more fish than I had ever seen in an entire aquarium.  Schools of Jacks, rainbow fish, machete and more swirled before us with a few sharks navigating in and out of the schools.  I floated there suspended in awe at the abundance of life before me.  At one point a large diamond stingray emerged from the deep blue waters beyond us.  All of us paused and floated above it as it glided through the water just beneath us.
The entire three days were simply amazing.  We felt like every need we had was taken care of.
COIBA DIVE CENTER
I highly recommend Coiba Dive Center.  Alberto is an excellent dive master and watched out for all of us.  By the end of the last dive, I felt very comfortable with diving again.  Thankfully we had a great team of divers to hang out with.  We didn't have to worry about anything for three days, just dive, view the amazing world under the sea, eat and sleep peacefully, wake up to the sound of howler monkeys and repeat.
We had an absolutely wonderful time. Coiba is near the top of my list for recommended vacations to all my friends.
Note: If you click on our product links, 43BlueDoors will receive a small commission on anything you purchase within that session- at no additional cost to you. 43BlueDoors donates all net proceeds to support freedom for young girls rescued from human trafficking.