Cartagena is hot, I mean really hot, but it is still worth a visit.  I need to remind Jen, my BFF from where we used to work, to take an umbrella on her cruise to Cartagena. It will help shield some of the heat from the sun.
This town was our first stop in Colombia.  It's been two months since then and I feel that we have barely scratched the surface of what this beautiful country has to offer.
We stayed in the Bruselas area which is outside of the tourist zone, taking local buses to get around.  It's easy once you understand the main routes, and very cheap.  During our first evening there, we witnessed a strike being carried out a few blocks from our lodging.  They were protesting the power outage that had been going on for more than a week already.  They had a fire burning on the road.
The main attraction in Cartagena is the old town.
We spent a day walking in the centro and the Getsemani area.  It is very picturesque and has a lot of history.
SANTA MARTA
After just a few days in Cartagena, we took a bus north to Santa Marta, a launching point for Tayrona National Park.  We skipped the town of Barranquilla although I hear that their streets don't lie (it's Sharika's birthplace.  Did you know she speaks five languages?).

As the bus left Cartagena and headed to Santa Marta we passed through endless green fields with cows lazying around, chewing the cud.  A few of them glanced at us and then continued to gaze into space, pondering the meaning of their existence.
I saw a little boy, barefoot with dirty clothes, wandering down the middle of a dusty road, sucking on a mango.
I dozed off for a bit then awoke to a scene outside my window of abject poverty.  Swampy brackish waters filled with garbage were surrounded by dilapidated homes.  The walls of the homes only partially shielded the dark interiors from the elements outside.  Large holes exposed dirt floors. A naked child ran out of a doorway which held no door and laughed as a slightly older child wearing only underwear chased him.
I wondered what it would be like growing up here, surviving in this depressed area. How difficult would the road out of this life be?  I also wondered, with children playing at recess – couldn't they make a game out of "pick up the trash" or have they just given up?
I looked up further into the distance and saw my first glimpse of the Sierra Nevada mountains.  The first mountain we approached was raped by strip mining.  Further, the rest of the mountains still stood majestically with green vegetation.  Feathery clouds graced their tops like the remnants of cotton candy on a stick after all the children have had their sugar high.
ROKADURA
We hopped off the bus at the Santa Marta bus station and began walking down the road towards Carrera 15 to get to our reserved lodging located about a mile from the bus station.
Rokadura is an up-and-coming hostel that is still under construction although some rooms were already being rented out for a low introductory rate.
Jonathan, the owner, immediately made us feel comfortable with his easygoing personality.  He is the embodiment of "chill".  Rokadura was still a work-in-progress but its unique features were already making me love the place.  I'd love to see the completed project, it's going to be a really cool hostel.
Santa Marta has a nice waterfront where you can take a stroll, watch the sunset and sample some street food.  Parque de los Novios is also a wonderful area to hang out in the evening.  There are some nice looking restaurants and a pedestrian-only street that is lined with bars.  We enjoy walking through areas like these though we rarely partake in their services which tend to be touristically overpriced.  There was a concert in the park while we were there and we hung out there for a bit.
TAYRONA NATIONAL PARK
We left for Tayrona the next day.  Jonathan let us leave our packs in his room so that we could enjoy the park with just a daypack and a tote bag.  He knows the area very well and gave us excellent information about where to catch the bus and all that good stuff.  He is such a chill guy and his Colombian girlfriend, Marilyn, was also very nice.  They even let us join in their family lunch barbecue.
Having heard that food was expensive in Tayrona we packed the tote bag with food to reduce the cost of our stay in the park.
We heard that alcoholic beverages could not be brought into the park and that bags would be searched before you enter.  Since the park is inhabited by an indigenous people group I thought that maybe they were opposed to alcohol so we complied.
When we got to the park there were no bag searches. We learned that they don't want you to bring beer so they can charge exorbitant prices to sell you a beer.  You might be able to get away with bringing your own alcohol but I can't guarantee that they won't do a bag search.
TRAVEL LIGHT
The hike to Arricifes had stunning views of the sea, the mountains, and the beach, but very hot.  You don't want to be carrying too much on your back.  We chose to camp at Don Pedro's, a ten-minute walk from the beach.  It is less busy and quieter.  They offer small cabin rooms, tents or just a hammock.  We opted for the tent as it was about the same price as two hammocks and would give a lot better protection from mosquitoes plus a bit of privacy.
All the campsites charge extra for a locker to store your bags, but the lockers were not big enough even for a small backpack.  This was not an issue for us because we only had our daypack and the tote bag of food.
Overall we were impressed by the natural beauty of Tayrona, but the service folks and vendors left a bitter taste (like wet sand between my butt cheeks, Trin says).  It seems that the vendors are much more interested in eking every bit of money they could out of visitors and could care less if anyone enjoyed their time at the park.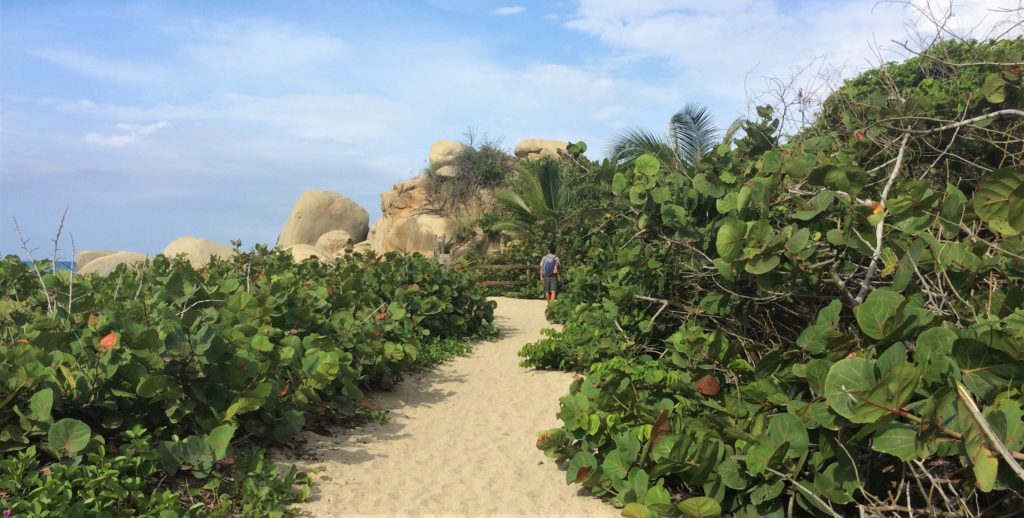 This is a big deal to me.  In fact, I find myself going back to friendly vendors who care about their customers even if they don't necessarily have the highest quality product.  It's not the product that is the most important, it's the relationship.
---
BlueDoor Tips
Bring food with you to Tayrona
Bring a water filter.  Bottled water is very expensive, and adds to the environmental waste
Leave your packs in Santa Marta and pack light – you have a long way to walk in extreme heat
Don't forget your sunblock