As we teetered across a cable suspension bridge with missing boards and rotten connections between our feet, I held onto the cable rail and felt giddy with excitement.  I had been looking forward to this hike for months now.
We followed a trail leading us past verdant farmlands and beautiful foliage next to a subtle stream.  The trail was muddy in places. But it was not the shoe-sucking-lost-forever nightmare we had read that this trail could be.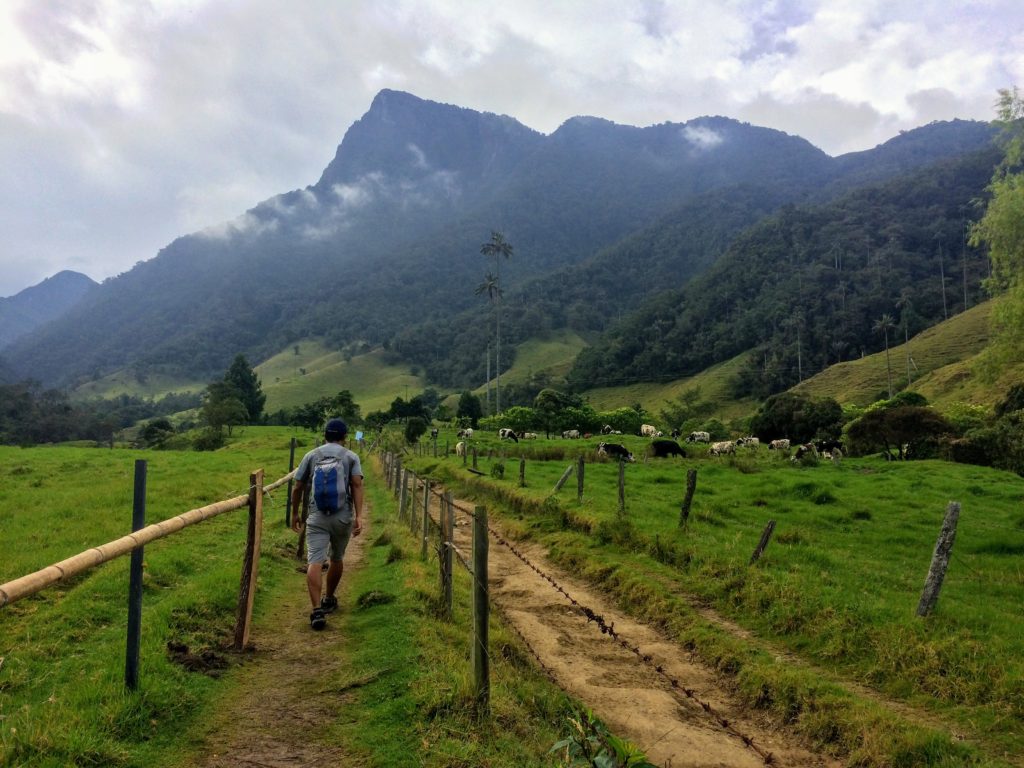 A breeze came through and cleared the valley revealing the wax palm trees swaying in the distance, way above the brilliant green grass on the steep mountain slopes.  I stood there in awe simply gazing at the amazing beauty before us.
Here in the Cocora Valley, elevation 6,000 to 8,000 feet above sea level, wax palm trees tower above the vegetation, up to 200 feet tall.
We made our way through the valley stopping often just to drink in the landscape and soon began to climb deep into the cloud forest.  The dense foliage closed in around us and rain began to patter on the leaves above our heads.  Soon we had to stop to don our rain jackets.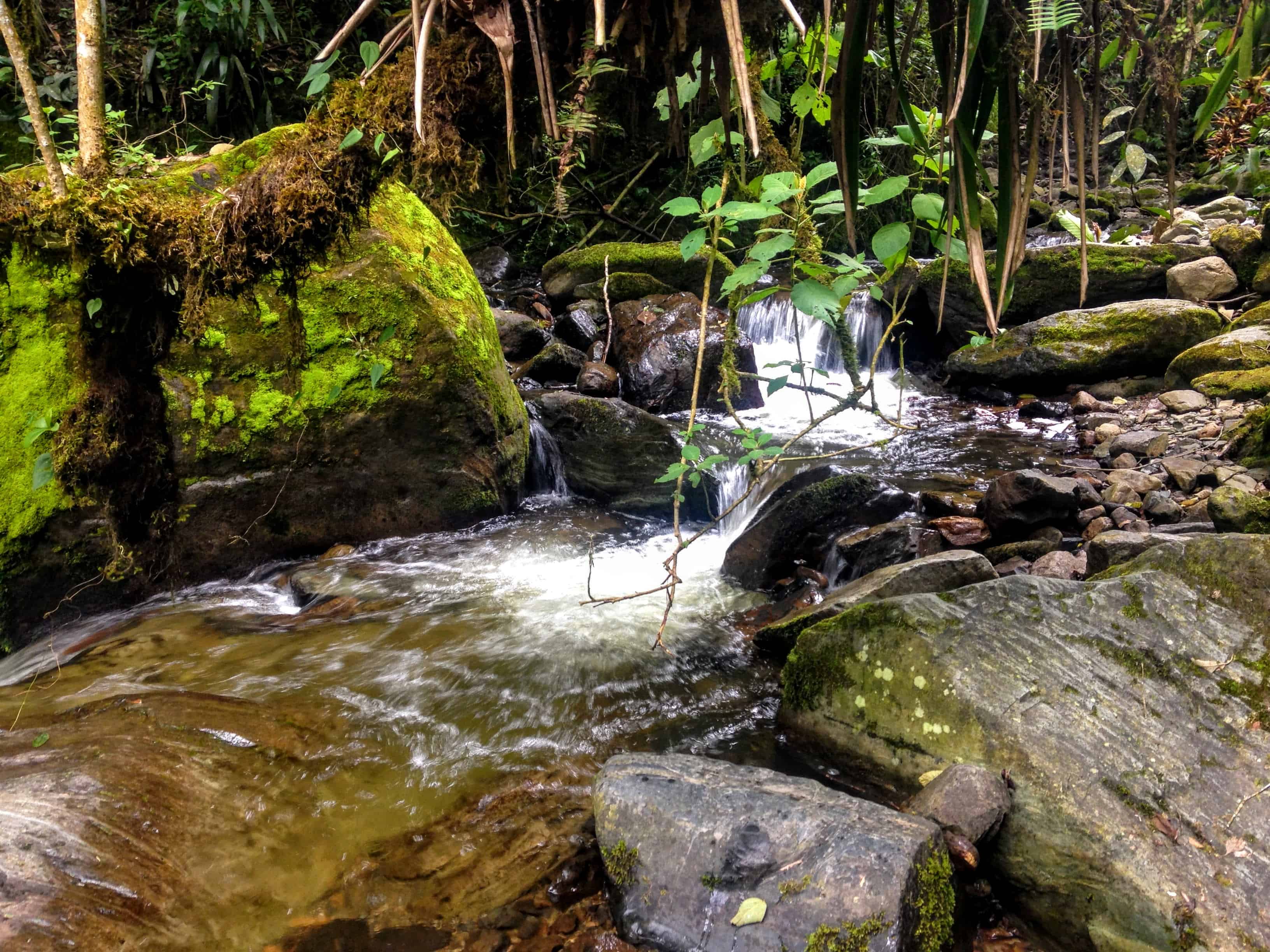 Carefully up the slopes in the Andean mountains, we made our way, trying not to step too close to the side of the trail.  We could see some small sections that were missing, and telltale dried-up tiny mudslides down to the valley far below us.
As we climbed higher a chill set in and I began to look forward to the mountain finca purported to be at the top of this climb.  I was hoping to get a tinto there to warm me up.
HERSHEY KISS MOUNTAIN
The trail broke through the clouds.  There across the valley loomed a tall pointed peak.  Due to the steep sides of both the mountain we were on and the one we were gazing at it didn't seem all that far away.
"It looks like a Hershey Kiss with an elongated top," I said to Trin.
"You're just hungry," he replied.
Perhaps I was, but it was beautiful nonetheless.
Unfortunately, we did not see anything for sale at the Finca de la Montaña.  The rain had become more than a drizzle but we knew that it was going to be downhill from this point so we trekked on, hoping to get out from under the cloud forest.
This was the apex of the loop trail that we were taking, both in the sense that it is the highest point, and also that it is where the trail begins to head back to our starting point.
The trail grew wider and it became a much more gradual descent towards the valley that we had just climbed.
TOWERING TREES
After a few hundred meters we came upon our first overlooking view of the valley, with peaceful meadows dotted with tall wax palms.  It was beautiful.  Forget about trying to put it into words.  I mean, just look at it:
All along the return path, there were multiple viewpoints and we stopped at each of them, eventually finding a great spot to eat our lunch.
We reached the area near the bottom where we found ourselves among the majestic wax palms that towered over us like slender, monoped giants.
I wanted to stay there forever, or at least for as long as I can hold my head up to gaze upon the amazing landscape.  What a beautiful place.  It was everything that I imagined it to be ever since I saw pictures of the Cocora Valley several months ago.  And I was finally there, filled with awe, and peace, and gratefulness, and humility.
---
COFFEE TOUR
Back in the town of Salento, we grabbed a really late lunch and decided to head down to an organic coffee plantation for a tour.  We walked along a scenic gravel road at a good clip in order to catch the last tour of the day.
An old Renault 4 came along and the elderly couple driving it offered us a ride.  They seemed nice and we had heard of the hospitality of country folk in this area.  We gladly hopped in and they dropped us off right at the entrance of the coffee farm.  It was a good thing too because otherwise we probably would not have made it in time for the last tour.
During the coffee tour, we wandered on the slopes through the coffee and plantain trees.  We learned that the plantain trees not only provided shade for the coffee plants but also water.  They absorb a lot of water during heavy rains, but then give it back to the soil on dry days.  There were various other fruit trees among the coffee that they don't harvest the fruit from. Instead, they allow the fruit to fall and naturally fertilize the ground.
It was a nice tour though we've had better.  Don Elias himself came out to greet us and talked to us for a bit.
TOWN OF SALENTO
With still a bit of time before dark, we walked along the streets back in town and found a long set of steps at the edge of town that led to the top of the hill with a nice overlook.
"Are you counting?" Trin asked as we began to walk up the steps.
"Well, now I am," I replied.
There are 240 steps in case you are wondering.
At the top were a swing set and a beautiful view of the town and the surrounding farmland.
Later that evening we met up with Farah whom we had met on the bus ride into town.  She was born and raised in Egypt but her want for travel led her to seek more lucrative employment opportunities and a better passport in Australia.  Not long after she got her citizenship she quit her job to travel.
GOOD EATS
We had dinner at a place called El Rincon de Lucy, a no-frills eatery that usually has only a couple of set meals on the non-existent menu.  We had a trout for 8000 COP.  This is a great deal.
After dinner we walked aimlessly through the empty streets of Salento without any fear for our safety, talking about travel.  Farah and I discussed our need to feel productive and how to do that while traveling.  Trin just shook his head.  He has no problem simply enjoying the moment and having no objectives.
---
ROOM WITH A HOLE
In Salento, we stayed in the second room of a small two-bedroom studio that was pretty much a bachelor's pad.  The cinderblock walls visible from both the outside and inside were red mushed together with gray mortar, or maybe it was cement.  The metal outer doors screeched when unlatched, and the plastic sliding "accordion" interior doors were little barrier to any noise.
Our host, Erwin, was a young Colombian who spoke fluent English.  He extremely helpful and hospitable.
On the first morning here, I made a pot of coffee and watched as the tarp of the neighbor's bedroom wall swayed in the wind.  I looked around and thought about how to "finish" the home. What could be done to fancy it up?  It's a habit picked up from renovating properties back home.
In the next moment, I snapped out of the home-makeover reverie and saw everything under a different light.  It was the complete simplicity of it all that really spoke to me.  It was functional, clean and comfortable.  Even though there was a small hole in the wall by my pillow giving me a view of the sky it was also private.  It is simply a different way to live with not much to worry about or clean.  The concrete floor would be easy to sweep or even wash down with a hose.
Life seemed less complicated in Salento.  People greeted each other by name on the street and smiled with genuine happiness when they saw each other.  I may have barely scratched the veneer of what it is really like. It looked to me like a simple life in the middle of an amazing place. It was a beautiful thing.