Colombia is twice the size of Texas.  Within its borders, one can find Caribbean beaches, hot deserts, a modern city of eternal spring, snowcapped mountains, rain and cloud forests, the tallest wax palms in the world, and much more.  On top of that, it is very inexpensive.
"Isn't it dangerous in Colombia?" is the first question I have gotten from many friends.
In fact, when I was younger all I ever heard about was danger and drugs in connection to Colombia.  It is hard to ignore this nation's violent past.  Drug lords like Pablo Escobar and his massive cartel caused sensational news.  There is a long history of armed conflict between the government, numerous guerrilla groups, and paramilitaries.
But it is not who the Colombians are.  They are doing all they can to bring peace to their country and change the perception.  A recent peace deal with the rebels has been signed and approved, and the healing begins.
We found the country to be beautiful and the people welcoming.
Here's a list of our favorite places in Colombia.  There are a few places that we did not get a chance to write about until now.  For these places, I've included a mini photo album in an attempt to give you a better feel for Colombia and encourage you to come and visit.
11. Tatacoa Desert
This dry, tropical forest (not really a desert) is beautiful.  It's a bit of a journey to get there and many travelers skip it, but if you are headed to or coming from Ecuador by land, it is absolutely worth a stop to see it.
10. Bogota
It's a chilly city sitting at a little over 8,000 feet in elevation.  The historic neighborhood of La Candelaria in downtown is enjoyable to walk around, see the architecture and think about the historical events that have occurred in the places you stand.  There is a section of Carrera 7 (La Septima) in La Candelaria that is pedestrian-only and is a joy to walk and people-watch.
Hiking up Monserrate is worth it for the views of the city.  We went on a Sunday with a charming, local Bogota couple whom we met through our lodging. En route, we walked in the middle of Avenida El Dorado, a typically busy highway but is closed to vehicular traffic every Sunday for the weekly ciclovia.
It is an interesting sensation walking on a highway underpass without fear of getting run over.  It felt a little like the Walking Dead, except that there are cyclists and other pedestrians around you, and you can still hear the sound of the city, etc.  And there are no zombies.
Skip the gold museum, unless you really love museums then go on Sunday when it is free.
Fun Fact: Rapper Snoop Dogg posted a selfie while he was in Bogota but he misspelled the city's name when he tagged the location, resulting in some good press for a tiny little village called Bogata, Romania.
Pictures of La Candelaria area of Bogota
9. Cartagena and Tayrona
Cartagena is H-O-T hot but the historic old town is worth a look.
Tayrona is H-O-T hot but the beautiful coast is worth a look.
We spent our first few days in Colombia in these two coastal destinations.  The heat was repressing but we enjoyed the sights and then fled to Medellin for some nice weather.
8.  Las Lajas Sanctuary
If you are going to or coming from Ecuador by land and crossing at the Ipiales border, then a visit to the nearby Las Lajas Sanctuary is a must.  The architecture is truly impressive.
The town of Ipiales itself is unremarkable, but if you are southbound and in need of some warm clothing for your Andean excursions in Ecuador, then this is the place to buy stuff cheap.  Many Ecuadorians go to this town to buy clothes, household items, food, etc.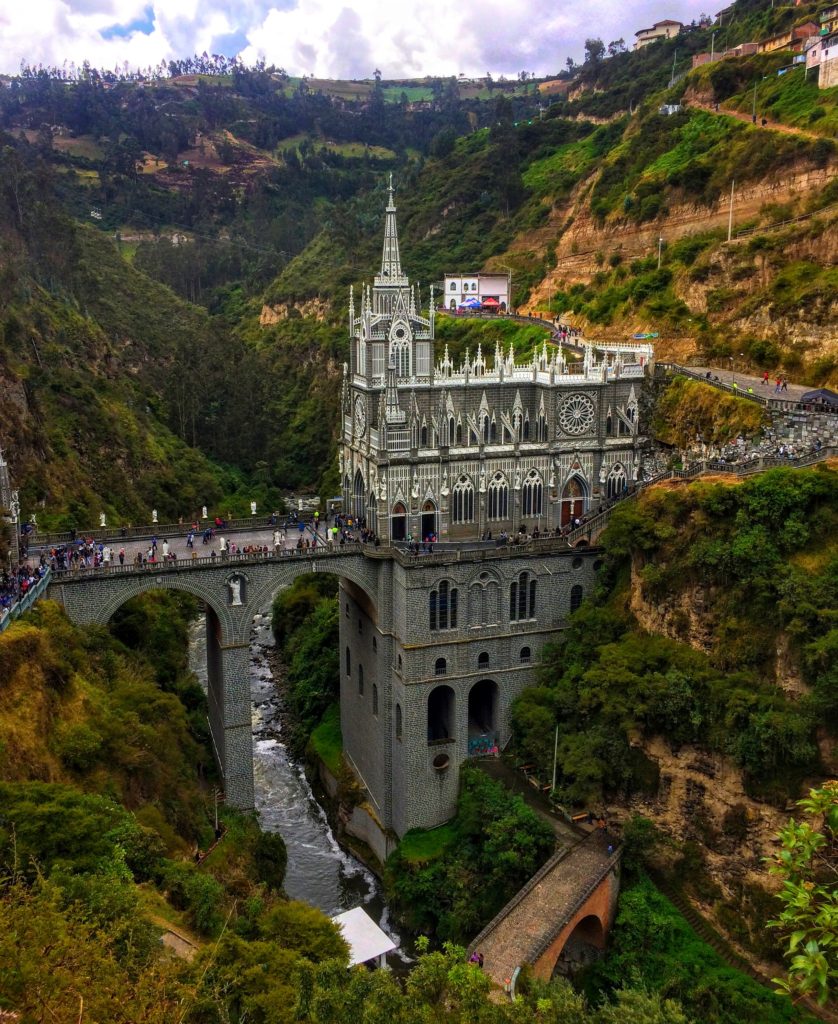 7. Villa de Leyva
This town has the largest town square in all of South America.  You can spend at least a day just wandering up and down the ancient cobblestone streets, shopping at local artisan shops and taking in the architecture preserved for more than 400 years.
We took a delightful break from traveling by house-sitting in this town.  We took care of two black labs and a Maltipoo whom I still miss terribly.
There are great hikes in the surrounding area.  We wandered up a trail just behind the town just to get to the top and see the view.  We were surprised to find beautiful farmland hidden at the top of the saddle of the mountains.
6. San Gil Area
San Gil is a great central location for numerous day trips.  Barichara, with claims of being the most beautiful town in Colombia, just might be that.  Walk around the square in Barichara, visit the paper factory and then make a trek to Guane.
Chicamocha Canyon is another day trip from San Gil.  We feel that the best way to see it is from above.  Way up above, while paragliding.
5. Guatape
Climb 740 steps to the top of a massive rock in Guatape and walk around the town enjoying the zocales of the beautiful small town.
4.  Guadalupe
A little out of the way between Villa de Leyva and San Gil, the tiny little town of Guadalupe is worth the side trip and the truck ride from Oiba goes through some very pretty countryside.
The Las Gachas and its natural jacuzzis are unique.  If you find the water chute go ahead and slide through it.  It's a lot of fun.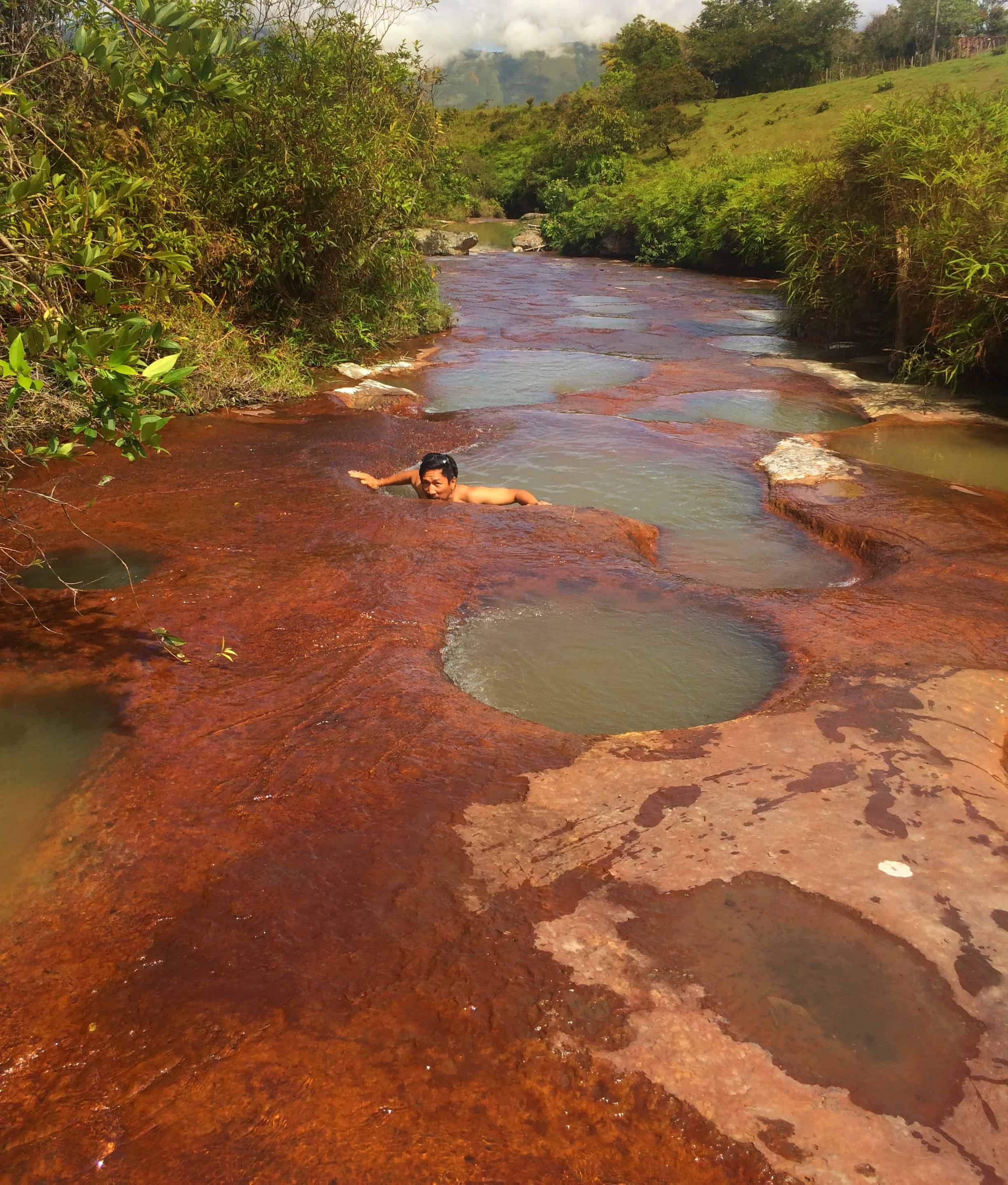 3. Jardin
No longer a secret, Jardin is a beautiful town south of Medellin that is definitely worth a visit.  The bus ride from Medellin is only a couple of hours, and the scenery along the way is beautiful.  Get ready for beautiful day hikes and a lively town square at night.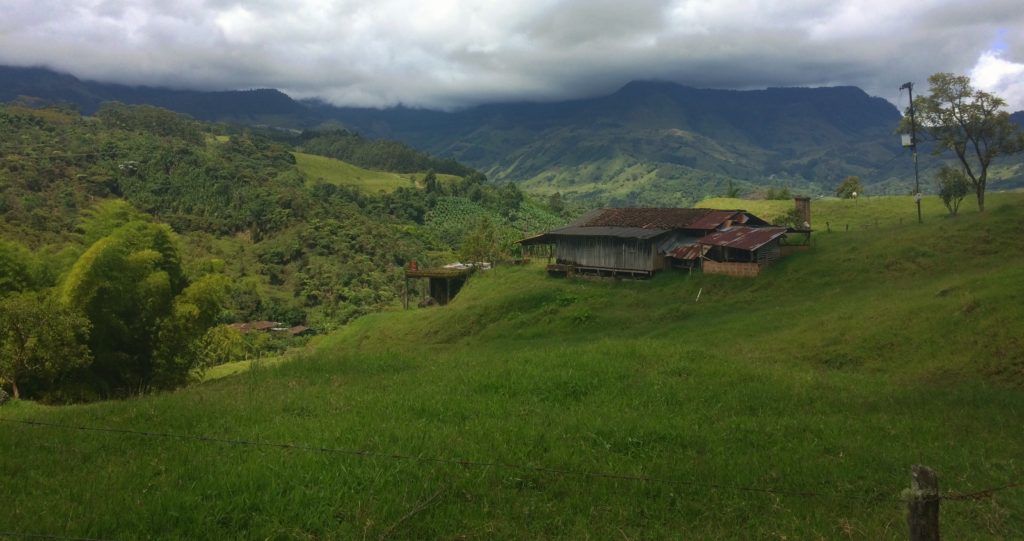 2. Medellin
We fell in love with Medellin while in Colombia and would definitely consider settling down there someday.  Check out our posts about the transformation of Medellin from the murder capital of the world to a clean, safe, and state-of-the-art city, with innovative public transportation options like cable cars and outdoor escalators.
Within just a metro ride and a connecting cable car is Arvi Park which offers excellent hiking opportunities.
From Medellin, you can also take day trips to neighboring little towns like San Pedro and Santa Elena.
1.  Cocora Valley
In my opinion, the most beautiful place in Colombia is Cocora Valley.  See the tallest wax palms in the world before they are cut down for gold.
There is so much to see in Colombia and so much we did not get to.
Colombia far exceeded our expectations.  We highly recommend it for your next vacation!