October 4th, 2017 marks one year on the road for us!
Before leaving the USA we researched and read many blogs to see what this venture would cost us. We wanted to be prepared. It can be hard to gauge what will be needed for budget travel, but we started out with a goal of spending an average of $50 or less a day ($25 each). We set this goal based on a number of other nomadic backpackers' blogs and what they spent. Admittedly, we are both very competitive and at times it was almost a game for us to try and travel for less.
Our actual spend was $13 each per day. That's $4,775 a year per person.
This includes all living expenses except health insurance, surgeries, and charitable giving. In addition to transportation, visa fees, housing, food and clothing, the $4.8K also includes entertainment such as zip-lining, a day in a hot springs resort, 13 dives including getting certified, paragliding, and other fun things.
The under $5K came as a shock to us since we were spending almost that entire amount per month before we quit our jobs in North Carolina.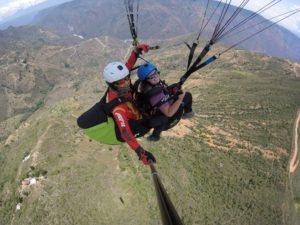 So how can you travel for less than $5,000 a year?
Live like a local
We didn't set out to travel the world in order to live in the little pieces of America in the countries that we visit, like El Poblado in Medellin, or Escazú in Costa Rica. We would have just stayed home in the USA. After all, we do love America, we just wanted to see and experience more of the world. Our goal was to partake of the lifestyle and food of each place we visit.
Food
Cook your own meals but avoid planning your meals too far ahead. Sounds counter-intuitive, but we normally did not plan our meals before arriving at the grocery store. Instead, we chose our meals based on what was available at the store for the best prices. Locally grown food is often the best way to go, and normally the least expensive food on the shelf is what the locals also eat. Make sure to check the unit price. In Central America, we found that the unit price on many items was often cheaper on the smaller packages. This works out great for backpacking as bulk items would have been a pain to carry.
The choice of grocery store also matters, some have more expensive prices than others. In Nicaragua, for example, shop at a Pali supermarket instead of La Colonia. In Colombia, we liked the D1 chain of grocery stores.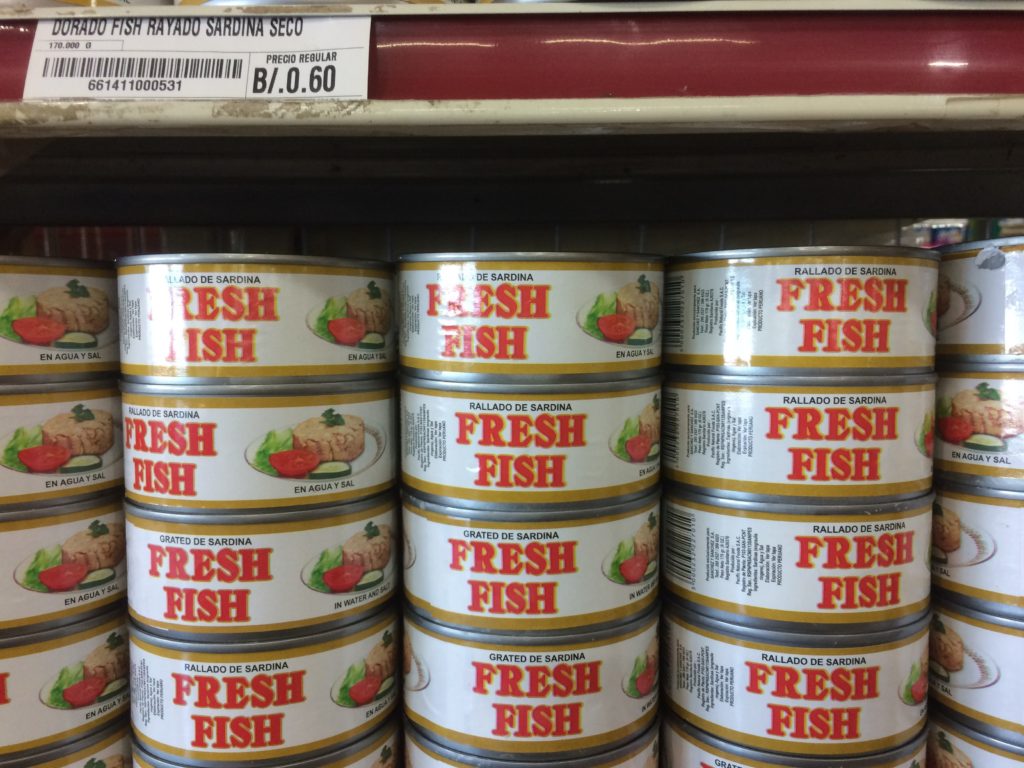 When we did eat out we would look for the places where the locals hang out. Normally that is the best food and the best price. In some areas eating out was just as economical as cooking our own meals. When a huge meal is less than $2 and cooking that same meal would be a similar price we definitely took advantage of the break from cooking (or, to be more specific, Trin took a break from cooking).
Water Filters
We don't drink water straight from the tap as the locals do, but neither do we buy bottled water. We have a small Sawyer water filter and it works great. Not only does it save us a lot of money, but we're also not adding plastic bottles to the landfills. We even use it on hikes to drink from a local stream. We did not have to carry as much water on our backs for the long, hot trek, and the water from the stream was cold.
Public Transportation
For the most part we travel overland using public transportation – the transportation that locals use, not the gringo buses – and we rarely ever take taxis. We have only taken two flights. Once between Panama City and Cartagena Colombia (because you can not cross overland on the Darian gap. Our second flight was from Santa Marta to Medellin because the flight was cheaper than the bus!
We could have taken a flight to the Corn Islands, but the trek overland, down a river, and over the sea was a great adventure.  It was also much cheaper.
Lodging
One of my favorite lodgings was a cinderblock home in Salento. It was typical of a local home there. It was built for functionality, not luxury. I really enjoyed its simplicity and its push for me to continually reevaluate my needs. We were comfortable, had a hot shower (hot water is not a given) and privacy.
Airbnb: We use Airbnb (you can use this link for $40 off your first Airbnb stay) for about 35% of our nights. It is often recommended to make sure a home has good reviews, but quite a few times we took the risk of booking with new listings as they often offer a good introductory rate in order to get a few good reviews to get them going.
In several cases, we found beautiful places that would normally be worth far more than we paid.  So far almost all the hosts have been wonderful and we got to live with locals.  Only once was the place so filthy and the owner so creepy that we canceled our second night and moved on.
Other Lodging: We used booking.com a few times. Another 143 nights were through workaway, housesitting, or other volunteer lodgings that ended up being free. In places like many towns in Nicaragua that are not really online yet, we "pound the pavement" walking around each new town upon arrival to find a place.
You don't need brand new
In the developed world it has become second nature to throw away broken or ripped items. In our quest for having new shiny items we build up landfills and spend much more money than we actually need to.
Be willing to fix your stuff. I patched one particular pair of pants over 10 times before finally giving in to the fact that they were done and I replaced them. Still, the old pair of pants was re-purposed into a headband, and pockets for another pair of pants lacking pockets.
After my knee surgery, I needed a walking stick. Hiking sticks were not only hard to find in Panama but the cheapest was over $50. I bought a broomstick for less than $3 and it works just fine. It's what the locals do.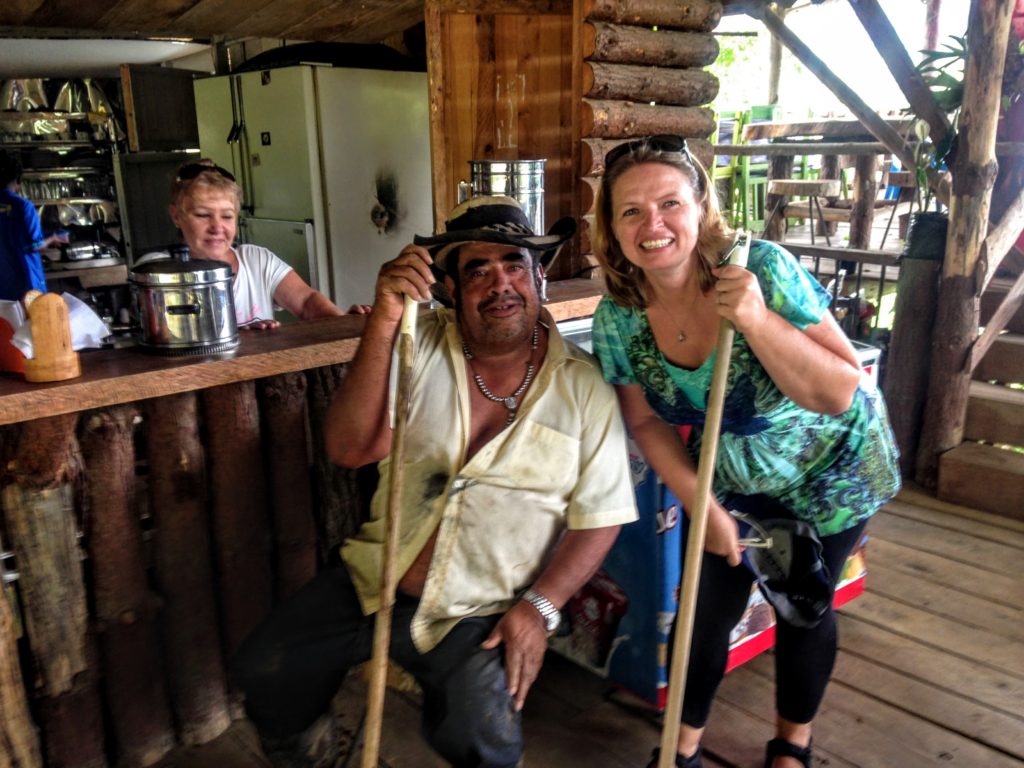 In Jinotega, Nicaragua, I replaced my worn out shoes with a pair of used Ecco sandals from a Ropa Americana, thrift stores selling used clothing from the USA. The sandals were in great shape and actually of better quality than what any brand new stores in Nicaragua had to offer.
Include down time to travel for less
Since we're not on a gap year but rather on a newly adopted lifestyle of travel, it is important to move at a pace that is sustainable for years.
In Panama, we had a couple of months of downtime. A major part of the reason for staying so long was because I required surgery on my knee that I had injured on a volcano hike in Costa Rica. We found a beautiful hacienda through WorkAway where we stayed for free if we cooked meals for the rancher. Meals were included! Huge cost savings, a great place to recover, and we got to join cabalgatas and parties.
In Colombia, we took another break by House Sitting. We spent 3 weeks taking care of dogs and hiking the beautiful mountains surrounding the home. We watched the home while the owner was on vacation in exchange for free lodging. The hardest part of this homesit was saying goodbye to sweet little Lola. 🙁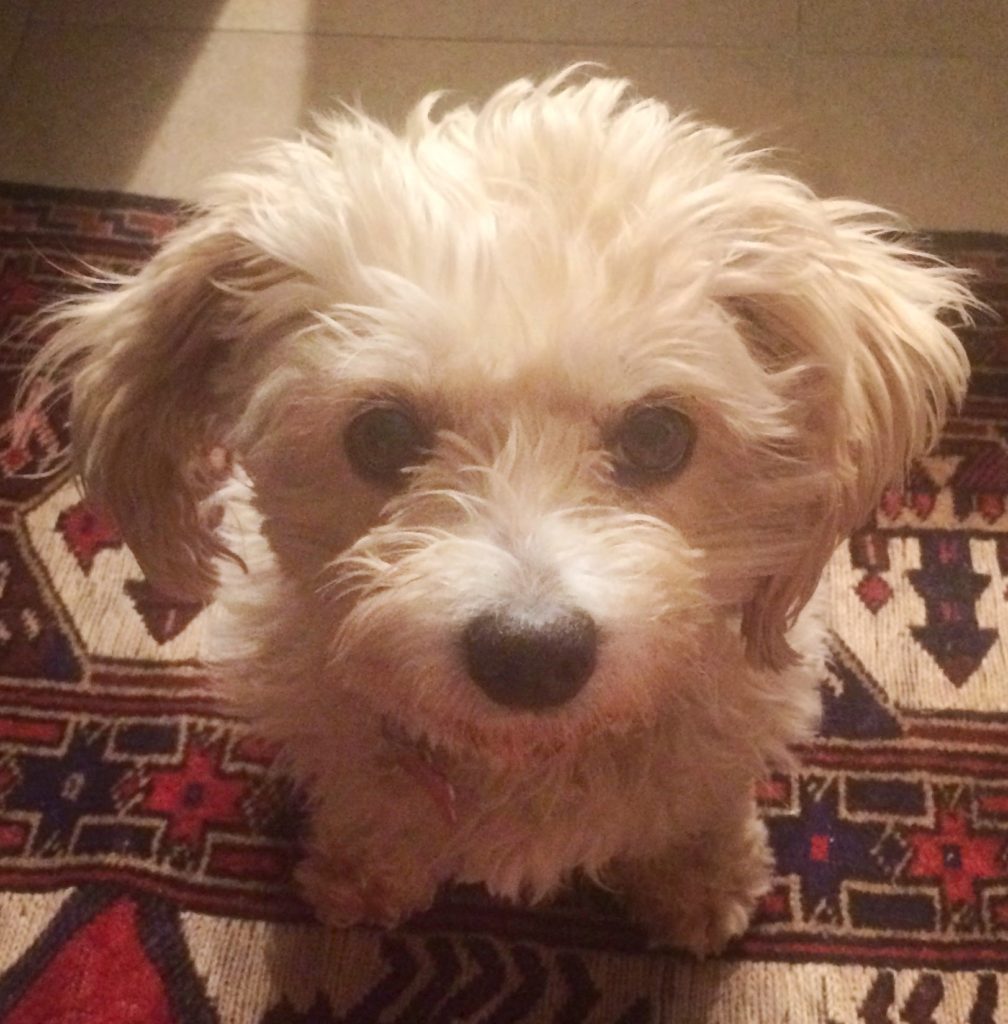 You don't need an arranged tour or guide for everything
On a two-week vacation that you have had little time for planning because you are busy at home working and taking care of all your other obligations, it makes sense to arrange tours and/or hire guides. After all, the point of short vacations is to relax and not have to do everything yourself.
With travel as a lifestyle, take the time to plan your own treks. Use Maps.me on your smartphone. The app has tracks for many of the popular trails. You can also find GPS tracks on wikiloc.com. We did this on our trek up Telica Volcano in Nicaragua that would normally have cost us $120 to hire a guide. We did it free and were able to go at our own pace. There is a lot of information online about many of the "places to go" and blogs are a great resource for how to do it yourself.
Where we spent the $9.5K this past year
Spend Type
Yearly total for two
$9,550
Daily average for two
$26
Lodging
$3,230
$8.8
Food
$2,744
$7.5
Transportation
$1,925
$5.3
Entertainment & Other
$1,653
$4.5
Find out here what we spent the following year in travel
How to live financially free so that you can travel the world?
Our "About Us" page talks a bit about how we saved in order to retire at the age 43, but ultimately it's about choices. I recognize that we were blessed to be working in a free country that allowed us to make these choices and allowed us to become financially free.
Given that opportunity, the choice is to sacrifice a luxury now to fund the ultimate dream later. It's about spending money on what is most important to us. It's about living below our means so that if an opportunity to move on comes along there is freedom to do so. It's about not being so far in debt so that you are not a slave to your job because you have to maintain a certain level of spending.
What would happen if all of America canceled their cable service and put that money to something they truly desired? Cable is just an example – insert something you could give up for just a little more financial freedom. We truly don't need as much as we think we do to live.
---
Pin this article to Pinterest!