On the eighth and final day of our Floreana cruise, we looped around the island called Daphne Major, twice.  What a treat.  Not really.  It's a tiny island named after a British naval vessel, that is inhabited by many species of birds including the Darwin Finch, Frigatebirds, and Nazca Boobies.  Clearly, this was a filler activity, though not totally unexpected.  The first and last days of these cruises are known to be throwaway days, usually relegated to meet-and-greet, airport pickup/drop-offs, and filler activities.
We said goodbye to our shipmates. What a wonderful bunch. I could not have asked for a better group with whom to spend a week on a tiny cruise ship.  I feel privileged to have known explorers such as Matty and the three animated Chinese guys.
The Floreana (the ship, not the island) was one of the most inexpensive cruises I found that went to remote Genovesa island.
Also on the cruise was a best selling author named Maggie James. She is down to earth and I enjoyed talking to her about being a writer and how she got into it.  Now, she is living her dream of writing and traveling. It makes me happy to spend time around people who are living their dreams.
As soon as I got to mainland Ecuador, I downloaded Maggie's novella on Amazon called Blackwater Lake and sailed (pun intended) through it. It was an excellent read and I can't wait to read more of Maggie's other books.
Click here if you would also like to download a free copy of Blackwater Lake: A Psychological Suspense Novella
*.
DIVING IN THE GALAPAGOS
The first thing we did after we got off the bus in Puerto Ayora, on Santa Cruz Island, was to find a dive shop.  There are at least four of them across the main square where Baltra Avenue meets Charles Darwin Avenue.  Many of the dive shops could not get their minimum of four people to start a trip.  On the other hand, Scuba Iguana was fully-booked for at least a week out, and the shop we eventually went with, Galapagos Travelers Diving Center, had ten divers for our trip.
We did two dives, one in North Seymour and the other in Mosquera.  White-Tipped Reef Sharks, Garden Eels, Moray Eels, and many kinds of fish swam around us.  We also saw a couple of Galapagos Sharks which was great.  We hoped for hammerheads but saw none.  The water was cold at this time of the year, but it was still a fun day. Gordon Rocks would have been a great dive spot but we did not have the required minimum number of dives.
Galapagos Travelers Diving Center, two-tank dive was $170 but we negotiated it down to $150 each for two people.  October, low season.
In our dive group, we met a film director from the U.K. who was filming a series called My Family in Galapagos.  His work has taken him to many countries and his stories sparked our interest in visiting countries like Rwanda and Ethiopia.  There was also a newlywed couple that was spending their honeymoon on the islands.  He was from Israel and she was from Argentina.  They were a nice couple and I wish them all the best.
EXPLORING PUERTO AYORA
One afternoon we walked along a well-built stone path to reach Tortuga Bay, a vast white sand beach with beautiful clear waters.  Swimming is prohibited due to strong currents and the preservation efforts for wildlife.  At the other end of the beach, there is a cove where the water is calm and people can swim and snorkel.
There is no entrance fee to Tortuga Bay, but you have to register at the office at the start of the trail
We sat under the shade of a tree and watched the marine iguanas saunter along the beach.  Out in the water, there was a kid snorkeling clumsily.  The loud, rhythmic slapping of his fins against the water resonated in the relatively quiet beach as he very slowly approached the shore.  When at last he reached shallow waters he stood up, all 6 feet of his frame and waddled, still with flippers on, toward the sand – a fully grown man. How adorable.
On the other side of the town sits the Charles Darwin Research Station where we saw different species of tortoises, and Lonesome George – the stuffed version of him anyway.
Later that evening we had dinner along Charles Binford Avenue.  It looks like a regular street during the day but in the evening the street is filled with tables and chairs and you can have meals starting from a $5 plato tipico to freshly-caught seafood dishes.
MOVING ON TO SAN CRISTOBAL
While waiting for the boat that would take us to San Cristobal, we saw a school of rays swimming by the pier.
Bluedoor tip: The boat ride from Santa Cruz to San Cristobal normally costs $30 per person but some operators will go down to $25 if you ask. The boat ride takes a couple of hours.
The first thing we noticed as we set foot on the town of Puerto Baquerizo Moreno in the island of San Cristobal was that it was less crowded and it felt cleaner than Puerto Ayora.  And there were sea lions all along the seafront and the malecon.
We quickly secured a room at Hotel San Francisco for $25 a night.  Room #11 is situated at the back of the building at the end of the corridor so you don't have people walking by your window, and you don't hear the cacophony of sea lions on the malecon.  The room was clean and spacious and had a good amount of sunlight coming in through the windows.  It had a fan which we used not to cool down but to dry our clothes.
We planned to explore as much of San Cristobal on foot as we could and take a few day trips.  This island, like many others we visited, was crawling with Marine Iguanas. They match the lava rock so well we had to tread carefully so that we did not step on them.  They look like mini- Godzillas but they are harmless.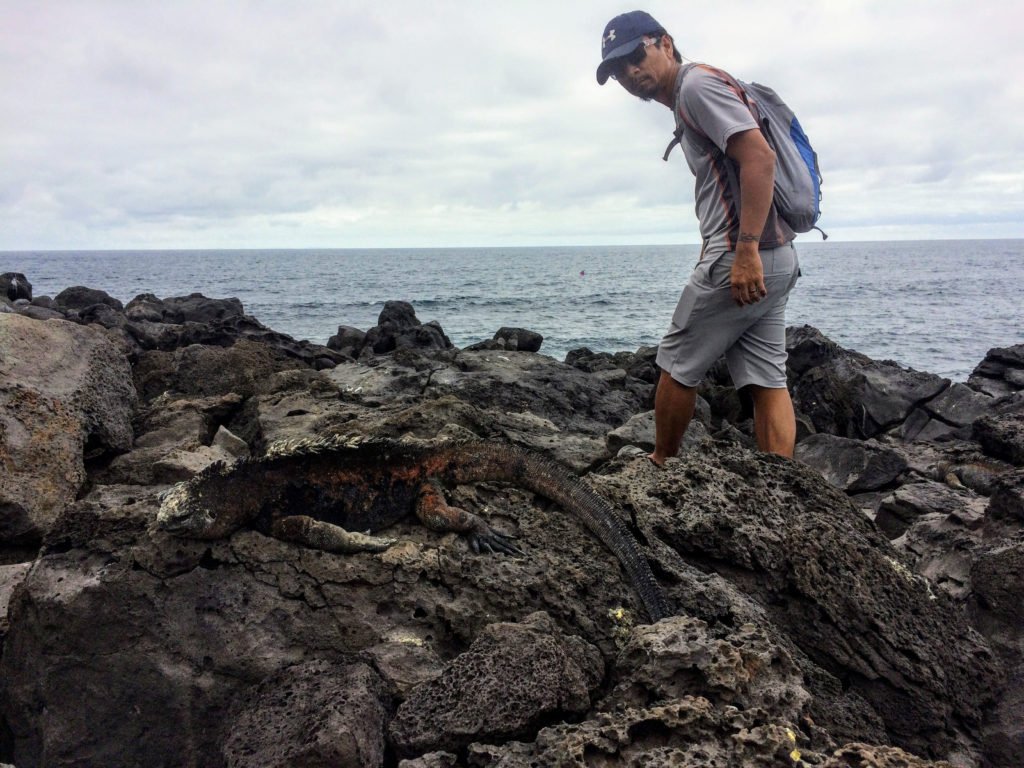 By this time we've seen enough of them to last probably a lifetime but they continue to amaze.  They bask in the sun to raise their body temperature high enough to sustain a long dive into the cold water so they can eat underwater algae while trying to elude the playful sea lions who grab them by their tails just because the sea lions think it's fun.
SEARCHING FOR BLUE-FOOTED BOOBIES
One of our primary goals here was to see the blue-footed boobies, these iconic birds with oddly-colored but beautiful feet. So far we've only seen them flying through the air.
We hiked south out of town toward an area called the Negrita Cliffs.  Blue-footed boobies are known to hang out there.
Along the way, we watched a community of sea lions at La Loberia, a rocky beach where you can swim and snorkel with the sea lions, or just sit and watch them.  They were in abundance in all sizes.  Adults sleeping on the sand.  Alpha male swimming and barking incessantly in the water.  Baby sea lions swimming, play-fighting, or just being cute.
A mother sea lion and her pup usually communicate by barking at each other back and forth.  The mother's bark sounds like a forced burp, while the pups sounds like a goat's bleat.  Back and forth they go on for a spell.  It's a soundtrack we've grown accustomed to by this time.
CUTTING THE UMBILICAL
It will probably be dead by tomorrow morning…
Amid the sea of sea lions (smirk – it wasn't that many), there was the continuous bleat of a pup that remained unanswered.  We found the little infant wandering along the beach, looking skinny and lost.  It approached a group of three adult female sea lions.  The group snarled at the baby, and the baby went another way, sometimes just wandering aimlessly, sometimes approaching even some of the people who were watching her, all the while bleating in hunger.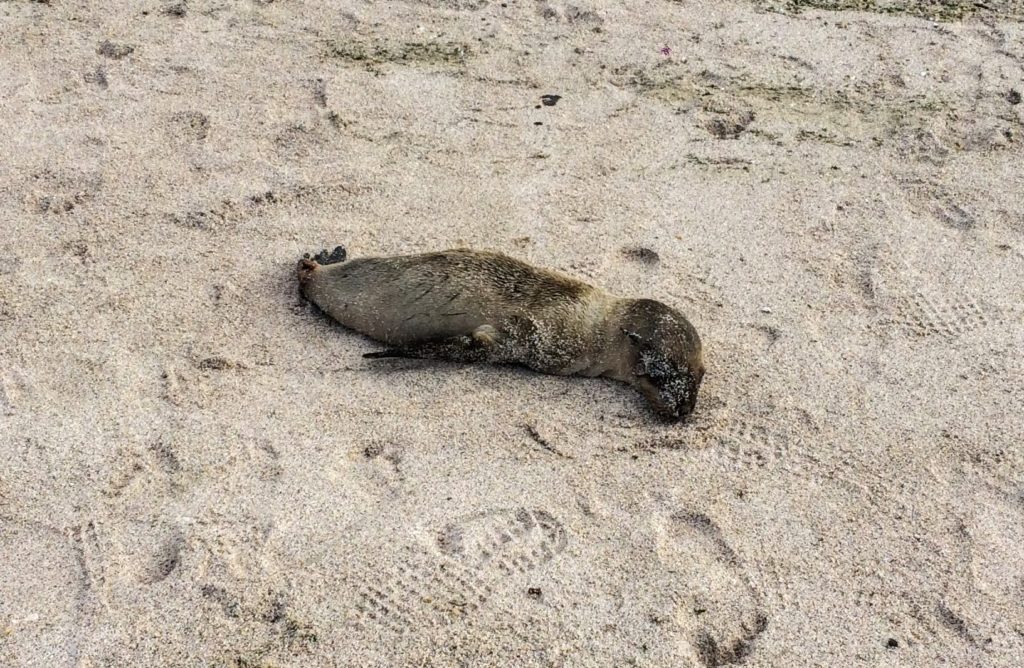 A park ranger who was at the beach at that time speculated that either its mother was killed at sea, or some dumb human touched it.  When a person touches a sea lion, he/she leaves a scent on the animal.  In the case of a sea lion pup,  the mother will no longer recognize the baby and will reject it.
"It will probably be dead by tomorrow morning," the park ranger said.  And they can't do anything about it.
"I'll take it home with me," one of the ladies said, though you could tell that she knew it was a lost cause.
Unable to watch the scene any longer, we continued walking towards the Negrita Cliffs. The path turned into large volcanic boulders and we had to scramble on some sections.
We reached the cliffs where the path terminated with a sign that told people not to proceed further.  It was a beautiful area that reminded me of Acadia National Park.  We sat there for a while. There were seagulls and pelicans.  But no boobies of the blue-footed variety were to be found.
SNORKELING AT KICKER ROCK
The next day we got up early for our day trip to a tiny island called Kicker Rock  It is known as one of the better locations for diving and snorkeling in San Cristobal. The name alludes to its resemblance to a shoe (kickers in Brit slang).  It is also called Leon Dormido, Spanish for sleeping lion, which is what the rock formation resembles when viewed from the south.
I struggled to find the resemblance to either a shoe or a lion but gave up.  Nonetheless, it's an impressive formation of monoliths that juts 500 feet above the ocean.
Scuba Eden, Ave. Teodoro Wolf in San Cristobal. Snorkeling at Kicker Rock, normally at $100 per person, we bargained to $90 per person. Great, friendly service.
We snorkeled through a couple of crevices that were rife with marine life.  There were lots of sea turtles gliding around, a couple of few sea lions acrobatically swimming around us, and loads of fish.  We kept an eye out for hammerheads but they remained elusive.
The water was very cold which is why we opted to snorkel instead of dive.
Finally, when it was just about time to get back on the boat, Trin lifted his head out of the water and yelled Hammerhead!  We rushed over and below us, we saw the large shadowy figure of a shark with the unique hammerhead. Exhilarating.  We all made our way back to the boat and boarded with huge smiles.
BICYCLING IN SAN CRISTOBAL
Bicycle rentals in Puerto Baquerizo Moreno was a bit dismal especially when the good ones have all been rented out.  We lucked out on a shop located along Avenida de la Armada Nacional, near the naval base.  They had Giant-brand bikes that we rented for $10 each for the afternoon.
We rode out of town eastward and caught the bike path along the main highway (Ave 12 de Febrero).  Five kilometers of climbing brought us to the optimistically-named, 4-block town of El Progreso. In the middle of this town, perched upon a huge tree, is an oddity that would have come straight out of the pages of Eccentric America: La Casa del Ceibo, aka The Tarzan House.
You can go inside the house for a $1.50, or stay overnight for $25 per person, bug spray not included.
We passed up on this and started riding towards El Junco Lagoon.  But only for a few meters because Trin found himself with a flat rear tire.  With no patch kit or any tools, we turned around and started descending back to town.
Some tour operators and hostels offer a land tour that stop at Tarzan House, El Junco Lagoon, Galapaguera de Cerro Colorado, and Puerto Chino for $45 per person.  You could hire a taxi to take you to these places for less money.
THE NEED TO FLY
Trin continued to ride with the totally flat tire so it was a slow going descent. I stared at the straight downhill in front of me and did my best to keep from flying down through it.
"Go ahead. You know you want to," Trin said.
"Nah, I'll stay with you," I replied.
But after only a few seconds I told him that I'll see him down there and off I went.  It was glorious. It had been 10 months since I last rode a bike and even longer since I flew down a road, and I enjoyed every second of it.
I rode back up to Trin.  He was still moving at a slow pace, still pumping the brakes at a regular cadence, still soldiering on, and still wearing a smile on his face.  I love this man.
VISITING ENDEMICA
Back in town, with the flat tire fixed, we rode around aimlessly until we found the small, local brewery called Endémica.  What a great name.  Owners Daniel and Jenny led us into their small brewery.  They were such a nice couple and were very excited about their product.  He grew up in Spain where they brewed their own beer, while she grew up in San Cristobal.  They welcome anybody who drops by and they'll give a tour of the brewery.
Just that week they had created a new stout infused with locally grown coffee.  He had one bottle left from the first batch.  We popped the top and enjoyed the dark flavors.  If you get a chance to stop by, just meeting Daniel and Jenny is worth it.  It is also cheaper to buy the beer directly from them, so buy the beer as well. After all, you will only ever get to try it in Galapagos – it is Endemic.
DESPAIRING OVER BLUE-FOOTED BOOBIES
On our last full day in San Cristobal, we got up early determined to find us some blue-footed boobies up close.  I had imagined that the place would be swarming with them but it seems some animals are easier to find than others, while some simply happen by chance, like the pink flamingos that we found on Isabela Island.  I guess you could say we were feeling a little blue (what?  too much of a stretch?)
To the north of town we walked, to a tiny cove called Punta Carola Beach. There was a community of sea lions on the sand, in the water, in the bushes, on the rocks.  As usual, many of them were barking.  One would bark here, and another would bark there, here a bark, there a bark, everywhere, bark, bark.
Still, no blue feet
On the farther end of the beach, there was a section of volcanic rock formations that looked like a cliff. We navigated around the sea lions, over lava rocks, and on towards the cliff.  We really wanted to see this last creature on our list.
Out above the sea, a lone white bird glided through the sky, and with a smooth motion, it twisted its body around, tucked its wings, and did a vertical dive, plunging straight into the water.  It came up after a few seconds swallowing the little fish it had caught and flapped its wings as its body lifted out of the water, its bright blue feet trailing underneath it.
This was a good sign.  Sure enough, we spotted a few more blue-footed boobies hanging out by the rocks. We sat for quite some time watching. I approached one of them not wanting to disturb her, but she didn't seem to mind.  As I leaned in for a close-up, she just cocked her head and looked at me curiously.  I thanked her for the picture and headed back toward Trin. There another one that landed close to him and it stood there preening.  The bird moved away as I approached so I kept my distance as much as possible.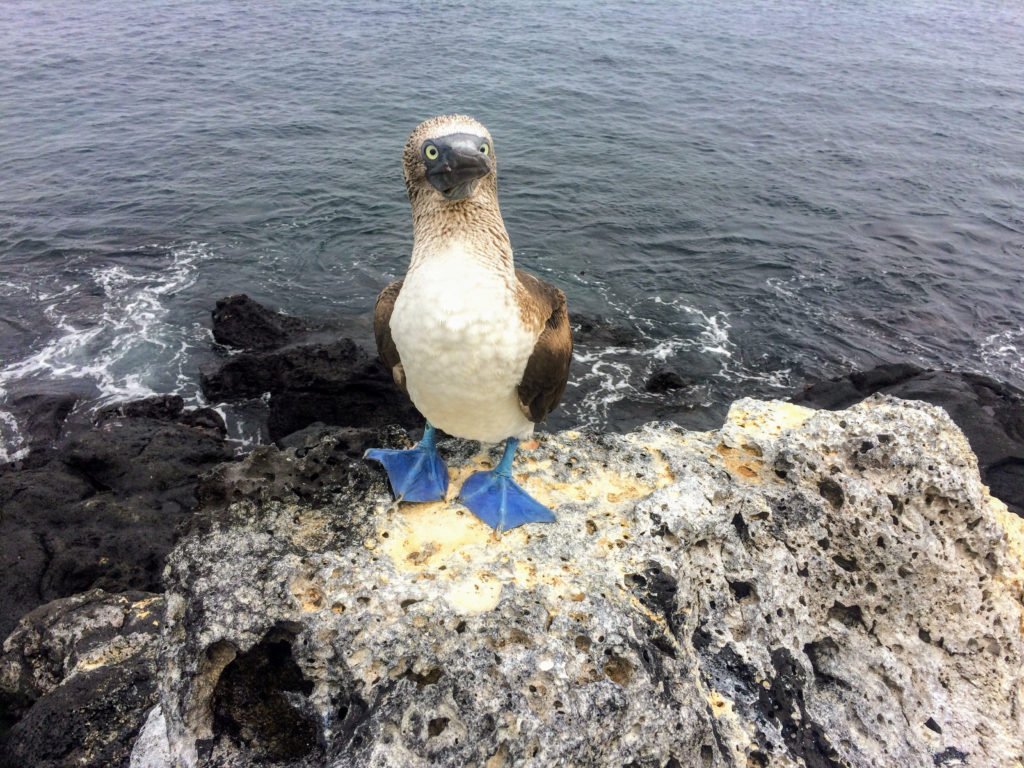 A popular tour is called San Cristobal 360. It is a boat ride that goes around the entire San Cristobal island, with multiple stops including Rosa Blanca (snorkel with sharks), Punta Pitt (you can spot all three species of boobies), and Kicker Rock.  $130 per person.
ENDING A MAGICAL VACATION
Walking along the malecon on our final night in Galapagos, we took in all the sights, sounds, and smells.  San Cristobal has turned out to be a very close second, as my favorite island in Galapagos.
On the sidewalk, a sea lion was dozing off, and we walked around it.  There's just no avoiding them, sea lions rule here and lay wherever they wish, on the boardwalk where a drunk in other cities might lay or on the wooden walkways just outside someone's door.
Beyond the seawall, the other sea lions had conglomerated for the night, barking, groaning, and making all kinds of noise.
"It sounds like the Walking Dead out there, " Trin said.
From the balcony of our hostel, we watched a small group of locals practicing their dance numbers on the dock.  We were happy and content with how our vacation turned out.  I felt that we spent enough days, and saw everything that we wanted to see in Galapagos.  We will probably never go back.  Not because we don't want to, but because there's just a whole world out there to see, and I thank God for allowing me to see what I had long thought of as an unattainable paradise.