Ecuador has much to offer. We used up almost our entire three-month visa before moving on to Peru. Still, it seems that we only touched the surface of what this beautiful country has to offer. Granted, we did spend much of our time in Quito at the Dunamis Foundation, but we still have a few suggested of things to do in Ecuador.
SMALL COUNTRY, BIG DIVERSITY
Ecuador has a nice coastline, a string of high volcanoes (it has the world's highest active volcano), an area of the Amazon rainforest, and a section of Andes highlands.
We spent a few days in Otavalo, doing nearby day hikes, checking out the famous Otavalo market where we traded in my old rain jacket with a new one.
As with most of our plans, things change. We spent more time in Quito than we originally planned. Ciudad Mitad del Mundo is a popular park where one can see the equatorial line. Big Whoop. We skipped it.
Baños is another popular stop where you can take the classic swing pic – you capture a frame on the upswing and it would seem like you are flying off the end of the world. Skipped it.
5 THINGS TO DO IN ECUADOR
Here are five of our favorite things to do in Ecuador.
5.) VOLUNTEER IN QUITO
Although I've listed volunteerism as #5, in my mind it really isn't lowest on this list. However, volunteer opportunities will be different for everyone depending on what they choose to do. Volunteering or helping out in each country is a very rich part of experiencing the world. It is a way to get involved in the lives of others and experience culture like no other travel opportunity will.
We spent two months in Quito volunteering at the Dunamis foundation. During that time we were privileged to get to know Boris, the visionary for this foundation. He has such an amazing story, his early childhood in Bogota, his near capture by the Guerillas in the mountains of Colombia and his time living on the cold streets of Quito as an adolescent.
The Dunamis Foundation helps young girls rescued from human trafficking. Meeting these girls and hearing the stories of what they have endured spurred us on to finally monetize this blog that you are reading.
The proceeds could help complete the safe house providing long-term housing for these girls.
4) HIKE IN OTAVALO
In the north of Ecuador, nestled in the Andean mountains, lies the beautiful little town of Otavalo. We had the unique opportunity to stay in the home of an indigenous Kichwa family. They were a wonderful couple who invited us to join in on the tours that they provided, educating others about the history of the Kichwa people, a people group indigenous to this area before the Incas. There is some beautiful hiking in this area, just don't take a wrong turn like I did!
Definitely, go see the Saturday market while in Otavalo!
3) SEE CUENCA AND HIKE CAJAS
Far to the south of Ecuador lies the city of Cuenca. Cuenca is home to many expats so many parts of the city are gentrified. We only spent a few days in this city but we saw what other travelers refer to when they talk about how they love this city. What we loved the best about Cuenca area was Cajas National Park which is just 30km from the city of Cuenca. I absolutely loved this park!!
Near the beginning of the trail, a herd of Llamas blocked our path. We enjoyed watching them for quite some time. Eventually, I approached the herd and made a clicking sound, no response.
I said, "Por favor, move along we would like to pass." The lead llama looked at me turning his head to the side as if to say, "You talking to me?" All the other Llamas looked at him to know what to do next.
Finally, I made a sibilant shushing sound. At that he gave me a disgusted look, turned around and moved off the trail, his posse following behind him. Trin watched the proceedings from the top of the hill. We did not just go around them as the vegetation was fragile and we did not want to walk off the trail.
We had a hard time finding good maps of the park on the internet, but there are great maps at the park office so we took a few pictures of them. Click each one to zoom in.
2) QUILOTOA LOOP
Hiking the Quilotoa Loop was definitely a highlight of Ecuador for us. Since there are hostels along the way you can leave your big packs behind and just take a daypack. Wandering through Andean mountains and tiny villages is an Ecuadorian experience not to miss.
We wrote a detailed post on the Quilotoa loop trek. Be sure to read it so you take the correct path, which we failed to do. Seeing a trend here of wrong turns? Yes, well, hopefully, you benefit from them and stay on the right trail. 🙂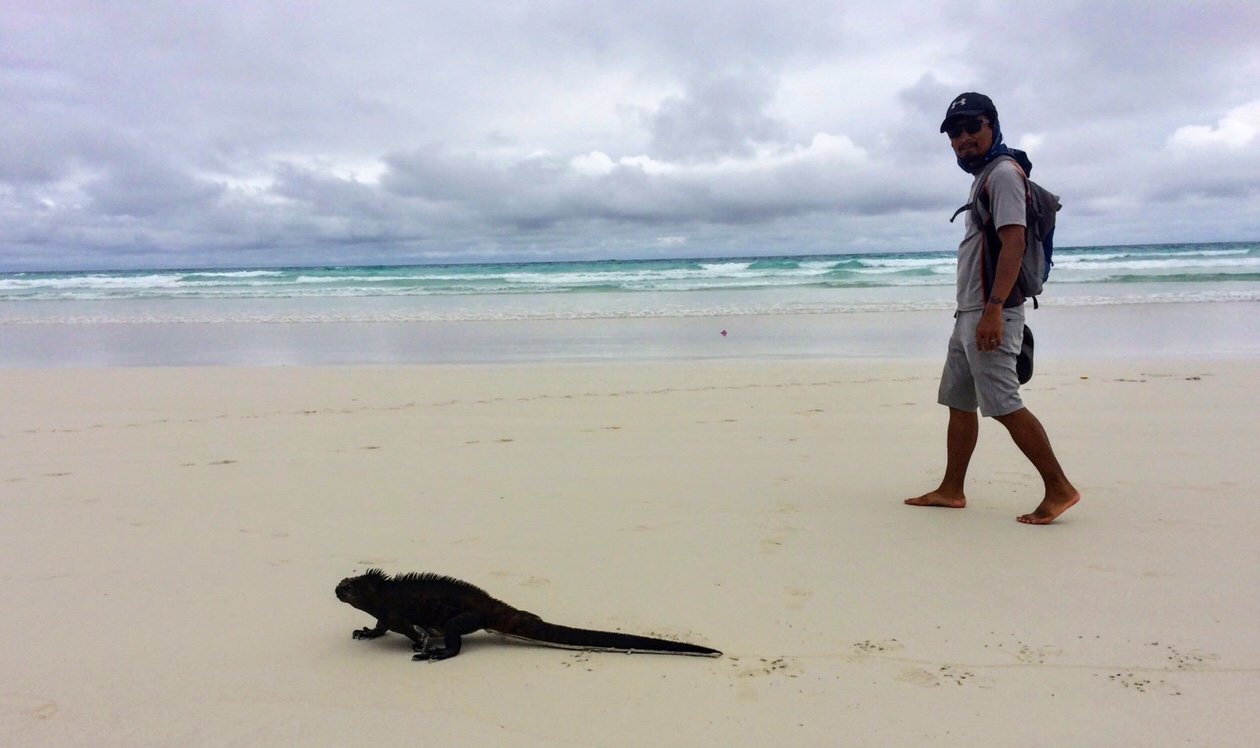 1) MUST SEE ECUADOR – GALAPAGOS!
We already wrote three articles about Galapagos and the wonder of its nature but some of you have asked and I'm sure others are wondering, how much does it cost and how long do you need on the islands. Our review of what to do and see are in the three posts linked below. For this review, I'll focus on costs.
How much does it cost? Well, it really depends on where you are coming from and how much you are willing to spend. When we first began our research we were overwhelmed with options. Here are some of the costs to help you plan your trip:
Lodging:
Expect to pay at the very lowest $25 a night for a private room with private bath, costs are lower for single/dorm. Costs can skyrocket from there.
Food:
We took food and snacks with us to reduce costs. You can find $5 meals if you eat where the locals eat.
Day trips:
Day Trips are generally $100 – $200 per person in the low season and often include a meal.
Choose your islands:
List your own "must see/do" in order of importance. This is a difficult step since there is so much to see and you will need to do some research. The islands are volcanic, mostly dry desert except for the highlands. Most people go to the islands for the animals. It might be easier if you just list the animals you want to see and then determine what islands you need to see as a result.
Fly into Baltra (Santa Cruz) and fly out of San Cristobal
From either of these islands, many wonderful day trips are possible. You can also do day trips from Isabela. Doing day trips and forgoing a cruise would still be a great trip and give you memories for a lifetime.
Do some walking
Some locations and islands cannot be reached via a day trip, nor are there accommodations on some of the far-flung islands. Because of this, we decided to start our time on Galapagos with an eight-day cruise. Many cruises of this length start at $2,000 (even lower for last minute) for a budget-class boat with meals included. Most cruises have similar itineraries.
We chose an itinerary that covered the northwestern islands because most of the southeastern islands can be reached by day trips. Our itinerary included the remote island of Genovesa where we saw red-footed boobies. We also chose a budget-class yacht, the Floreana.
How to find the absolute best deal
In the offseason, the best deals can be found by waiting until you get to the islands and then booking a last minute cruise – some might even leave on that very day so be ready to go. Day tours are also cheaper booked in person. A few things (not many) can be done without a tour to explore the islands on foot as well.
We found a last minute deal online just before we left Quito so we ended up booking it. We paid $1,500 each for an 8-day cruise. It included meals and snorkeling gear (but not fins or wetsuits). The waters in Galapagos are COLD because of the Humboldt current.
If you have time to shop around in Quito for a long wetsuit to rent for your entire trip you can save a few bucks. Many of what is there to see in Galapagos is in the water so you will want to be comfortable and be able to stay in for long periods of time.
Check out these three posts for more details on the cruise and day-tripping.
Write a comment below if you have any questions about Galapagos. We will do our best to help you out.
We recently posted an article on how to travel for a year on less than $5K. This will not be the case for our second year of traveling. In fact, our Galapagos post should have been titled How to Travel for 14 Days on $5K. In just 14 days on these islands, we spent about what it costs us to live the prior 6 months. It can be done cheaper by only taking day trips. But we planned this trip and wanted to see as much as possible knowing we may never go back.
Although the Galapagos was expensive, it was also a dream to go and well worth our planned expense.
---