Note: Ads on this site provide a small commission to 43BlueDoors. All proceeds are donated to supporting young girls rescued from human trafficking.
The Santa Cruz Trek is a 50-kilometer long circuit that cuts through the towering snow-capped Cordillera Blanca mountains located in the Andes.  The ascent tops out at 4,750 meters (15,600 feet) as it crosses the Punta Union pass.  
CAN I DO THE SANTA CRUZ?
I questioned my ability to do the Santa Cruz Trek.  I was concerned with the cold, the altitude and my ability to keep up with the group.  My knee surgery had only been six months ago and I still don't have a total recovery. The knee also heats up inside on long downhills. I didn't want to be the one holding up the group.
SANTA CRUZ TRECK
Vaqueria to Paria, Day 1
At 6 AM the Galaxia Tours van arrived outside our hostel to pick us up.  We threw our duffel bag and our daypack on the back seat and sat (more like bounced) next to it for a five-hour ride deep into the Cordillera Blanca mountain range.  Along the way, we stopped for breakfast. I couldn't eat. The elevation and the damp cold were already wearing me down and we hadn't even started hiking yet.
After breakfast, we piled back into the van and followed a steep narrow road up over the Portachuelo mountain pass.  The snow and sleet near the top made the van fishtail. The driver continued to search for traction over the rocks and mud mixed with slushy snow.  At one point I saw the driver cross himself then kiss his fingers and touch the dashboard.  Soon after the road cut through the top of the mountain and we began to descend.  The views of the high mountains were amazing.
Cold Rain from Vaqueria
Around noon we arrived in the town of Vaqueria with a cold rain falling around us.  The tour staff loaded our duffel bags on the donkeys. It's one of the nice things about hiking in Cordillera Blanca: You don't have to carry all your gear unless you are hiking independently, although even then you could still hire your own donkey with the driver.
We chatted with the other hikers in the group while the tour guides did the final preparations.  It was a large group of more than 20 people.  There were a bunch of French folks, some Dutch, and a smattering of other nationalities.  Trin and I were the only Americans.  There was an English/Canadian couple who would be doing most of the trek on flip-flops.  Insane.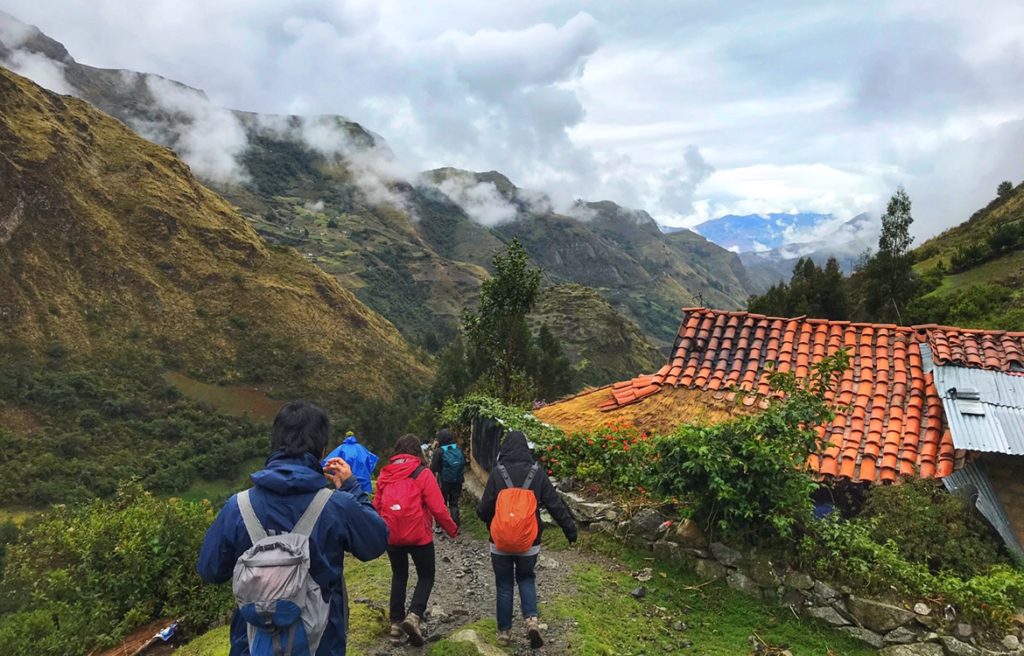 The tour guides handed each of us a small plastic bag with our lunches and after a short talk about the day's hike, we began our descent out of the village then up through the Huaripampa valley.  I was at the back of the pack as I knew I would be.  Trin graciously walked with me even though I know he could have done this trek much faster.  Today would be the shortest hiking day of only 11 kilometers (7 miles).  I knew there was plenty of time to hike to our designated campground before sundown.
Beautiful Valley toward Paria
The valley was stunning.  A local farmer joined Trin and me for a brief part of our walk asking us where we were from and telling us a bit about himself.  Soon he stopped near a mud brick home with a tin roof.  He said, "Es mi casa" (this is my home).  We said our goodbyes then he called after me, "Necesitan caballos para manana?"  (do you need horses for tomorrow?).
"No, no necesito, gracias" I called back.  We continued through the misty valley on toward our campsite.
We were the last to arrive in camp, but I was happy to know that my being so slow didn't really hold anyone else up from anything.  They didn't even have to wait for tea time.  I was happy about that.
I could not eat the dry sandwich that was given to us for lunch.  At dinner that night I forced myself to eat as much of the chicken as I could, but my stomach wanted nothing. Andy ate most of my dinner.  He is the camp dog who stayed with the group the entire trek.
A Cold Night
The evening grew cold and I hoped that our fleece layers and wind shell would be enough to keep us warm for the night.  I did not want a repeat of shivering all night like I did on top of Telica Volcano.  I climbed into the down sleeping bag and fell asleep quickly.  Only once did I wake up a bit cold.  I threw my wind shell on top of my sleeping bag and it was enough to keep in just a bit more heat and let me sleep comfortably the rest of the night.
The next morning, the Englishman told us that he had invited Andy the dog into his tent to keep his feet warm.  They both enjoyed the benefit even though Andy was a bit stinky.
SANTA CRUZ TREK
Paria to Taullipampa, Day 2
Avalanche
The next morning I still could not eat breakfast and our toughest day was ahead of us.  We were scheduled to climb to 4,750 meters (15,600 feet) through the Punta Union mountain pass.  I knew I needed the energy but my stomach revolted at the thought of putting even a bite in my mouth.
We hiked the rest of Huaripampa valley and it was stunning.  As we began our climb toward Punta Union we heard a loud noise coming from above the cloud line.  We looked toward our guide behind us.  He said quite nonchalantly, "avalanche."  I wish we could have seen it.
At some point, the donkeys that carried our gear passed us with Andy trailing along behind. Andy was kind of our mascot, hanging around the campsite and in the mess hall tent during dinner, every evening finding a hiker to join in their tent.
Thin Air at 15K feet
As we steeply ascended I stopped often to breathe deeply and to try and let my stomach stop churning.  I found a piece of candy in our lunch bag and popped it in my mouth.  It seemed to help calm my stomach slightly.  I knew that this ascent would be the toughest part of the trek.  We had to walk 12 km (7.5 miles) today but it would be our steepest climb.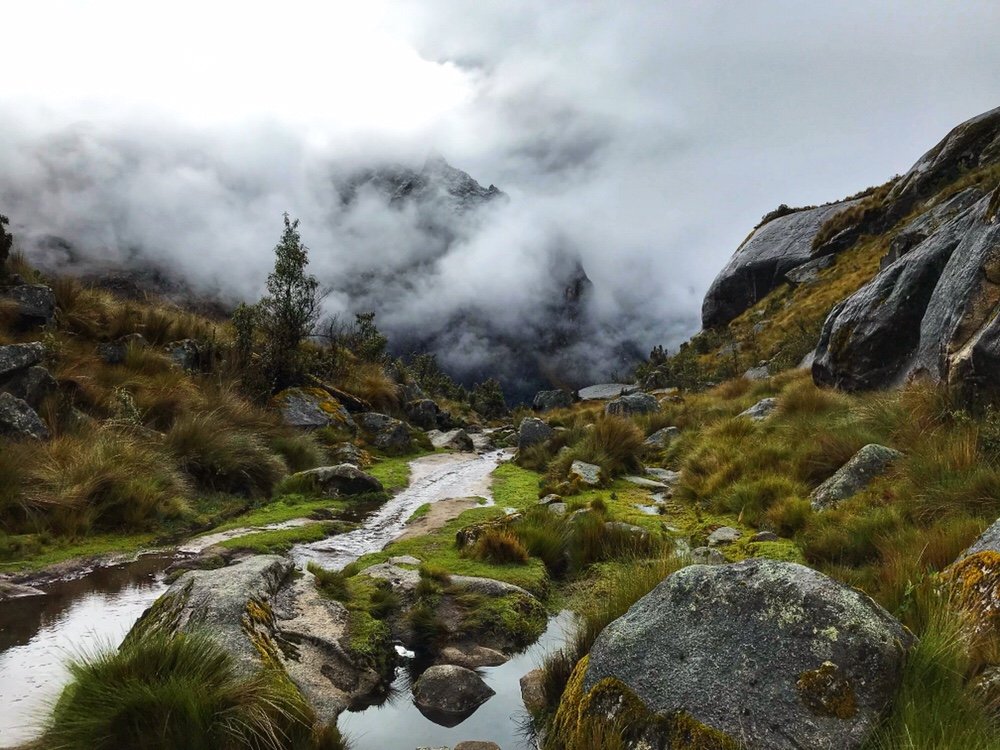 If I could make it to the mountain pass I knew I could make the rest of the hike. The hardest part would be behind me. To keep my mind off my rolling stomach I began to count.  While this trail was not scary like the wrong turn in Otavalo or the dangerous trail marked with a skull and cross bone that we found ourselves on in the Quilotoa Loop, it was a difficult climb to get my body to acclimate as we ascended.  Counting keeps me thinking positive thoughts.  Each number is an accomplishment and encourages me that we are almost there.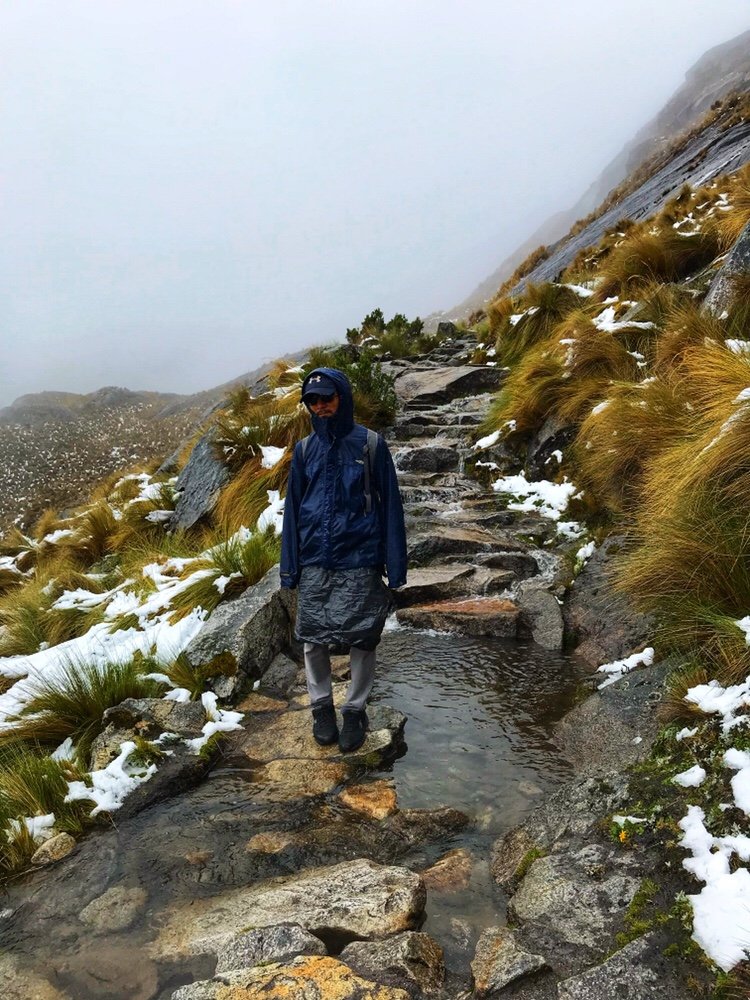 The Gateway
Near the top, we could see the crevice in the mountain that we would pass through taking us into the next valley.  It was like walking through a doorway.
On the other side, a stunning teal blue lake glistened to our right just under bright jagged peaks of snow.  The valley descended to the left.  Far in the distance lay green meadows between the steep mountains of a valley cut by ancient glaciers. Beyond it, we could see another lake just as beautiful in color.
We stopped for pictures and our guide pointed toward the meadows and said, "We will camp in the valley to the left over there."
Our destination was in view but it was still hours away.  The beauty before us left us in awe and made every step to get there worth it.  It seems the most beautiful things in life are often a struggle to reach.  The more difficult the journey the more beautiful the reward.  I thought back to the journey of my life and how my most difficult year transformed everything for me – but that is a story for another day.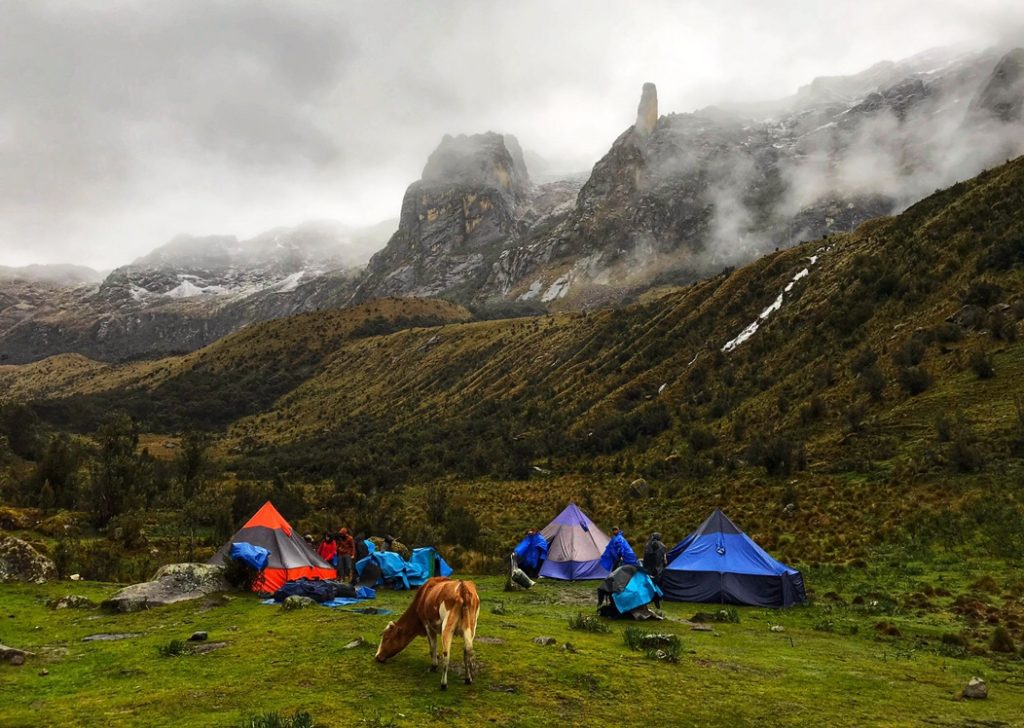 The Narrow Descent
As soon as we began to descend, my stomach started to settle and I was able to enjoy the beauty before us.  The artwork of nature is unsurpassed by anything man has ever made.
The trail down the mountain also doubled as a stream. I kept saying how much I love my *boots keeping my feet dry. Before long, however, I ended up in water well above my boot line allowing water to flow in.  Still, with the combination of great boots and *Darn Tough socks, my feet stayed warm the entire trek.  I started this trip with three pairs of Darn Tough socks.  Over a year now and they show no signs of wear.
*Please note purchases at sponsored links above provide a small commission to 43BlueDoors at no extra cost to you.  All net proceeds are donated to helping young girls who were rescued from human trafficking.
Near the bottom of the mountain but still an hour from camp it began to rain.  My fleece layers and rain shell combined with the exertion from the hike kept me warm until we rounded the bend and could see the colorful tents of our campsite.  The wind picked up and began to chill me through.  I picked up my pace and headed into the dining tent as quickly as I could.  My new rain shell turned out not to be as good as we thought it would be.  It soaked up the rain and my fleece underneath was also wet.  I began to shiver and grew concerned that this would be a cold night at high elevation.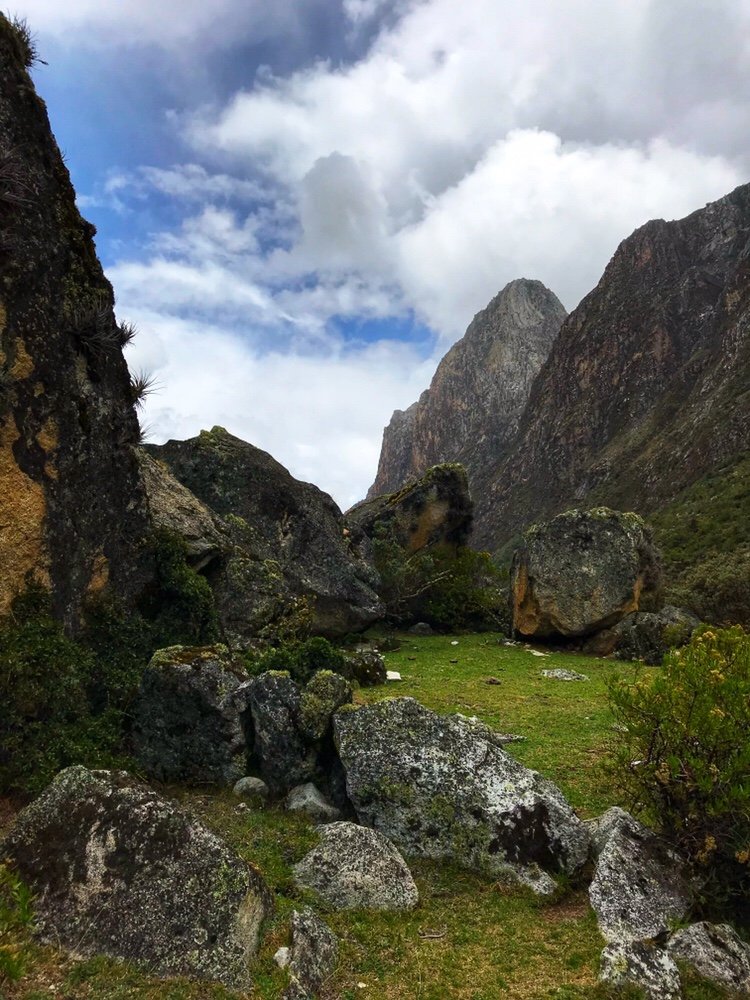 But then the sun came out.  We all rushed outside to hang wet coats and sleeping bags out to dry.  The sun here near the equator at this elevation is intense.  With only a few minutes of sun, quite a few items dried out.  Dry enough that Trin and I were able to stay warm the second night.
I also filled my Nalgene bottle with hot water and put it at the bottom of my sleeping bag.  It was wonderful and kept my feet warm all night long.
Changing Plans
After dinner, which I still could not eat, we discussed the trek for the next two days.  All of us decided that we would combine day three and four and walk all the way to the village the next day. This would make it a 25-kilometer day, but mostly through a valley descending down to 3000 meters to the final destination. Most of the group needed to catch a bus back to Huaraz for onward travels, so we all decided to go the extra miles the next day.
SANTA CRUZ TREK
Taullipampa to Cashapampa, Day 3
First thing on the morning of the third day we climbed up a side trail to get an excellent view of Artesonraju mountain.  It is the mountain used as the icon for Paramount Pictures, or so some say.  It is also argued that the paramount pictures mountain is in Utah, but no one really seems to know. The clouds cleared as we reached the lookout and we stood in awe at the majesty before us.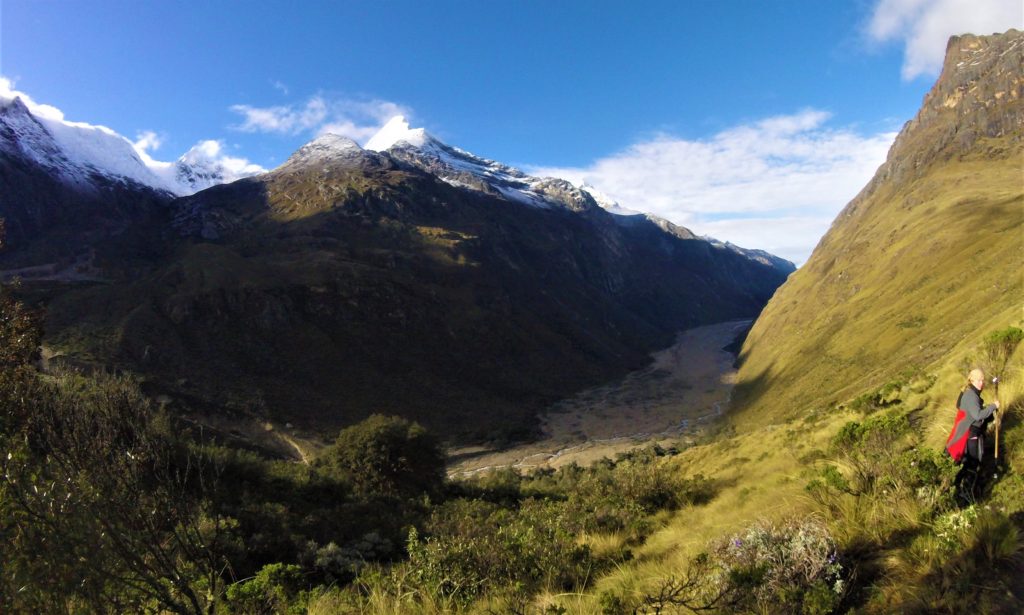 Descending back down we followed the valley past a beautiful lake.
Looking behind us the mountains had disappeared in a dark wall of clouds.  We picked up our pace not wanting to get caught in the storm that was building.
Final Descent
The trail continued on between steep rocky cliffs and began to descend.  The narrow, rocky trail kept our pace slow and the rain kept us cool but not too cold.
We sat near the tents on the final night discussing travel with Cameron, a guy from Scotland.  He is traveling South America northward with his girlfriend.  We were going the opposite direction.  We exchanged many stories of places to go and things to see.
Our final camp was at 3000 meters (9,800 feet) and the night was much warmer.  For the first few minutes in our tent, I was curled up in my down sleeping bag with my fleece jacket and was comfy.  I looked over and Trin was sitting up in his boxers, trying to cool down.
In the morning we loaded up the van and headed out on a road that reminded Cameron of the death road in Bolivia.
We all looked forward to hot showers. I was looking forward to writing this blog and sharing the beauty of these mountains with you.
Note: Ads on this site provide a small commission to 43BlueDoors. All proceeds are donated to supporting young girls rescued from human trafficking.