'Twas the night before Christmas and all through the streets
every horn was honking, even the geese
HOW TO KNOW WHEN TO HONK YOUR HORN IN PERU
If someone is backing up and might hit your car
If someone in front of you slows down for a red light
If you see a gringo on the sidewalk and you are driving a taxi
If someone is in front of you
If no one is in front of you
CHRISTMAS IN LIMA, PERU
Christmas in Lima Peru, horns are honking and firecrackers bursting, setting off car alarms on every street.  Shrill Christmas tunes play in a loop all night long to lights blinking on speed.  The streets are thronged with people seemingly unaware that anyone else is there.  I've been slammed into three times so far today.  I wonder if I just have not adapted yet to this culture and still don't know how to navigate a crowd.
Just as the person walking behind me stepped on my heel the second time I turned and saw two other Peruvians slamming into each other. I strangely felt better. It seems like people here walk straight to where they are going and expect everyone else to get out of the way.  It causes not a few accidents.
Traffic seems to have the same presupposition.  We stood on a pedestrian overpass this week and watched as the buses, trucks, and cars below us sat in a complete gridlock blowing their horns at each other.  A bus wanted to make a U-Turn.  At mid turn, he blocked half the road causing a gridlock to the very road he wanted to go and backing everyone up behind him.  He refused to move.  That is until a cop showed up and made him move.  She cleared up the gridlock within five minutes.
We were entertained.
THE LIGHTS OF TOWN CENTER
In the historic center of Lima, Peru stands it's absolutely beautiful Plaza de Armas, the main square.  It is one of the prettiest I've seen in Latin America so far.  The plaza is surrounded by iconic yellow buildings (the Municipal Palace and Palace of the Union buildings), the Government Palace, and the Cathedral of Lima.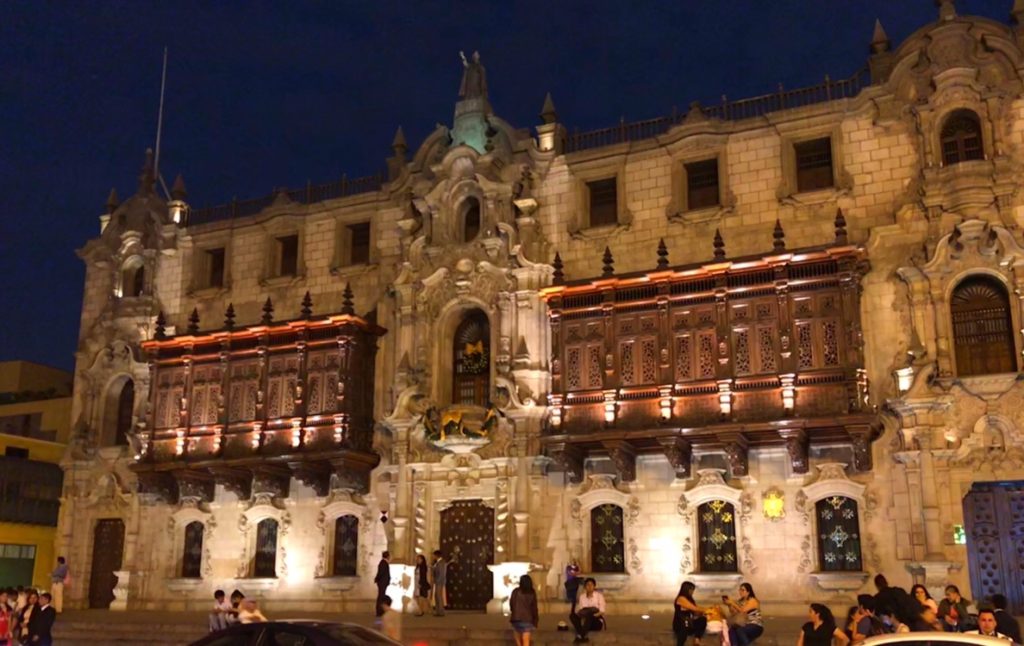 The intricate details of the buildings are stunning.  We watched the changing of the guards one morning in front of the Government Palace.  I stuck my iPhone between the rails of the fence to take a clearer picture. In an instant, one of the guards blew his whistle at me.  I quickly withdrew, but not before I stole a couple of clicks.  It was worth the shot 🙂
We stayed until dark in order to see the Christmas light decorations in the plaza.  Their beauty and steady glow gave me the feeling of Christmas I had been missing.
CHRISTMAS ON THE ROAD
This is our second Christmas on the road since we began our travels in October of 2016.  Last year we decided ahead of time to hunker down for the holidays in Leon Nicaragua.  Staying in one place gave us a feeling of being home.  Our hosts Romy and Manuel were a very quiet and kind couple who did everything they could to make their guests feel at home and comfortable.  In fact, they went out of their way to take care of Jonas, our hostel mate, when he got mugged and ended up in the hospital.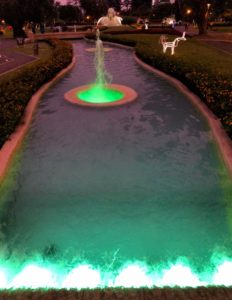 By staying in one place we also had the opportunity to get to know the others folks staying in our hostel for the month and a few locals.  We were blessed to actually spend New Year's Eve with a local family and join in all their laughter and festivities
This year we decided to stay in Lima for December, hopping between three different Airbnbs.
We arrived at the third Airbnb on the 23rd.  This is where we will be spending Christmas.  As soon as we entered her apartment, our host Andrea began to make us feel comfortable.  The apartment is immaculate and very clean. It has smooth granite countertops and a washing machine, making us feel a taste of home right away.  She is gregarious but not overbearingly so.
I feel completely relaxed sitting here in the living room with all of us working on our laptops.  It feels a bit like home.
A SOLITARY CHRISTMAS
I must admit that Christmas is not my favorite holiday.  Oh, I love the reason for the season and I love the lights.  However, it has always been a bit of a wistful time for me, even when we were back in the States.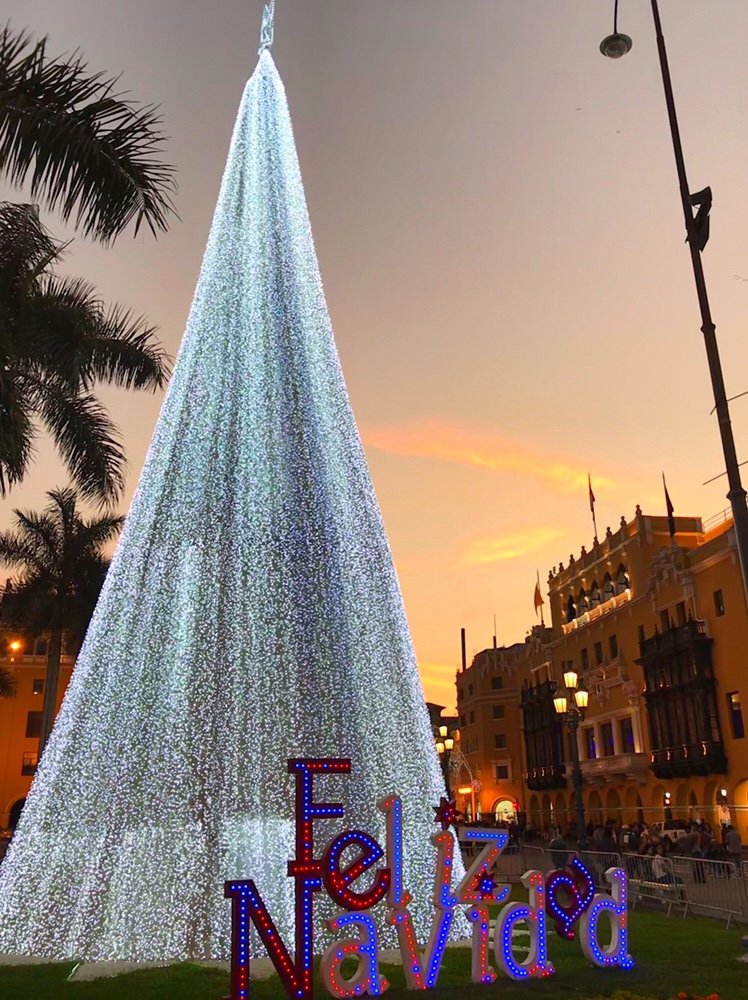 As I begin to see the beautiful Christmas posts of decorated homes and baking joy on social media, I feel a bit of bittersweet.  Our families never really got together for the holidays, and of course, friends were with their own families.  Most years it was just Trin and me.  With just two of us I didn't do a ton of baking, nor would we have a big Christmas dinner.  We would basically just toddle around the house on Christmas day doing chores.  I would normally have a good audio book (Atlas Shrugged book) and listen to it as I cleaned.
The yuletide posts on social media also make me smile to see the happiness on the faces of my friends who post their pictures.
MY FAVORITE THING ABOUT CHRISTMAS
We gave up long ago buying each other Christmas gifts.  First of all, both of us had everything we wanted. Secondly, the stress of trying to find something to surprise the other outweighed any surprise.  Third, we would rather spend the money on an experience rather than another gadget or trinket that neither of us needed.  Also, I hate shopping.
My favorite part of Christmas is the lights.  When we were in the States I liked to celebrate the holidays by driving or walking around the neighborhoods and viewing all the lights.  I've always been mesmerized by strings of tiny, twinkling lights that warm up cold nights.  Now on the road, we ask around for the best light displays or light shows.
A MAGICAL WATER EXHIBITION
Lima's Circuito Mágico del Agua has over a dozen water fountains filled with lights, in different configurations and sizes, and we watched them all to our hearts' content.
Arriving at the park before dark gave us time to wander through the beautifully paved paths and enjoy the manicured landscape surrounding thirteen illuminated fountains spread across 19 acres (eight hectares).
Interactive Fountains
Some fountains are interactive.  One allows visitors to walk through a tunnel of water.
Another fountain lures visitors into its center, the people trying to find a spot where that they think will keep them dry when the fountains turn on.  The fountains begin, low at first then suddenly burst high into the air. Screams emanate from the center amid shouts of laughter.  Children run all over the place and become completely soaked while adults shield their heads, laughing as they try to escape the water.
Fuente Mágica (Magic Fountain)
As night falls, the lights wrapped around the trees and in the fountains begin to glow brighter.  When Circuito Mágico del Agua was constructed in 2007 it broke the Guinness Book of World Records for being the largest water fountain complex in a public park.
The Magic Fountain, surrounded by a marble path and covered archways, mesmerized us.  The fountain would shoot high into the sky and then surround itself in a mist of ever-changing colors.  We sat on the bench for quite some time gazing at the show of water and lights.
Fuente de la Fantasía (Fantasia Fountain)
At 7:15 PM, the show at Fantasia Fountain began.  It was a combination of lights, lasers, and projections on a massive fountain. We found a place at the far end of the fountain where I would be able to get the entire fountain in one shot.  We enjoyed it so much that we stayed for the second show at 8:15 PM.  For the second run, we grabbed a spot at the front center.  From there the projections were clearer but it was impossible for me to get the entire fountain in one shot.  It was amazing.
A NETFLIX CHRISTMAS
Tonight and tomorrow we have our Airbnb to ourselves.  Our wonderful hosts already had plans to spend this time with family near the coast.  We are excited about a quiet day with Netflix and maybe a Pisco Sour or two.  We haven't had Netflix since we stayed in Boquete, Panama and we are really looking forward to the relaxation.

MERRY CHRISTMAS FROM LIMA, PERU
Merry Christmas to everyone who decorated their yards.  Thank you for bringing joy to those around you and strangers from abroad.
Merry Christmas to everyone who shared a happy holiday post or photo on social media.  Thank you for the smiles you give to others.
Merry Christmas to anyone else as well.  My hope for you is that the lights of Christmas shine into your home and bring your soul the warmth of the season.
I wish for you all the love and grace of Christmas.
---
*43BlueDoors will receive a small commission on anything you purchase from our product links- at no additional cost to you. All net proceeds are donated to support freedom for young girls rescued from human trafficking.