Over a year on the road and it's been nothing like we expected but more than we had hoped for.  I count our blessings for the many wonderful people we have met and the places we have seen.  I have enjoyed sharing these experiences with you, our readers, and hope that it encourages you to travel and reach outside the box, or just join us in travel vicariously.  Either way, thank you for staying with us and encouraging us along the way.
JANUARY: PLASTIC HOMES AND VOLCANOES
This morning I received a photo from some wonderful people we met last year while building homes with them in Waslala, Nicaragua.  The owner of one of the homes we helped build has since painted their front door blue!  Sure, they didn't do it for us, they have no idea we have a blog called 43bluedoors, but I was tickled all the same as this was one of my favorite homes converted from plastic to metal. It had a beautiful view of the valley.
One of the very first things we did in 2017 was hike up Telica Volcano where we spent the night next to its crater. The wind blew cold as we slept on the ground, but it was worth the experience of standing on the edge of a crater looking down into the earth that was glowing red hot and spewing sulfur.
We bid farewell to our lovely hosts in the colonial city of Leon, Nicaragua where we had stayed for a month, spending Christmas and New Year with the lovely denizens of that historically-rich city.  I learned how to hand wash clothes Nica style, while a cat was falling through the roof.
Riding the chicken buses while exploring the little towns of Somoto, Esteli, Jinotega, and Matagalpa was an interesting experience.
When there was no chicken bus going to our destination, we hitchhiked our way into the mountains to meet a man some call crazy and view the art he has carved out of the stone mountain on which he lives.
FEBRUARY: ON ISLANDS
In February, we embarked on the treacherous journey to the Corn Islands.  The islands were filled with beautiful beaches but often, as with most places, I remember the people I met. Omar and Vicky from Sardinia Italy, Eva and Trevor who met on the road traveling, and Roser, a shepherd from Catalonia.  The conversations were fun and I still enjoy seeing updates from most of them on Facebook.
From the Corn Islands to another, but this time a landlocked island in the middle of vast Lake Nicaragua featuring twin volcanoes: Ometepe Island was one of the cleanest places in Nicaragua we explored.  There we met and spent some time with Perrine and Alvaro, a lovely couple from Belgium.  Even though we were threatened by a gangster and Trin had to make a trip to the hospital (not from the gangster), we loved the island.
MARCH: LEARNING TO DIVE
Back in Costa Rica, in and out of San Jose just so Trin could get this dental crowns, we spent a couple of days in Puerto Viejo.  We saw our first sloth in the wild.  It was climbing up a tree and it was an exciting sight.  Due to a "technically human" error, we did not get it on video, although we perfectly captured Bonnie's reaction to this sighting, the entire two minutes of it.
At the Jaguar Rescue Center, we saw lots of animals and more sloths….
What's cuter than a sloth?A bunch of sloths.
What's cuter than a bunch of sloths? A baby sloth.
What's cuter than a baby sloth? A basket full of baby sloths.
We crossed over into Panama and obtained our diving certification in Bocas Del Toro.  Our dive master, Kody, has since launched Lifestyle Diving and now travels the world as he teaches diving.
APRIL: COWBOYS, MURDER, AND PARTIES
After making our way through the mountains we ended up in the beautiful town of Boquete.  It was here where we met Roger the Cowboy, a renegade and a man of determination to live life outside the box.  He's had a fascinating life, and we enjoyed preparing meals for him.  We helped organize his Cabalgata and got to join in the fun. He even took us out to dinner for our 10th wedding anniversary.
He had a beautiful hacienda where we had a relaxing time.  We binged-watched shows like Game of Thrones and the Narcos series.
It wasn't all fun and games though.  There was a murder at the finca and I had to clean up the body.
MAY: SURGERY
Well, these things happen. I injured my knee in Costa Rica while climbing Cerro Chato Volcano. I'm greatly appreciative to Roger for letting us stay at his hacienda while I had surgery in David, Panama.  Even though I woke up during surgery, I didn't feel any pain and found watching it fascinating.
We stayed at Roger's hacienda for about three months, during which time we met interesting folks, like Chichi a strong woman from Panama who had no qualms about putting Roger the Cowboy in his place when he needed it, and at times he needed it. Ron, a member of ccNSO and has attended several ICANN meetings; Lisa who I hope to see again when we make it to Australia.
Having the use of a 90s-era Ford Escort allowed us to freely explore the area. For about a week we even held the fort at the hacienda while Roger went off to Paris for a little frolicking with a former Italian actress.  I mean, the guy has got game – he clocked a sub-17-second barrel race run at the International Fair in David, at 73 years old.
JUNE
We left the hacienda at the able hands of Diego and went off to put our sparkling new PADI Open Water Certification to use.
Off the Pacific coast of Panama is a group of little islands called the Coiba National Marine Park. We hooked up with Coiba Dive Center, a dive shop owned by Glen whom we met at the Hacienda when he visited Roger.
For three days in Coiba, we did 3-tank dives and dined on the main island every night with fun-loving Jennifer Fay, and dive buddies Tasha and Toshi.
From Panama City, we flew to Cartagena, Colombia.  It's only one of two flights for the year, necessitated by the Darien Gap, a virtually no-man's-land separating Panama from Colombia.  You could try crossing it, but it is said that if the wild animals don't eat you the drug lords will kidnap or kill you.
Our first night in Colombia was greeted with a protest that resulted in a huge fire in the middle of the road.  This was not however indicative of our stay.  We found Colombia to be safe and enjoyable.  Cartagena and Tayrona National Park were beautiful and it was HOT!
JULY: MEDELLÍN
Medellin and the surrounding area is still one of our favorite destinations on this trip so far.  It is a city that was wrought with violence not so long ago.  Today they have transformed themselves into a beautiful safe city.  Even some of the most dangerous communities like Comuna 13 are now tourist attractions and home of people proud of their city.
I also loved that while Medellin is such a large city, there is a beautiful 53-hectare park accessible by public transportation just over the top of one of the surrounding mountains.  The mountains provided a sound barrier for Arvi Park making the hikes there peaceful and beautiful.
From Medellin, we did short trips to Jardin, with its beautiful town center and wonderful hiking in its surrounding mountains, and Guatape, famed for its charming zocalos and a unique monolith.
Guatape known for its large rock with 720 steps is a tourist destination, but worth an overnight trip.  Thankfully I was able to go upstairs this soon after surgery.  Going downstairs was still difficult at that time but the stairway going down was narrow and had rails on both sides so I swung my way down the rock.  Good workout on the arms.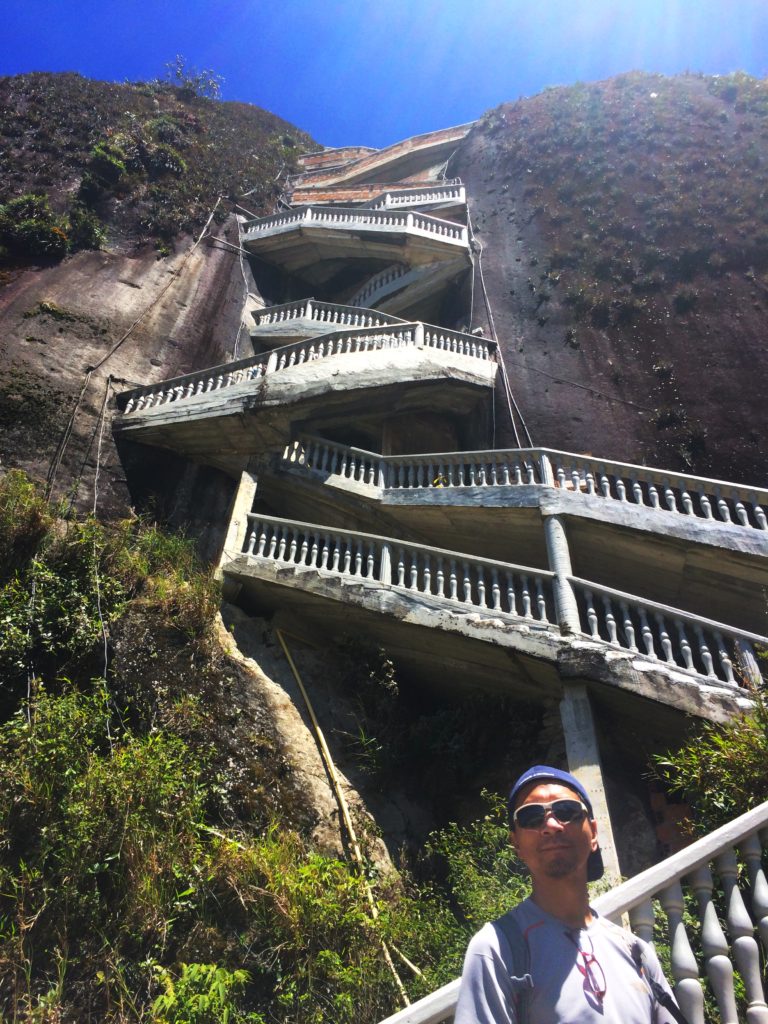 Vowing to return there someday, we regretfully left Medellin to do a house-sit in Villa de Leyva, a small, well-preserved colonial town a couple of hours north of Bogota.  It was a relaxing break from traveling, in a beautiful house with a heated pool and the company of three dogs.
AUGUST: FINDING A HIDDEN GEM
In August we found ourselves on the back of a truck with chickens headed out to Guadalupe.  This town is still a bit of a hidden gem in Colombia.  The red river with its natural Jacuzzi pools and guide dog became a highlight.  Along the way, we met Améliane and Iloa, two French medical students traveling through Latin America.  We explored the next couple of towns with them. Again the people we meet make the experience so much better, and they were no exception.  We paraglided over Chicamocha canyon and ate ants together!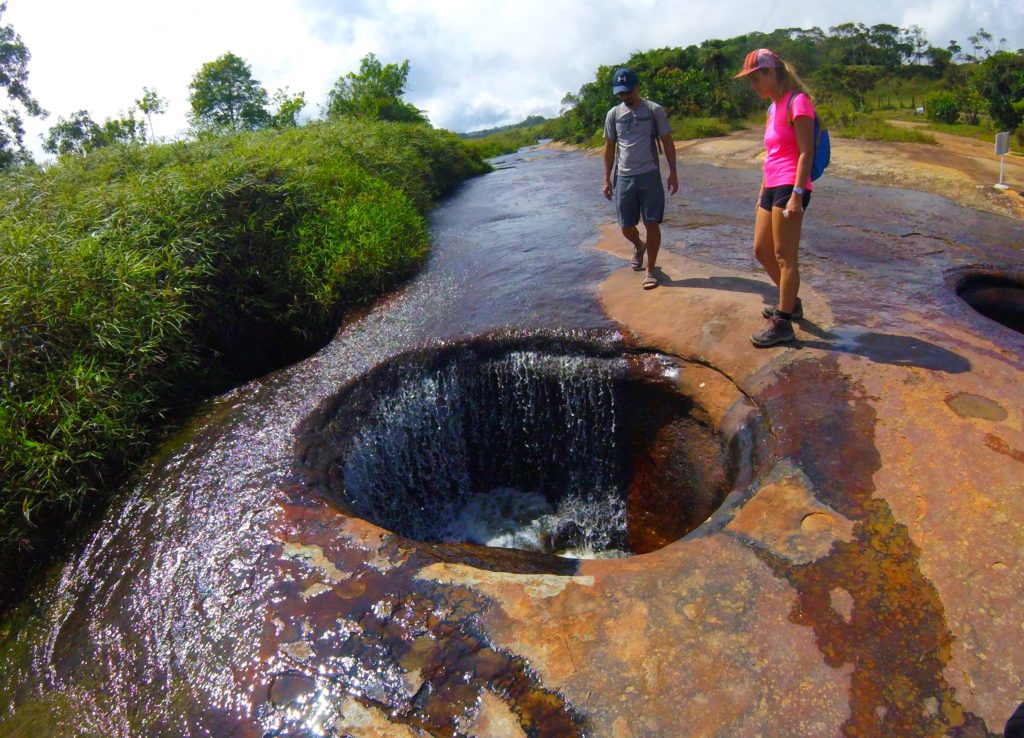 SEPTEMBER: IN THE MOST BEAUTIFUL PLACE
I will always remember September for the beautiful Cocora Valley, with tall wax palms that reach into the fog and had us craning our necks to see their tops.  It was a beautiful day hike with awesome scenery.
On our way out of Colombia, we stopped at Tatacoa desert and Ipiales.
We made our way into Ecuador first stop, Otovalo for a bit of hiking.
OCTOBER: DUNAMIS FOUNDATION
We spent most of October volunteering at the Dunamis Foundation.  We had the privilege of staying with Boris and his family and learning about his amazing story.  He narrowly escaped capture by the guerillas in Colombia and then spent a few years living on the streets of Quito.  Now he dedicates his life to helping young girls who have been sold into slavery and sex trafficking.
NOVEMBER: GALAPAGOS AND A WRONG TURN
We took a wrong turn on our hiking excursions at then end of the 3-day Quiilotoa Loop.  Besides that this was a great hike. We met five others hikers within the first night and we formed a bit of a clic for the next 3 days.  Owen keeps a cool travel blog called My Turn to Travel.  Tim and Ted were American buddies on a 3-week vacation.  Lucie and Emmanuele were solo travelers who joined forces for a couple of weeks while in Ecuador.  A few weeks later, we ran into Lucie in Cusco and it was fun catching up with her.
Galapagos is a place I had heard of for years but never thought I'd have the opportunity to go to.  We splurged a bit and treated it more like a vacation instead of a backpacker lifestyle and don't regret a moment of it.
When someone yells, Shark! while swimming, normally people get out of the water.  So I had to laugh at the irony
Years ago, watching a documentary on the Galapagos Islands, I was enamored with the idea of an isolated place with
On the eighth and final day of our Floreana cruise, we looped around the island called Daphne Major, twice.  What
DECEMBER: PERU
We spent a couple of days in beautiful Cuenca before crossing over to Peru where we did the 4-day Santa Cruz trek, and Laguna 69 in outdoorsy Huaraz.
Then we spent a "quiet" Christmas in Lima Peru.  Lima gets mixed reviews from other travelers.  Some say they liked it, while some say to spend the least time possible there.  We found it to be a nice city worthy of a few days.
We brought in 2018 in Arequipa beginning the evening with a potluck with the other guests at our hostel, each traveler bringing a dish from their own country.  At the turn of the clock, we joined the celebration at the Plaza de Armas with Liv, a solo traveler from Australia.  Her parents were with us to bring in the new year.  Together we dodged wayward fireworks and laughed at the antics and reveled in the beauty of the night.
---