Walking around the little pueblos in Latin America, it is not uncommon to encounter dogs on the streets and alleyways. They are pretty much everywhere, and occasionally, they can be very mean. As it were, one day, Trin and I encountered a dog while we were walking along the footpaths of Yanahuara, a tiny village located between Cusco and Urubamba.
The dog lay on the path like it owned the road. As we approached, it jumped up and clumsily ambled towards us. It was a puppy, and it assaulted us with its cuteness, and playfully chewed on our fingers.
It took some will to tear us away from that adorable creature and continue our hike.  The winding path lured us on.  Before long, I turned around and found myself high above the valley gazing over ancient Inca terraces and cornfields below.
The red highlights of the mountains to our west were a stark contrast to the blue sky and bright green and yellow patches of high elevation meadows. This Sacred Valley, the capital of the Incas, was also their final retreat from the Spanish before they seemingly disappeared.
Inevitably, I'm drawn to the scenery around me.  Perhaps it is the deep strong voice of the mountains proclaiming might and power.  I don't actually hear voices.  I imagine, though, that this is what the rocks would shout if they could: glory and majesty.
CUSCO
We spent two weeks in Cusco working our way through the 101 Things to do in Cusco, an article written by Owen whom we met during our hike on the Quilotoa loop in Ecuador. It's a great list to help plan your Cusco trip if you get a chance to visit. Cusco is a beautiful town with lots to do.
The Incas built the city in the shape of a Puma.  It was the Inca capital and is still rife with its legacy centuries later.  Within just a short walk from Plaza de Armas, we could follow the old Inca trail right out of town and into beautiful meadows and ancient ruins.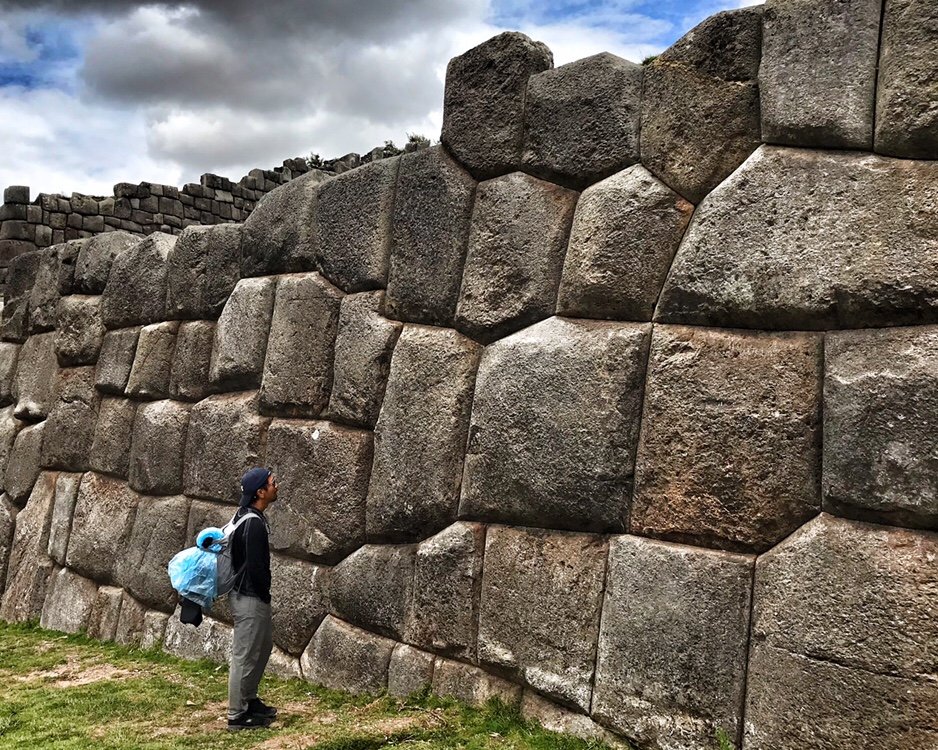 Our host, Elizabeth, had been so gracious and treated us like family. She told us stories about the area, about the Incas, and about the different archaeological sites in the area. One day, she took us to lunch at a chicharroneria, where they serve crispy, deep-fried pork.
Later, we went to a local pub and we drank chicha, and frutillada (cheap, traditional alcoholic drinks made from fermented corn) amongst the local clientele. On our way home, she pointed out the names of trees, the plant which produces quinoa, and medicinal plants and herbs.
HOME IN THE SACRED VALLEY
Trin and I felt a bit travel weary and we longed for some downtime and a few days at "home," to get our taxes done and do some work on the blog. As it happens, Elizabeth has a vacation house out in the country, in an obscure, little town called Yanahuara, in the middle of the Sacred Valley.  We saw the pictures, rustic adobe homes with a clay tiled roof, and liked what we saw.  It was a no-brainer.  We rented it out for a week.
We ended up staying for three weeks, so far.
It is wonderful to have an entire house to ourselves.  The village folks are warm and friendly.  We walk around, passing by corn plantations, and mud-brick houses, all in view of vast mountain ranges around us.
Oftentimes, our walk has no destination, and we stumble upon things that make the walk interesting, like the puppy, or an impromptu roadside party by a local family, complete with a loud sound system playing traditional music that could be heard all over the valley.
There is a network of water channels that run throughout the village. The villagers divert the water to whichever farm needs the irrigation, through the use of systematically placed water locks. The water channels run alongside the footpaths, and the sound of flowing water provides a relaxing soundtrack to our jaunts.
In a short time, we've become familiar faces in town, and we began to recognize faces: the lady who owns the corner store, our neighbors, and the guy with whom Trin drank chicha at the corner store.
HOME INVASION
One night, we experienced a home invasion. A loud thud and the sound of footsteps outside our room awoke us.
We lay awake listening to noises downstairs.  We had locked our bedroom door and kept all our electronics in the room with us.  The only items available to steal outside our room were some food and toiletries, none of which was worth a confrontation in the middle of the night.
In the morning, I discovered the identity of the intruder. There were cat prints all over the counter. We don't mind him anymore, and he probably keeps the mice away.
This place is perfect for us. We could completely unpack and "nest" in the home. In every direction it seemed, there is something interesting to walk to and see.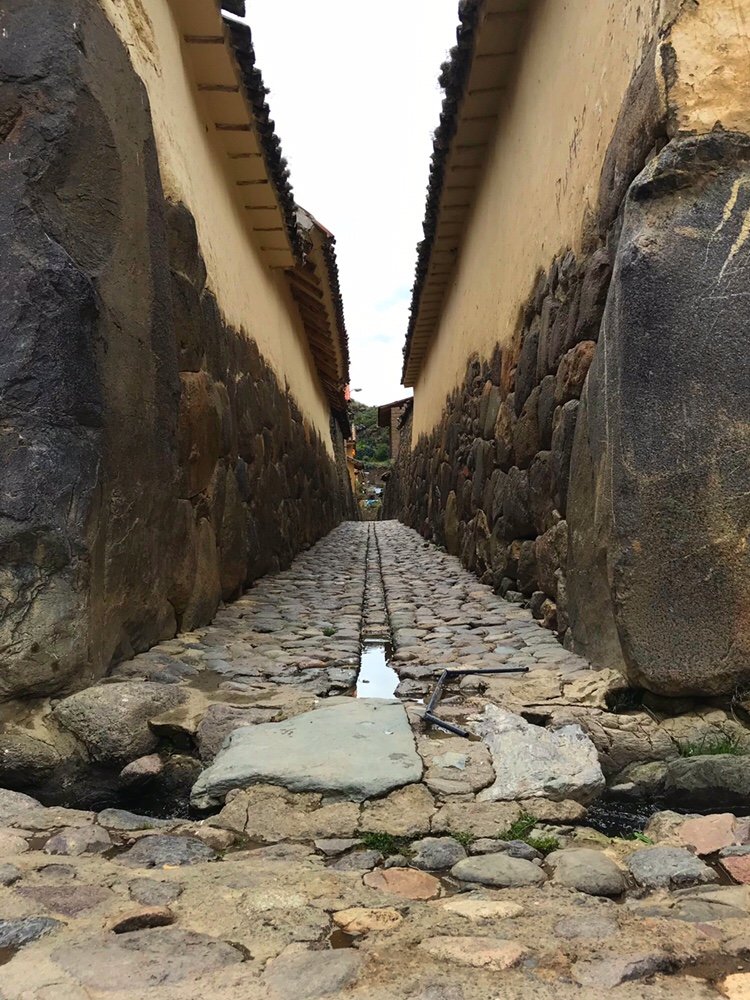 MORAY
One morning, we crossed over the river and climbed up the red mountain range on the other side. After a few kilometers of picturesque scenery, we entered the Moray ruins, an unusual archaeological site consisting of concentric, circular terraces, 30 meters deep. It is believed that the Incas used these for agricultural research, the varying levels and temperatures of each terrace providing different environments for planting crops. It was kind of like their greenhouse.
Despite the massive amount of rain it receives, the ruins never get flooded, thanks to its complex but very effective irrigation system. But there are signs of decay and signs of preservation efforts to mitigate them.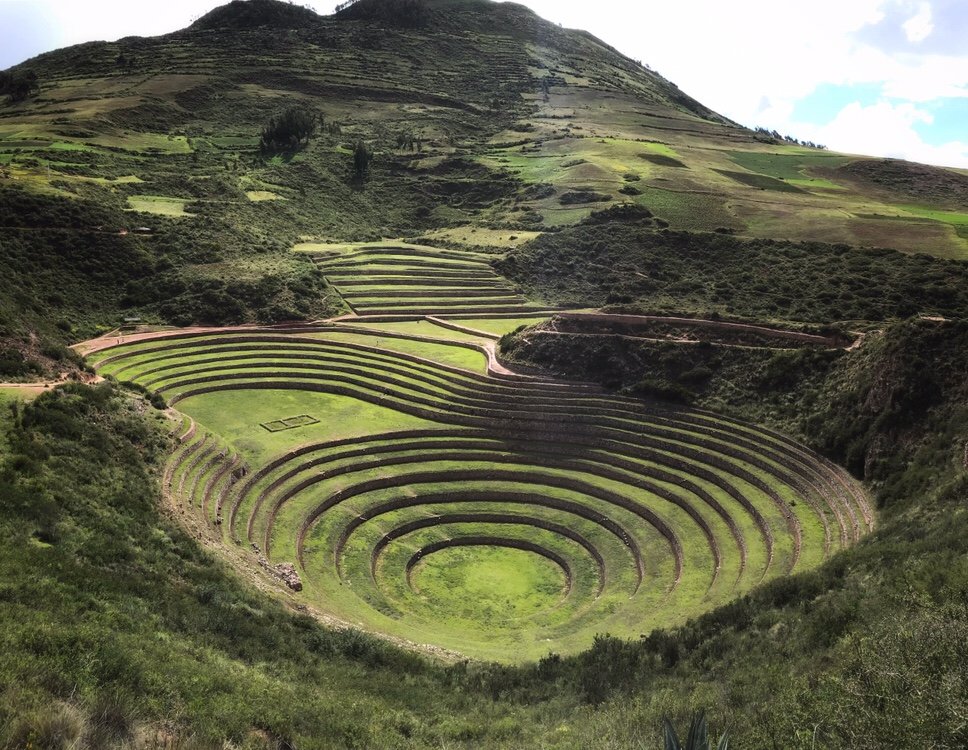 OLLANTAYTAMBO
A short bus ride took us to Ollantaytambo, a little town that was once an Incan stronghold against the Spanish conquistadors. We climbed the mountainside to the Pinkuylluna ruins overlooking the town. These ancient Inca storehouses were used to preserve grains by having good ventilation and lower temperatures. From here we could see the terraces of Pumatallis across the valley.
The town itself, resting in the valley, is one of the oldest, continually inhabited ancient villages. Walking down the cobblestone paths is like being transported back in time. The foundations of most of the buildings are of massive stones put there centuries ago.
SACRED VALLEY OF PEACE
This sacred valley was home to "the rulers." The name Inca actually referred to the ruling class and not necessarily all of its inhabitants. The "Inca Empire" was actually a conglomeration of many tribes already in South America. Incas were the ruling class that brought the tribes under one nation (or attempted to) and coordinated the building of a road system, agricultural research, and architecture. Taxes to this ruling class were paid in the form of labor or goods.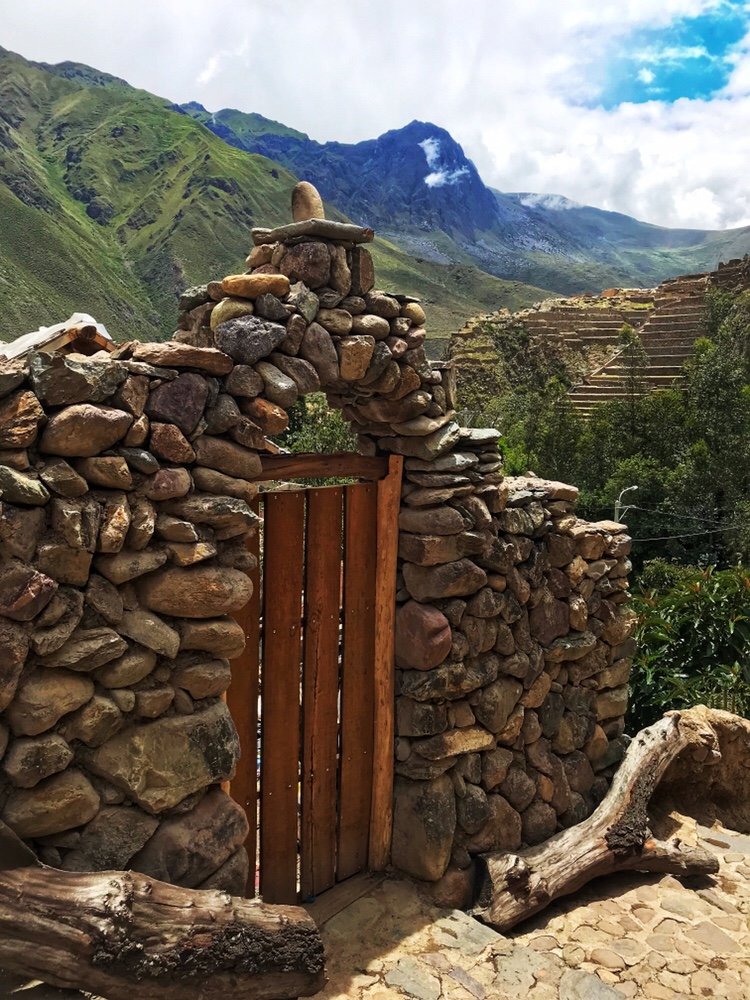 Every direction we walk still bears its mark. From the fountains of Tipon, where the "Incas planted water," and Machu Picchu, most likely the rulers' summer palace, down to the ancient terraces that are still being used today, this place is rich in history. Walking along the river one day, we stumbled upon the Quellorajay ruins that seemed to be quite the estate in its day.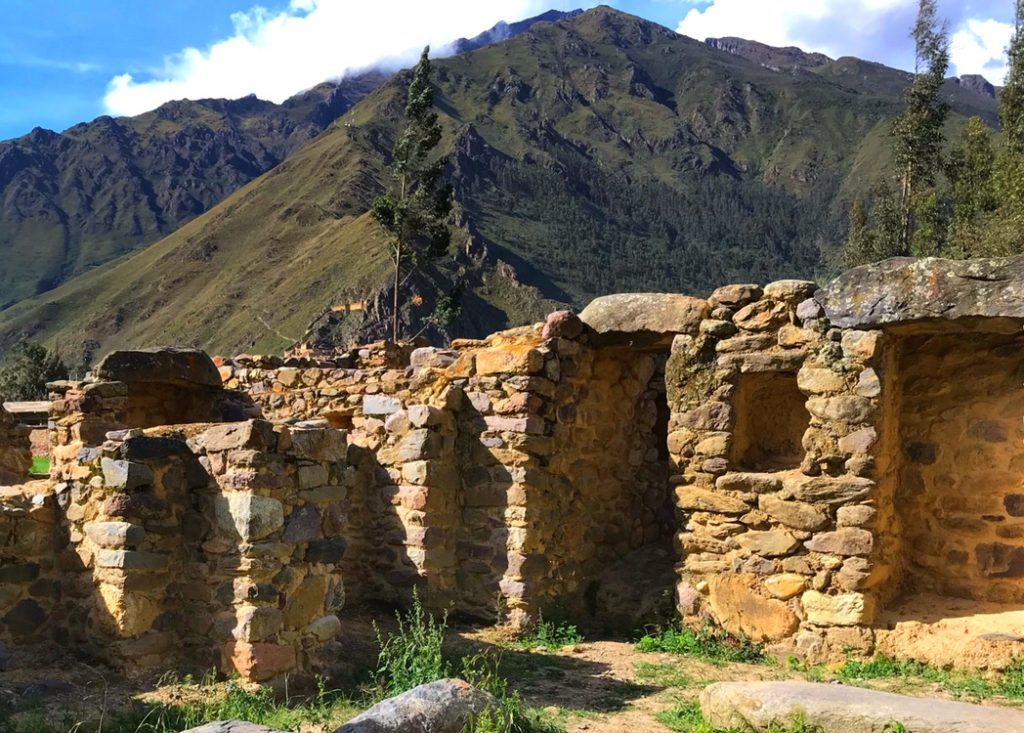 We made our way through the tall corn that was planted on the terraces still in use and right into what seemed to be a master bedroom with a beautiful bathhouse. While the water was no longer running into it, we could see the channels that would have created a small waterfall on the back wall of the little room. Large stones surrounded what would once have been a small pool of water for bathing. We sat on the edge and tried to imagine what it was like 500 years ago.
SALT PONDS
Another long walk from our home is the pre-Inca salt ponds, known as the Salineras de Maras. Along the way, we marveled at the various rocks exposed on the mountainside. They resembled a miniature sea of waves. Each had small channels with sharp crests carved by raindrops. The salt content in them glistened in the sun.
It is a scenic hike across beautiful fields surrounded by snow-capped mountains. A tiny path led us down into the valley and up the next mountain. When we crested it, we stopped to gaze over several hundred salt ponds that covered the mountainside in the valley below us.
We had seen pictures, but pictures never really tell the whole story. They fail to capture the magnitude of nature and these ancient structures. We just stood there amazed at the workmanship.
As water filters down through the subterranean salt rocks of this mountain, the water becomes highly salinated. An intricate system of water channels directs the salinated water from a spring to each of the salt ponds and the terraces below it. Workers fill their ponds with water by opening small notches in the side of each terrace. Then they let the water evaporate from the pond, under the warmth of the sun. When the salt crystallizes, they begin the harvest.
The salt from these ponds is even sold on Amazon and goes directly to supporting the local farmers in this Sacred Valley.
There's a long line of vendors at the entrance to the salt ponds. They sell all kinds of merchandise and souvenirs: packets of salt with different flavors and colors, salt-flavored chocolate, local handicrafts, fertility idols, etc. We tried a few of the flavored salts and they were very tasty. We bought a couple of salt packets, one with hot pepper flavor, and another flavored with huacatay, a Peruvian black mint, not as souvenirs but to use for cooking.
It is an impressive sight. These ponds were carved out of the mountain even before the Incan Empire.
They are at centuries old, and STILL working!!!
I can't think of many things that man creates that actually last that long, and then add to that the complications of corrosive salt.
The salt ponds do require maintenance. Part of harvesting the salt includes scraping the build-up around the channels and notches in each pond. These ponds have been in continual use since before the Incas. There are so many ponds here and many are unused. Locals can request a pond, and then they receive instruction on how to maintain and harvest the pond. They do everything by hand.
CARNAVAL
We went to Urubamba, only a 20-minute colectivo ride away, to watch the celebration of Carnaval. There was a parade, with people wearing traditional clothing, and quirky "floats" mounted on top of donkeys. Everywhere water fights broke out among both children and adults. Some used water guns while others used buckets. Still, some others used more people-friendly aerosol cans that spray foam. By mid-afternoon, Trin and I sat at a local pub drinking frutillada and watching the revelers walk home, most of them drenched or covered in foam, but happy.
When we arrived home, we walked into a kitchen filled with the aroma of a delicious stew. Elizabeth, her husband Rene, and their son Harold had come to visit us. Elizabeth prepared puchero for us, the traditional dish for Carnaval season. It is a lamb stew with potato, yucca, cabbage, moraya, corn, and other vegetables I don't recognize.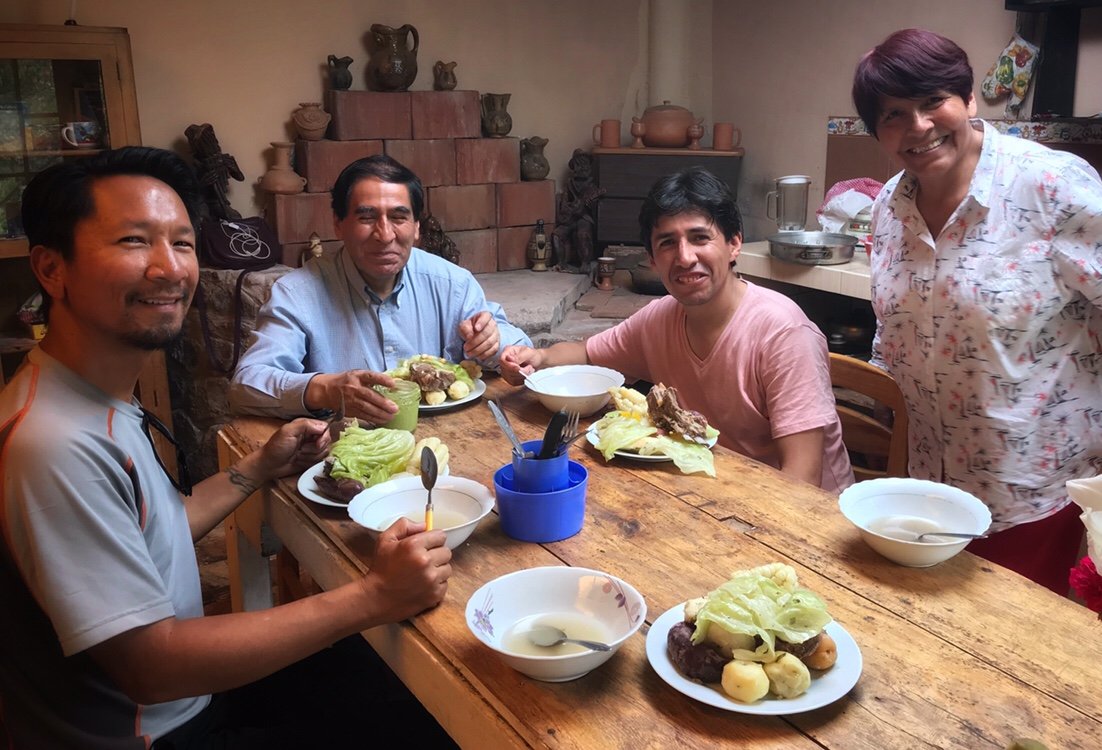 After the meal, Rene picked some fresh muña, a Peruvian tea leaf that smelled like eucalyptus, and we had some tea. Muña aids in digestion, calms the stomach, and improves circulation. And it tastes great. We switch back and forth now between drinking muña tea and coca tea.
Harold harvested some sauco, a fruit that resembles blueberry but grows in bunches in a tree. Elizabeth made jam out of it and we've been enjoying it with morning pancakes.
LIFE IN THE COUNTRY
We love the feel of life in a tiny town. Just yesterday a neighbor walked by with a load of choclo (a local variety of corn). When they saw us, they gave us a few cobs of choclo and we talked about the upcoming celebration in nearby Urubumba, and we expressed our gratitude for the gifts.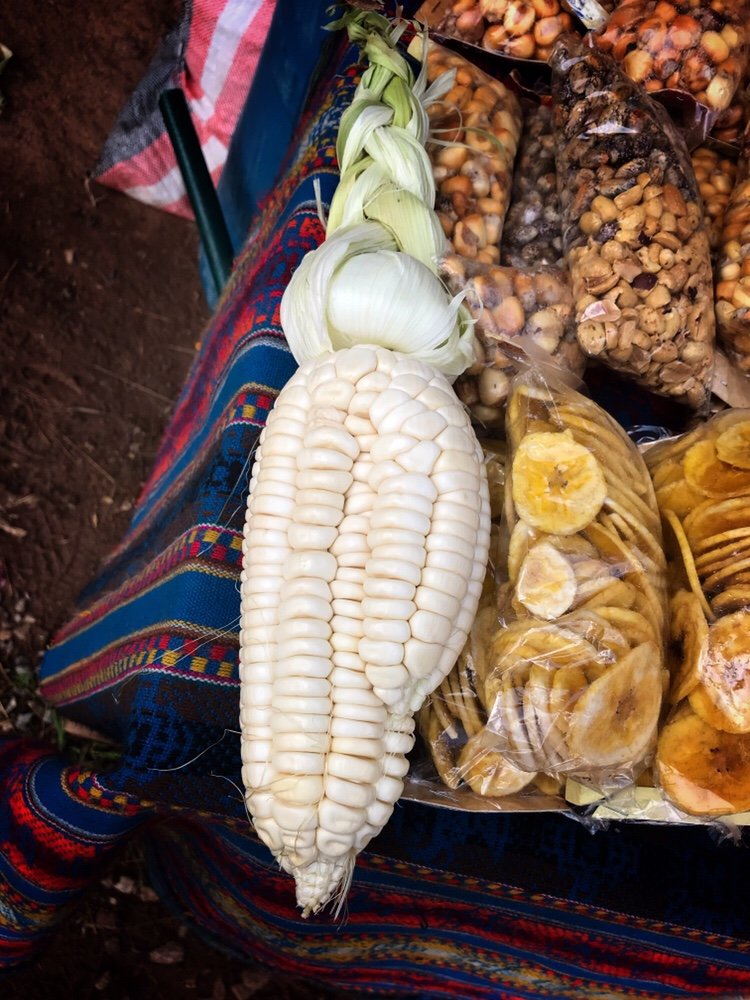 When we walk the paths through town people recognize us. We do stand out a bit being the only gringos in this part of town. They smile with recognition and we exchange greetings.
Some evenings we stop by the homes that have a red plastic bag on the end of a stick next to their door. This means they have freshly brewed chicha. We drink some or buy some to take home with us. It costs about 30 cents.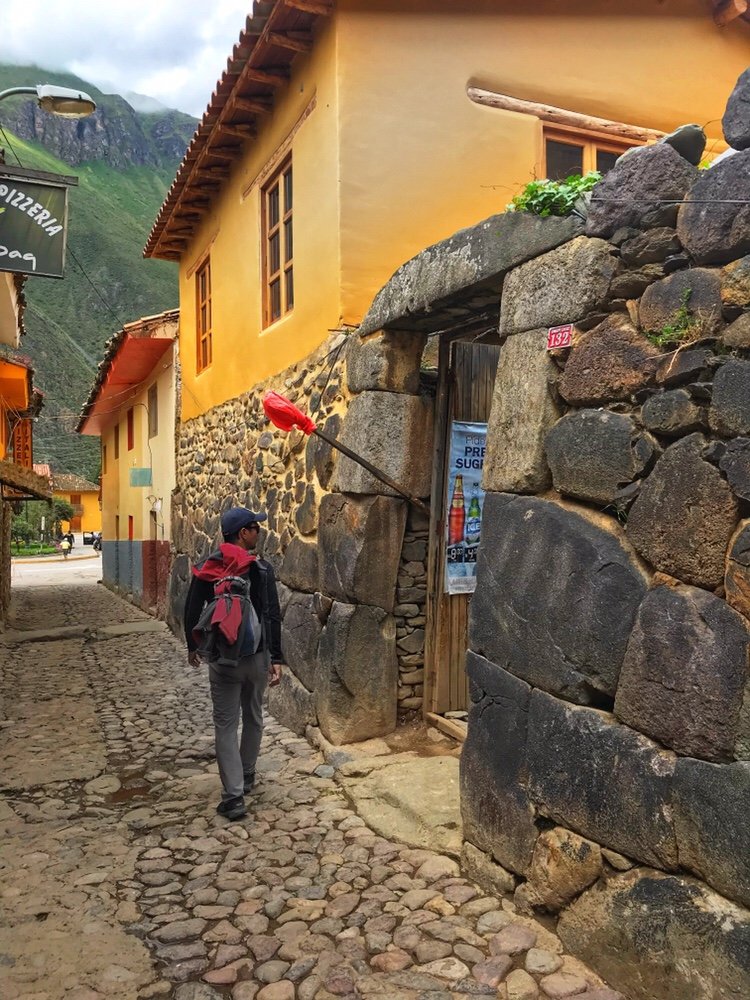 AND THE WEIRD DUCK
The duck is watching me again through the window, doing its weird panting sound, and tapping on the glass. Sambo, the neighbor's dog with a broken tail is waiting by the door. He is looking for his daily bowl of dog food from me. So I must go and feed poor skinny Sambo. Sambo slunk away in fear and would hide in the corn when we first arrived. He now waits for us and shyly puts his head forward for a pat when we come and go. I know he is crawling with fleas and ticks, but I can't help but let him nuzzle his nose against my leg and give him a hug when we come home.
Our stay in this village, and Elizabeth and her family will be a highlight of our time in Peru. But like most things, everything comes to an end. Our 90-day visa is almost up, and so we must move on. Our next stop is Bolivia. I feel recharged and invigorated, and ready for our next adventure.
Where is your favorite place to recharge? Let us know in the comments below.
---
BlueDoor Tip: If you find you need a quiet retreat to relax or maybe even to write the Sacred Valley would be the perfect spot. We highly recommend this home. It can be found on Airbnb under Harold in Urubamba. You can also stay with Harold in Cusco and get an excellent breakfast included.