Despite the horror stories you may have heard, getting a Bolivian tourist visa as a US citizen or an American passport holder is an easy, straightforward process. There is no need to sweat out the details, no need to agonize about what surprise requirement a border official might spring on you, and no need to satisfy the Bolivian border officials' fetish for perfect-condition dollar bills.
The solution is easy: Get a visa from a Bolivian consulate, and not at the border.  If you are in Cusco, this is an easy process.
WHY GET A VISA AHEAD OF TIME
Peace of mind.  I've read stories of other travelers having a hard time during their border crossing into Bolivia. Some were simply unprepared, while others had to deal with unreasonable immigration officials who are hoping for a bribe.  If you arrive at the border already armed with a visa, you avoid these potential issues.
No need for pristine-condition dollar bills.  This is a big deal. And very annoying. Based on other travelers' accounts, the Bolivian border officials are grand sticklers about this.  The bills have to be in perfect condition. They take a lot of time inspecting the bills for tears, smudges, or any imperfections. One traveler had five of his $20 bills rejected.  He posted a picture of those bills and they looked immaculate to me. On the other hand, if you follow the process below, you won't have to worry about the condition of your dollar bills.
This process may seem like a long one but it really isn't, and neither is it complicated.  Many travelers will tell you not to bother with getting a visa ahead of time. You could be lucky and everything goes smoothly at the border, and that would be awesome. But you will still need to prepare these documents, and fill out the same forms anyway.  The only extra thing you have to do is a trip to the Bolivian consulate, which, if you are in Cusco, is only a 15-minute bus ride away.
Note also that these are the same steps to take if you were to apply for a Bolivian visa in Lima, or some other city. If you apply at a Bolivian consulate in the United States, you will probably not get the visa on the same day.
VISA REQUIREMENTS
Bank statement.  The statement needs to show your name, the balance available, and with a recent date.  I blotted out the account number. Print your bank statement, and also create a JPG (image) copy of it for the online form. 
Itinerary.  Write up an itinerary. This does not have to be accurate.  Just list the cities you want to visit and the dates you intend to be there.  Don't sweat this out. Just make up a two-week itinerary. Print it out and also create a JPG copy of this for the online form.
Hotel reservation. Bolivia requires that you have a place to stay while you are in the country. This could be in a form of a hotel booking or an invitation from someone in Bolivia where you can stay.  Just make a booking and cancel it. Booking.com lends itself to this requirement (cancellation is almost always free).  A one-night booking was sufficient for my application. Print out the booking receipt which shows your name, hotel address, and date of stay. Also, create a JPG copy of it for the online form.
Passport copy.  Make copies of your passport. Just the ID page is sufficient.  Also, create a JPG copy of it for the online form. Your passport must have at least 6 months validity, though I don't know how strictly they impose this.
Photo. Take a photo of your face. Square up the dimension of the pic (same length and width) using an image cropping utility.  In my case, I took a square selfie with a white background using my iPhone. No need to have a printout of this photo, just the JPG file with a maximum file size of 150Kb. This will be uploaded when you start the online form.
Visa fee of $160 in cash. These can be in the condition that regular/normal people use.  They do not have to be in new, pristine condition.
Yellow fever vaccination:  We had our yellow fever vaccination before we started this trip. They did not ask for this, but sometimes they do. I think it depends on the consul or the border official.
PROOF OF ONWARD TRAVEL
Proof of onward travel: Border officials may ask for proof of onward travel.  This could happen in a few countries and we've seen lots of people trying to create fake documents for this. We made a flight reservation and chose the Pay in Person option as the mode of payment.  This holds your reservation without requiring an actual payment, but you get an official-looking flight reservation. They did not ask for this either when we crossed.
HOW TO APPLY FOR THE TOURIST VISA
Fill up the visa application form online at http://www.rree.gob.bo/formvisas/
The first step requires that you submit your email address. After that, open your inbox and look for the code that will be sent to you.
Go back to the site and enter that code, and then fill up the rest of the form.
Some tips on the form:
I left some fields blank if it did not apply, eg. Surname 2, etc.

Where it asks how many days you want to stay in Bolivia, I just put 15 days to match our fake itinerary even though we intended to stay for 90 days.

In the Emergency Contact section, I only filled up the name, Country, Address, and phone number.
The last step (step 5 of 5) requires you to upload copies of your itinerary, passport, bank statement, and proof of lodging.  This is where you will use the JPG copies of your documents.
As you can see in the screenshot, the files size cannot be more than 500 Kb.
When a file is successfully uploaded, an icon will appear next to the "Attach" column (the 3rd column).
After you have uploaded all the files, you can review the form by clicking Form Print Preview (optional step). Then click Finish Visa Application.
The website will assign a code to your visa application.  
Click Display visa application form. Print two copies of the form, and sign them.
Bring all the printed documents with you to the Bolivian Consulate in Cusco (map), within 15 days of submitting the online visa application.
To get to the Bolivian consulate in Cusco, take any eastbound bus/combi that says Todo Ave Cultura. You can take this bus near the town center, or ask your host.  Ask the driver or assistant to drop you off at the Parada Magisterio. Or monitor your location in Maps.me and get off near the consulate.
At the consulate office, even before your turn, ask where to pay the visa fee for American citizens. The immigration officer should give you a little piece of paper that has the account information to which you will deposit the money. He will also give you directions on how to get to the BCP branch (map), which is only a couple of blocks away.
Go to BCP bank, proceed to a teller, and deposit $160 to the account (hand the piece of paper with the account info to the teller). The teller will give you a receipt.
Bring the receipt back to the consulate office.
When it is your turn, give the officer all your printed documents, and the bank receipt. He will review the docs, print out a visa, and tape it to your passport. Then you have your Bolivian visa.
HOW IT WENT FOR US
We had everything printed out at an internet cafe in Cusco and then went to the consulate.
He gave us the bank account info and we deposited the money at BCP.  Our dollar bills were in okay shape, they had folds, and not nearly perfect condition at all, but the bank teller accepted them without problems.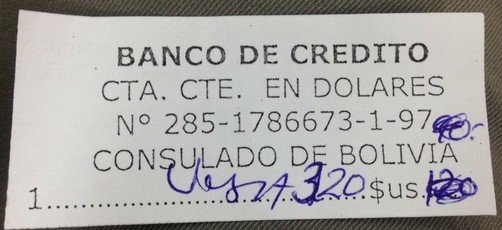 When we returned to the consulate, there were some people ahead of us so we had to wait a bit.
When it was our turn, it took less than 10 minutes and we got our visa.
The consulate had wifi, and a disturbing notice posted on the walls.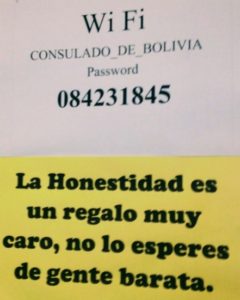 When we crossed the border into Bolivia, we filled up a one-page immigration form, gave it and our passport to the officer. He stamped our visa and that was it. It only took five minutes. Just to be safe, we had printed copies of our documents with us, but we did not need them.
How to go from Cusco to the Yunguyo border
The bus from Cusco to Puno costs only 15 soles. When you arrive in Puno, walk to the Terminal Zonal which is a few blocks away (take a quick side-trip to the dock at the end of Calle Bachero for a nice lake view).  At the Terminal Zonal, take a colectivo (van) to Yunguyo. It costs 8 soles.  From Yunguyo, take a taxi to the border, about 3 soles per person if you share the ride.  There are money changers on the Peru side.  The rates are not bad.
Visa Validity Period
The visa is valid for ten years with a maximum of up to 90 days per calendar year. When you enter the country, you will be given 30 days on the passport entry stamp. If you want to stay longer than 30 days without doing a border run, you need to go to an immigration office to get an extension. You can do this as early as 5 days before the end of the 30-day period.
Most cities in Bolivia has an immigration office. You just go in, ask for an extension and they will stamp a 30-day extension on your passport, no charge. You can get the extension twice for a total of 90 days. I don't know why they do this, it seems to me like it is pure red tape. Many countries in Latin America give you 90 days up front.
---