I walked into the massive department store, stopped, and looked around.  The open expanse of the room filled with shelves and racks made me feel utterly lost. I was looking for a new blouse for an upcoming meeting in New York City where I would be giving a presentation on a proposal to some executives so I wanted to, well, look presentable.
I was immediately overwhelmed.  Where do I go, and what do I look for?  What is my style? How can I find the best deal? You may have guessed now, that I'm not a fashionista. Personally, I just want comfortable clean clothes.  I wouldn't mind getting two or three of the same outfit and wearing them every day. I don't, however, want to look like a total idiot so I generally ask someone around me for a little help. In college, I always asked my dorm mates if my clothes at least matched.  Now, thankfully, I can ask my husband. He has a pretty good eye for fashion. At least I think so, but what do I know.
I'D RATHER EAT BRUSSEL SPROUTS
I find clothes shopping to be absolute torture. It drives me nuts, I'd rather have to eat Brussel sprouts. I can only take so much shopping and then I just have to get out of there. Maybe it is total boredom or maybe it is just the feeling that I have absolutely no idea what I'm doing.
I finally found a shirt and showed up at that meeting looking spiffy.  Of course, the second button down broke just before my turn to get up and speak and I was without a safety pin.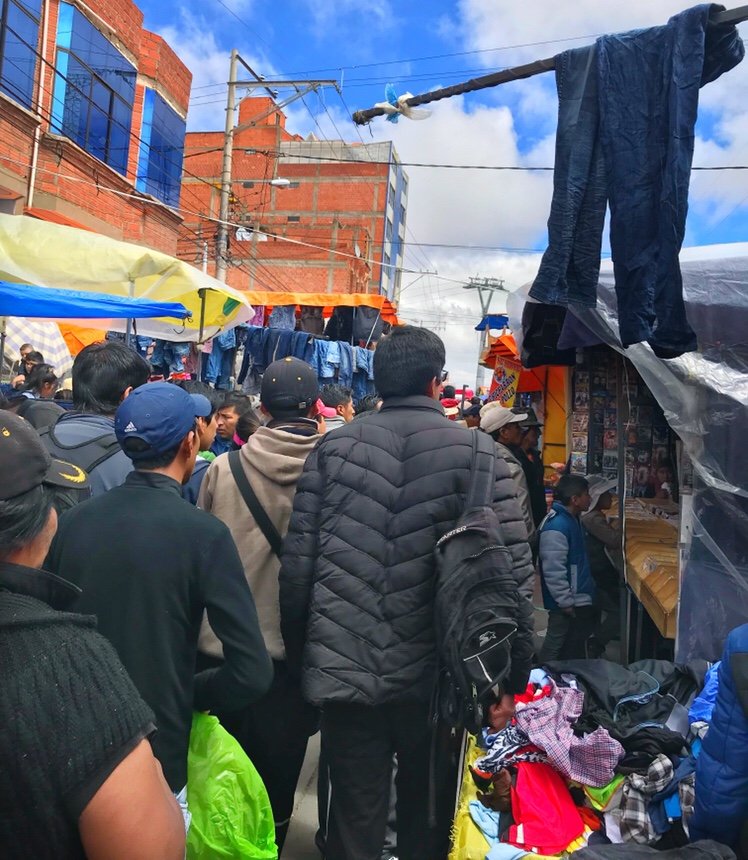 Fast forward eight years later and I'm walking around with Trin looking for some new shoes for him. I still hate clothes shopping, but it is different here in South America. Massive department stores can be found in the larger cities, but we tend to steer away from them. Put me in the middle of a foreign city or the middle of the woods any day and make me find my way home, but don't make me go shopping!
Now you know one of my secrets to financial independence. I have no fashion sense – saves us a lot of money!
LOCAL MARKETS
Most of the time we shop in the local markets. At least the stalls and tiny stores are not as overwhelming to me. Then there is always the occasional dog wandering about to keep me occupied.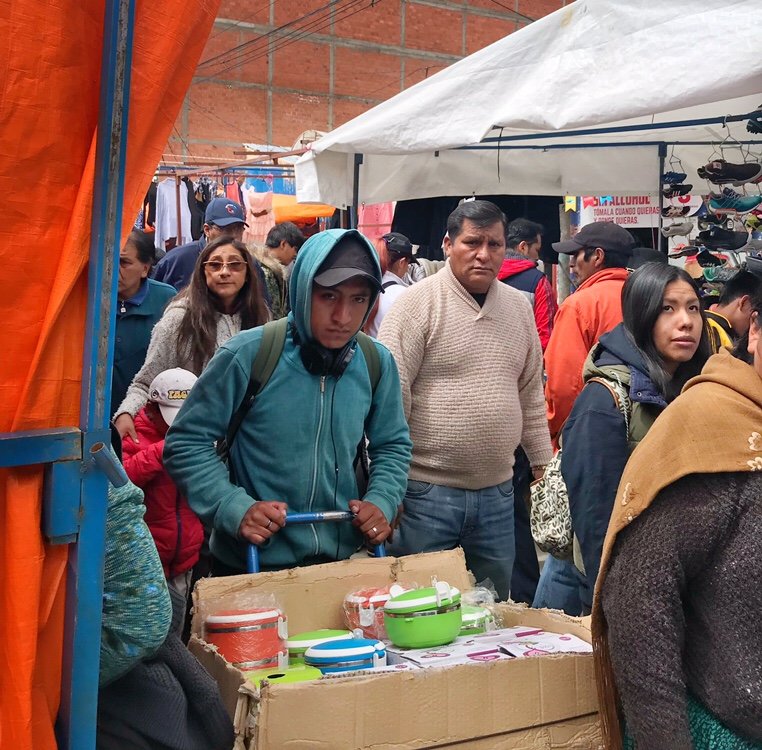 Shopping here is quite different.  Generally, there is no place to try on clothing before making a purchase.  Sometimes vendors will have a shower curtain that hangs from a U-shaped bar on the wall. They will close that around you if you want to try on clothes. Be careful of the wind blowing it out from around you.  I skip the "changing rooms." Once an item is purchased there are no returns.
In La Paz, we decided to go shopping at the Feria 16 de Julio, also known as the El Alto Market. This is an open market with vendors sprawling across several blocks. It's one of the largest markets in the world, certainly the largest in Bolivia. The vendors have tarps to cover their goods protecting them from the sun and rain (somewhat). Vendors who could not get a spot walk up and down the narrow paths with their carts selling their wares.
One vendor even had a mesh cage of bees flying around in it.  Honeycombs dripped with sweet honey on the back and small jars of golden honey for sale at the front.
SERPENT OF THE ANDES
Much of the clothing arrived here in Bolivia on the "Serpent of the Andes." Elizabeth, our wonderful host in Cusco, Peru who also told us about the Incas planting water, told us about this Serpent. It is a massive line of trucks and vehicles that snake through the Andean mountains carrying contraband items.
Most of the contraband arrives by ship in Iquique, Chile. They are then trucked into Bolivia. From there the items are either sold in Bolivia or sent on their way to other parts of South America. Many items continue on trucks into Peru. But to bring them into Argentina, the massive bags are carried on the backs of couriers (actual people) or hidden in different vehicles that make their way across the borders.  Elizabeth said this convoy even had its own army to protect it.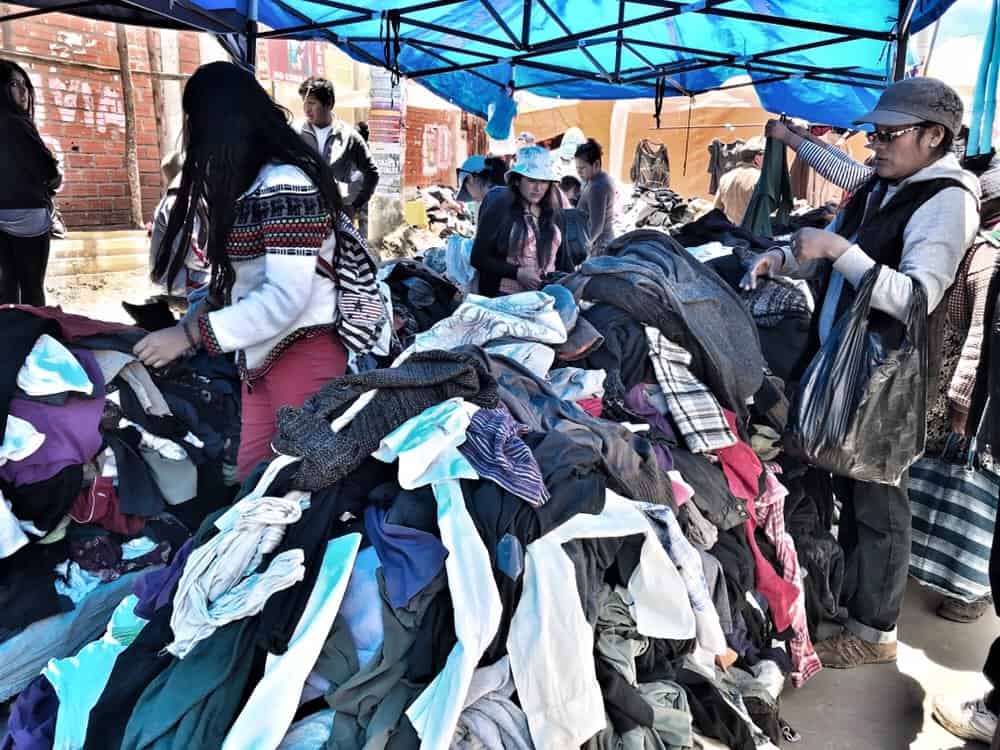 Last September a massive raid was conducted in Peru and over 200 tons of contraband was seized. There was a violent resistance from the 200 smugglers and only two were arrested. This convoy is also referred to as the Snake of the North.
Among the contraband items are used clothing from the USA (ever wonder where some of your donated clothes end up?). It is illegal to sell used clothing from the States here in Bolivia because the government wants to support its local textile industry. Half the people walking around are wearing shirts with English sayings. Seems to be working.
CONTRABAND CLOTHES POPPING OUT LIKE BISCUITS
These used clothes are packed up and compressed in massive bags then tied shut. They are packed so tight, Elizabeth said, that when the strings are cut the clothes pop out. From her hand gestures, I pictured breaking open a cardboard cylinder of Pillsbury biscuits. These contraband clothes lay in piles at the market, the wrinkles evidence of their shipment method.
Piles of shoes lay on the tables.  I needed a new pair of sandals so we looked through pile after pile. I would find one shoe but could never seem to find the match. After looking through three stalls we finally realized all of the piles were only right footed shoes.  The left shoes were in bags sitting next to the vendor.
I found a right shoe I liked and took it up to the vendor and asked how much she wanted for it. She named the price and routed through the bags for its match. I was surprised at how quickly she found it.  I paid for them and stuffed them in our pack.
We both needed warmer clothes for the high elevation areas and will need them as we progress down into Patagonia and possibly Antarctica. We decided to upgrade to down jackets here. I sorted through piles of coats laying on tables under tarps finally finding one that we felt would be sufficient.
USING LOCAL CURRENCY
Within each country, we always use the local currency and pretty much pay cash for everything. A big change for us since in the USA we almost never had cash on us. We used credit cards to pay for everything then just paid it off at the end of each month (hello cashback). Most vendors, at least in the places we shop, don't take credit cards, only cash.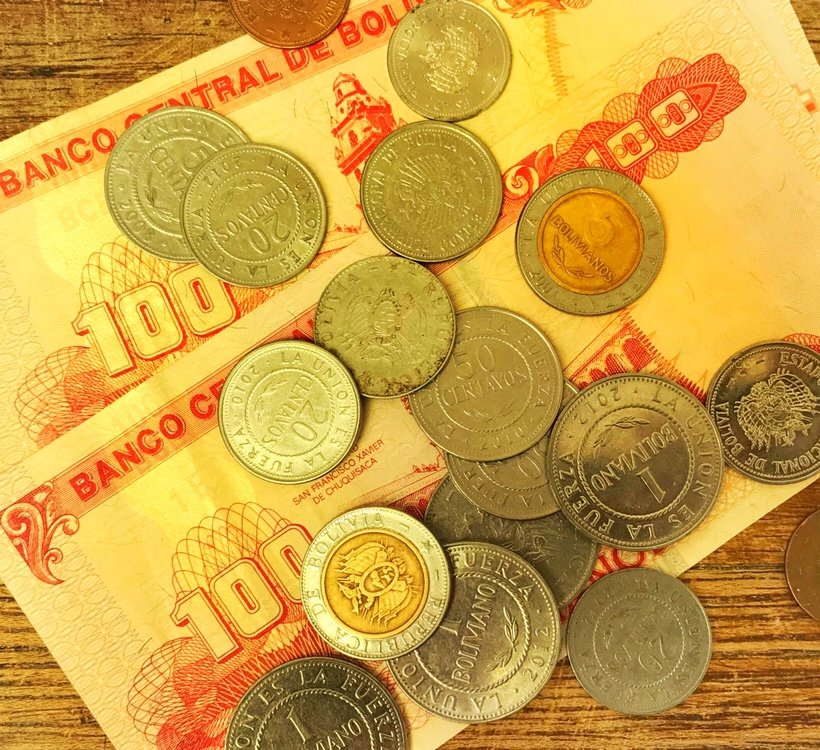 It is much easier for both us and the vendors to have local currency. We can also get a better deal that way. Interestingly enough, we can also pull out more money in the ATM if we do not select the English option. The daily withdrawal limits on the Spanish screens are higher.
DEBIT CARD SAFETY
We use our debit cards to pull money from the local ATMs in the local currency.  Generally, we look for ATMs that have guards nearby or are at least connected to the bank and use them during banking hours.  No matter where they are located I always pull on the card reader and pick at the keyboard. If either of them is loose we move on to another ATM.  Card skimmers are not uncommon. Since we move around quite a bit it would be a royal pain to have our cards compromised. Besides this, the Bolivian post office is on strike right now.
Before we leave the little ATM room we split the money and hide it in the secret pockets we have sewn into all our clothes. We also keep only a small amount of money in our checking account associated with the ATM. That way, if it is stolen and the thief begins to pull out money before we can get it canceled our risk is limited.
When we know we only have a week or so left in the country we try to let the amount of local currency we have run down. Any amount we have left over we exchange at the border just before or sometimes just after walking over to the next country.
We use Charles Schwab because they are simply the best bank out there in my opinion. They do not charge any withdrawal fees and if you incur any fees for using an ATM anywhere in the world, Schwab will reimburse all of them at the end of the month. They are also the easiest to work with. Their mobile app is top of the line allowing me to do anything I need to do quickly and easily on my smartphone. If you don't bank with Charles Schwab now check them out. I'm not an affiliate and don't receive anything for sharing this, they are just that good.
$100 Bonus if you don't already use Schwab
If you don't have a Charles Schwab account and you want to sign up, I can get you a $100 sign-up bonus. Just send me an email at 43bluedoors@gmail.com and I'll email you the referral link.  This won't sign you up to our mailing list and I'm not going to spam you.  This is just a thank you for reading.
If you do want to sign up for our weekly mailing list of stories, please use the form on the top right corner of this page.
Crossing into each country is an adjustment to get used to the new currency.  Panama and Ecuador use the USD. They were fairly easy but still an adjustment as we had already gotten used to other currencies before entering.
Here in Bolivia $1 USD = 6.91 Bolivianos.  Sometimes the sticker shock still gets us. When we asked how much a bicycle tour down Death Road would be we were quoted 300 Bolivianos, it felt like a lot of money, but in reality, it was only $43 USD.  We can get a burger and fries down the street for 5 Bolivianos, feels like a good deal. Then I stop and see it is only 72 cents. That's a heck of a deal.
Colombia had the biggest sticker shock for us. You want 10,000 pesos for a meal!? Oh, that's only $3.55 USD.
GAME TIME!
On the day we went shopping in El Alto Mercado in La Paz. We purchased the following items:

*Men's down jacket = 165 BS / $24.05 USD
Women's long down jacket = 75 BS / $10.93 USD
*Men's Knit Hat = 15 BS / $2.19 USD
Women's Sandals = 35 BS / $5.10 USD
*Women's Scarf = 15 BS / $2.19 USD
*One pair of gloves = 15 BS / $2.19 USD
Women's Shirt = 10 BS / $1.46 USD
Men's Shirt = 10 BS / $1.46 USD
TOTAL = 340 BS /$49.56
*New items, the rest were gently used
How much do you think our total spend in USD was?
Take a guess in the comments below!
The contest closed April 14th. Answers have been added to the box above.
THE WINNER IS JOHN!!!!
---