Tinku is the art of ritual mayhem and is a yearly celebration in Bolivia. The only form of Tinku I had ever heard of before entering Bolivia was from the movie The Purge. The movie explores what it would be like to have one night per year of complete lawlessness where any crime is allowed.
Tinku is of course different. It lasts days to a couple weeks. It is also not complete lawlessness, but fights to the death are part of the ritual. Bloodshed is celebrated as a sacrifice to Pachamama, earth mother and fertility goddess presiding over planting and harvesting. They believe she can cause also cause earthquakes.
During the first weeks of May, thousands of indigenous people gather in the cities near the northern department of Potosi in Bolivia to "celebrate" Tinku. It begins with dancing and excessive consumption of alcohol escalating into many drunken escapades.
It is then that the fights begin.
Fistfights are common and the revelers sometimes employ rocks and other weapons. Death is considered a sacrifice to Pachamama. They believe that the bloodshed will ensure a good crop the following year.
It was not an event we wanted to witness. Warnings tell tourist not to respond to any gringo taunts and to quickly leave areas where fights break out. Even with these precautions one never knows when a stone might be thrown at your head. We avoided Oruru completely, the city known for the deadliest Tinku celebrations.
ENTERING BOLIVIA
We almost skipped Bolivia. We heard horror stories about the difficult border crossing. There is also a $160 visa fee each ($320 for both of us) because we have American passports which make Bolivia no longer an inexpensive country to travel. We also read the warnings about protests, drunk drivers, bad roads, and the likelihood of getting sick from bad food or water. All of which we experienced.
I really wanted to see the Salt Flats.  It is after all the largest in the word and can be seen from space.  Many travelers we met along the way said it was a highlight of their trip so far in South America. Curiosity is also a huge driver for me. It is so much fun to see new things and learn more about the world. In this respect, Bolivia delivered.
AN OMINOUS BEGINNING
So we entered the country and found that the Bolivian border crossing can be quite simple if the tourist visa is obtained in Peru. Armed with our visa, we just walked across the border, filled out a form, got a stamp and walked into Bolivia.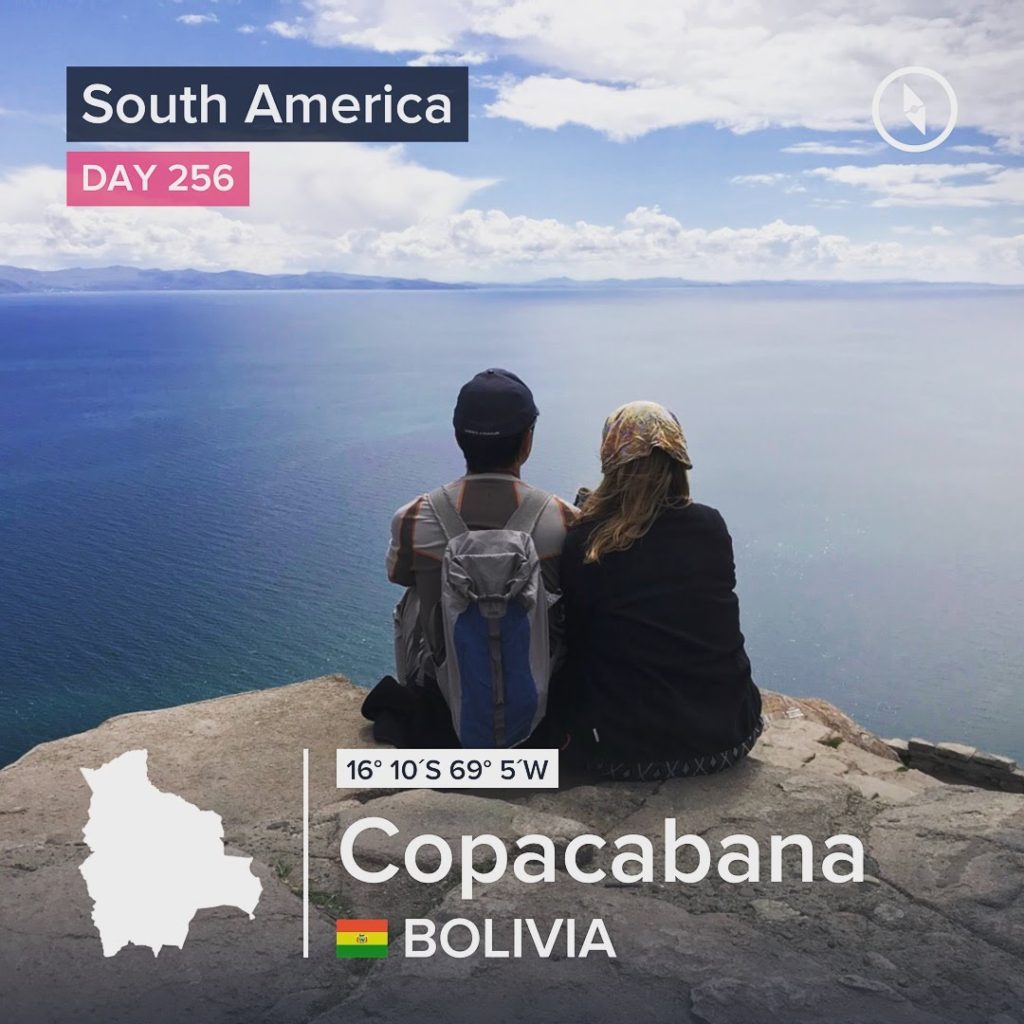 Our first stop on the shores of Lake Titicaca was the town of Copacabana.  Maybe what we read about Bolivia tainted our view.  I try to give each place a blank slate as we enter. Each country deserves a chance to show their own beautiful colors. But even in Copacabana, we skipped the main tourist attraction, Isla del Sol, because of civil unrest that was going on there.  The best attractions on the island were closed, and not too long before we got there a tourist had been brutally killed and her body was found on the island. An ominous start, but it was only the first stop and we were ready to move onto the next and give Bolivia another shot.
LA PAZ AND ITS DARK SIDE
La Paz has a beauty of its own, surrounded by tall mountains creating a stunning skyline. It has the hope of new infrastructure being developed. There was still something below the surface of the cultural facade that gave an uneasiness.
I wrote this article about La Paz and some of her dark secrets early in our Bolivia trip and unfortunately made some of our friends nervous for us. Personally, however, we did not feel unsafe. Maybe it was a discomfort with their value of life, the value of each other, or lack thereof.
Riding bicycles down death road near La Paz was spectacular and an excursion I'm so glad we took.  But I would not call it an unparalleled beauty.
Visiting moon valley also near La Paz was supposed to be like a visit to the moon due to the peculiar terrain. It was unique and worth a day trip if one will be in La Paz for a while, but it is nothing compared to the moon valley of Chile in San Pedro de Atacama.
THE BOLIVIAN EXCEPTION
Our trip to Torotoro was an exception to what we experienced in the rest of Bolivia. This tiny isolated town was a little gem all on its own. Stunning red rocks and dramatic landscapes carved by ancient time. Walking on dinosaur footprints was an otherworldly experience.
But what I enjoyed the most in Torotoro was how different the attitude of the people was compared to what we've experienced so far in the country. Not only did the guides join in the fun with their clients, they truly seemed to want to make sure we were having a good time. When we told the tour guide at the end of the day how much we enjoyed the excursion he swelled up with pride and donned a huge grin. That kind of thing makes me happy, to see someone who enjoys their work and has pride in the outcome.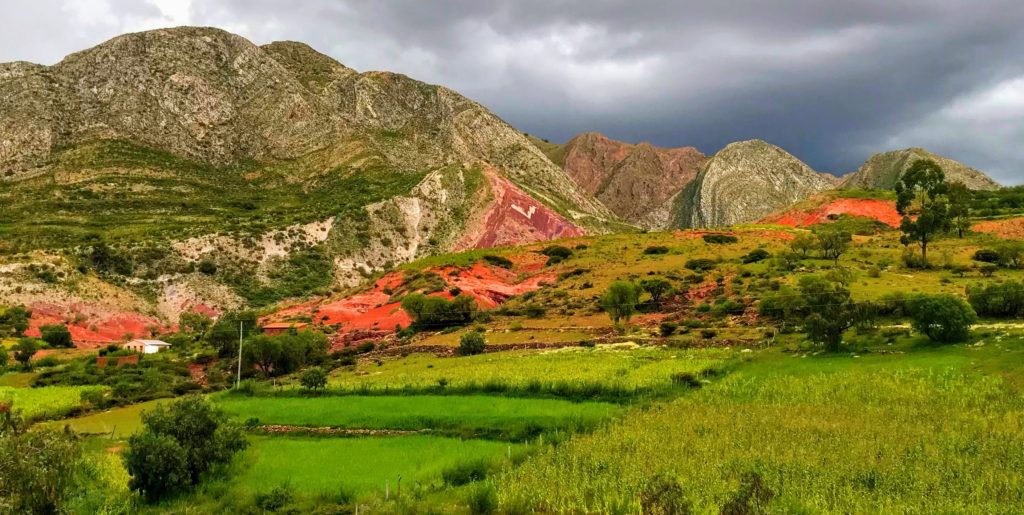 The tour drivers in Torotoro were careful and alert. The town has taken measures to preserve their land and keep it pristine. Here we could see the work of the park fees going toward preserving their land and improving their town. Just the fact that they had municipal employees taking surveys on the street asking tourists what they could do to improve was a very positive sign.
TAKING A BREAK IN SUCRE
In most countries, we stay the entire time that the visa allows. Our goal has never been to visit all countries in the world. It is to experience each country we travel through. Sometimes we wish we had more time to explore each. We left Bolivia with still a few weeks remaining on our visa. We were there 72 days. Half that time was downtime in Sucre while Trin recovered from an injury.
In Sucre, we had a tiny apartment with everything we needed. We were only a few blocks from the town center and the market. Our host was also a wonderful woman. She was friendly and often asked if we needed anything else for our stay. Downtown Sucre is filled with tourists so I also splurged on a few days in coffee shops to simply write. I really enjoyed that.
As with any place in the world, one can find kind and generous people around.
BEGGARS AND BEAUTY IN POTOSI
After Sucre, we ventured up to the town of Potosi, one of the highest cities in the world at 13,420 feet. I enjoyed wandering aimlessly around the streets of Potosi deciding to turn where something looked most interesting and there were quite a few really cool structures, including the Torre de la Compañia de Jesus. The building is pictured on the 50 Boliviano bill.  It reminded me of Jaipur, India, the pink city (the building only – hospitality in India is spectacular).
The beggars have a ploy here. They sit there just fine staring off into space. Then as a tourist approach, they suddenly start crying or pitifully beg for money as if each word is an act of sorrow. One beggar even grabbed my leg as I was walking by and he mournfully begged. The desperation can be depressing and always leaves me to wonder how some countries can do so well while others consistently struggle.
Potosi is also cold. This is the city where we bought the 200-watt bulb for our very cold room and it did help heat up the room a bit. We were in the market looking for some ideas on how to warm up the room and it was getting dark. The market consists of rows of tables/shelves covered only by tarps overhead and goes on for blocks. It also contained a few shady characters so we made our purchase and headed home quickly.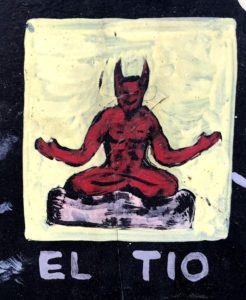 THE DEMON IN THE POTOSI MINE
The primary source of employment in Potosi is the silver mine that overlooks the city.  Working in the mine spells an early death either by mine accident or dying from inhalation of the toxic fumes. Some see it is as the only opportunity to support their families.
Miners regularly bring gifts into the mine for El Tio, a devil-like statue believed by the miners to be the lord of the underworld. If a mining accident happens they assume El Tio is angry with them.
The choices for employment are limited (and the safety procedures even more limited) but from what I could see, it is not due to the lack of resources.  So it leaves one to question, why do some countries have more opportunities than others.
THE SALTY TASTE OF UYUNI
The most common tours from Uyuni to the salt flats are three to four days. The tour goes through the salt flat itself only on the first day. The next two days are a drive through the vast desert to various colored lagoons with flamingos or to cool rock formations. The second night ended up being the worst night spent in South America for me.
Given the lack of preservation efforts for their region, I would suggest only a one-day tour to the salt flats. It felt irresponsible to be part of the destruction of this area.  Until Bolivia uses at least a portion of the park fees to begin preservation I wondered if we should have even participated.  I love to see beautiful places in the world, but also feel a great responsibility to stay on the paths to do what I can to preserve it.  Here there was no option, there were no paths.
If you want to see geysers, colored lakes, and flamingos hop on over into San Pedro de Atacama just over the border in Chile. The geysers and lakes are much more spectacular. You also have a much better chance of getting a great guide who will not drive drunk or hung over, a guide with a wealth of knowledge that is happy to share their knowledge about nature and their country.  Chances are the guide will treat the group like welcome guests to his country, not just an object to make a dollar off of caring little for you once the dollar is in hand.
Chile takes great care in the preservation of their land and as a result, it is a pleasant experience and much more beautiful.
Are the salt flats worth a trip to Bolivia?
In my opinion, if the salt flats are your only reason for going to Bolivia then you won't be missing out if you skip it, especially on an American passport that requires the $160 fee (who knows where that money goes).
I specifically wanted to see the salt flats in Chile to compare them with Bolivia and with Utah.
Bolivian Salt Flats:
A white expanse as far as the eyes can see in places. Beautiful but similar enough to the salt flats in Utah to give curious nature seekers another option to experience a massive salt flat.  It is 4,086 sq miles, massively larger than the salt flats in Utah.  But how much of it can you see at one time? The size, however, did create an odd sensation during the long trek across it. At least for me, driving endlessly over a white plane was an otherworldly feeling.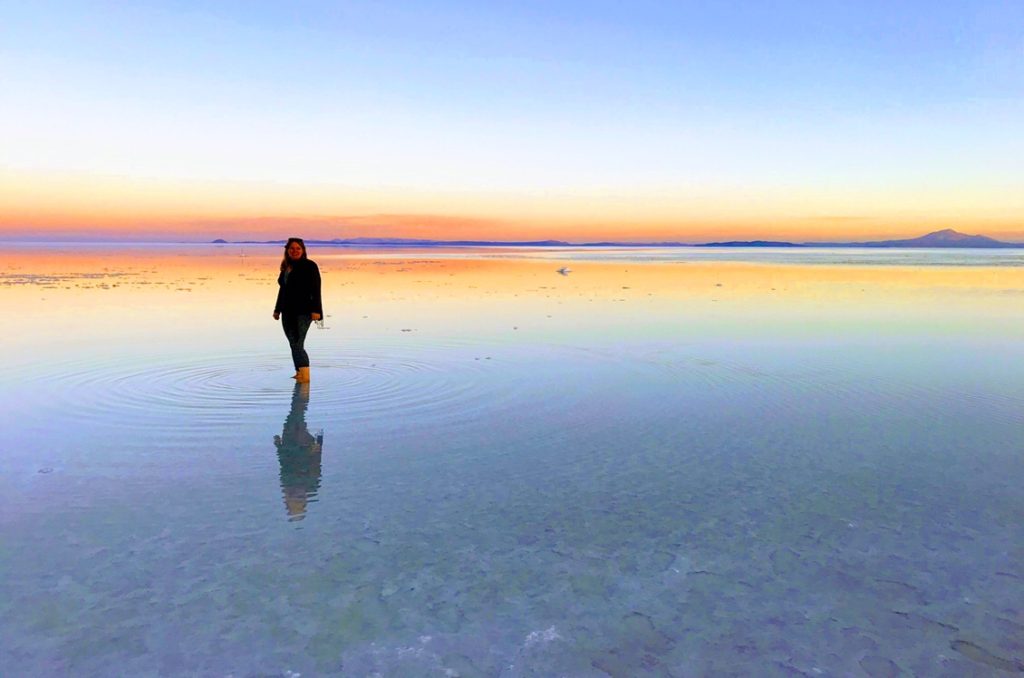 Utah Salt Flats:
Very similar in places to the Bolivian Salt Flats. The huge difference is the spectacular state of Utah. If you go there, not only can you experience a really cool salt flat, but you will also be in one of my favorite states in the beautiful country of America. It is a state filled with absolutely spectacular national parks.  The salt flat covers 100 square miles.  Like the Bolivian salt flat, it also contains a flat crystalized surface that at times is covered with water producing the mirror effect similar to the Bolivian salt flats during the rainy season.
Chile Salt Flats:
The salt flat in Chile is so different than the Bolivian and Utah salt flats that I would not even compare them as similar experiences. The composition of the ground is completely different and worth a visit for its own sake.
Other Salt Flats
When we make our way to the salt flat of Lake Eyre, Australia I'll let you know how that salt flat compares. From pictures, it might be just as spectacular or even more than Bolivia. I'm not sure if we will make it to the one in Botswana. Maybe. I do find them fascinating.
FIRE TRUCK VS. AMBULANCE
Last night we were walking in downtown Iquique Chile when a fire broke out in one of the local businesses. We watched as flames leaped out of the building and filled the sky with dark smoke. We heard the firetrucks from a great distance and watched as the rescue team flew down the road. Everyone pulled over to get out of the way giving the trucks a wide berth down the center of the road. Everyone showed concern. The truck made it there quickly and immediately got the flames under control.
I thought back to the ambulance we walked by in Sucre, Bolivia. Its sirens were bellowing as it slowly crept its way down the road attempting to get around the traffic weaving in and out, going around on the sidewalk and waiting at the intersection for cross-traffic to slow down. Only one car even attempted to move aside. Everyone else just went about their life as if nothing else was happening.
I wonder how they would feel if they got home and found out it was their child in danger maybe an inch from death waiting for the ambulance that they sat nonchalantly in front of.
CARING FOR EACH OTHER
I understand the lack of luxuries and even the lack of heat in a poor country. The conditions were expected and could be adapted to. However, it cost nothing to care for each other to show concern or to be nice. I truly believe that giving is a foundational part of wealth. I steer away from saying "always" because we could all quickly find exceptions to this. Even if generosity does not bring the wealth of money it aids in the abundance of a fulfilling life.
Society and culture are not built by only one individual, it is built by all. When giving and kindness is fundamental, it builds a solid groundwork for growth. Personally, I like to do business with kind people, I will even go back and spend more than originally planned for an owner with a smile and a helpful spirit. On the other hand, there have been things I wanted to buy but I walked away because the vendor was so rude. The latter happened quite often in Bolivia.
Of course, it is never just one thing that creates a culture. Looking out for others is only one cornerstone society is complicated.
LEAVING BOLIVIA
We left Bolivia and experienced only one drunk driver and one hungover driver for our two months there. People laugh when we tell them "only one drunk driver," but it is also a laugh accompanied with a shake of the head and tinged with truth because they also know it could have been much worse. I still find the number to be too high. For anyone to take the lives of others so irresponsibly is unacceptable. It is not a cultural norm that I am willing to accept.
Poverty is difficult and makes people desperate. But it is no excuse for taking of little value someone else's life. I have spent time in villages at poverty levels that are lower than Bolivia's, where the people were hospitable and happy. Kindness does not come from having comforts in life.
Maybe your next door of opportunity is blue because it is painted with kindness. Caring for others opens up doors. If nothing else, giving fills the giver.
Please note: This is only our opinion of Bolivia. There have been many travelers that went through Bolivia that have absolutely loved it and indeed there are some spectacular sites there. This is only one account, there are many sides to every story.
---