After our first taste of Patagonia in Bariloche, we were ready to see more of the snow-capped mountains and pristine lakes that are the main features of the area.
For our next leg of our Patagonia exploration, we flew to Coyhaique. This meant that we would skip the Queulat's hanging glacier near Puyuhuapi. We were fine with that. The sparse transportation would have made for some dreary traveling. Also, we heard that there was a hanging glacier called Piedras Blancas in El Chalten where we would be spending several days.
Renting your own vehicle is a great way to see this region of the world. In some areas, the buses only run once a week and we were on a time limit. Our reservations for the upcoming W trek in Torres del Paine had to be made months in advance. The popularity of the trail and the limit on campsites make them sell out quickly.
The Carretera Austral
The Carretera Austral is a famous road through pristine landscapes of Chilean Patagonia. The road begins in Puerto Montt and ends in Villa O'Higgins.
Our journey on the Carretera Austral began at Coyhaique after we flew into the Balmaceda Airport. As we began our descent to the runway we looked out the window and saw little else other than open land with very few buildings in sight. We seemed to be landing in the middle of nowhere.
Our friend Mark from Puerto Varas told us to look for the old plane fuselage sitting beside the runway. It was a wrecked plane with the worlds "Bienvenidos" (Welcome) painted on it. We didn't see it, maybe it has been removed. Who wants to see a wrecked plane on the ground when coming in for a landing? I thought it was funny though.
Coyhaique
We spent our first night on the Carretera Austral in Coyhaique. There's not much to the town except for being a pit stop for loading up on supplies or getting some cash. Still, we wanted to step up our training for the upcoming W Trek that was then only three weeks away.
The trekking options are limited in Coyhaique. We followed a trail on maps.me that climbed Cerro Mackay the prominent hill with a cliff face behind the town.
The beginning of the trail was easy to follow but it soon disappeared and we were vaguely following GPS only. Occasionally, we could see signs that we were still on what was once a trail, but then it was quickly gone again.
We ended up bushwacking through what looked like a waterway if there was heavy rainfall and early spring melts. The sides grew steeper and the mountains surrounding the gully so steep that this appeared to be the only way up.
The views of the valley were stunning. After I got temporarily stuck on one of the scrambles and had to basically jump to the next hand hold I knew we would not be ascending much further. The "trail" eased off a bit after that, but we stopped at the next washed out smooth rock surface. One slip here could have us riding the rock roller coaster down the mountain. It was one ride I didn't want to risk. We stopped for lunch and took in the view of the valley before heading back to our lodging.
Just north of Coyhaique is a reserve purported to have some hills to climb. However, the entrance fee to the park was did not seem worth it. We would have plenty of better hiking in the areas we were headed to. It's a nice town and a great place to restock if you are headed further south down the Carretera Austral.
Villa Cerro Castillo
It's a quiet town, with very few amenities, but lots of camping and great hiking. If you want to camp here you will need to bring your own equipment as there are no rentals available in town.
The tall monoliths that inspire the town's name is an imposing presence and made for an awesome day hike. There is also a 3-day trek that many say could be the next Torres del Paine. In my opinion, Torres del Paine seems hard to beat.
Read more about our day hike to Cerro Castillo
Puerto Rio Tranquilo and the Marble Caves
A great stop along the Carretera Austral is the town of Puerto Rio Tranquillo. Its claim to fame is the Marble Caves.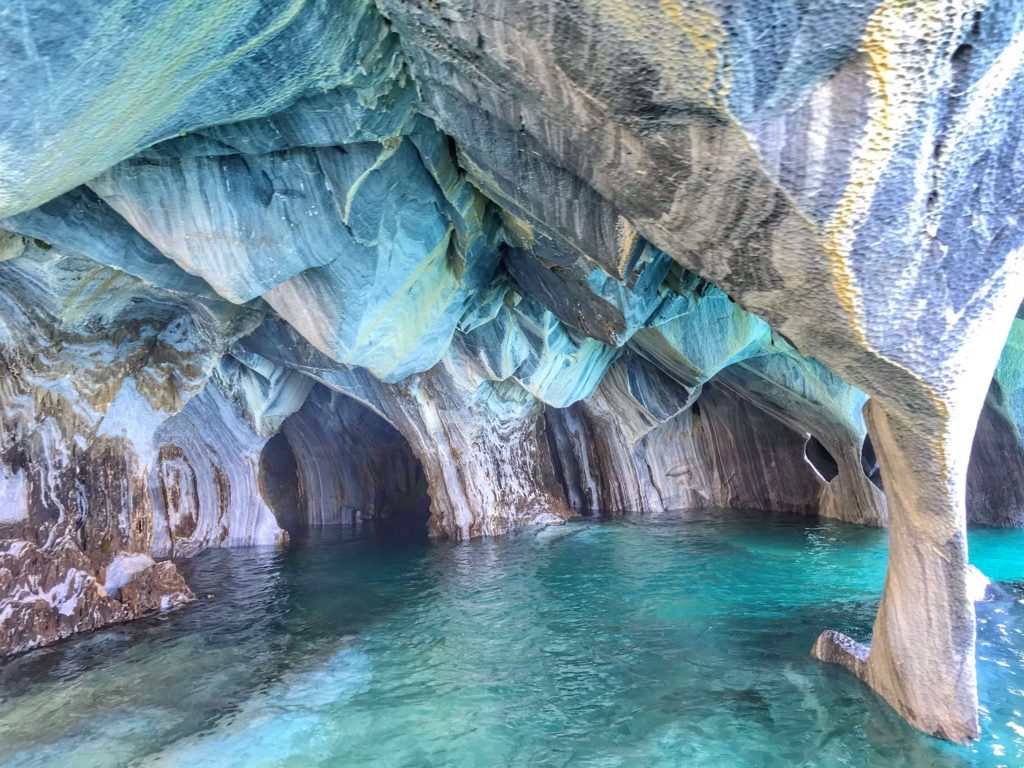 If you are doing a road trip we suggest trying to time your day to get to Rio Tranquilo before 9 AM (or stay overnight). Then you can take the one and a half hour tour to the caves. You can stay overnight in town as there are multiple Airbnb and hostel options.
From Rio Tranquilo, some travelers drive down to the end of Carretera Austral in Villa O'Higgins. We took a colectivo to Chile Chico in order to cross over to Argentina. Our driver made a quick stop in the middle of our ride to take us to a short walk to a waterfall. Nice bonus.
Los Glaciares National Park
The Los Glaciares National Park is on the edge of the Patagonia ice fields and is located just below the Carretera Austral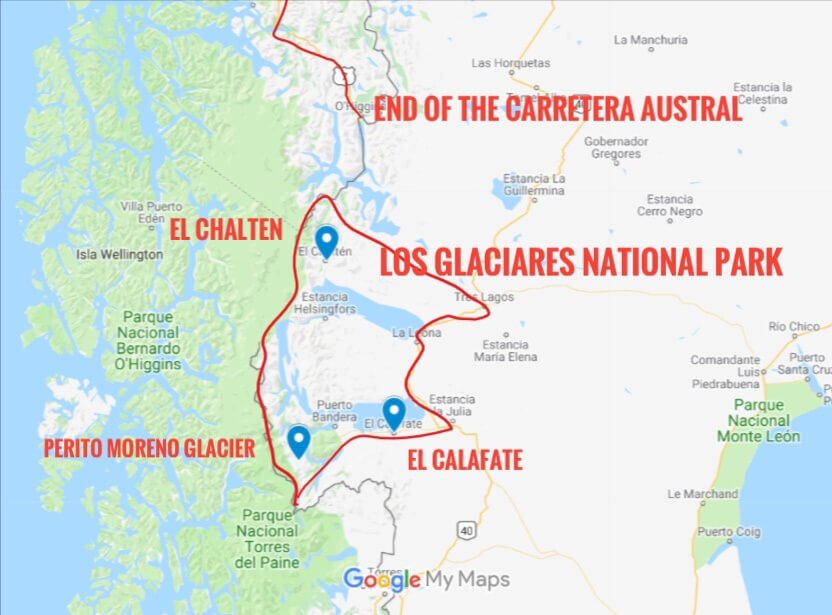 Our first stop in the park was in El Chalten for a series of day hikes to stunning Fitz Roy and the surrounding areas.
We moved on to El Calafate to see the Perito Moreno Glacier. The town has a pretty view along the coast, but there's not much else to see. The glacier is a highlight though, and should not be missed.
Torres del Paine
Many people draw a comparison between Torres del Paine and El Chalten. Some even say they prefer El Chalten because they see similar views without the exorbitant expenses and the crowds. Nonetheless, I still think that Torres del Paine has more grandeur. This was the major highlight for us in the Patagonia region. This is often the trek that people travel from all over the world to come and see.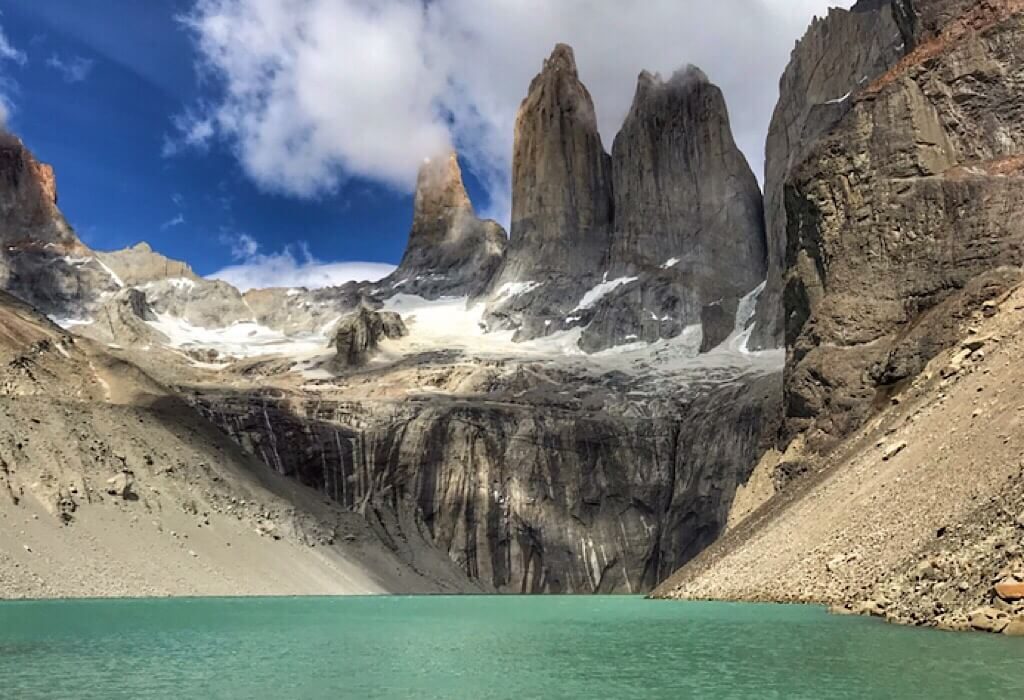 Check out our two-part series on preparing to hike in Torres del Paine and what our experience on the W Trek was like.
The Bottom of Patagonia
After the Torres del Paine trek, we took a rest day in Punta Arenas. There are days trips here to see penguins and other sights, but we mainly took it easy and rested before proceeding to the end of the world.
The southern-most town on the continent of South America is Ushuaia, the city at the end of the world. There are hikes to glaciers, day trips to penguin colonies along the coast of the Beagle bay and it is also the launching point to many expeditions and cruises to Antarctica.
I had been hoping throughout our 843-day journey through Central and South America to somehow get a last-minute deal in Ushuaia for a cruise to the white continent. They say there's enough passengers that take the cruise and there are no more last-minute deals. There's also a possibility of working as a crew on an Antarctica-bound ship but those are hard to find as well.
Still, I kept my hopes up. I might get lucky and find a good deal. It would be an incredible opportunity. Find out next week if I ended up on a beach overrun with penguins. What opportunities are you looking for?