During the shelter-in-place order, we spent sixty-three days in a 118 sq.- foot home. That is about 155 times smaller than the last home we owned and lived in North Carolina before retiring from corporate. Yet it feels like a luxury.
Luxury: a state of great comfort or elegance
To me luxury is something I don't need but really enjoy having. It's funny how my definition of what luxury has changed so much over my lifetime. 
Luxury is perspective
Five years ago we lived in a big house with year-round climate control. It was decked out with a dishwasher, oven, microwave, washing machine, heated toilet seat, and more. It truly felt like luxury. I loved the space in our home and the clean lines.
We sold all that stuff back in 2016. In the few years that followed, none of the above were part of our lives. In fact, in some countries, having even a toilet seat was sometimes hard to find. We got used to toilet paper being a scarce commodity before it was a popular thing to be fighting for in most countries.
Yet even without all these things we still felt luxury. The luxury of being able to travel with no deadlines and hardly any "things" to look after or worry about. Everything we needed fit into one backpack each. We loved our backpacking trip around South America.
In 2019 we upgraded from our backpacks to a 118 sq-foot home on wheels that we named Lil' Beaut. It is luxurious to not have to pack and unpack every night, to not have to find new accommodations everywhere we go. Here in Australia the worst case scenario is if we don't find a good off-grid campsite we can park at a truck stop overnight and still have everything we need. That is until the pandemic….
Note: We stay out of the truck lanes and off to the side where the truckers don't park. They need these stops for required sleep and safety on the road.
Sheltering in place
We had been living in Lil' Beaut for 7 months before the pandemic so we were used to the small space. During that seven months we were in new places almost every day constantly traveling. Most of our time was spent outside exploring so it always felt like we had lots of room.
Then all travel was halted and we were faced with finding one spot to stay put for an indefinite amount of time. There was a bit of a scramble as one option after another seemed to close its door.
Along came Toby Richardson who offers us his backyard. We had no idea what to expect and the last thing we wanted to do was impose on anyone, but we were running out of options. When we arrived in Roelands where Toby lives we were excited to find that the yard was spacious. Our spot in the yard overlooked the rolling hills towards Burekup. It was a perfect spot for two hermits like us.
Everything we need
Our home may only be 118 sq feet, but it has everything we need, bed, shower, toilet, sink with running water, a two-burner stove and refrigerator run by solar power. Our location was wide open with plenty of great places to walk every day.
On our daily walks the cows and sheep tend to stare at us when we walk by, especially at the beginning. I think they might have gotten used to us near the end.
Our favorite walk was towards Burekup, a beautiful little settlement surrounded by fields. As we wander down the sidewalk, a little white Boston Terrier named Lucy comes out to watch us pass by. A few homes down a flock of chooks run to the fence to greet us, then scurry along on their side of the chicken wire to join us on our walk. I slow down a little here to allow them to keep up. I enjoy their company. Beyond the settlement is a hill we can climb through pastures. At the top beyond the expanse of rolling farmland, we can see all the way to the ocean.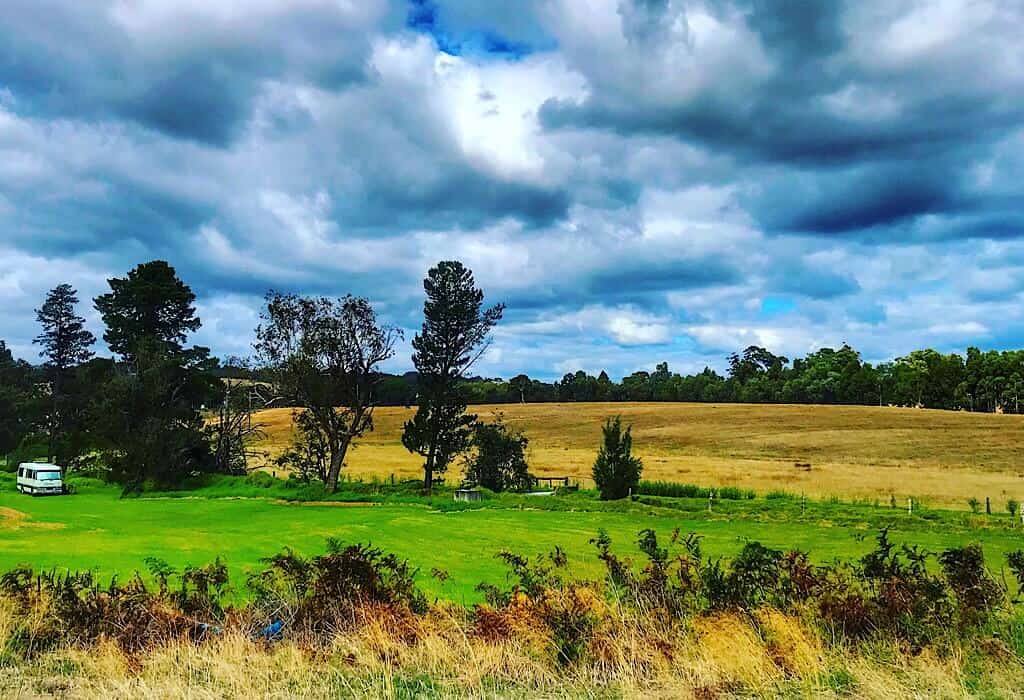 The luxury of electricity
One of our concerns with staying in the south as winter was approaching was the weather. The Richardsons hooked us up with a power lead from their house and it has been such a luxury.
Since the day we owned Lil' Beaut before this pandemic we had only plugged her into a power source three times. The solar has been sufficient for all we need (refrigerator, some lighting, and powering up phones and laptops). Now that we are plugged in we use the little led light longer than normal to read later into the night. We turn on our space heater when we get chilled. Just those little things feel like a luxury.
The days pass quickly
From our little sanctuary, we have watched the golden hills turn green with the winter rains. Sunny hot days turned to cold ones, even chilly evenings. The Kookaburra laughs as they chase each other in the trees beyond our awning. A magpie wanders over to watch as I type away on my computer and then sings her beautiful song.
One day a huge flock of Carnaby's black cockatoos flew into the yard and filled the trees behind us. They are a noisy bunch but not as noisy as their relatives, the sulfur-crested cockatoos, who always sound like they are having a massive family feud.
The Carnaby's black cockatoos, who are adorned with white tail feathers, are endemic to the southwest region of Australia. They are also endangered. I felt lucky to watch this huge flock chattering away in the trees all around us. Nowhere else in the world will I ever see this.
As Trin and I walk to the top of the hill behind Burekup we wonder aloud if the farmer there would sell a little corner of his lot. We dream about what kind of house we would build. Discussing our future dreams while on our long walks is one of our favorite topics. We could envision living here in this beautiful part of the world.
Nearing the end of Lock-down
Day 55
I have enjoyed this time to stay put and focus on one project. It was my goal to finish this project before lockdown ended. It kept me busy most of the time, Trin also put in many hours helping me on the project between his French language lessons.
Fifty-five days after parking here in Roelands that project was completed. I was elated. Then I dove into refocus on my blog as I left it neglected for much of the time during lockdown to finish this project.
Day 61
Mark McGowan, the premier of Western Australia, announced that the border restrictions would be eased north of Perth soon. That is where we wanted to explore next. The state borders are still closed so we must stay within Western Australia, but travel internally is being encouraged to help the economy. The pandemic has almost been eradicated here.
The timing just seemed perfect and we were elated.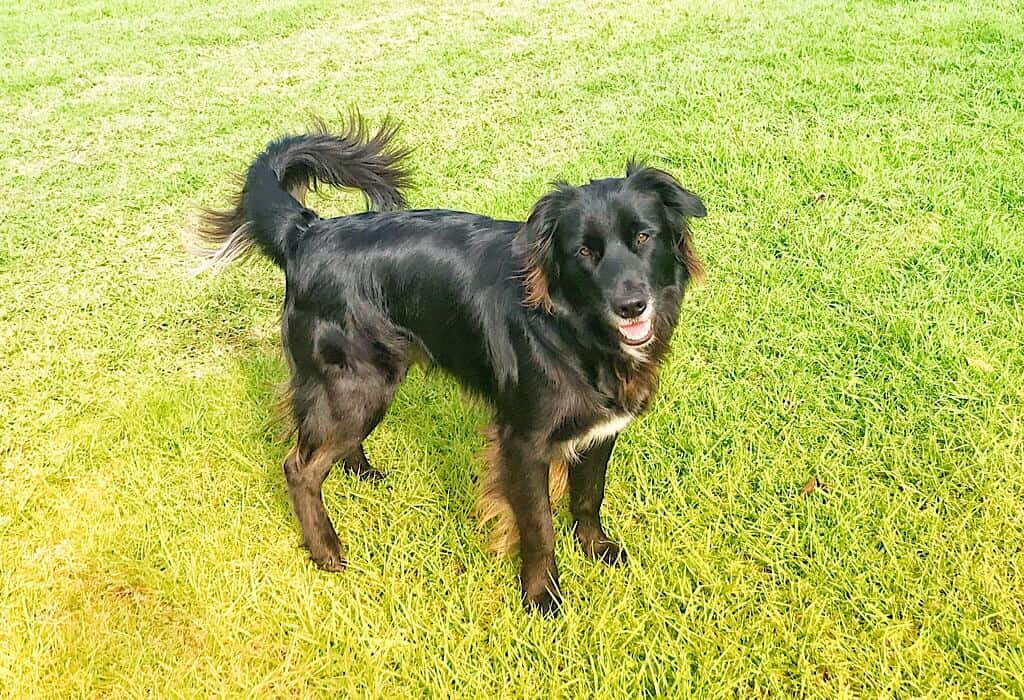 Day 63
Sixty-three days after arriving here in Roelands we had a cupa with Andy and Sandra, Toby's parents, to say goodbye.
The Richardsons have been wonderful to us. They are good people who look out for others, we have enjoyed listening to their stories shared around a campfire or just talking in the backyard six feet apart throwing sticks for Blu, the wonder dog.
We are truly blessed to be recipients of their generosity not only in giving us a place to park with no known end date but in always making sure we were doing well. I don't know how we will ever truly express how grateful we are for this spot to call home while the world fights a pandemic.
As a nomad I may not have a specific spot to call home, but I feel like I am blessed with many homes.
We are on the road again excited to explore the rest of Western Australia. Sometimes the doors just open, but when they are closed I like to enjoy the luxuries that I have at the moment.