I stood at the edge of the boat looking down at the ocean a few feet below me. Anxiety tightened in my stomach and wrapped its tentacles around my throat making it difficult to breathe. All I needed to do was take one giant stride. I had a weight belt on and a full BCD with an air tank. One giant stride and I would sink down to the Great Barrier Reef.
Deadly sharks, jellyfish, and octopus are just a few of the things that some people fear along this reef. Many fish here either bite or sting including the lionfish whose spines can cause extreme pain. One of the most deadly marine animals in the world, the blue-ringed octopus, slithers around these corals. This 8-legged beauty, tantalizing as it is, can kill 26 humans in a matter of minutes. There is no antitoxin available, but the octopus does give warning by turning its rings bright blue. It is a statement that says, "leave me alone," and it is best to obey.
The Box Jellyfish, whose sting can kill within a matter of minutes, are the world's most venomous creatures. They also frequent this coast in Australia and use it as a breeding ground during the winter or wet season. Then there is the Irukandju, the smallest jellyfish in the world. You won't even see the Irukandju coming. It can put someone in the hospital for days.
But these were not the things that were making me anxious.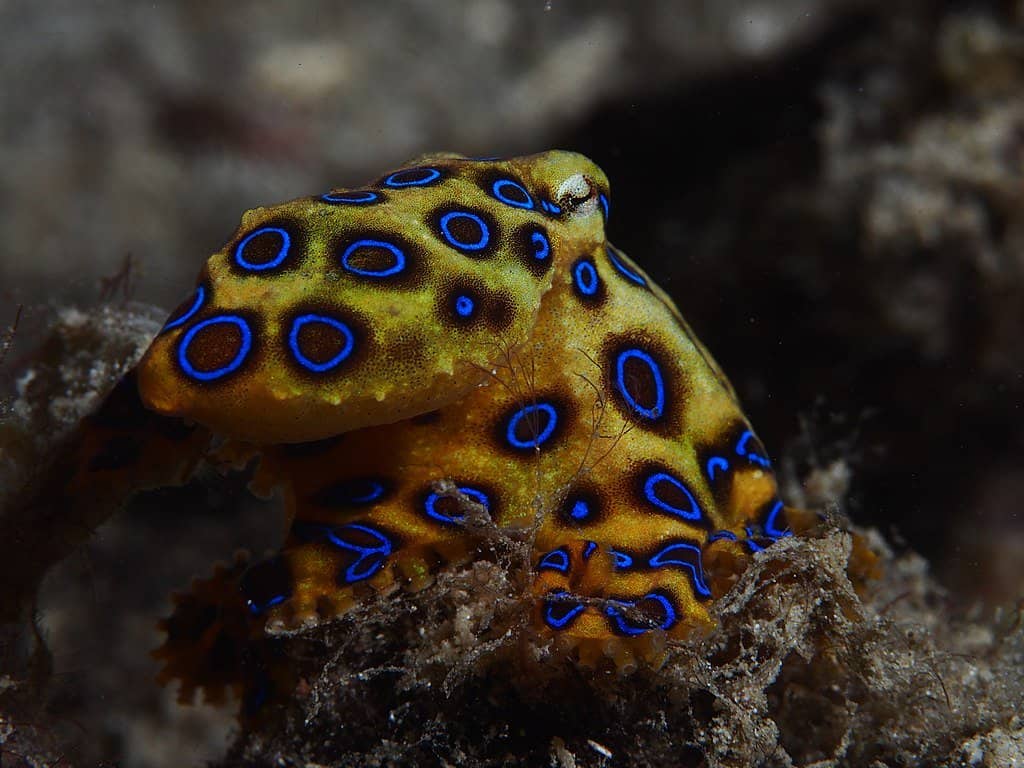 What was I afraid of?
It wasn't the deadly creatures that gave me pause before stepping off the boat. There is some level of risk in absolutely everything we do. Heck, even doing nothing has risks, sitting on the couch too long has health risks.
Many of the creatures that could kill or cause extreme pain in these waters don't often bother humans unless provoked.
In 2016, ten people died on the great barrier reef, some a result of inexperience in water. That same year, there were 251 car-related deaths per 100K people in Queensland. Trin and I get in Lil' Beaut every day and drive down the road without thinking of dying. Sure there is a risk, but riding in a vehicle is even more dangerous than diving in these waters.
What had the tentacles of anxiety wrapped around my throat was an experience in 2017. During a dive off the coast of Panama, my respirator failed when we were 90 feet underwater. At that depth, going up to the surface safely takes at least five minutes. I was a newbie on only my eighth dive. I had to talk myself through it and it kept me from sheer panic and enabled me to finish the dive but every breath was a full-body effort to pull in the little bit of oxygen coming through.
Since that experience I have felt high anxiety before and during each dive. At some point before each dive I ask myself why I am doing this again. At some point I also say, "I'm never doing this again." Yet, there I was stepping off a boat into the deep blue again.
Why was I doing it? Well, it's the Great Barrier Reef! It's the largest living structure in the world, so large it can be seen from space! My curiosity is just too great. Just so you know, curious cats die happy.
Going Through the Actions to Dive
As we suited up for the first dive my fear would not subside. I zipped up my stinger suit and pulled its hoodie over my head then zipped up the shorty (a short-sleeved, knee-length wet-suit). Wrapped the weight belt around my waist I latched it and then buckled up my BCD. I secured the backup respirator on my shoulder strap and placed the line to the dive computer and air gauge between the Velcro and waist clip. Pulling all the cinches tight I was ready to go.
My my head bobbed imperceptibly as I played a song in my head about not worrying about a thing because every little thing is gonna be alright, because logically I knew it would be. I just didn't believe it emotionally.
The "fake it till you make it" saying is often taken as justification for lying until someone has the expertise they need. I don't agree with that interpretation. For me, this quote is all about telling myself the TRUTH until I believe it. I have been trained. I have enough knowledge for these dives. I know the risk is low. I am a good swimmer. My emotions just didn't believe it, somewhere deep inside I was still reacting to that fear of no air 90 feet under.
So, with all those past experiences rushing back like it had happened yesterday, I willed myself to keep singing and stepped off the platform.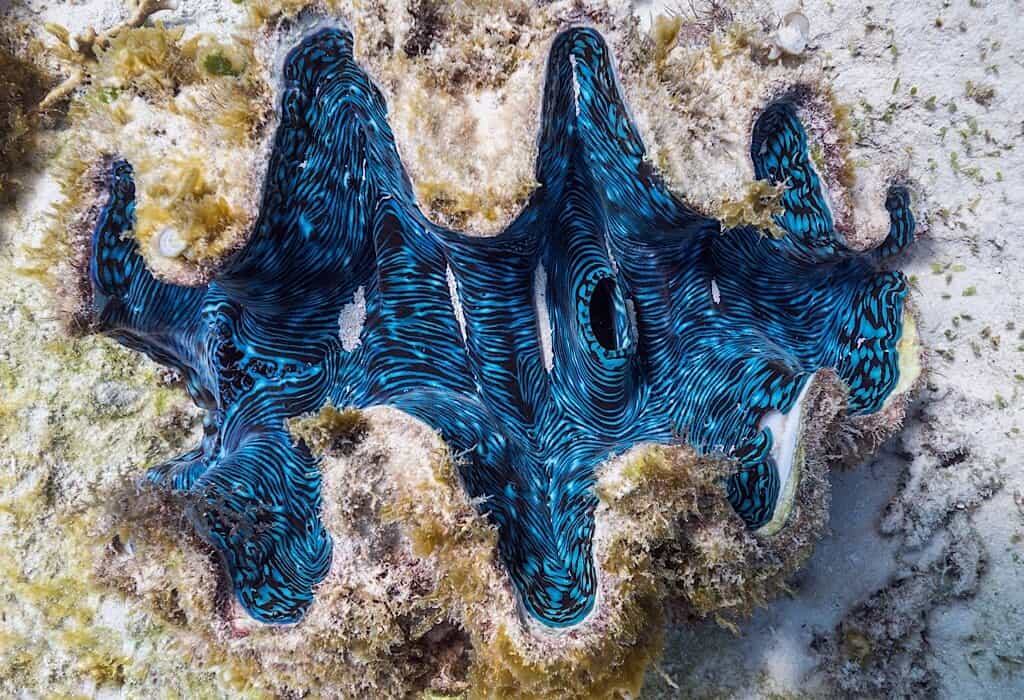 An Underwater World
We descended to about 50 feet (15 meters) and I constantly equalized my ears as the water pressure increased. Just above the white sandy floor, we glided next to vibrant coral of all shapes and sizes. Hard coral stood in bunches like antlers or in a huge mass like a conglomerate of bubbles. The soft corals swayed back and forth in the current as clownish darted in and out of its enclaves.
Fish with neon-colored tails swirled around us. One large toothy character followed beside me for a while and a few times rounded in front of me to come up to my mask and look curiously at me.
I looked to my right out into the deep blue where the continental shelf drops off to see if I could spot any whales or great whites.
This is why I do this. Despite the disquietude, it is a world to explore that fills me with wonder. It is why I am determined to overcome these emotions. I just need enough good experiences to counterbalance this feeling.
An underwater world
We had about fifteen minutes between the first and second dive. I waited for us to anchor at the second stop which was called Turtle Alley. My gear was in place and all the buckles tightened. For the first time since Coiba in 2017, I did not feel like I was suffocating. My anxiety was half of what it had been. This time I stepped off the platform hopeful that today I would overcome.
On this second dive, we swam up to a couple of cuttlefish just hanging out above some corral. They didn't hide under a shelf like the ones on the Ningaloo reef did. We hung around watching and then they graced us with a show. They changed colors and structure. It was like seeing a rock transform to iridescent colors then grow spines and mutate to match the nearby corals. My heart filled with joy for being able to witness this transformation.
Next, we knelt before a massive wall of coral to simply be and observe. It was a world all its own filled with radiant marine life. There was a mass of colorful soft and hard corals filled with strange and wonderful creatures moving about as hundreds of fish of various sizes swam by. It all sat in front of a backdrop of deep blue water beyond.
A school of fish with bright neon yellow tails swirled around my head coming over to look into my mask eye to eye. Who knows what they were thinking. Were they welcoming me to their home or just curious what this odd bubbling creature was. I could have knelt there for ages.
The big grouper
On the third dive, I felt only excitement. I'm not really sure now what I was more excited about: the fact that I was diving in the Great Barrier Reef, or the fact that I felt like the anxiety was finally licked. Maybe the combination of both had me up late, smiling and excited. Or maybe it was the extra cups of coffee I drank onboard the ship.
Adi, our divemaster, signaled for us to come over one at a time to see something she found in a little hole. There was an anemone swaying gracefully with clownfish darting around. Inside she found some eggs. As we drew closer one by one peering into the anemone a large camouflage grouper that was about the size of my leg swam in to see what we were all looking at. It angled down to see what the divemaster was pointing to.
The grouper continued to hang around after we all had a good look so the divemaster reached out with her gloved hand and gave it a scratch under the chin. I swear if that fish were a dog its hind leg would have been shaking. The grouper slowly rose in unison with Adi as if in a plea not to stop.
This was the grouper that Adi warned us could bite. She gave us the sign to be careful about what we did with our hands. I kept mine flat against my BCD. I try to keep my hands there while diving anyway. If hands are flailing around it's easy to get them cut on coral. Or, as I did in Bocas del Toro, cut it on a barnacle as we enter a ship and hope that the bleeding did not attract the shark that we found.
Snorkeling on the reef
After the dives, there was still time to do a bit of snorkeling before the ship had to return to Port Douglas. I secured my tank and BCD on the ship then with just the snorkel and mask I jumped back in the water. Even from above, the reef is a spectacular sight.
Is it bleached?
In 2016, there was a heatwave that lasted eight weeks. Coral can survive a 30-day heatwave, and after thirty days the algae on the outside of the limestone base begins to separate (bleaching). The limestone base and the algae create a symbiotic relationship. Coral is dependent on this algae to gather enough nutrients for its survival. The heatwave caused extensive bleaching along the reef, especially in the north, but the recovery has been amazing.
Normally reefs spawn once a year. Spawning happens like a dance. All coral of a certain species spawns in unison in one night. The following night another species will all spawn together. They release colorful clouds of eggs and sperm that become fertilized in the current and then drop to the sand to begin a new life. This normally occurs once a year in November or December.
In 2017, the reef spawned twice and increased the speed of recovery.
One of the divers on our group has dived further south so we asked him what he thought of the health of the reef here. "It's not half as bad as the media made me believe. It actually looks quite healthy," he said.
Adi was also was very excited about the recovery she has been observing over her years here.
It is normal to see some bleached coral and some dead pieces lying around, similar to seeing a few dead trees in a forest. It is part of the life cycle. Cyclones can damage the reef, just like they damage the rain-forest. Some of it dies making room for new life and it begins to recover.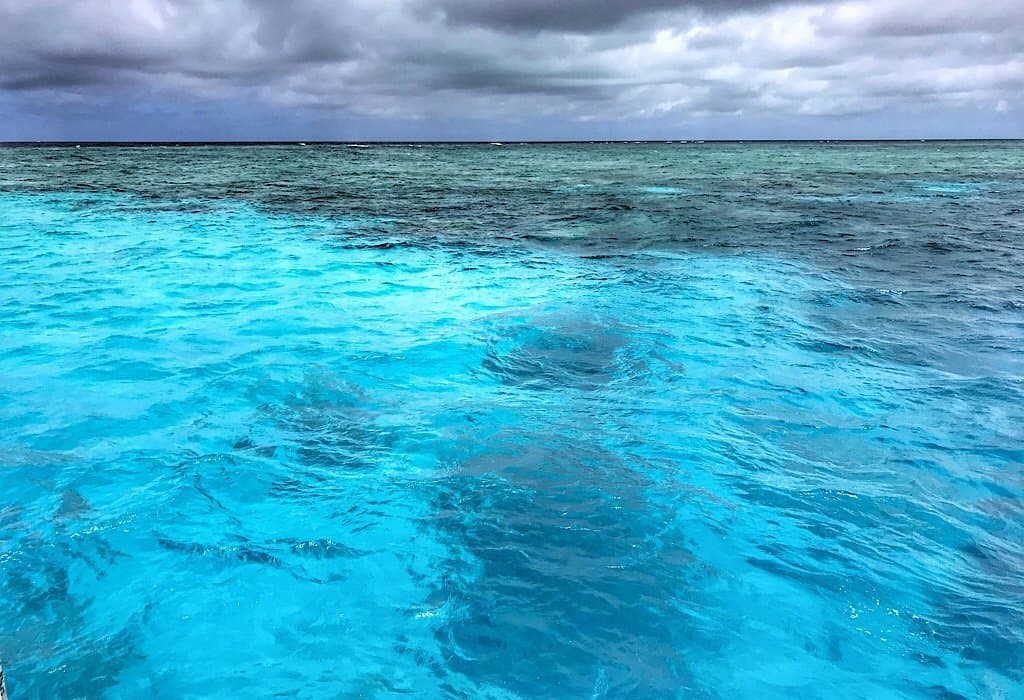 Reduce the use of plastics
Adi said that her biggest concern was with microplastics and its disastrous effects on nature. It is one of the things which we have drastically reduced using after seeing the plastic littered all over South America. Plastic is not only ugly it is deadly.
Yes, I still use some plastic. It is difficult in our current cultures around the world to avoid all use of plastic, but we have made a number of changes to reduce our use. Every little bit helps. We carry a Nalgene bottle so that we never have to purchase bottled water.
Our friend Gene gave us a canvas tote bag that we have been using for almost a decade now instead of having to use plastic bags at the grocery store. We don't buy single-use plastics. If something comes in plastic, as so many food items do, we reuse them as our trash bags. Part of this might also be because we are cheap and hate throwing stuff away after only one use. But being frugal is also good for the earth.
Beauty heals
Once again I have found peace in the calming waters of the deep blue. I finally got the hang of achieving neutral buoyancy and can just hang in the water at any level looking around me examining the abundant life. So much of it symbiotic, each ecosystem fully dependent on each other and on the other systems of the earth. It's even dependent on the season of the sun which last a decade or more. It all works together like an intricate dance, a dance that tells a story.
On the way back to Port Douglas Trin and I sat on the foredeck. It felt like we were riding the wind as the catamaran sailed over the waves. Open water stretched to the horizon in all directions and my soul was moved in gratitude at this freedom. Tears filled my eyes and the joy overflowed. Or maybe it was just the strong wind making my eyes water but I was still grateful to experience this.
I breathed in the fresh clean air free of anxiety and watched as Cape Tribulation came into view in the distance. It is an imposing mountain rising on the edge of the sea with rainforests that meet the lapping waves, two World Heritage sites side by side.
Every detail from the deep blue sea to the stars beyond our atmosphere sing a song of beauty. It is an orchestra of life with beauty that heals, if we let it, even our deepest apprehension. Life is more than duty, it's also about enjoying its beauty. Our role in it is as simple as loving its maker and each other. After all, isn't love the greatest beauty of all?
Cover image of The Great Barrier Reef by Ayanadak123