"Thomas, what is that sound!" Lina exclaimed waking Thomas up in the middle of the night.
"It's just a bird out in the forest," he mumbled half asleep.
Lina and Thomas live on 63 acres of pristine tropical wetlands in Mission Beach, Queensland. They also own a conservation block for the preservation of the cassowary corridor through Mission Beach.
Their home, up on stilts, is surrounded by trees, vines, and all manner of wildlife. It is not uncommon to hear strange sounds in the night. At least sounds that seemed strange to us.
But this screeching seemed close by and it sounded like a very frightened animal.
"No, it's closer. I think it is in the house," Lina said.
And then the sudden realization hits her and she exclaims, "It's the chooks!"
Just before they had gone to bed that night their flock of chickens had raced across the property to their house in fear. Lina assumed that maybe a snake had entered the hen house, and they ran to Lina for protection. It was too late at night to search for the culprit. She watched as they raced up the steps to their porch and ran inside their always open front door squawking and carrying on.
She herded the frightend hens into the bathroom where they could sleep for the night in the large claw-foot bathtub. In the morning she would clear out the hen house.
Now, in the middle of the night they started screeching again. Lina ran into the bathroom and immediately spied the python slithering across the floor around the tub causing the chickens to go insane.
Lina being the vibrant, strong, and fearless woman that she is, picked up the python and threw it out the window.
This was just one of the stories Lina told as we sat at her table with a cuppa (afternoon tea or coffee in Australia).
A long cuppa
I met Thomas in January last year on an expedition to Antarctica. While we were on the boat he gave me his business card and said offhandedly to stop by if I was ever in Australia.
When we arrived in Queensland I sent Thomas an email saying we were in the area and asked for advice on where to see a Cassowary. He told us that there's one living under their house and that we should come and stop by.
We arrived at his home on a Saturday afternoon for tea. We sat on their front porch surrounded by birds and lush vegetation. A gentle tropical breeze flowing in from the ocean stirred the warm air making it a beautiful and comfortable afternoon.
We talked of travel, incidents with animals, pacific island life (both Lina and Trinity were born and raised on Pacific islands), conservation, and even a bit of politics.
Thomas has a PhD and continues his learning constantly through reading and world travel. He is the kind who could speak authoritatively on many subjects, and never with conceit. We discussed many topics and he was always interested in hearing other viewpoints and hashing them out. It is so much fun to explore ideas.
Thomas is relaxed and patient. It is what I have come to associate with the Australian "no worries, mate" outlook. German born, he is tall and strong, but socially insightful and treats all people with respect.
That cuppa turned into an experience. Nine days later we finally said goodbye after sharing a gourmet brekky (breakfast in Australia) prepared by Lina.
Culture on Mission Beach
That first afternoon in Mission beach Thomas and Lina invited us to a BBQ with their friends. There are no COVID gathering restrictions and no community spread of the virus in Queensland. Each state in Australia set up their own COVID rules and restrictions.
Many at the party had traveled far and wide. We swapped stories of fun and crazy incidents.
"Weren't you afraid?" Someone asked Bridget when she regaled us with the story of hiking four days into the rain-forest only to find out that their ride back wasn't going to show up.
"No, I don't have a panic button," she laughed.
I was standing with a group of women who had done crazy wild things, got into sticky situations, and could laugh about every bit of it.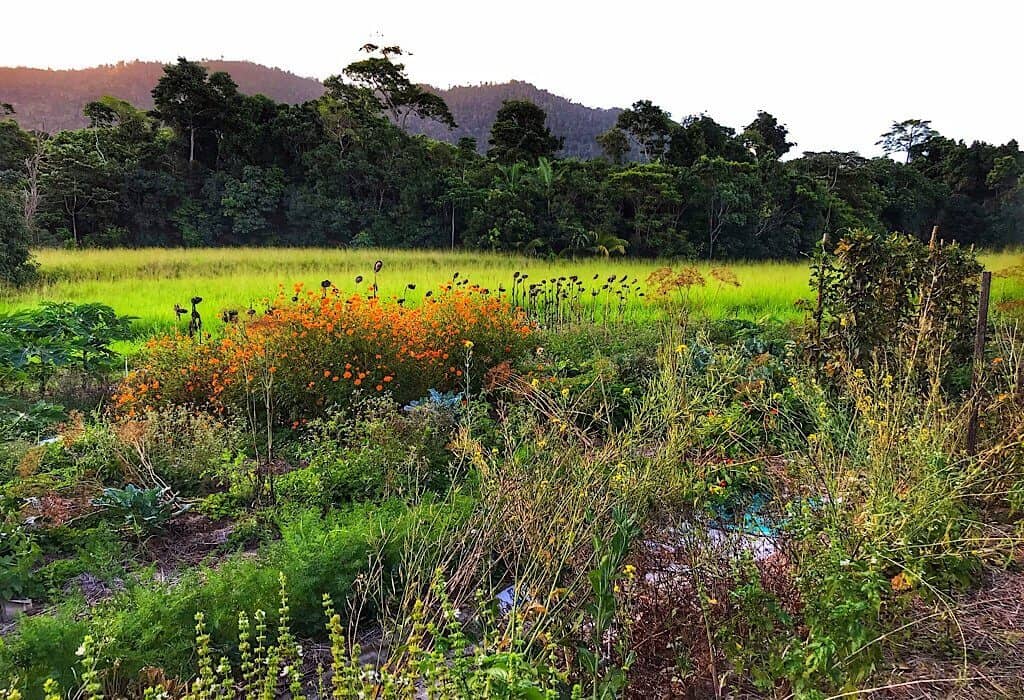 Discussing passions
In another conversation, I discussed solar activity with Lander who owns an expensive solar telescope and has studied sun storms and flares his whole life as a hobby.
I have been interested in solar activity since I was a child and tracked solar storms with my homemade device. He was far more knowledgeable than me on the subject, but it was a fascinating conversation all the same.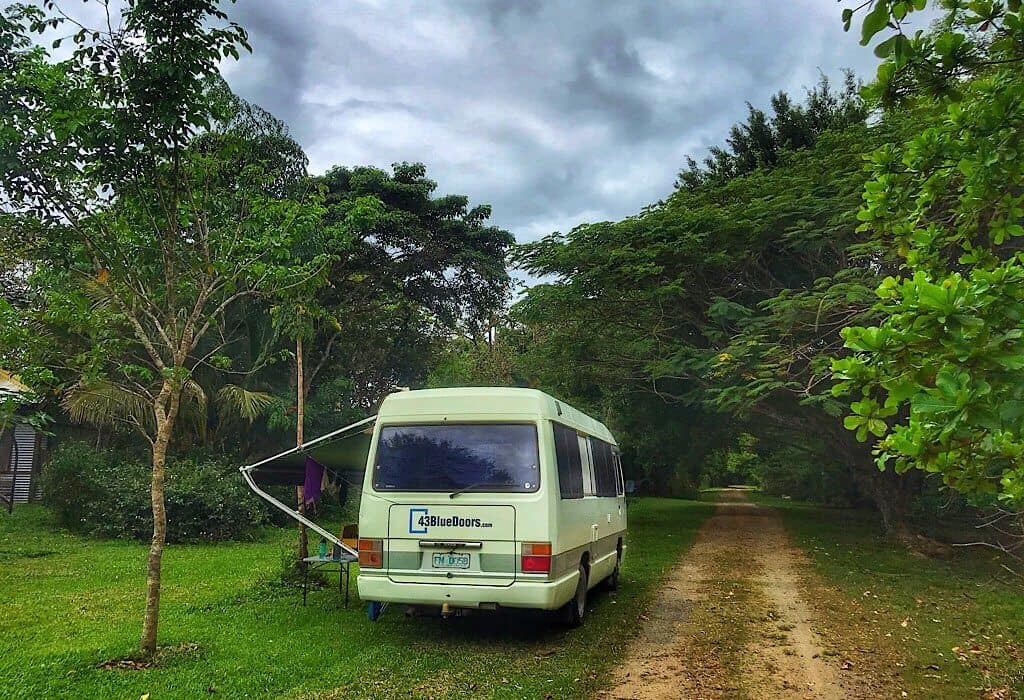 The greatest luxury
My favorite part about being retired is the luxury of time. It gives us the ability to slow travel and stop longer in pristine areas of the world. Most of all, I enjoy the luxury of time to hear the stories of others and share experiences.
Lina is an herbalist and gardener and taught us about natural remedies. We learned a lot by helping in her large garden, even while raking up leaves for mulch or planting seeds for Noni trees. When I told her that my blood pressure had been creeping into the danger zone she boiled some Noni and instructed me to take some each morning.
While staying with Lina and Thomas we learned about caring for goats.
We fed baby goats that had been orphaned. Whenever we appeared on the path the two orphaned goats would start bleating and running towards us, be-still my heart, I couldn't resist them, even when they tried to climb on top of me when I joined them for my morning coffee.
One afternoon we helped by holding down the male baby goats as they received "the rubber band." Thomas picked up the little one now named "No-nuts" and hugged him saying he was sorry. It's just something that has to be done. A herd of testosterone-filled goats could be a massive problem later on.
Nights in the wet Tropics
Nights in Mission Beach centered in the wet tropics away from human noise or lights are an experience all their own. The bush hen whistles and warbles while the curlew cries. Thomas said that some believe that the curlew only cries when it is content, even if they sound like tortured souls.
A flock of Kookaburra announce the setting sun. One begins a slow vibrating laugh that escalates as the rest of the flock joins in. It seemed as if they are trying to outdo each other. I always stop to listen when they begin to cackle. It makes me smile and laugh, just like an automatic response to hearing a baby laugh. They sing joy into the opening and closing of each day.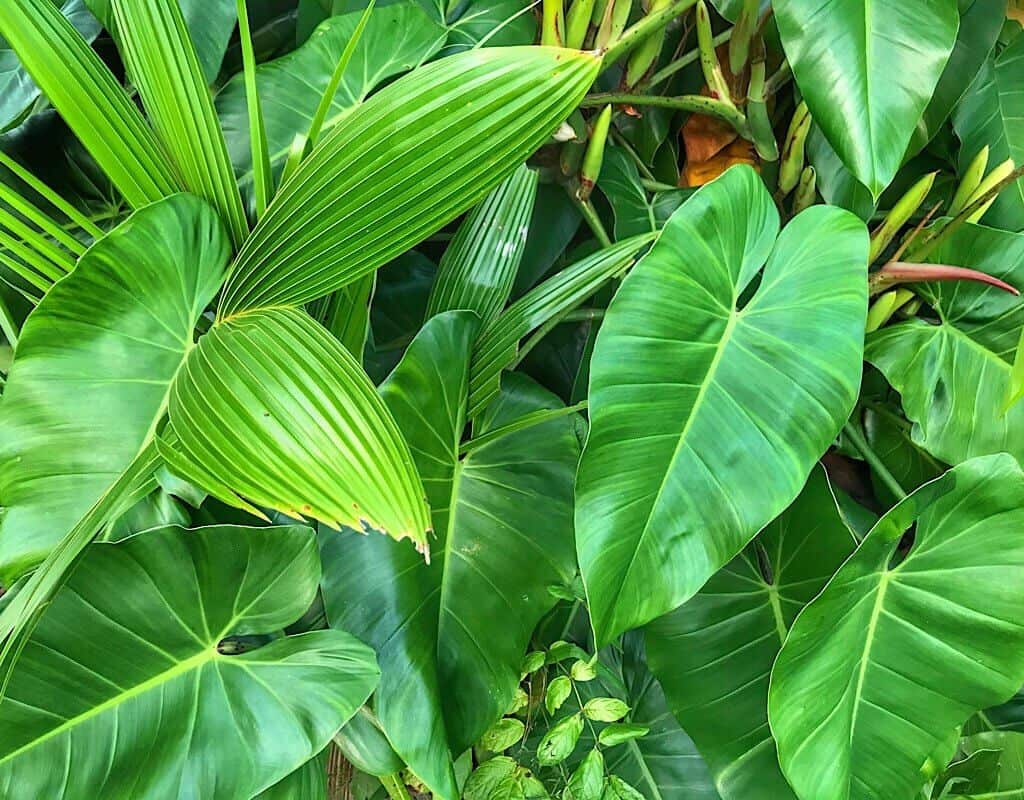 Morning Glory
As the darkness begins to dissipate each morning the chatter of the wildlife escalates to a cacophony of whistles, gargles, screeches , wails, and babble, all creating a glorious music to announce that morning is coming.
The frogs croak their last song of the night and the bush hen begins her whistle gargle call.
They soon die down only to be replaced by the squawks, squeaks, tweets, and one species that sounds like digital bubbles being popped. The wet tropics of Australia have over 400 different species of birds. The beauty of each one is not only in their plumage but also in their intricate and varied songs.
The peacock trumpets.
I hear a scratching on the ground just below my head, my window is open to the outdoors. Looking down I see the female peacock grab a bug from under Lil' Beaut.
"Hi," I say to her. She tilts her head to the side to look up at me then moseys forward out of sight. Along comes the male peacock in hot pursuit. He deploys his static firework of feathers and blocks the path. His name is Andrew, but Thomas often calls him roadblock.
Daisy's last breath
Daisy has not been doing well since she gave birth just before we arrived in Mission beach. She is one of the older female goats that roam around the property. Her kid died soon after birth and she has not recovered. On our third morning in Mission beach she lay in the grass as if she was giving up.
I sat down beside her and massaged her udder to get the milk to flow and began spraying the milk onto the ground. The pressure in her udder needed to be relieved. She was on medicine so the milk could not be used. When she groaned I stopped and stroked her back letting her relax. After a while I began to milk again and the pressure of her expanded udder began to ease.
Soon, however, she began to complain again. I stopped and moved my stool in front of her to hold her head. She groaned again and seemed to be going into distress. I talked to her and gently rubbed her chin.
Then she began to violently kick her hind legs and went into seizure. I stroked her back and rubbed her head continually talking to her. Then she stopped and relaxed a bit. She looked at me and we gazed into each other's faces.
I saw the life leave her eyes.
"No, Daisy, you can make it," I said as if that would do any good.
Her chest heaved one last time and her entire body went slack. She was gone. I stroked her cheek a few times and watched as her eyes clouded over.
I walked over to the house to tell Lina that Daisy didn't make it. Then I called my sister to talk. It was sad watching Daisy go.
Thomas spent the morning digging a large hole for Daisy and planted a tree on her grave.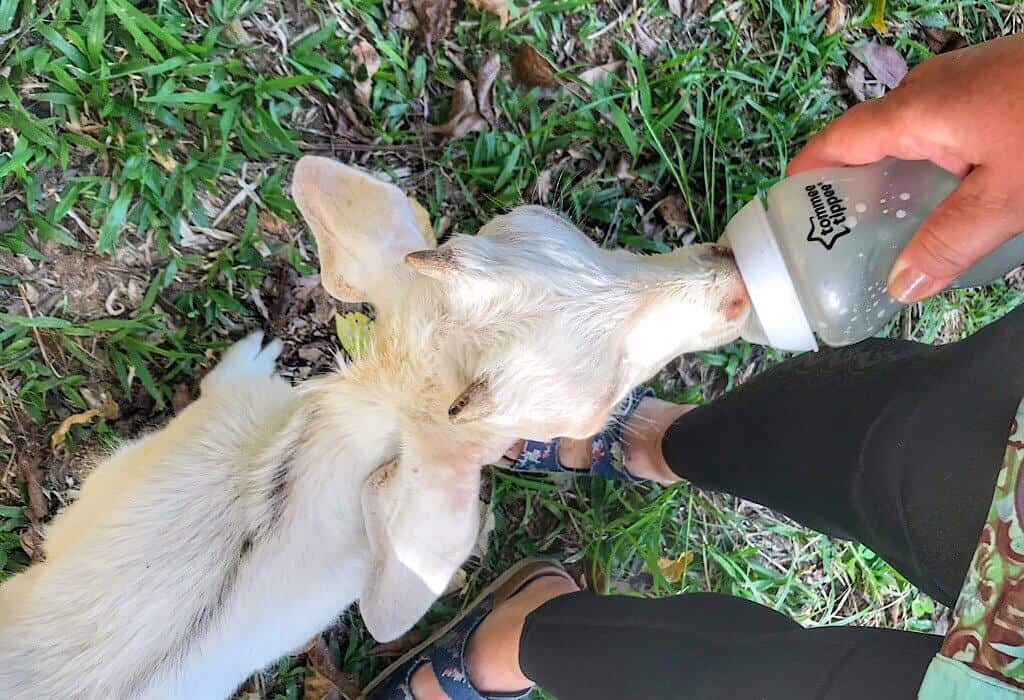 Wandering freely
The chooks have taken to following Trin and I as we dragged tarps full of mulch to the garden. They form a line and wattle to keep up the pace. It makes us think we have got it together – does that work if our chickens are in a row? Or does it have to be ducks?
We watched in amazement as the peacock spread his feathers desperately trying to impress the two nearby females. They appeared to be nonplussed and soon wandered off to check out the chicken feed.
This property used to be an animal park with crocodiles, dingoes, a massive skull bat cave and more. The dingoes are gone, but there are still salties in the creek. The bat cave still stands surrounded by yellow bamboo. All the bats have gone. We climbed up into the skull and looked out through one of the eye sockets. It's a cool structure that the goats also seem to enjoy.
Creatures lurking in the toilet
Lil' Beaut was parked near a bathroom block and we have access to a flush toilet and shower much bigger than the one in our bus while we were there.
Each time I flush the toilet I watch little legs desperately holding their perch under the rim of the toilet bowl. Green tree frogs have decided to call it home. They have been removed but keep coming back. We finally agreed to let them stay and asked that they help by eating the bugs. I just hope they don't attract the snakes.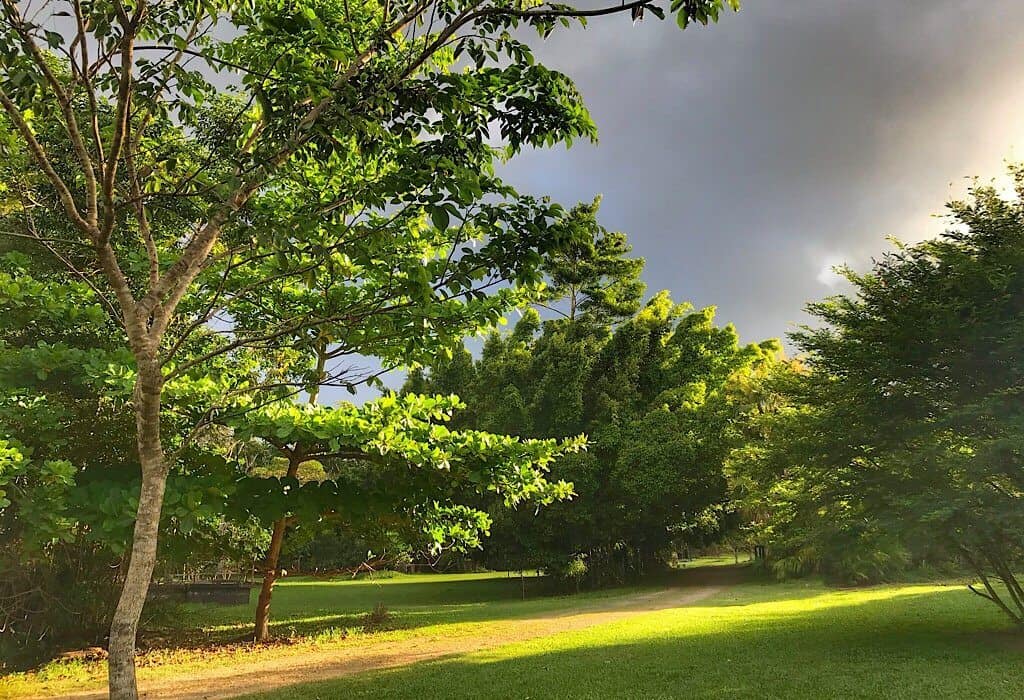 Obligations and commitments.
One of the things I enjoy most about our time in Mission Beach is the hours we have spent talking to Thomas and Lina. Like us, they are retired and enjoy a peaceful existence. We have lots of stories to swap. I especially enjoy the enthusiasm with which Lina tells a story, joy just bubbles out of her.
Lina is vivacious and ready to tackle any project. You can follow Lina as she begins her journey of cultivating a mushroom garden.
"What do you have scheduled for tomorrow?" we would ask each other in the evening.
"Nothing, we make it up as we go along," Trin and I live the same way.
Dunk Island
Lina decided we should do an outing to Dunk Island. Thomas took out the river boat and got it ready. We left early one morning for the beach to sail out to Dunk Island.
We piled into the little boat with our picnic lunch and snorkel gear. At first, the engine wouldn't start.
After pushing buttons and sliding levers, Thomas finally got the engine running. Even at full throttle, the boat was still moving abnormally slow but it was enough to get us the 6.7 kilometres over to the island from South Mission beach.
We anchored the boat and went for a nice walk around the edge of the island to Coconut Beach where, enticed by the warm and crystal-clear water, Trin and I jumped in for a swim.
We had lunch at the beach and snorkeled at Muggy Muggy Bay before it was time to head back.
"And that over there, folks, is Australia," Thomas said in his mock tourist guide voice as we sailed back towards the main land.
Even though the engine felt like it was stalling a few times I wasn't really worried. The last time I was on a little boat with Thomas it was a Zodiac and he was dodging icebergs in the water. This was nothing in comparison. It's not an isolated spot, we would have made it to land one way or another.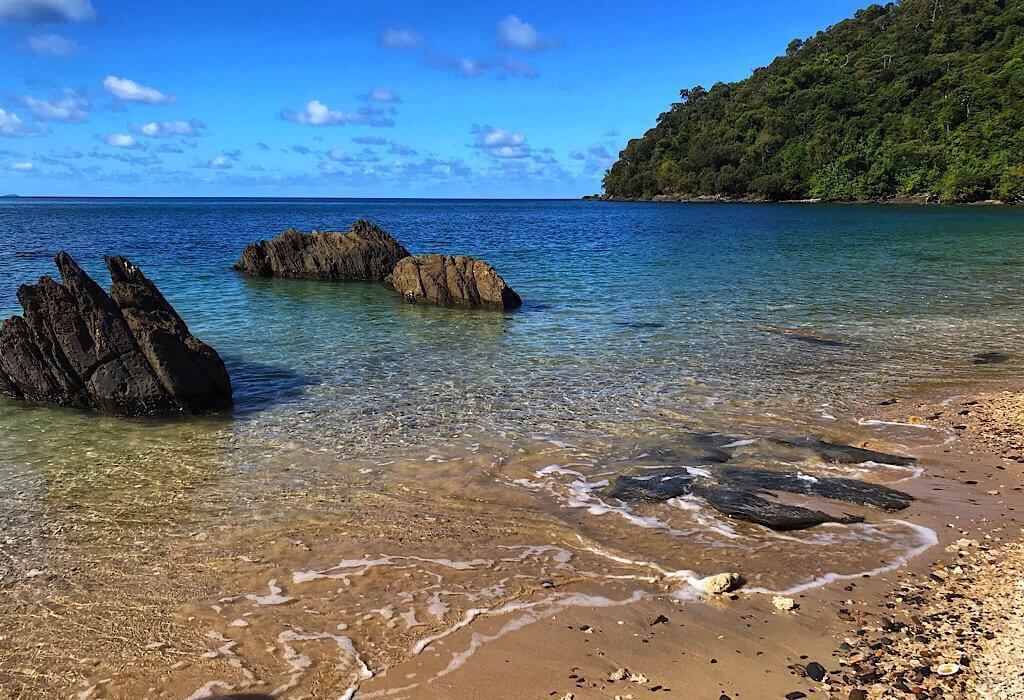 Leaving Mission Beach
We left Mission Beach enriched by Lina and Thomas.
On our way down the road, a large Cassowary crossed in front of us. We stopped and she circled the bus giving us a good close up view. It was the best send off.
I also left with my blood pressure testing 26 points lower. I went from 152/93 to 126/83, now in the safe zone (of course, I will continue to monitor it).
So many different people, so many different places, the world is a wild and intricate system with countless factors at play together. The weather and an entire ecological system including the sun, we have yet to track every cause and effect. Even our own bodies are a continual study, was the lowering of my blood pressure the result of the no-salt, no-sugar, and no-caffeine regimen that I started? Was it the Noni? Maybe it was a combination of them all. Just like everything around us, there is an intricate design that tantalizes our minds, each new discovery bringing joy and wonder.
Maybe your next blue door is to question what you believe to be fact. Study it. That is the way of science. Observe, test, and question each theory.