As of December 31st, 2020 we have been nomads for 1,546 days. Over four years of moving, exploring, and living minimally. It is a constant act of saying goodbye to people, places, and things. But it is also a continual welcoming of the new.
Today was one of those goodbyes, this time to Lil' Beaut, our home for the past fifteen months. After a few years of backpacking in South America coming to Australia and buying a bus (Lil' Beaut) felt like a huge luxury. Having a home, even if on wheels, gave us space to expand and a place to live when we were far from any town.
We have seen some of the most beautiful beaches, camped in the outback, explored the wonders of the red center, and saw the many faces of Uluru. We even spent the pandemic of 2020 in the 118 sq feet of Lil' Beaut. Most of all we have been able to experience Australia with Lil' Beaut and meet so many wonderful people.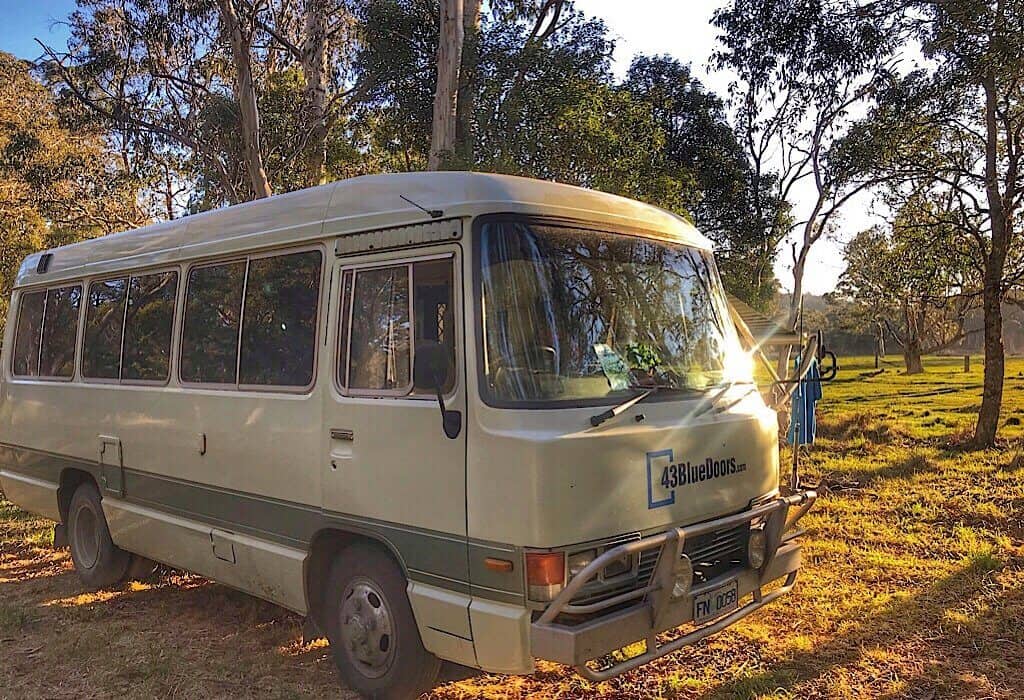 Goodbye to Lil' Beaut
Just a few minutes ago we watched our bus drive away, now owned by a stranger. I admit to having a few tears seeing her disappear around the corner and out of our lives.
We sold Lil' Beaut, our home, on Facebook. It was definitely a mix of emotions to see her drive away.
We pictured this moment a month ago when we discussed selling Lil' Beaut. We saw the two of us standing beside the road with all of our belongings as our home drove away. Now our belongings make a bigger pile than just the two backpacks we started with in 2016. Trin joked that we might need a shopping cart to push our stuff around now that we were homeless again.
Not only were we saying goodbye to our home and mode of transportation this week we also need to say goodbye to a lot of the stuff we had accumulated. Our goal is to pare down to only what we can once again carry to be ready for our next adventure. Selling the bus was a huge piece of preparing for our next opportunity.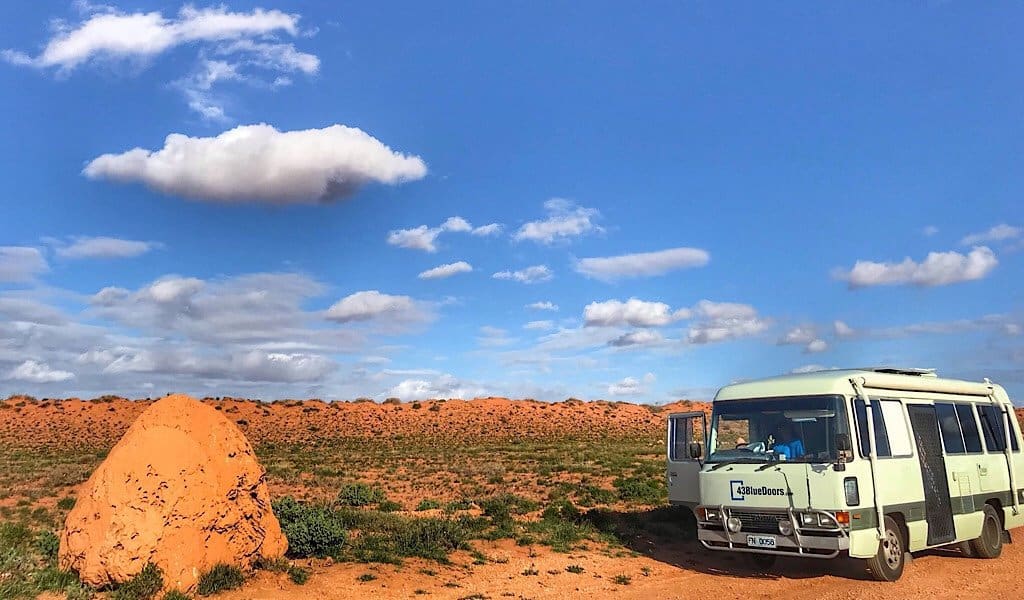 Goodbye to 2020
In anticipation of selling Lil' Beaut we found a house-sit in Sydney for the end of December. We used The House Sitters website which is specific to house-sits in Australia. During the holidays we had a home with three cats to care for and plants to water.
A few days before the housesit was to start, three cases of COVID were found in Sydney. The homeowners were headed to Western Australia, a state that has quickly closed its borders to any travelers from "hot spots." The homeowner called us very concerned that she would not be able to go see her mom. She asked if we could come early if she moved up her flight. We agreed to come to the home whenever she needed us to. She moved her flight up a day earlier and made it to Perth in Western Australia just a few hours before Western Australia closed their border to anyone from the entire state of New South Wales.
We settled into the house and over the following days additional cases were found while thousands of residents of Sydney were tested. The cases never rose to more than nine new cases a day but the northern beaches were locked down (where the outbreak occurred) and all of Sydney was put on caution. We have stayed in the house as much as possible only going to the store for groceries and meeting with prospective buyers as requested by the Primer. On New Year's eve, we stayed home and watched fireworks on TV as I suspect many across the globe did this year.
Goodbye to stuff
At this housesit, we had the task of going through all our belongings and reducing the pile. Then we pack it all up and find it is still too much, so we unpack and find more things that we could donate or dispose of.
Our brand of minimalism is not for everyone, nor is it for every stage of our lives. It is the mode we have chosen to fit what we want to accomplish during these years of travel. We find that freedom from location is much easier when there is a freedom from things as well.
Fewer things are fewer things to worry about. We also couldn't justify paying to put anything in storage that we wouldn't be using for years. Yes, we do have a few things at my parent's house, mainly bicycles that we hope to one day ride across the USA. That doesn't mean that it is easy to get rid of things I've grown attached to. I'm even struggling with leaving behind the rocks I've picked up along the way – rocks! lol.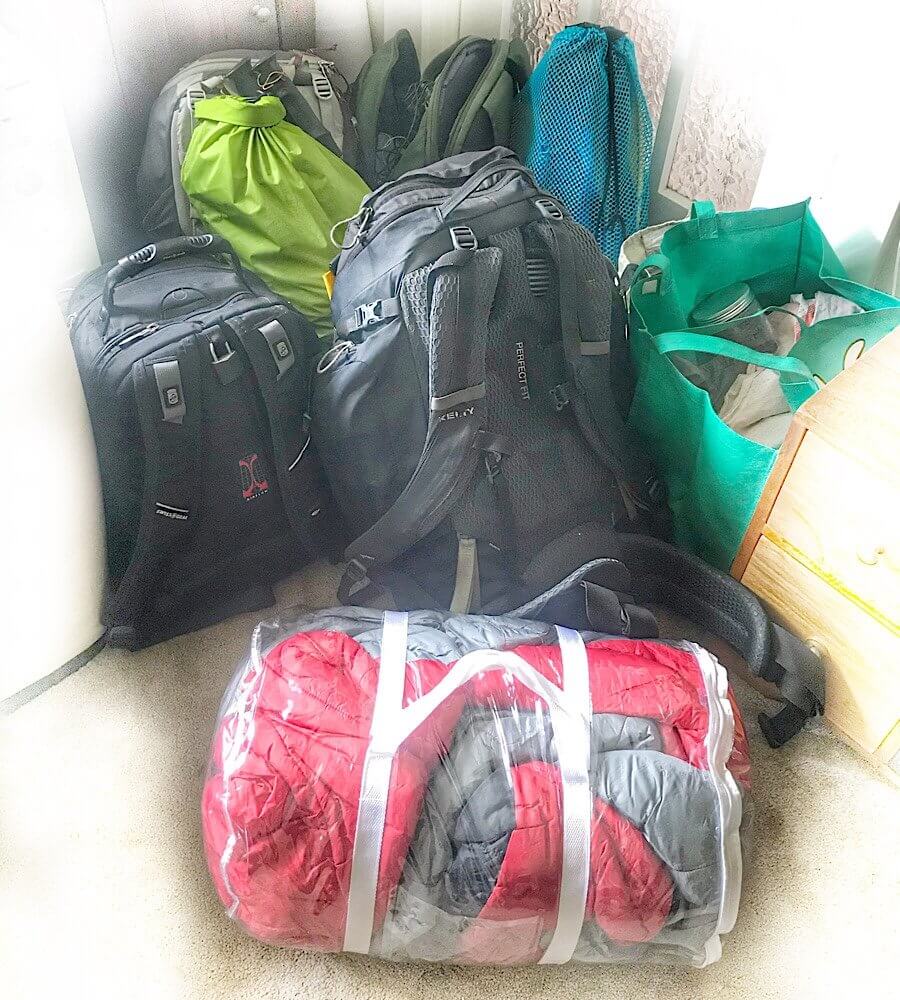 Goodbye to bad Relationships
Having a break from travel also gave me a chance to say goodbye to a business relationship that was not working. Trin and I have discussed breaking off our relationship with our property manager in North Carolina. Our investment properties at risk under the manager due to not taking care of water issues right away (in fact not at all – I arranged the fix from here in Australia).
I always dreaded calling in to talk to the manager and being constantly interrupted. It was time to find a manager who could have a normal adult conversation on the phone and one who was flexible enough to find solutions to issue. I hire managers for their expertise and want one who brings solutions to me for each issue, not just issues with a message of gloom and doom.
It was time to leave.
I spent a few days researching as well as reaching out and talking to numerous new managers. We finally made the switch to the new management company. It is great to have a manager with people skills. One of the properties is being turned over so I asked them to take a look. They said the carpet was worn and could be cleaned but should eventually need to be replaced. They gave me a quote for all my options. Finally solutions, not just an email in the middle of the night saying the house is flooding but offering no path to a solution. Sometimes saying goodbye is necessary. I'm very happy to go into 2021 with people I like working with.
It is a pleasure to give my business to kind people. I also feel like it's doing my part in encouraging kindness in the world. I'd been struggling with this relationship for some time, but if I'm honest the last straw was when COVID hit. I told my prior manager that I'm willing to work with any tenants struggling, payment plans or discounts depending on what they needed. She responded, "No, you should not do that."
---
Note: If you live in the Phoenix area E & G Real Estate Service is truly the best property manager around. There have been issues at our properties, but none of them have been a hassle for Trin or I. E&G Real Estate has an expert team. They always send a few options. We just choose one and they do all the work. Most importantly they are kind, flexible, and always professional. During COVID they showed compassion and at the same time protected property owners. (This is not a sponsored link – just sharing a great find).
Leaving behind the insanity
This year is marked by tragedy for many. Many are fearful and have played out their fears with hatred. The news is a thing that brings anxiety to many and isolation has only enhanced that anxiety and fear. It has been a year of goodbyes, some have said it to loved ones, some have said it to the way of life they were used to.
Some however have found the change of pace welcoming. Some have enjoyed not having a commute and spending more time with family. One of my friends even found new love.
One friend said that this year has been great for him so he could watch his one-year-old daughter grow. Another friend said this year has saved him all kinds of money from not going out all the time and at the same time deepened the friendships that he has. Numerous friends have said that they have actually had time this year to relax a little.
Before we left the USA a frantic pace became commonplace and being "busy" was a badge of honor. It was a pace that left no room to stop and consider, no room to meditate on good things. We were so busy with goals that they distracted us from the best things in life. The frantic need to make every moment productive was overwhelming.
Having been away from that pace since 2016 has been refreshing. I hope that as we all leave the insanity of 2020 behind, that we remember the good things and that we keep a sane pace of life. Because if we don't fulfill our purpose what good are the goals.
Having said all these goodbyes we are ready for our next adventure.
What are you leaving behind in 2020?