We completed the Big Lap!!!
Rainforests, vast red deserts, dramatic cliffside beaches, hidden pools, white sand beaches with crystal clear cerulean waters more than fulfilled my lifelong dream to see and experience Australia. The wonderful people that we've met or helped us out along the way, the countless hours of conversation, and the unforgettable experiences all have made our time in Australia one that I will have with me to the grave. Our Big Lap will give us memories to bring a warm smile for years to come.
Thankfully we avoided causing any casualties on the road for kangaroos, cows, camels, wild horses, emus, wombats, koala bears, and numerous other creatures. So many animals wander across the roads. We were entertained by the diverse wildlife that is unique to Australia but definitely didn't want to hit any with our bus.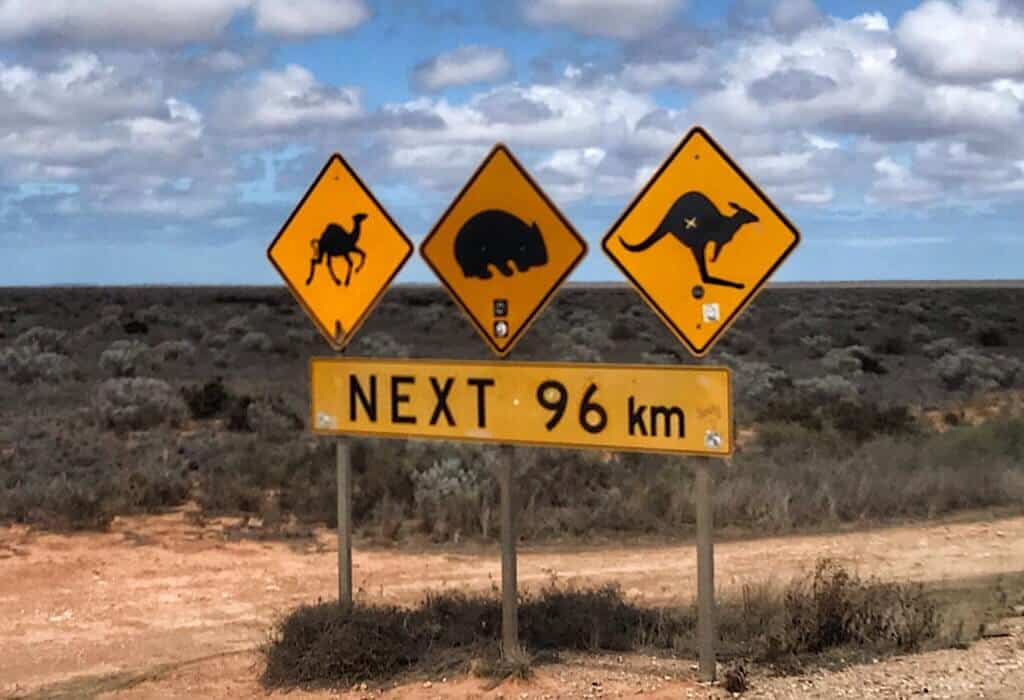 .
Highway 1 circumnavigates the island of Australia. It is 14,500km/6,800 miles including the Tasmania section. For comparison, it is about 3,000 miles across the USA (NYC to San Fran). Similarly crossing all of Europe from Paris to St. Petersburg is less than 3,000 miles.
We Drove over 40K kilometers
We took a number of detours along the way making our Lap 40,778 km/25,338 miles long. Truly an adventure of a lifetime.
We purchased our Lil' Beaut, a 1992 Toyota Coaster, in August of 2019 in Tasmania. Sixteen months later we finished the Big Lap around Australia.
Some may say that the timing of our Big Lap was unfortunate since the pandemic hit while we were there. For nomads who travel the world, we felt we couldn't have been in a better place. Our lap included two months of lockdown.
We parked two hours south of Perth. During that time we established a daily walking routine on the back roads of Roelands and Burekup and loved it. Not only was Australia the best place to be in the world, but Western Australia was probably the best state to spend the lockdown. We did not encounter any border issues nor become a risk to the communities we passed through.
Doing the Big Lap is a bucket list item for many and a dream fulfilled for me. I highly recommend it to anyone looking for ideas on how to spend a sabbatical.
So, how much did it cost us to do the Big Lap?
I'm a blogger that encourages others to take a leap and do something different so I track every dollar we spend. I do this for my readers, but also, I won't deny it, because I love playing with numbers and spreadsheets. I'm also curious myself. When we decided to become nomads back in 2016 we had no idea how much a life of travel would be. Our first year of travel cost under $5K each. I track our numbers to fulfill my curiosity as well. I just want to know how much it really cost to slow travel.
Total Cost of the big lap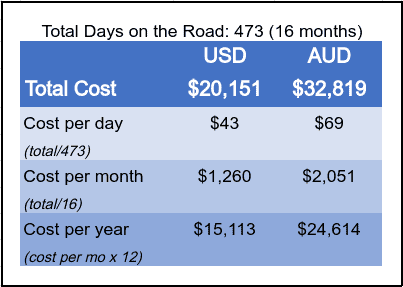 The costs listed here are for the Big Lap only for two adults. Since we are nomads and knew that we would be on the road for years we sold our home and almost everything in it before we left. Therefore we don't have personal expenses back "home" (wherever that may be) like storage, mortgage, utilities or any other residual costs from our prior lifestyle.
Major Expenses of Traveling the Big Lap
The costs reflected above are full living expenses, even personal care items, during/for the Big Lap EXCEPT for health insurance. Health insurance costs are not included as they vary greatly depending on age and country of origin. Costs do not include flights to and from Australia or accommodations before purchasing and after selling our bus. Visa and related costs also excluded but noted below.
Vehicle Costs include the purchase of our Toyota Coaster minus how much we sold it for afterward. The large variance between the USD and AUD above are due to the changing exchange rate on the dollar. Vehicle costs also include registration fees, vehicle insurance and roadside assistance, 4 new tires, oil changes every 5,000 km, a new muffler, a new clutch slave cylinder, an alignment, an upgraded interior floor, and multiple minor fixes and improvements to the vehicle.
Read about living in a bus, our Lil' Beaut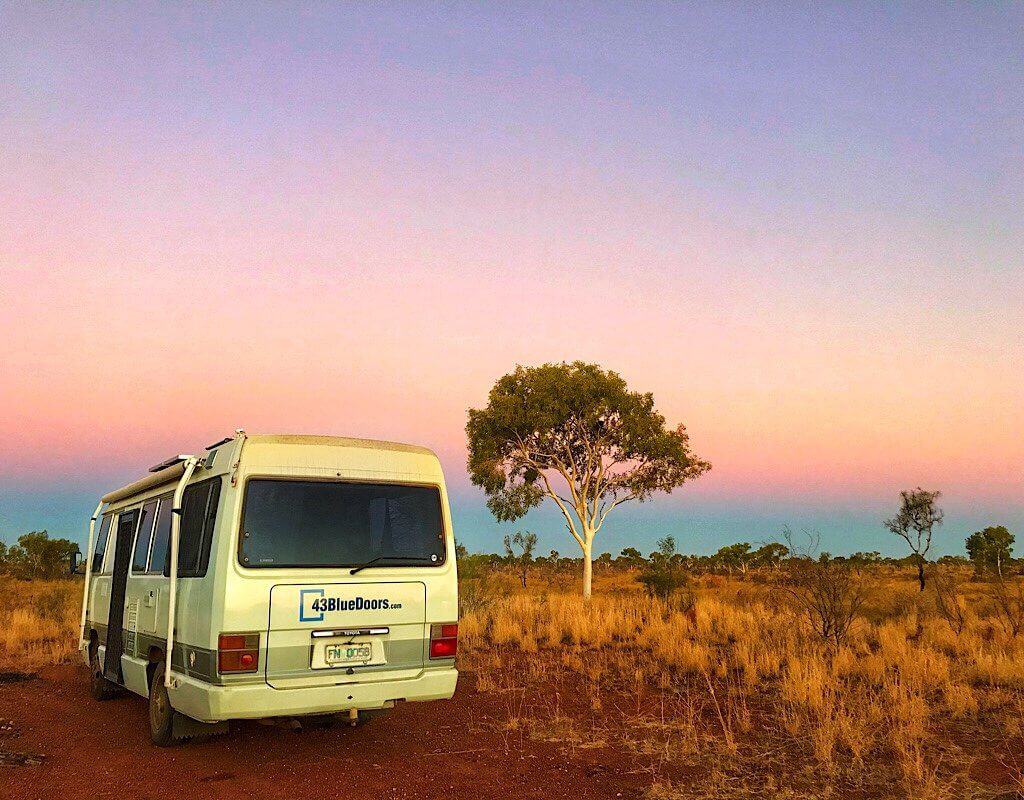 Accommodation
One of the reasons we purchased a self-contained bus was to reduce the expense of accommodation. Accommodation is expensive in Australia. At least it feels that way after spending a few years in South America where our average Airbnb per night was US$10. Without a self-contained camper, we would have needed to stay in more campgrounds which can often cost AU$40 or more a night. Not only was a self-contained camper a cost-saver it was also very convenient. We do not enjoy staying in crowded campgrounds.
Read about the costs of traveling South America
When planning this lap, even with a self-contained camper, we estimated paying a few thousand in camping fees. Thankfully Australia has many places to free camp. Some towns even set aside showgrounds where campers can stay a few days free.
We prefer off-grid camping out in the bush. For us, it is the seclusion in nature that we love with the added bonus of it being cheaper.
Over our sixteen months of doing the Big Lap, we only paid AU$396 (US$270) in camping fees. The Wikicamps app is a must. It lists tons of free camps with user reviews and also fun things to do in the area.
Many lappers also use Campermate, but Wikicamps seemed to have more options. We also took advice and tips from other travelers we met along the way. Occasionally we found some great tips from visitor centers. Most visitor centers however were just sales centers for local businesses.
Tips on Saving
Reliable vehicle
This tip may go without saying but we met a few along our Lap who were ending their trip early because they ran out of money. The primary reason was unexpeced spend on an unreliable vehicle. There is a fine balance between finding something inexpensive but also something reliable enough to make the Lap.
When we look for a vehicle we primarily look for reliability, how it looks has never meant much to us. Before we retired I drove a beige car with a blue door. At work I proudly parked next to the BMWs. I kept it clean, but it definitely had the urban camo going on. It was a reliable little car and I loved it. It also became an inspiration for this blog's name. Keeping our vehicle costs so low helped us retire when we were 43.
Toyota Coasters are described by many as being bulletproof. They just keep going and going. When we were searching through Gumtree (similar to Craigslist in the USA) we saw some Coasters still running and for sale with over 1,000,000 kilometers. We wanted something that was reliable for those long distances across the outback.
Coasters seem to retain their value somewhat between 200K to 250K kilometers. I set a goal to purchase one just under 200K. Even after putting 41K kilometers on it, we were able to sell it within only a US$1,000 loss after accounting for currency fluctuations that worked in our favor.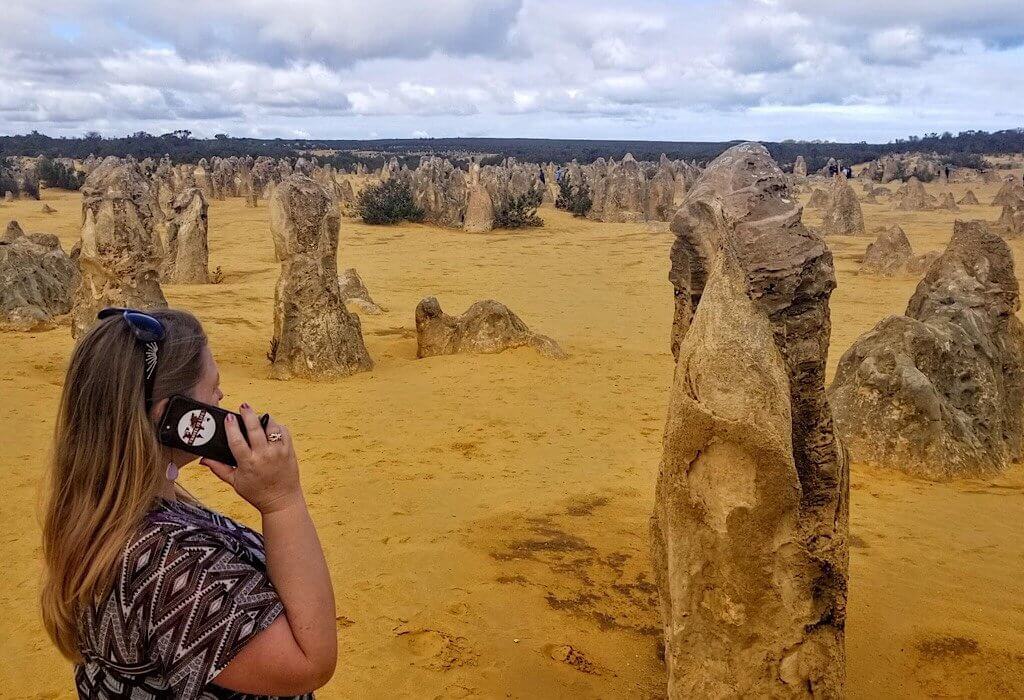 Cell / Data
One of the top questions asked in the Big Lap forums is, "What cell phone providers do people use on the Big Lap?"
Telstra vs Optus
There are two primary cell phone networks in Australia: Telstra and Optus. Users can purchase phone plans directly from these providers or, for additional savings, service can be purchased from a third-party provider. All of them use the Telstra or Optus networks.
Optus can be better in certain locations and is preferred by some who are living in one of those spots. Optus also seems to have better coverage in the mining areas. But we chose Telstra because it not only has good coverage in populated areas but it has more coverage in rural areas. It is seems to be the preferred provider for most who are doing the lap.
Third-Party Providers
Instead of buying directly from Telstra or Optus, you can save a lot with third-party providers. They offer plans that utilize some or all of the coverage that Telstra or Optus provides.
Boost is the only third-party provider that uses the entire Telstra network. We purchased a prepaid Boost plan that provide 5GB to 20GB a month. During our lap, we averaged about 10GB usage a month. Since data carries over for 28 days we alternated purchasing 5GB and 20GB cards each month.
Our total cell and data costs for our entire stay in Australia was $283 USD / $412 AUD for seventeen months. The only drawback from using Boost over purchasing from Telstra directly is that at times I would only get 3G coverage while direct Telstra users would show 4G. For us, it wasn't an issue and it was still worth the savings.
Big data needs. To keep our data usage to a minimum we stopped at libraries to do large data transfers, backup our photos, and download movies. The extra bonus is a comfortable temperature-controlled space on days that I would spend hours behind the laptop. I love spending time in libraries so saving the big tasks for those days was something I always looked forward to.
Clothes & Household goods
Our bus came with almost everything we needed but we still had to purchase a few kitchen and cooking items. We purchased most of those items in op-shops like Vinnies and Salvos (thrift stores).
We purchased wet suits from Aldis and tried to purchase most of our food from there as well. They seemed to have the best prices. We stocked up in Geraldton, Western Australia before our travel across the top end. The next Aldis is on the coast of Queensland. Woolworths and Coles supermarkets have good prices as well.
Clothes, well, I truly hate clothes shopping so I generally wear mine out until they are quite literally falling apart. I also keep the wardrobe very small. It was a small bus and we did not want to feel cramped with too much stuff. The few items we purchased were from the op-shops.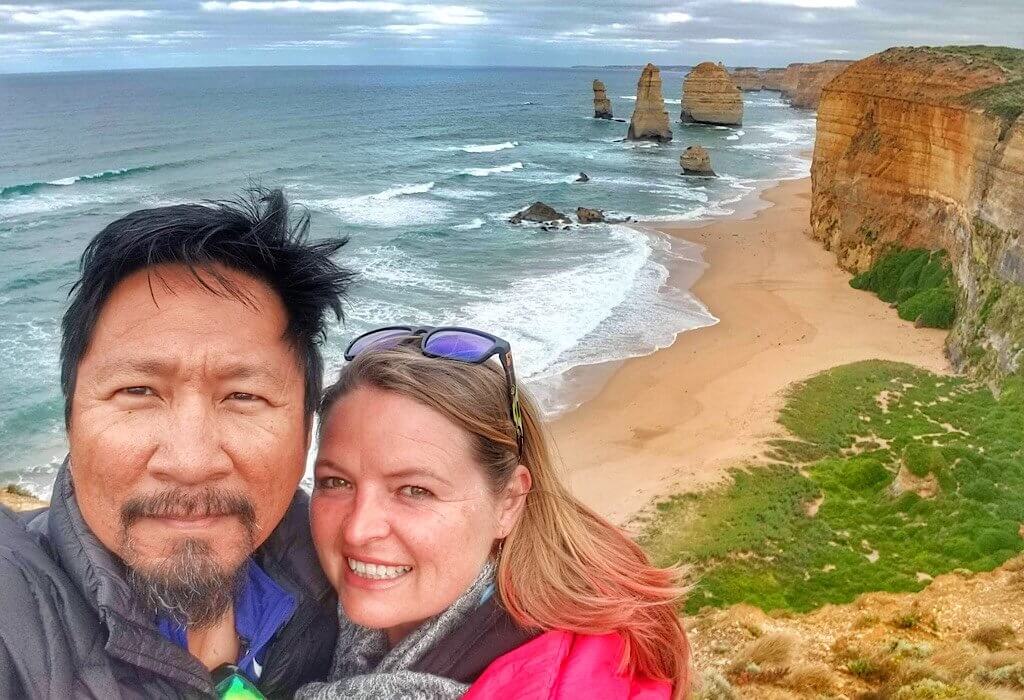 Visa Cost and Tips
Initial Visa Application to Australia
The application for a one-year visa took a month or two to process and be approved. The initial filing fee was AU$136 (US$93) each plus the cost of a physical exam and chest x-ray. The amount of time granted is entirely up to the processing agent. No refunds are available if your visa is denied.
We were granted a one-year, multiple-entry visa. With this type of visa, we could take a quick trip to Bali near the end of our first year to automatically reset the clock on our visa for another year.
We were unable to do a border run because of COVID so we applied for an extension.
First Visa Extension Request
Filling fees for the first extension costs AU$370 (US$252) each. In addition to the filing fees we also had to request and submit background checks from every country that we had spent more than 90 days in. The Australian background check and required fingerprints cards cost AU$102 (US$69) each. The USA FBI and state background checks cost US$138 each
We applied a month before our visa ended and wish we had waited till the last minute. As soon as we hit the submit button on our visa extension request a bridging visa was automatically emailed to us. The bridging visa keeps visitors in the country in a legal status until the extension is approved or denied. Waiting might have given us another month to stay in Australia.
When our first extension was approved I was granted six months and Trin was granted three. We applied together as a family group. Both of us are the same age, paid the same fees, have the same financial statements, and both had clear background checks. We still don't know why we were not given the same amount of time. It's a bit of a sore spot.
Second Visa Extension
Having done this once before and still not able to do a border run we applied for a second extension. We decided to wait to submit the application until the last few days of the visa to get more time. We knew the bridge would be automatic. When I clicked Submit I was shocked to find that the visa extension fee had jumped to over AU$1,000 each!
Over $1k with no guarantee of approval, no idea what additional expensive paperwork we may need to go through. IF approved the time granted could be as little as one month, then we pay the fee again.
What followed turned into an almost two-week saga of uncertainty, cold nights, immigration room detentions, and threats of $10k in airline costs.
Planning and Flexibility
As with any trip, there are things we researched and planned, and then there are things that are out of our control. We researched the type of vehicle to purchase, but could never have guessed that COVID would drive the prices up on RVs and giving us a good return when we sold it. More Australians are traveling within Australia because they cannot go overseas.
While planning our nomadic life the term pandemic wasn't even considered. Having one happen while we were on the Big Lap changed the world around us. Australia however, felt like the best place in the world to be, but not something we could ever have foreseen or planned. We were grateful to be there for all of 2020.
Our plan to explore New Zealand after Australia didn't work out because of the pandemic. Having the savings to ride through that ordeal, although hectic, was not the end of the world – or our travels. We will just have to do New Zealand another time down the road.
We know that we are responsible for our choices, we also know that we can not control the universe around us. Good choices go a long way, but flexibility and having backup savings for inevitable bumps in the road make it a lot less stressful.
Farmers can plant a seed and water it but they can't control the sunshine or storms. But if they ever want a harvest they still have to plant that seed.
As you plan your Big Lap be sure to check out our overview of each state/territory:
More overviews coming soon.