The frigid wind blew around us as we led her by the hand. Her eyes were closed tightly. Madi, my niece walked one side of her and I on the other. We steered right and left as the path wound towards the cliff edge.
"Almost there, keep them closed," we whispered. She giggled.
We guided her hands to the cold railing that separated us from the chasm below.
"Okay, you can open your eyes now."
She did, and the world stood still for a moment as she took in the view, and I watched her reaction closely. Her mouth formed an O shape but no sound escaped into the breeze. She leaned slightly forward and placed her hands over her heart. We all silently drank in the view before us of THE Grand Canyon.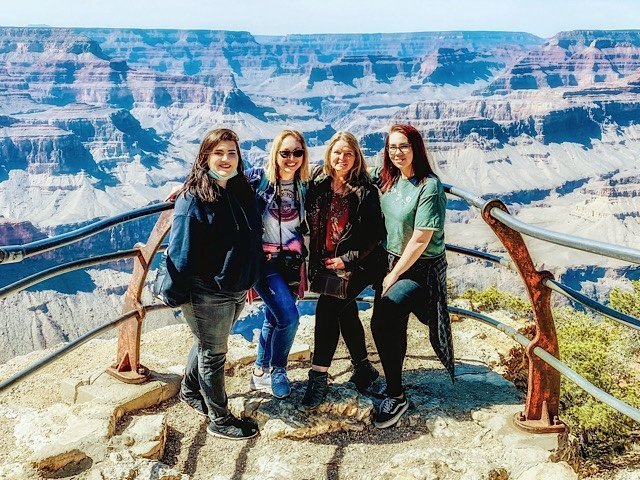 I remember this same feeling the first time I saw the canyon. The sheer cliffs and immense size left me speechless and tears formed in my eyes.
Why we Chose Freedom from Location
This is why Trin and I sold our home to travel. We longed to see the wonders in every corner of the earth. Still, some of the most beautiful places in the world are right here in the United States of America, our home.
We chose the nomadic lifestyle as it gave us the freedom to move about unencumbered. Free to stand on a mountain top enraptured by the overwhelming immense power reflected in nature, or at other times, feeling the azure sea from the clearest waters in remote places. It is worth selling all our belongings to live location-free. Even though the unexpected can thwart our plans, like a pandemic, we have not regretted this lifestyle even for a moment.
On this particular day, I was honored to make a trip up to the Grand Canyon with my sister, Tina, and two of her daughters, Ashlynn and Madi. Ashlynn had never been to the Grand Canyon before. She reminded me of so many first sights where we just stood for what seemed like hours taking it all in. It's not just the first sight either. There are many places so immense in raw beauty, I believe I could never grow tired of their majesty.
Click here for some of the most beautiful places we have visited.
Nomads not moving
We were blessed to spend the entire first year of the pandemic in Lil' Beaut roaming around Australia. However, when our visa was up we had to find a new "home." Our attempt to relocate to another safe country where we could hold up till the vaccines rolled turned into a disaster.
Read the three-part saga of trying to relocate during a pandemic from visa issues, to being stuck at HEL's gate, and then finding a home.
I am grateful to have friends and family that lend aid during times of crisis. Neither Trin and I like asking for help. We pride ourselves on being self-sufficient but there are so many ways friends and family have helped us enabling us to navigate the constraints of this century where so many things require a home address. They have helped us live a nomadic lifestyle. Even renewing a driver's license would have been difficult if I didn't have a friend in that state who let me sent my license to his home.
My sister offered us a place to stay when Finland turned us away. It was almost an overnight decision yet she and her husband cleared out their detached garage to give us a home. The garage is in their backyard and has been converted into a beautiful room complete with a Tempurpedic bed, fridge, couch, big screen TV, working desk, WiFi, and temperature control. It really is a comfortable place. My sister refers to it as the cottage. I sometimes tell my friends we are staying in a shed in the backyard, just to be funny, but it is closer to the cottage description.
Staying busy
When we are moving from place to place during normal times, travel itself keeps us really busy. Hiking and seeing the sites take time, but it also takes a lot of research and planning. Where do we stay each night? What don't we want to miss as we travel through?
Since arriving here in Phoenix we bought a Mazda 5. It had been in a few fender benders so Trin was excited to have a project. Parts arrive one by one in the mail and he spends his afternoons replacing parts and fixing bumpers, fenders, control arms, gaskets, and axles. Each time I look at the van it appears to be slowly healing. Each drive has less noise and fewer vibrations.
I am volunteering at a non-profit and am having a blast working on the database team. I'm working on process improvements by utilizing technology – what I love best. It's so much fun to dabble a bit in coding and spreadsheets.
We are both spending time on research for our next region – Europe. There are 26 countries under the Schengen visa and multiple ones around it that we would like to explore. There is a lot of data to read, digest, and process. Where do we start? How do we get around? What sites do we need to see? It's a bit overwhelming when we look at the map and try to make plans for an entire corner of the world. What type of clothes will we even need? But the research is fun even if it does get overwhelming at times.
We couldn't do it without friends and family
My sister and I have started doing daily walks together. We both have a goal to walk at least 10K steps a day. It has been so motivational to push each other to keep this goal. Last month I walked 135 miles. I would never have done that without the daily motivation from her.
It has also given us hours to talk and get to know each other in a way we never did before. Now that we are older and know ourselves we are now getting to know each other better. We always thought we were so different. Now we are discovering how similar we are.
Trin and I are forever grateful to friends and family who have helped us be nomads.
Travel Plans in the USA
People keep asking us, "What's next?" and "When are you going?"
"When" is a question we have no possible way of answering right now. The world is in a wait-and-see pattern and I'm perfectly fine with that. It's not much different than how we have been living since we retired in 2016. We get there when we get there.
The freedom of time allows us to take opportunities when they come without worrying about missing a deadline. Sometimes that opportunity is running madly through the street at midnight while a guy with fireworks strapped to his back shooting toward you is chasing. Things we would not want to miss.
We are watching the number of COVID cases in the USA drop and are looking forward to doing a USA road trip in the next few months. Trin and I traveled the USA extensively before we retired and before we started this website. Most of what I have written about is outside the USA, but I have never forgotten that the USA is one of the most beautiful countries we have ever traveled through.
One of the major items on our list, while we are here in the USA, is to explore Idaho. I'm excited because Idaho is the only USA state I have not yet visited. As a child, I dreamed of traveling and I thought that just getting to all fifty states might be more than I would ever do. Now, state #50 should happen this year!
Moving on
I know that this pandemic has been very difficult for many, while others have had a banner year with reduced commute time and more time watching their young ones grow. Numerous political and social issues have added to the anxiety for many and they impact us all. For those of you struggling my thoughts are with you. My goal in writing is to bring you moments of freedom. I hope that occasionally you laugh or just take a moment to imagine and think about the good things in life. My purpose is to share freedom.
Love brings freedom. My mission this month is to reach out to ten people who have been so generous to Trin and me and tell them how much we appreciate them. I challenge you to the same. Let someone know how much they mean to you.