Mallorca, Spain is an island in the Mediterranean Sea known for its pristine beaches, limestone cliffs, mountain villages, and stunning caves. It was the colors of the secluded coves that first drew me in, but there is much more to see.
Shades of Blue
The most striking views in Mallorca (also spelled Majorca in Anglicized form) are the bays that extend inland between limestone cliffs. Glistening turquoise water protected by rocky terrain calls visitors from across the globe. They bathe in the sun on the sandy beach resting deep within the bay. Or swim in the calm waters.
My favorite inlet was Calo dels Mariners. Nestled into the far end of the bay were a few homes built right into the rock. It looked like a small ancient fishing village. There were very few people about and the little collection of houses felt like it could be a peaceful home. I wonder, however, what this is like in peak season.
Calo des Moro nearby rests between sheer cliffs. Behind the white sand beach is a cave carved out of reddish sandstone. The windswept designs on the stone make beautiful patterns.
Shady Entry
One morning we were shivering in the cold rain on our way to the airport in Wales. We loved the UK. We made friends in Oxford, hiked beautiful castles in Scotland, and explored Brecon Beacon National Park. But it was getting cold and we were ready for warm sunshine.
Later that morning we landed in Mallorca and I was excited. Too excited it seems since I smiled at the immigration agent when I walked up to the booth with my passport. Rookie move, but smiling at people is a habit. Immediately his demeanor changed. He started demanding proof of onward travel back to where we normally go.
"Normally." I almost laughed but retained my blank expression. We don't have a place we normally go. I honestly didn't know how to answer this question.
"I can't let you in, you can't stay 90 days, you have not been out of the Schengen area for six months." He continued on and on. I listened wearing my poker face.
---
Schengen area entry requirements for USA passport holders:
• A valid passport, not older than 10 years, and with at least six months validity remaining.
• Proof of funds to support self-sufficiency during the entire intended visit.
• Evidence for purpose of entry.
• In November of 2023 ETIAS will be required.
How long can a USA passport holder remain in the Schengen area?
• Entry allows for 90 days in the Schengen area out of every 180 days (3 months in/3 months out).
---
"My Boss will take care of you"
Without taking a breath he pulled us out of the line and over to his boss. He whispered to his boss and gave our passports to him. Looking at us he said, "My boss will take care of you," and then he walked back into his booth.
The boss stared at our passports for a while. Saying nothing, he motioned for us to follow him. Then he pointed to a spot outside the booth for us to wait while he disappeared inside with our passports. Another traveler had overheard most of this and sincerely wished us good luck as he walked by.
Eventually, the boss came out, handed us our passports, and said, "You need onward proof of travel to your home country." Then he walked away.
Trin looked in our passports and saw that we were stamped. My excitement resumed and we walked out of the airport into the warm sun of Mallorca.
Maybe the border agent was just having a bad day. Sometimes it is best to just let someone have a bad day. Nothing I could have said would have made his day better. Anything I could have said would probably have antagonized him. We let him rant, his boss sorted him, and it was quickly over. It was a good reminder to make sure we had all our paperwork in order.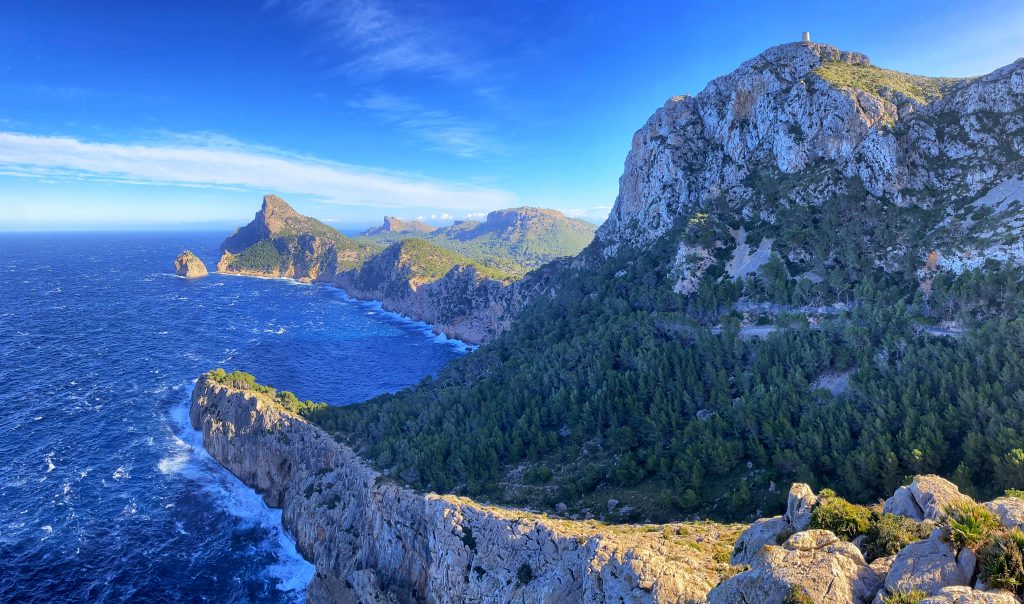 Shades of Gray Limestone
The limestone and dolomite mountains of Mallorca dominate the northwest coast. Since limestone dissolves over time in the water the cliffs have distinct crevasses and pockmarks created by rain and waves. The sandpaper-like surface of the rock also makes it a haven for rock climbers.
We stopped on one hike to watch a few women scale the cliffs along the sea as if they were bitten by Peter Parker's spider. The island is also loved by those who practice deep water soloing (cliff climbing over deep water with no equipment).
There are very few lakes on Mallorca because water seeps through limestone. Potable water is brought up from the water table below. One place we stayed had salty water from the taps. I could taste it in the shower and it didn't make good coffee.
For the first time in six years of travel, we had to buy bottled water. Our Sawyer water filter removes 99.9% bacteria, but it won't remove the salty flavor. A carbon filter is needed to remove the taste of minerals.
Thankfully most of the tap water on the island was fine. We only experienced salty water in the southeast of the island.
Cobblestone shrouded in shadow
Little mountain villages on Mallorca are beautifully perched on top of steep hills. Narrow cobblestone paths meander between the buildings. The close building cast shadows over the passageways most of the day. Cars navigated through spaces barely wider than our Fiat. Crossroads only permitted tiny vehicles that could make the 90-degree turn around the stone corner of the buildings.
Valdemossa is one of these quaint villages.
King James II of Majorca [Mallorca] (1243-1311) built a palace for his son Sancho. He chose its location based on the dryer air hoping it would help with his son's asthma. This palace became and still is a centerpiece for the village of Mallorca that thrives today.
The beauty of this town even inspired Fredrick Chopin.
Fredrick Chopin and his girlfriend George Sand arrived in November of 1838. Together they rented cell #4 in the monastery. The town did not receive them well because they were not married. Townsfolk were often hostile and even charged them higher prices for food. Fredrick and George left in February of 1839 but not before Chopin composed some of his greatest works.
Today the town is proud to have hosted Chopin and visitors can pay to see cell #4 and the small garden used by Chopin.
Shady Road
We got used to two-way roads that were only as wide as a single car in Scotland, but in Scotland, there were a lot more places to pull off and let someone pass coming from the other direction. Here in Mallorca, we found long stretches of road hemmed in by rock walls, or narrow winding roads with one edge simply ending on the cliff side. Trin had fun in our little rented Fiat but we were both thankful that few people were on the roads during the week we were there.
Shades of the season
Mallorca is one of the top summer vacation destinations for Europeans. Searching for images of Mallorca often shows beaches packed with people. As of 2021, the population of Mallorca was 947,309. The number of people on the island explodes during peak season with the August record seeing 2,060,526 people. All these people packed onto a little piece of land the size of Rhode Island (Rhode Island has a population of 1M).
We visited in early January when Mallorca was like a ghost town. Most shops were closed, resorts winterized and very few people were on the beach and trails. We absolutely loved it. It was a bit too chilly to swim, but the weather was perfect for hiking. The air was dry and a light jacket was sufficient when the wind was blowing.
Many of the paid parking areas were also free during this time. The only downside is that most of the public restrooms are also closed.
Shady Beach
We parked at Sa Calobra and waited for the family before us to figure out the parking permit machine. It looked like it might be a while so we sat on the wall enjoying the view. Another driver got into his truck to leave and handed us his ticket which was good for the rest of the day. Score!
From the parking area, we walked down toward the beach and then took the path hugging the cliffs on the right. It led to a tunnel carved through the mountain. The tunnel opened on the other side to a small beach with towering limestone walls surrounding it with only one narrow passage to the sea. Waves crashed their way into the narrowing bay sending spray high on both sides and spreading foamy water toward our feet. The bubbles quickly popped and the water disappeared through the beach pebbles when they reached my feet.
Shadow of our Landing
Logistics & Total Cost:
Mallorca was more like a typical vacation rather than the slow travel that is our norm. We spent 10 days on the island and tried to pack everything in. It felt like the road trips we used to take when we were working in corporate and only had two weeks off at a time. Despite the quicker pace, it was still a great time.
We spent 10 days in Mallorca and rented a Fiat 500 Hybrid from Wiber for 7 days. Public transportation is scarce this time of year. The car allowed us to get around the island and into secluded spots within a shorter amount of time. It was also nice not to have to carry our packs for miles even though we still walked 65 miles and climbed 302 flights of stairs.
Transport includes car rental, gasoline, and bus fees. It does not include flights (since yours will most likely be different). Our flight to Mallorca from the UK was $67 USD each. The flight from Mallorca to Seville, Spain was $24 USD each.
We stayed in 5 different accommodations as we circled the island. Two different Airbnbs and 3 places rented through Booking.com
For our final 3 nights, we stayed in Palma. We arrived in Palma around 4 PM and could not find a parking spot anywhere in the vicinity of our Airbnb. Trin decided to just return the car early instead of trying to find parking. It was due back the next morning anyway. He dropped me off at our final Airbnb with our packs and returned the car. It turned out to be a bonus so Trin could sleep in the next morning.
Mallorca during the off-season was perfect for us.
Note: For more information about the cost of travel check out our "How much does it cost to travel the world" article. It has been updated to include costs incurred in the UK over the last five months. It's higher than we hoped due to a minor car accident in Scotland.