Something about getting on a bus headed to a place I have never been with all our belongings on our laps or in the bin overhead simply excites me. I get a giddy feeling and a goofy grin on my face.  However, it can also be exhausting moving constantly from place to place.  Sometimes it is nice to just slow down and stay in one place for a while.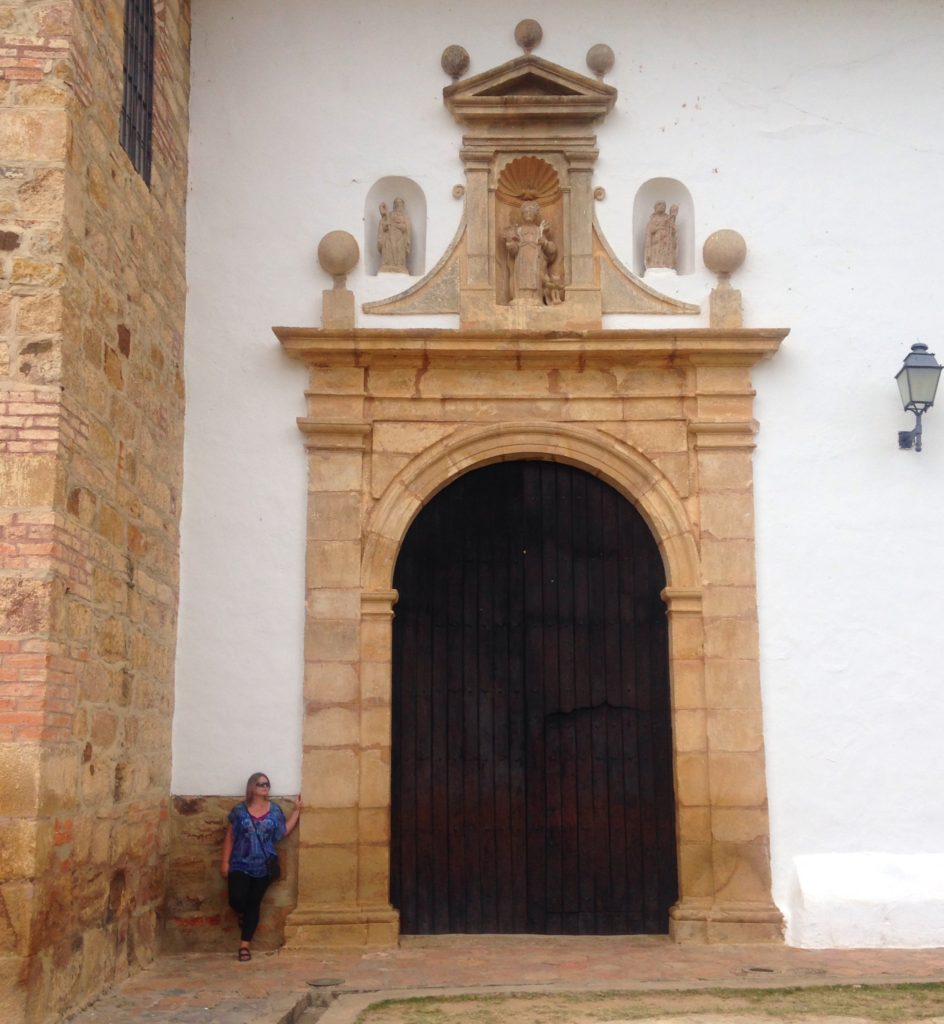 For nomads who sold their home the question of taking a break is, where?  Thankfully there are many homeowners who like to take a vacation from their homes but need someone to watch their place and take care of their pets.  Thus the creation of a perfect symbiotic option – House sitting.
HOUSE SITTING IN COLOMBIA
In Colombia, we got a house-sitting gig in the town of Villa de Leyva.  It is a touristic town, but this home was located on the outskirts and provided a car for our use.  Well, the car was an old Renault 4 that refused to start without popping the clutch.  I got my exercise pushing the car back and forth to get her started and we didn't trust driving her any farther than into town and back.
We had three dogs to enjoy.  A Maltipoo who is the only dog allowed inside the house.  Her name is Lola, she is a sweet girl, with all her fluffy, wavy hair, and a smart and caring flair. If you are singing Copacabana now, your welcome.  The two outside dogs were the most athletic labs I have ever met.  Their names are Jojo and Mojo (the 'Ojos).  The four-foot fence was just a speed bump for them as they could easily jump it every time we go out for a walk.
They also race against the cars on the road, reaching amazingly fast speeds.  It made me very nervous watching them on the road, but the homeowner told us that they did it all the time.  There was little we could do to stop them due to their agility and ability to escape any enclosure.  Here in Colombia, it is common for dogs to roam free, but they always come home.
HOUSE SWAPPING
During our time here the homeowner was also participating in a house swap.  While we were staying in the casita, a three bedroom, three bath, full kitchen and living room house,  the main house would be used for a few days by a couple from Seattle.  In turn, our homeowner would stay in the couple's home in Seattle for her vacation.  Another great way to save money on your next vacation – much better than a hotel.
I was excited and apprehensive at the same time to meet this couple.  I was hoping they would be cool, someone to have English conversations with, but then what if they were too "proper."  We are pretty simple people and love just the basics of life, nothing fancy.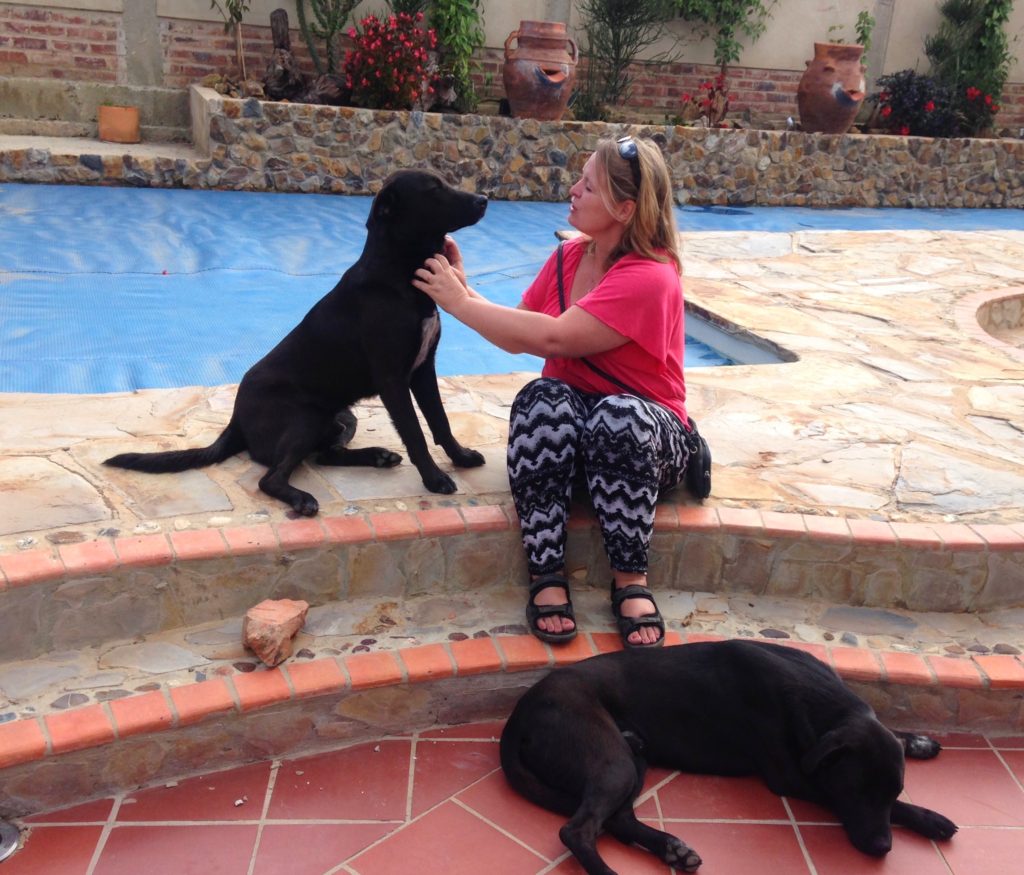 We picked them up at the bus terminal in town, a meetup that should have been simple but became a comedy of errors – how hard was it for us to find a Scotsman, or for them to find a Chinese-looking man, in a small Colombian town? In the end, we still managed to find each other, everyone in good spirits despite the hiccup, a good sign.
We took them back to the house in the old Renault and we had some drinks by the poolside after they had settled in.  Colin has a seemingly placid disposition about life.  It's an attitude that is hard to explain but maybe this video will help:
THE TRAPEZE FLYERS
Sandi is very energetic and funny with a runner's physique that hints at several marathons under her belt, so to speak.  She has a tendency to do his voice when she's telling a story about them, and he catches it every time ("is that supposed to sound like me?").  They both currently live in the Seattle area running a distillery in Whidbey Island called Cadée Distillery.
They spent a few days in the area and we explored the town with them.  On their last night, we made them dinner.  They are both well-traveled and we exchanged travel stories.  One time, as a whimsical joke, they told their Uber driver that they were circus performers, trapeze flyers no less – she does the flips and he catches her.
"It was meant to be a joke, about how to catch a good woman," Colin said.
But the driver believed it and they had to stay in character the entire ride.  It's become a game for them, and they probably have enough stories to write a book about it, they said.
They were such a happy couple and we were really sorry to see them go.
The best part of house sitting is the time to relax and "play house."  I love getting up on Saturday morning, while my husband sleeps in, to listen to an audiobook and clean the house.  This had become a habit when we were both still working too many hours.  It was my one time of the week for peace and quiet with no decisions to make.  This habit stuck with me even now.
It is also a time to study more Spanish, update our blog and other various paperwork that we needed to catch up on.  In the afternoon our time is spent on a long walk or a dip in the pool.  This is a vacation to a nomad.
The worse thing about it is probably having to say goodbye to the pets.  Lola and the Ojos have endeared themselves to us and we will miss them when we move on.
---
BlueDoor Tip:
There are numerous house sitting websites that seek to connect homeowners and sitters.  We found this opportunity through MindMyHouse. If you have pets that need care while you are gone this is much less stressful for them than a kennel and cheaper to boot!