We loved Peru.  We did not want to leave our comfortable country home out in the middle of Sacred Valley.  It was relaxing, and our host treated us like family, but our 90-day tourist visa was about to run out so it was time to move on.
Peru has amazing landscapes, a rich culture, and friendly people.  There is a calm and madness in everyday life, be it the crazy traffic in Lima, the made-for-TV political situation that is rife with intrigue, family in-fighting, and a continent-wide corruption scandal, or the slow, small town living.
ENTERING PERU
We entered Peru along a dusty road littered with trash, and our first introduction to her was in Chiclayo with weeping mud walls on the homes. (see details here on how to bus from Cuenca to Peru)
Very soon, however, Peru struck us with her beauty, with mountains that seemed to rise straight up into the clouds. The dramatic cliffs did nothing gradually. Her mountain trails left us breathless, sometimes literally with the high elevation.
Peru is a place to walk, to hike, and to explore. Dig down past first impressions and the excessive honking of horns, and she will reward you with her beauty and history.
PLACES TO EXPLORE
EXPLORE LIMA
We came to Lima without expectations. We met so many travelers who had come through Lima. Half of them hated it while the other half loved it. We wondered where we would fall.
What we found is that Lima is such a large city that almost anyone should be able to find something they love and probably something they dislike. If you can take the time to walk around Plaza de Armas and watch the changing of the guards, catch a light show at the Circuito Magico del Agua, and explore Barranco and Miraflores, you'll probably have an enjoyable time.
WALK HUANCHACO
Stop by Huanchaco and walk along the beach and through her tiny streets. The reed boats give the town and the beach a feel, unlike other places. It's unique among LatAm towns.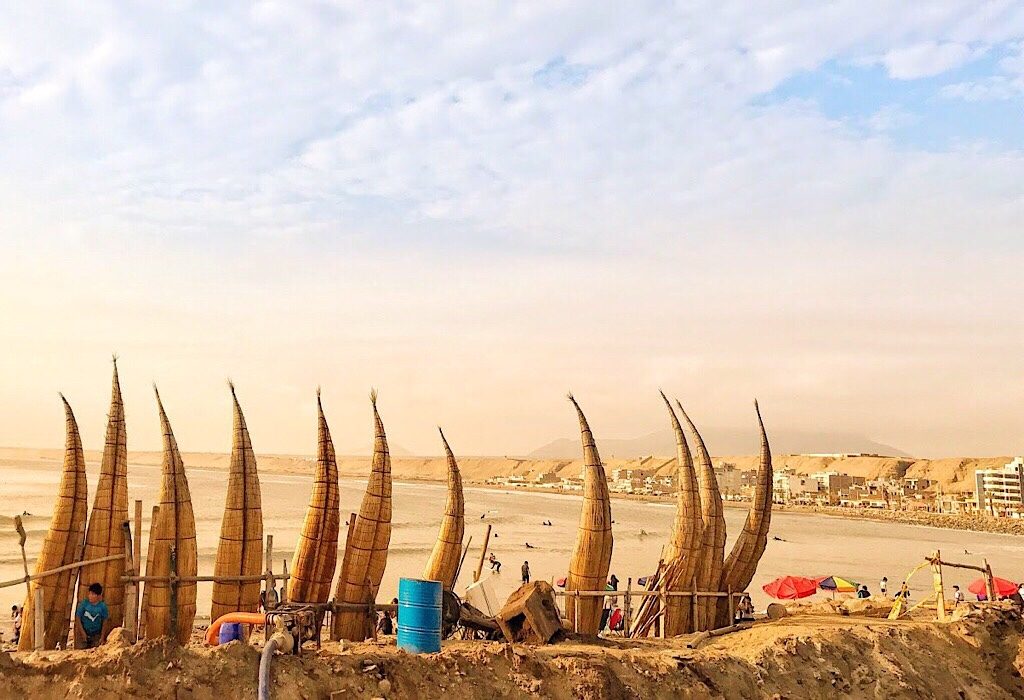 In nearby Trujillo, there is a kilometer-long mosaic wall that is worth seeing for its detail, themes, and quality.
EIGHT GREAT TREKS IN PERU
What we loved most about Peru was the hiking.
Huaraz, a mountain town located at 10,000 feet elevation, is surrounded by the snow-capped Cordillera Blanca mountains and the Huarascan National Park. One could easily spend several weeks hiking on the trails in the area with world-class mountain views.  Definitely bucket list trails.
SANTA CRUZ
This is a three to four-day trek that you can do on your own. The path is not difficult to follow but we do suggest you have Maps.me so you can check to make sure you are on the right trail.
With the cost of transportation and camping gear rental, the price of going by yourself came out the same as actually going on an organized tour.  Going with the latter has the added benefit of having an English-speaking guide, meals for all the hiking days, AND having a donkey carry all your stuff. We obviously went on a guided tour. We found ourselves alone in nature during most of the hike since the group was spread out. In the evenings, we also got to enjoy the company of like-minded people. Check out more details here on the Santa Cruz experience.
LAGUNA 69
This stunning lake rests at 15,000 feet elevation and glows a brilliant turquoise blue in the sunlight. Many hikers do the Laguna 69 first to acclimate and prepare for the Santa Cruz trek. In our case, we did Santa Cruz first. Either way, you'll end up acclimating on the first trek that you choose.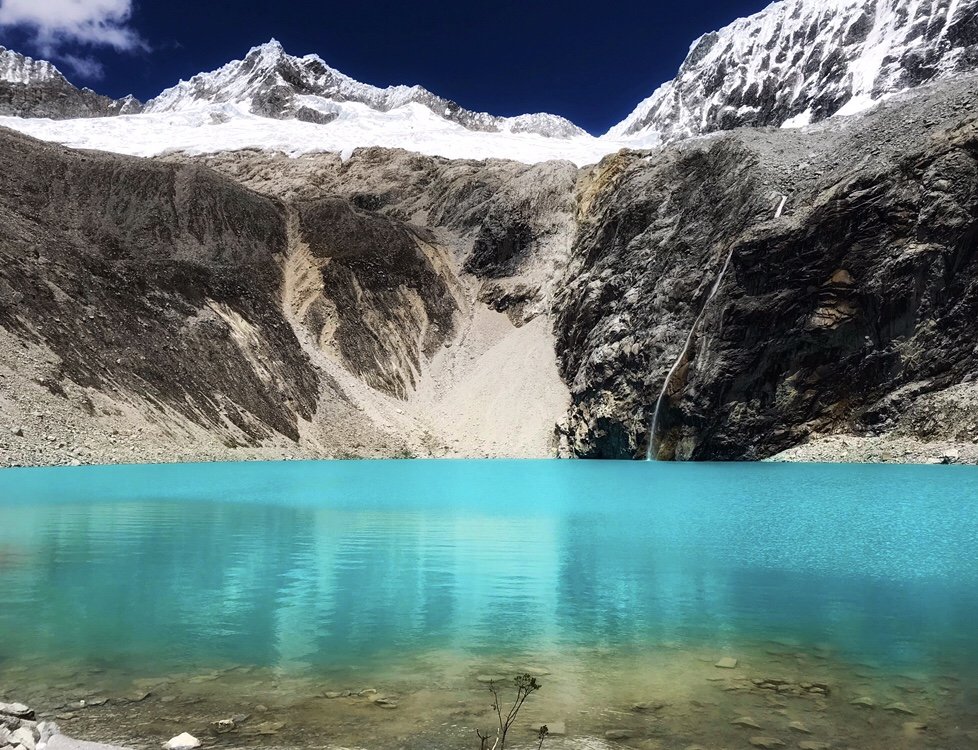 And it is all about acclimation. We made it to the lake in record time and passed many struggling hikers that were obviously in better shape than us. The difference is that they were still acclimating and we had already done that hiking Santa Cruz. We spent almost 2 hours gazing at the lake. On the way back down we met a young man who looked like he was a fit hiker.  He was sitting on a rock next to the trail looking totally defeated. We gave him a piece of coca candy to help with the altitude and told him he was almost at the top.
Indeed, it is a difficult hike, but not nearly near as bad as we thought it would be.
Which one should you do first?  I suggest doing the Santa Cruz trek first, primarily because there is no rush in this trek. There is plenty of time to reach camp each night. You can take your time and not hold anyone else up.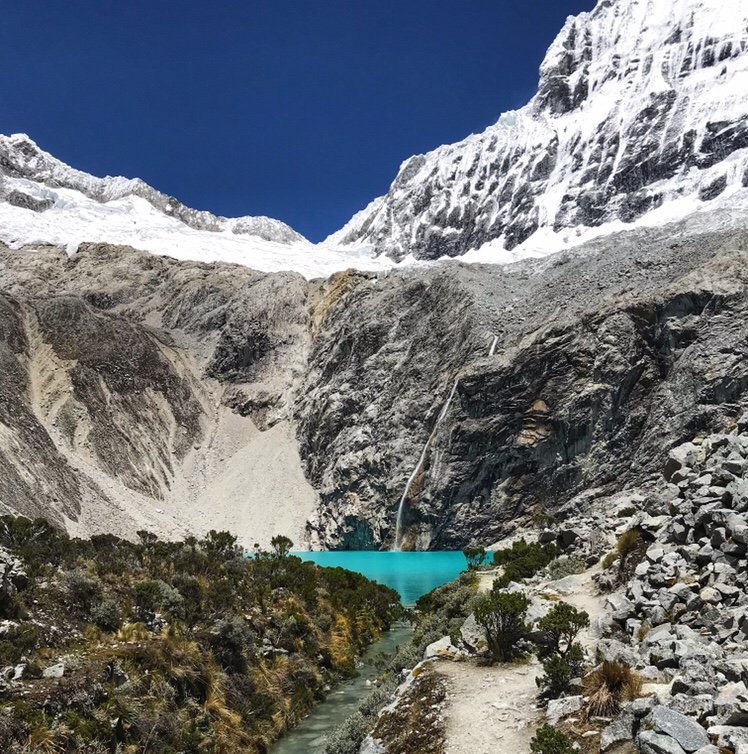 Since Laguna 69 is often a day trip, there is a time limit. Almost all tours arrive at the Laguna 69 trailhead at the same time each morning. You want to be fully acclimated and beat the crowd. During the rainy season, the sun will often shine in the morning and you want to catch it. Lastly, you don't want to be the last one holding up a van full of people who made it back on time and want to go home. I've also heard about some guides simply leaving the stragglers behind – they already have your money they don't need you
TREKS IN THE SACRED VALLEY
MACHU PICCHU
It's the grand-daddy of ancient ruins.  If Ecuador has the Galapagos, and Scranton has the great Pothole State Park, Peru has Machu Picchu.  Nothing prepares you for the grandeur that assaults your senses when you get your first glimpse of the famous ruins.
Our visit was during the rainy season, and the fog made for a more mystical experience.  We walked towards the walls and gawked at her ethereal beauty shrouded in mist. But be sure to check out what the guidebooks don't tell you about Machu Picchu before you go.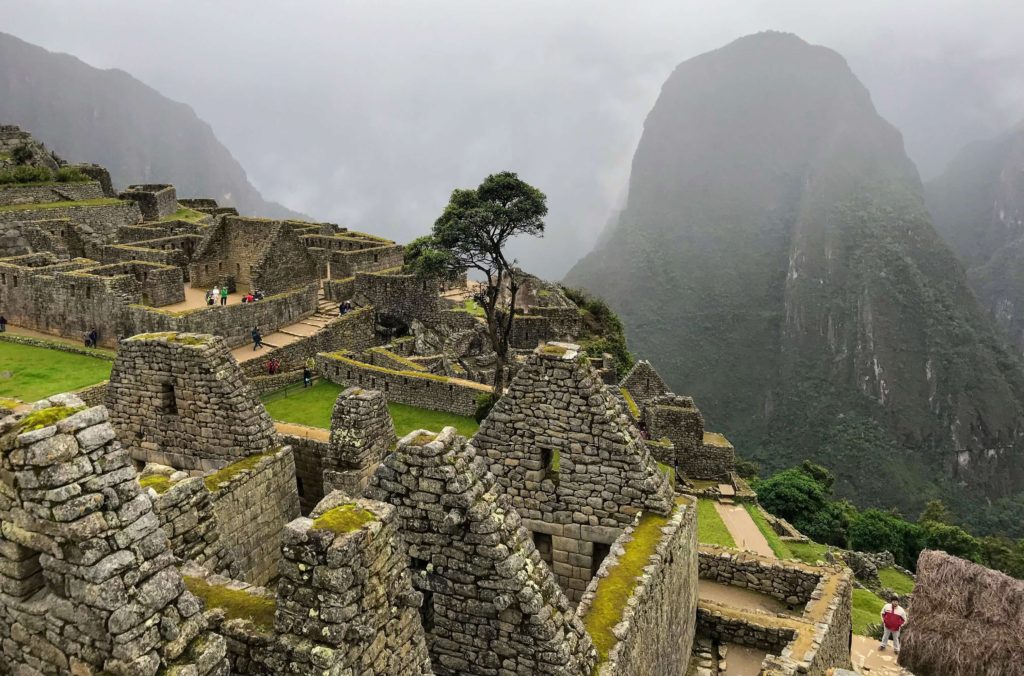 Most people come to the Sacred Valley to visit Machu Picchu but the area offers so much more.
PISAC
One traveler we met actually liked the Pisac ruins better than Machu Picchu. This is one not to miss. The hike and exploration of the town can be done in a day. There are taxis available to take visitors to the top and back, but we chose to hike.
Without the hike, we would have missed my favorite part in Pisac: the terraces. Walking up the ancient stairs built centuries ago was an experience. Pisac, as with many of the Peruvian ruins, has been partly restored by Peru, but the largest stones with the excellent workmanship are obviously ancient.
TIPON
Maybe what I loved best about Tipon is that this is where the legend of "the Incas planted water" originated.  The ruins can be reached by a short ascending hike from the town center, or a taxi ride.  To get to the town of Tipon from Cusco, take a bus along Huayruru Pata that says Tipon on the front.  It's a short 25-minute bus ride.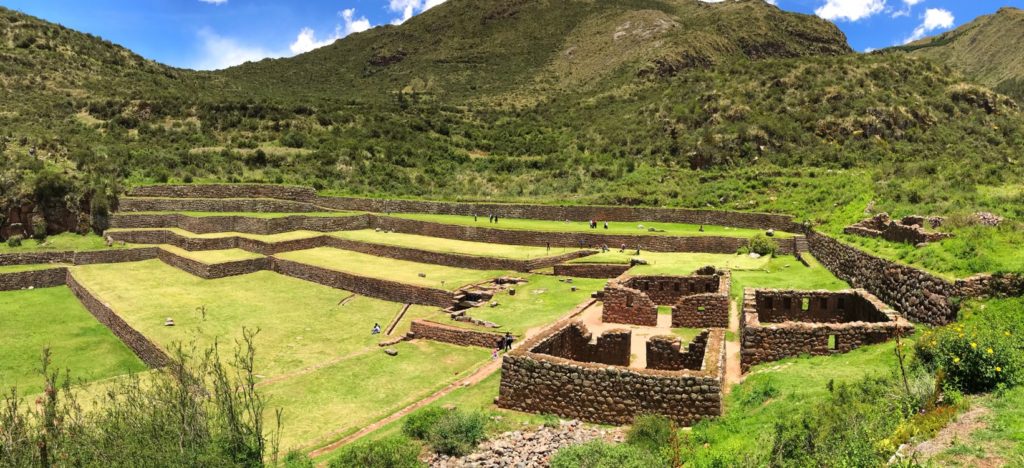 SALT PONDS
The Salineras de Maras, another great day-trip in the Sacred Valley, is an impressive network of salt ponds dating back to pre-Incan times. To get to this site, take a Urubamba-bound bus from the bus station along Jiron 21 de Mayo.  You can also take a colectivo from the corner of Pavitos and Ave Grau. Get off at the turnoff to Maras and hike six kilometers to the salt ponds (Follow the trail on Maps.me).  It is a beautiful hike, but don't forget sunscreen and water.  You can also hire one of the multiple taxis waiting at the intersection.  They can take you to both the Maras Salt Ponds and the Moray Ruins.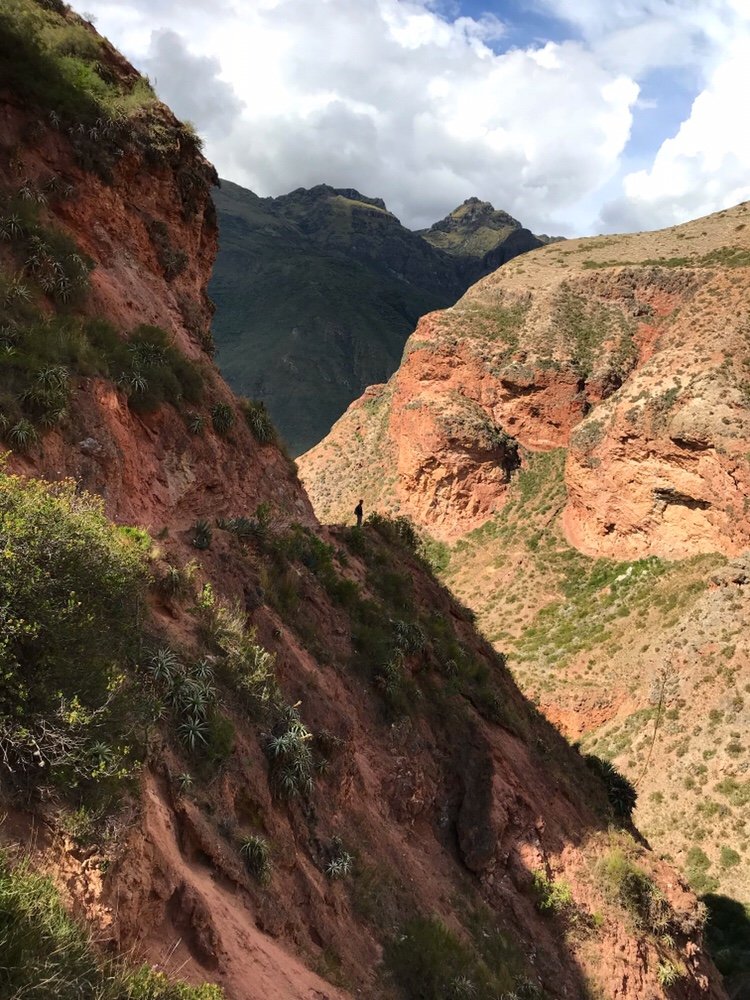 MORAY RUINS
You can take an organized tour to the Moray ruins, or you can take the scenic hike from Media Luna, a tiny village just west of Urubamba.  To get to the start of this hike, take an Ollantaytambo-bound colectivo at Calle Pavitos in Cusco and get off at Media Luna, cross the train tracks, walk across the bridge over the river, and then follow the trails on Maps.me.  It's a 10 km hike with stunning mountain views. Read more about the Moray ruins on our day-tripping post.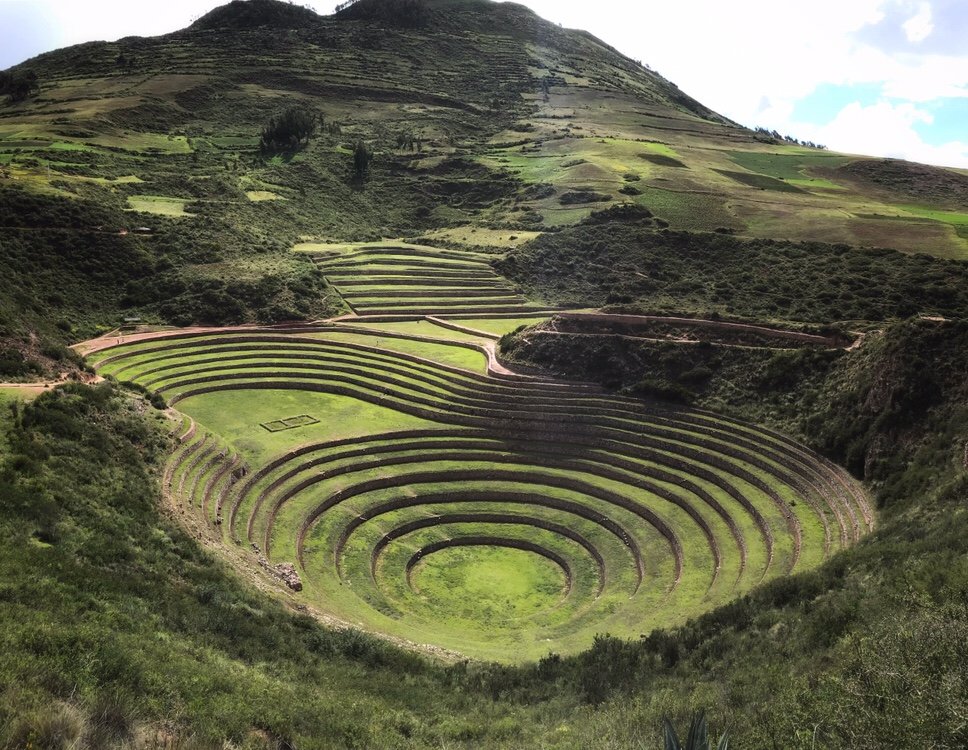 SACSAYHUAMAN AND THE MOON GATE
There's a bunch of ruins that can be reached by foot from downtown Cusco.  From Plaza de Armas follow the old Inca trail out of town – go east along Calle Triunfo which changes names and narrows down into a pedestrian lane, and climbs up, all the way to Kusillochayoq.  Hike further to the moon gate (Templo de la Luna).  Head westward to Sillarumiyoq, then walk to Qenqo, and its mini-Qenqo, further to the Cristo Blanco statue, from where you get a good view of the city.
Walk further to reach Sacsayhuaman.  From here, you can walk back to downtown Cusco. (more on this trek in The Incas Planted water)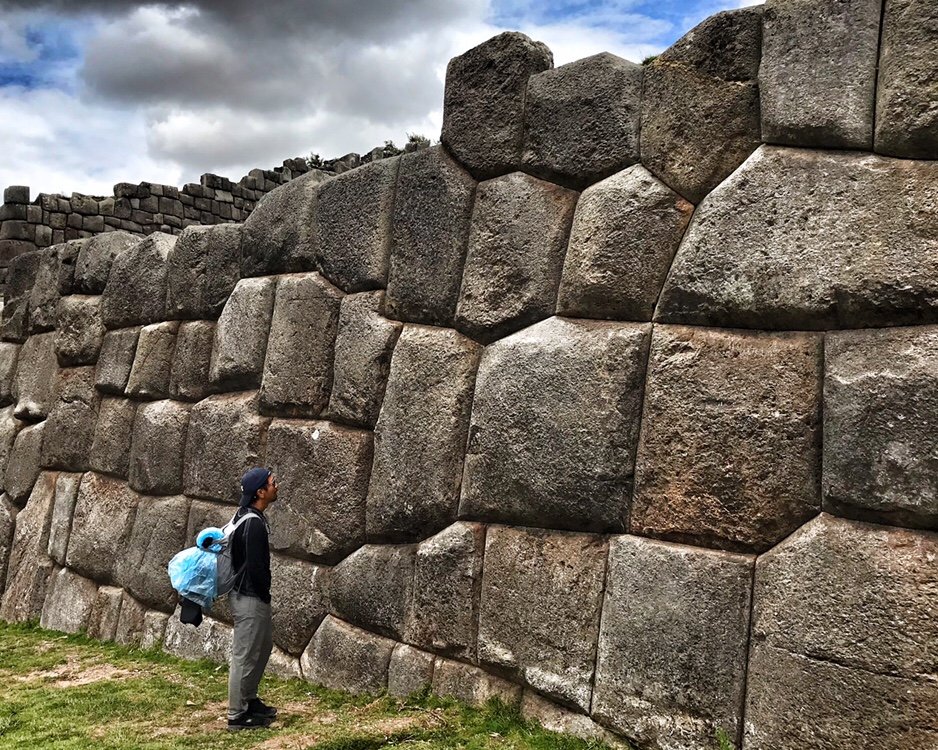 KEEP EXPLORING
OTHER DESTINATIONS
We spent New Years in Arequipa where you can do a multi-day hike through Colca Canyon.  Along the Southern Pacific coast, there are attractions to break up your trip from Lima to Arequipa: Huacachina oasis and sandboarding, Nasca lines, and Paracas National Reserve.
LAKE TITICACA
Our final day in Peru found us gazing at the sunrise over Lake Titicaca.  By volume of water and surface area, this is the largest lake in South America.  The surface of the lake rests at 3,812 meters (12,507 ft).  Gazing over the lake, we said our goodbyes to Peru.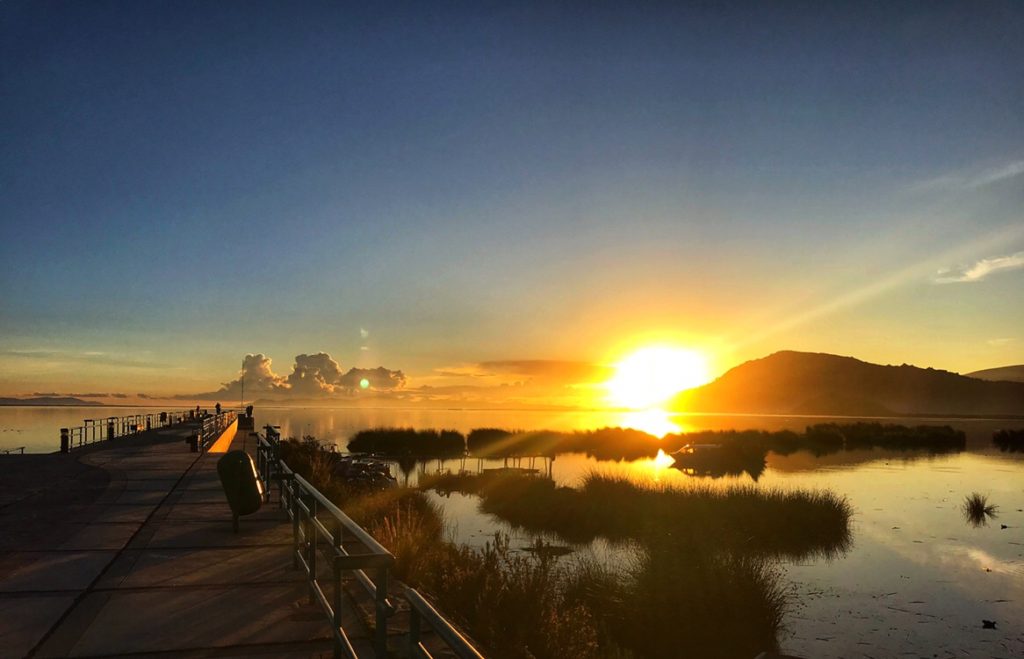 ---
BlueDoor Tip:  In high elevation don't forget your coca tea to combat elevation sickness.  You can also get coca candy or simply chew the leaves.  Chewing the leaves will leave some numbness in your mouth.  No one can prove that it works, but it really seems to, at the very least it can't hurt.  There are many health benefits of the coca leaf.