Manaus on the Rio Negro
I stepped around a dog sleeping in the shade and then weaved my way through the carts lining the sidewalk. Each cart was filled with trinkets, fish, meat or other various food and wares.  Each was covered with a large umbrella that shielded them from the merciless, equatorial sun.
I caught the eye of another shopper, she smiled and moved on. I did a little impromptu street waltz with a few more people as we attempted to move out of each other way in the narrow passage of the street.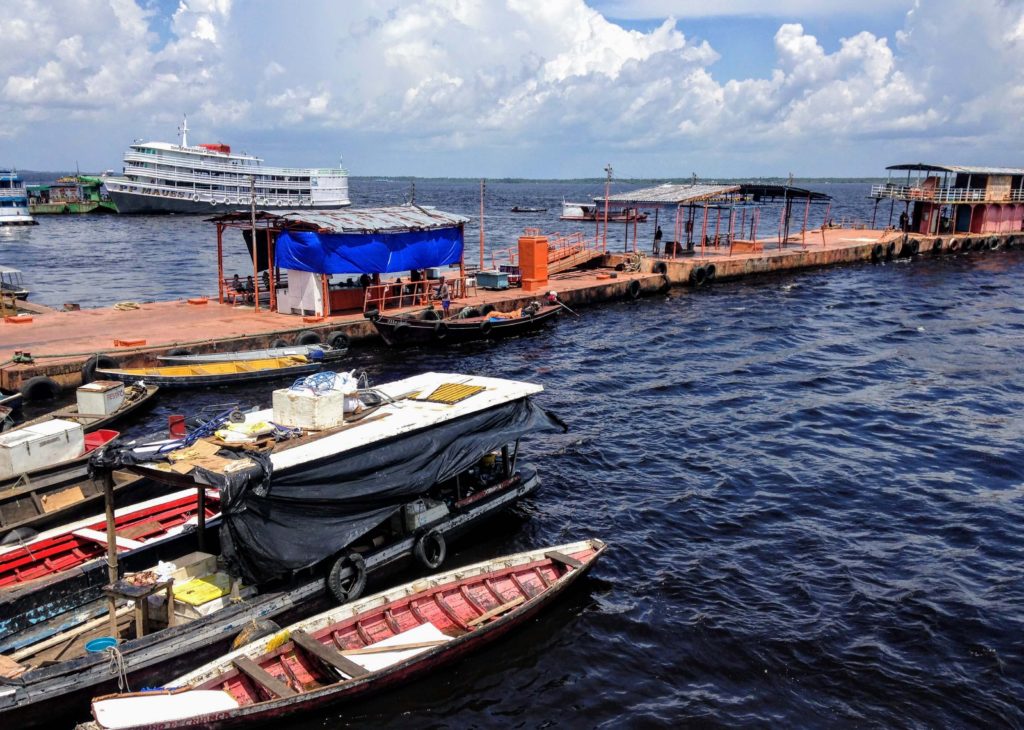 The Shade of a Telephone Pole
We were still a few blocks from the Mercado Municipal of Manaus, the city's old market that is supposed to have some Parisian influences, and already the heat was approaching unbearable levels. Clearly, shopping in the Amazon is not quite the same as in its online namesake.
We stopped at a cart filled with large Tupperware containers of rice, potato salad, and farofa (toasted cassava flour). Beside the cart, glowing coals cooked skewers of meat. We purchased a plate and waited as the lady prepared it.
A man offered me his chair that he was sitting on under the narrow shade of a telephone pole. I politely declined and told him we were going to walk with our food but thanked him for his thoughtfulness. In another moment someone else squeezes over to let me stand in the shade next to him.
The vendor handed us our plate with a huge smile on her face and an obrigada (thank you).
As we continued to meander through the market I felt comfortable with the surroundings. Maybe it's the almost two years of open markets in Latin American that make it all natural to me, but I felt safe.
I pondered this feeling and tried to wrap my head around the danger we are constantly warned about in Brazil. What we would experience in Brazil would surprise us by the end of our stay.
To see these cities on a map check out our South America Map.  You can zoom in on Brazil and click on the pins to see the places we have been referred to in our articles.
Crime in Brazil
I wrote about some of the danger in our article featuring our stay in a favela in Rio. But I have to honestly say we didn't "feel" like we were in danger even though we were extremely cautious. The people in that favela were friendly. They all said bom dia, or boa tarde, as we pass on the streets.
Brazilians are friendly and move aside on the street to let each other pass. This is not something that is common in much of the rest of South America.  I'm not sure if it is a difficulty with spacial recognition or they don't quite get that two objects can't occupy the same space or just that they are totally unaware of anyone else when they walk down the street.
In most countries in South America, it felt like everyone just rams into you if you don't get out of their way.  This is not true in Brazil.
Crime Rate
Brazil is listed as the 12th country in the world with the highest homicide rate in 2016 with 29.53 murders per 100,000 inhabitants. A lot of people I've interacted with may say, oh but other cities are dangerous, look at Chicago.  So to put it in perspective the USA is number 87 on that list with a homicide rate of 5.35 per 100,000.
Brazil has surprised me with its beauty and possibly the most beautiful place in the world resides in her sand dunes.  The Rio coastline is also spectacular.
The people here are warm and friendly. They care not that you can not speak Portuguese, they smile and see how they can help anyway.  But the numbers don't lie, neither does the warnings we heed from many of our hosts. So we do take precautions.
1- Don't wear expensive items.
No worries about our clothes. None of our clothes are name brand and most of them are over 10 years old.  I wear minimal jewelry. My ring, purchased in Panama for less than $2, is worn as a wedding band. My earrings were less than $5. I don't wear any other jewelry.
Before heading out on a walk one day our host in Rio looked to see if I was wearing a necklace. I was not. "Good," he said, "they will take it right from your neck."
I don't carry my phone with me in most places while we are here in Brazil. Trin's phone is older and will need to be replaced soon anyway, so we carry his. Maps.me is important to know where to go.  I'm actually excited to get to Argentina and wear my necklace again and really excited to get back to the USA where I can wear my rings (all two of them).
Not only would expensive clothes make us a target in some of the areas we are traveling in they would also set us apart from the people we are trying to connect with. I have always believed that all people are equal no matter where and how they were born or the circumstances they were born into.
There is nothing wrong with nice clothes, but they would not work for us on this current trip. On a different trip, we may need to dress a bit differently. My goal is to dress for the occasion to increase connections, not to set me apart.
2-Be aware of your surroundings.
Besides the don't walk down any dark dinghy alleys we try to always be aware of those around us.  If someone is pacing right behind us we stop and look at something to let them pass. I once had someone pacing me.
Whenever I stopped he would also stop and lean against a building, and where I turned he turned. Finally, I stopped crossed my arms and just stared at him. He finally turned around and went the other way.
We also keep our distance from fights. When we saw the demonstrations in the streets of Colombia with fires burning in the middle of the street we turned around and walked the other way. Things could escalate pretty quickly.
3-Don't be an easy target.
Trin has installed what he calls an "anti-theft" device in his pocket.  He sewed in fabric that the phone sits behind and is velcroed to the outside of the phone.  It would not be an easy slide for a pickpocketer.
We also have secret pockets sewed into the inside of the waistband of Trin's shorts and pants. I have some other secret hiding places for money.  None of them would be easy to access by a stranger.
When we are walking around with our packs both of them have a padlock on the zipper ends. It does not protect against bag-slashing, but many crimes are opportunistic, and those are the ones we hope to avoid with these small things.
If you do have to pull out your phone in public wrap your hand around it firmly.  Don't make it easy for someone to snatch and run with it.
An evening in São Luís
After arriving late in São Luís from Lençois Maranhenses we went out in the evening to find dinner at Plaza Nauro Machado. The streets were laid with pavers and the street lights radiated a yellowish glow that gave the place a calm feeling against the fading blue sky. Streamers hung overhead while diners sat around plastic tables strewn all over the sidewalks.
There were street vendors everywhere selling fries and sausages, sodas, wine, and beer. There were a number of people stumbling around drunk, a few of them came over and asked for our beer.
Among the crowd were numerous military police fully outfitted and in bulletproof vests.  We could see how things could quickly go bad here.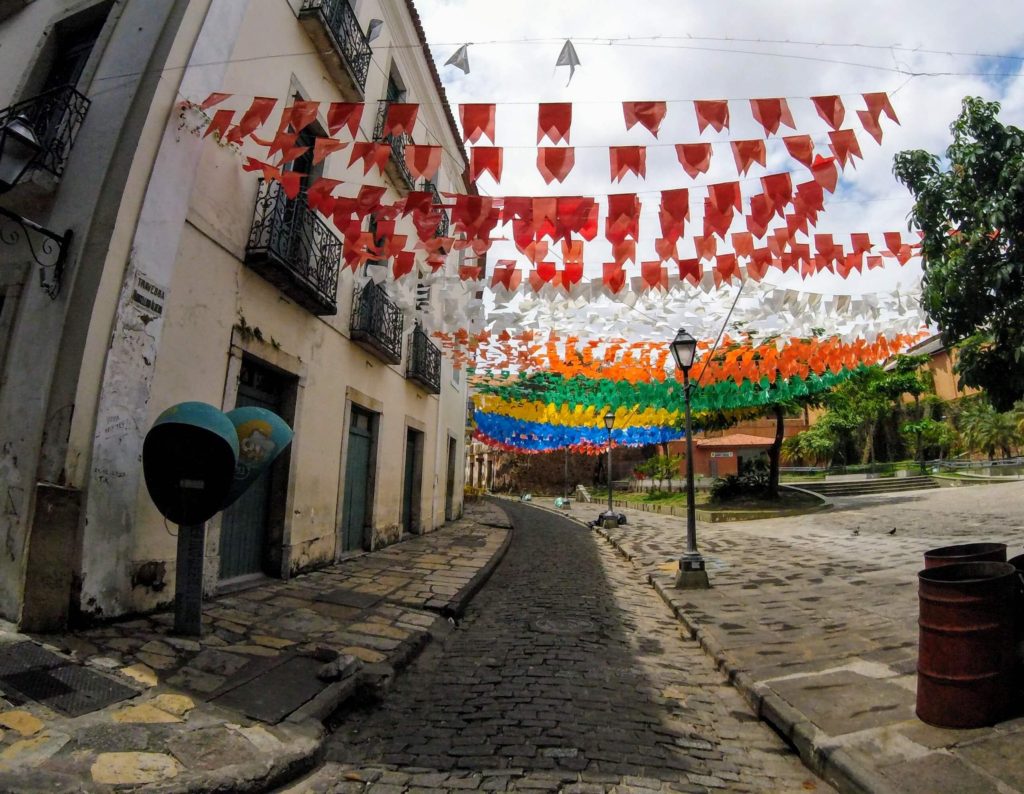 Taunting a beggar
The sound of bare feet slapping on the stones in the street made me turn my head to see one of the homeless men running our direction holding his pants up. A look of distress encompassed his face. Behind him, one of the vendors was following and taunting him.
I stared at the vendor until he caught my eye then gave him a dirty look. I know, real mature, but that ticks me off. Doesn't the poor guy have it bad enough? No one deserves to be taunted like that. Different circumstances out of our control in any of our lives and could we not have also ended up there?
Those who "have made it" love to think that it was all by our own power and certainly most of us have worked very hard to get where we are. If we are really honest with ourselves we would recognize that we don't control our place of birth or the world around us.
Certainly, we make the best or the worst of the life we have been given but everyone has been dealt a different hand.  I'm not discounting our own responsibility for the choices we make and lest you think all poor people are there by circumstance, The Glass Castle is an excellent book to read.
Regardless of where anyone ends up or even why our responsibility is to love them.  Show them respect as a human being, they are no better and no worse than we are.
The Park of Belem
Belem was also listed as a very dangerous city in Brazil. We were there only a week and stayed about 4 blocks from the Bosque Municipal Rodrigues Alves Park, a 40-acre jungle is one of the oldest botanical gardens in all of Brazil.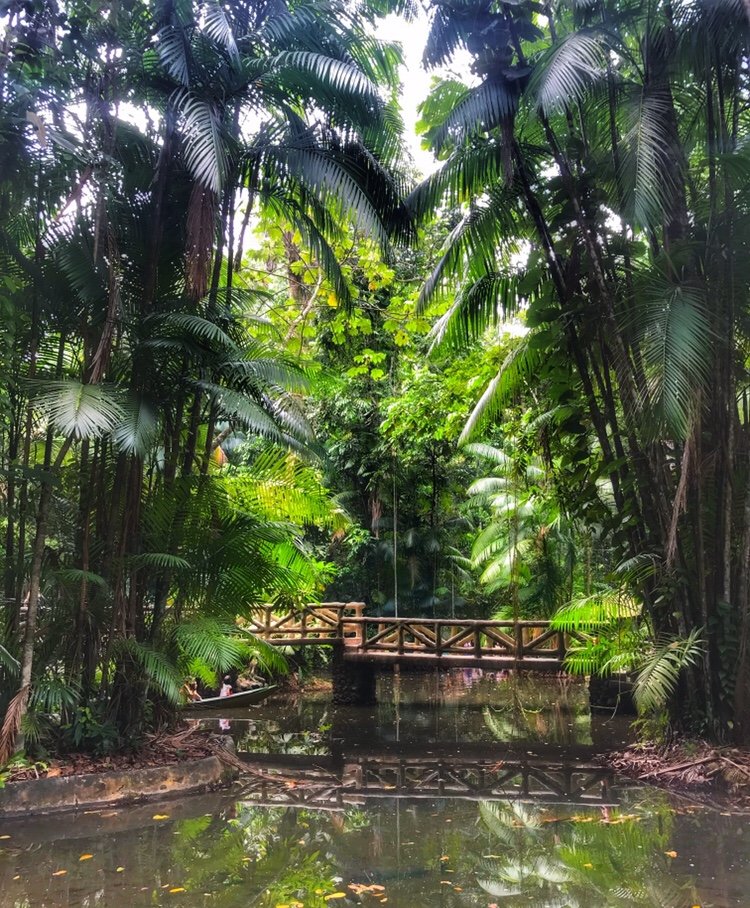 This little jungle is in the center of the city complete with wild agouti dodging across our paths and hiding from us when we approach and monkeys swinging through the trees stealing food from people.
There were monkeys, capybaras, and other animals that roamed freely in the park, and beautiful trees and plants were all delightful to see. The park, however, has a few caged animals. I have determined personally to never visit a zoo again and did not know that this park also had caged animals.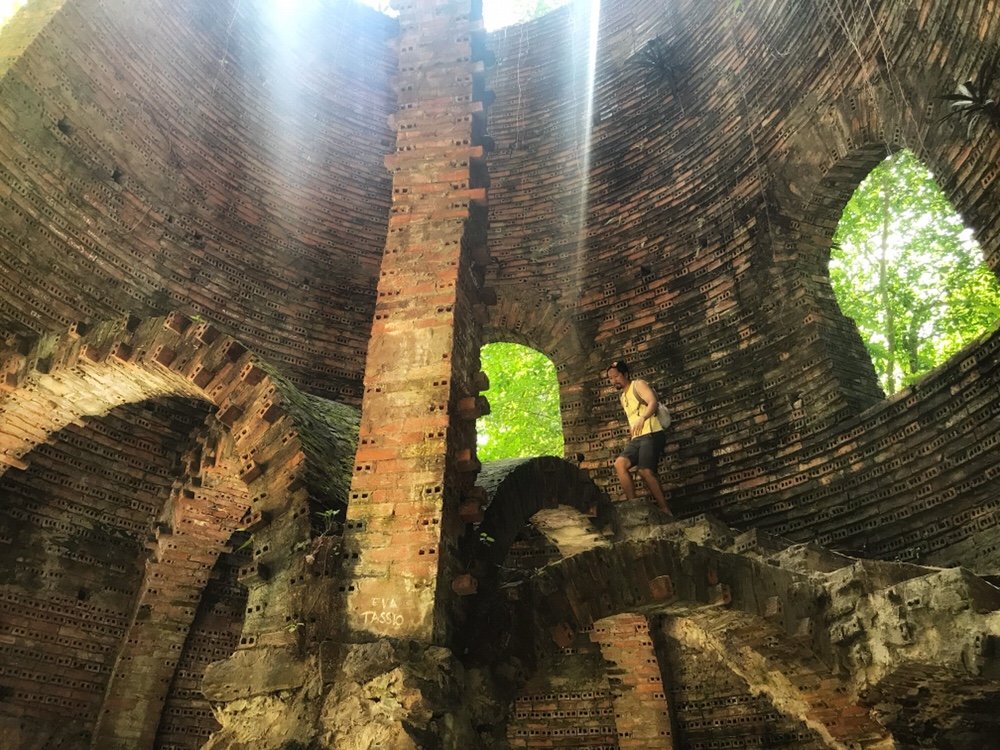 I watched the caged monkeys and my heart broke for them. They paced back and forth then occasionally would come over to the fencing looking for ways to unhook the wire then they would smack it and shake it in frustration. They were not meant for such a small space and they don't deserve to be in jail just for our amusement.
I would love to see all zoos replaced with rescue centers like the Jaguar rescue center that helps rehabilitate wounded animals and then releases them back into nature if they are able to survive on their own. Sure they hate to be caged too, but I think they get it. After all one of the released monkeys from the Jaguars center came back after being released to show the staff her new baby. That's beautiful.
Just an Assault
In the evening we were enjoying the breeze from our 10th-floor balcony. The phone in the kitchen rang and our host went to answer it. Then he came out onto the balcony and pointed down to the street where there was a back up of cars. He told us that there was an armed assault just then. Trin thought he had heard two shots, but it was hard to tell with the noise levels. The ambulance soon arrived and all went back to normal.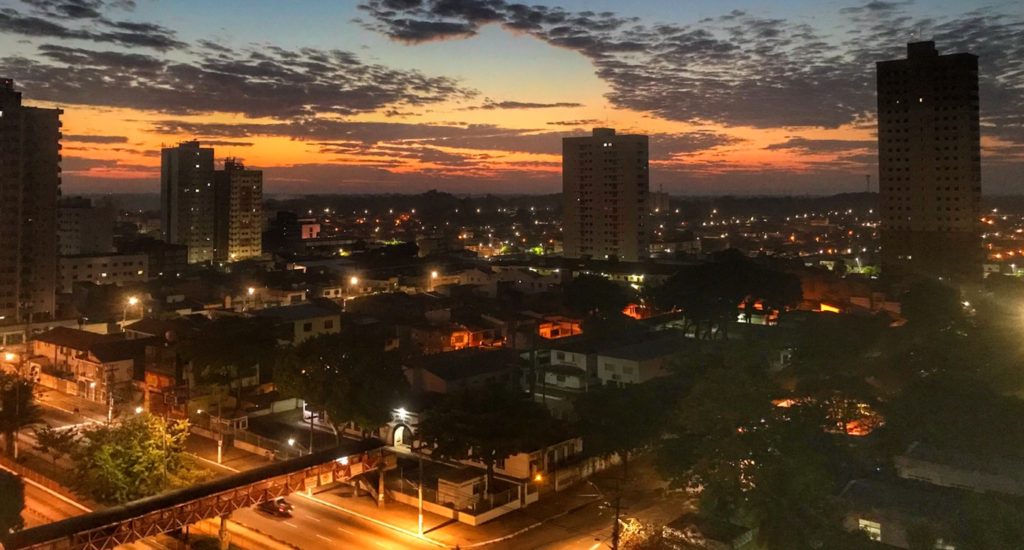 The reminders are all around us to stay cautious but there is even more evidence that the majority of the people here are truly wonderful people who care about others. It only takes a small percentage to give a place a bad reputation.
A good reminder for every single one of us to do our part to smile at the people around us and be the change we want to see in the world.
---