Note: Ads on this site provide a small commission to 43BlueDoors. All proceeds are donated to supporting young girls rescued from human trafficking.
Patagonia
You might have some outdoor gear or clothing with a label that says Patagonia. Did you know that the logo for this company is the outline of Mt Fitz Roy located in the real place called Patagonia?
The Patagonia region is in South America encompassing the lower portion of both Argentina and Chile. The land mass within the Patagonia region is roughly one and a half times the size of Texas. The population is only about two million, a little less than the population of New Mexico or a little less than 1% of the population of New Delhi, India.
The exact border of the Patagonia region is debated and I've found many sites with alternate borders. This one is how Wikipedia defines the borders and it provides an idea of the region even if the line might change a bit according to some.
The national parks in Patagonia cover approximately ten million acres of land. That's bigger than the Death Valley, Yellowstone, the Everglades, the Grand Canyon, Glacier National Park, and Olympic National Park – combined.
We have a lot to see!
Bariloche Argentina: Our first stop in Patagonia
Our first stop in Patagonia was Bariloche, Argentina. Bariloche is the largest city in Argentina's Lake District located in the northern portion of Patagonia along the shores of Nahuel Huapi Lake. Everywhere we walked in Bariloche we could look toward the lake rimmed with snow-capped mountains.
Bariloche is the jumping off point for many tours in this region and also the base for many area hikes. October is still early spring so many of the trails were still snowed in and required snowshoes or skis.
TIP: If traveling by bus to Bariloche with a connecting leg at Osorno get your tickets online ahead of time. They were twice as much at the terminal. Typically in South America, the bus tickets are cheaper when you buy it at the terminal compared to buying it online. But based on this experience and what other travelers say, it is better to buy bus tickets in advance in Patagonia.

Three Hikes in Bariloche (one of these is not recommended)
1. Cerro Llao Llao + Sendero de Los Arrayanes
This hike meanders around the Circuito Chico area, climbing up Cerro Llao Llao and taking up the Sendero de Los Arrayanes on the return, with multiple quick jaunts to miradors along the way. If you look at this area in Maps.me you can easily construct your own loop based on your abilities and interests.
We started this hike by taking bus #20 from Bariloche to the Puerto Panuelo bus stop.
TIP: You need a SUBE card in Bariloche. It is the same card used in Buenos Aires and can easily be acquired/recharged at the many convenience stores in town. You also need to let the driver know the name of the bus stop where you intend to get off so he knows how much to deduct from your card. As of this writing, the bus fare to Llao Llao was ARS42.50 but the local peso fluctuates often. Ask the sales clerk when you buy/recharge your card.

The Town Holds its Own
The bus ride itself was beautiful and we struggled to take our eyes off the lake views and snow-capped mountains in order to appreciate the log-based architecture of the houses. Paradoxically, it reminds me of a Swiss mountain village though I have never been to Switzerland.
In a bus ride such as this, there is a sort of reversal of roles to the traditional parade. Where normally the spectators line the streets while the parade marches by, we sat in a relative-to-us motionless bus while the scenery paraded by on both sides of the bus.
Parts of Bariloche also remind me of Gatlinburg, TN. It's worth taking a day just to walk around town and sample the chocolate in the chocolate shops.
It was a clear beautiful day with just a slight tinges of cold from time to time, almost perfect for a long hike. The trail was well cut and there were navigational signs throughout. On our way up the hill, we found a tiny sock and debated what it was. I thought it was a miniature mitten or a dog sock. We placed it on the end of a branch at eye level. A little further up the trail, we found a headband, just like one I have been looking for. We placed it on a branch as well.
An unspoken rule of hiking
One of the unspoken rules in hiking: If you find an article of clothing on an out-and-back trail first, assume someone dropped it on their way in. Make it visible for them to find on their way out. If it is still there on your way out then it would be considered litter – take it home, reuse or throw away.
Halfway up the mountain, I heard an Australian couple talking. As we approached I saw him pick up a tiny mitten off the ground.
"I didn't even know we lost it," the woman exclaimed as she looked down at her baby's hands. They went looking around for the other one.
I told them that the other half was at the bottom of the trail. They laughed and said thanks.
There were other hikers when we reached the top and we did the picture-taking tango with them: offer to take their picture then they offer back to take ours.
We sat down on a secluded rock overlooking the lakes and mountains. I am always filled with peace gazing at the beautiful artwork that untouched nature displays.
On the way back down the headband was also gone. Hopefully, the owner was happy to have it back.
This hike offered multiple views of the lakes and lush vegetation, like Playa Villa Tacul, Lago Escondido (meh), Playa Los Troncos, and Lago Moreno. The trail took us to high overlooks and well as lakeside beaches where we could exclaim over and over at how clear the water was.
This hike became my favorite day spent in the lakes region.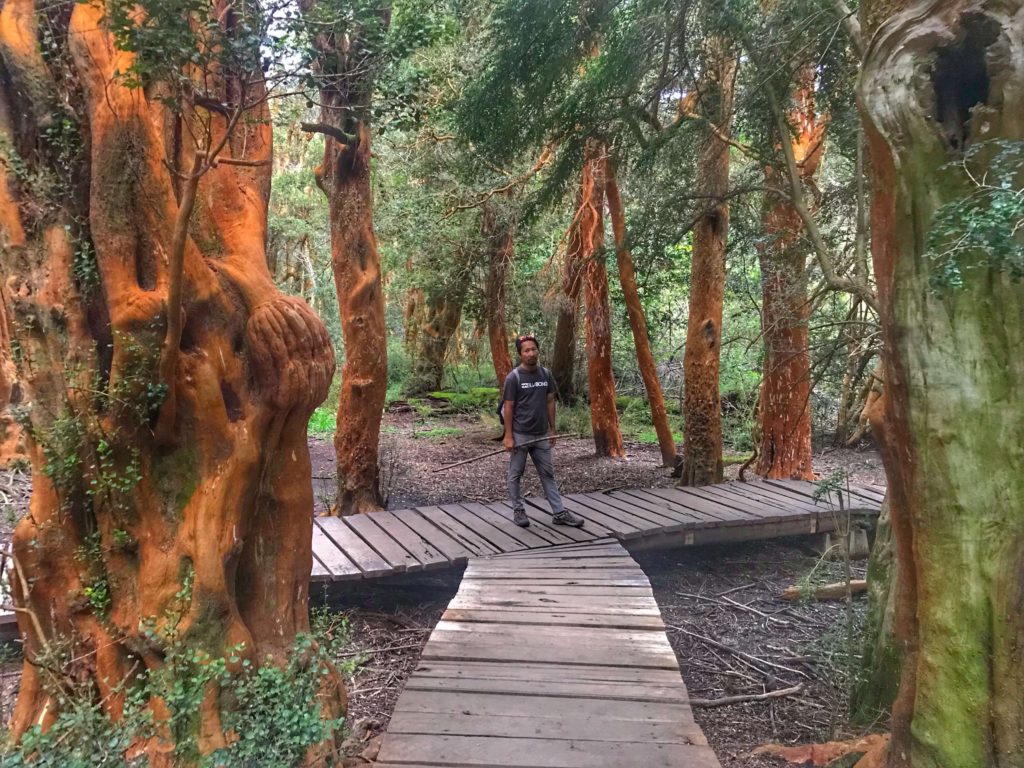 2. Cerro Otto Hike (don't do this one)
The next hike we walked through town to the west side then followed a trail up the mountain to the top of a ski slope. Much of the trail on the way up followed a conglomeration of downhill bike paths. It was important to be diligent while on the shared path to listen for bikes, they can be silent as they fly down the trail. With the twists and turns, it could be an ugly and/or painful way of meeting other people.
The trail itself was pleasant, but the views as we neared the top were amazing. We could see almost the entire city of Bariloche nestled on the lakeside, the waves of the water shimmering in the sun and the snow-capped mountains ringing the entire area.
There is a ski lodge called Piedras Blancas and a treetop adventure park (Euca Bariloche) that looked like it would be a blast to do. It's the kind where you zip from one tree to another then have to walk across obstacles like logs that swing as you step from one to another making your way to the next tree. We had done a treetop adventure in upstate New York and they are a definitely a lot of fun.
As we walked near the edge of the cliff we noticed some ropes attached to the rock. We looked over to see rock climbers making their way up the cliff. Lots to do in this area if you are up for a bit of adventure.
Why you should skip this hike
When we got home that night we settled into our room to get some stuff done online.
I heard Trin say something and when I looked over he had a look on his face that was a mixture of amusement and slight relief.
"The trail we did today was the one I marked don't-do because of reports of robberies."
Well, too late now.
Later we talked to our host about good trails around the area. She talked about a few and mentioned not to go to Cerro Otto. Sometimes we just get lucky.
3. Refugio Frey
We were anxious to start doing more intense hikes to prepare for our 50-mile hike in Torres del Paine in December. I had a three-day fever the week before that kinda took the stuffing out of me, but I was feeling almost better and wanting to get the training going.
We hopped on bus #55 to Villa Catedral for a hike out to Refugio Frey.
The day was chilly and threatened rain. I layered up but it seemed that the only way to keep out the chill was to wear so many layers that I was sweating, which of course makes the chill even worse. I definitely need to work on the layers before our W trek in Torres del Paine.
I often struggle the first half an hour to an hour of a hike until my body kicks and amps up its energy. However, three hours in I was still dragging myself and feeling quite chilled. We were both silently hiking our way in.
When we reached Refugio Petricek still about an hour to go before reaching Refugio Frey the sleet began a small pitter-patter noise against our jackets.
Turning back
We sat down to eat a couple of clementines, and we started to hem and haw, and talk about the weather as people do on a temperamental day that we found ourselves in. Quite frankly it was all unnecessary because he got me at hem.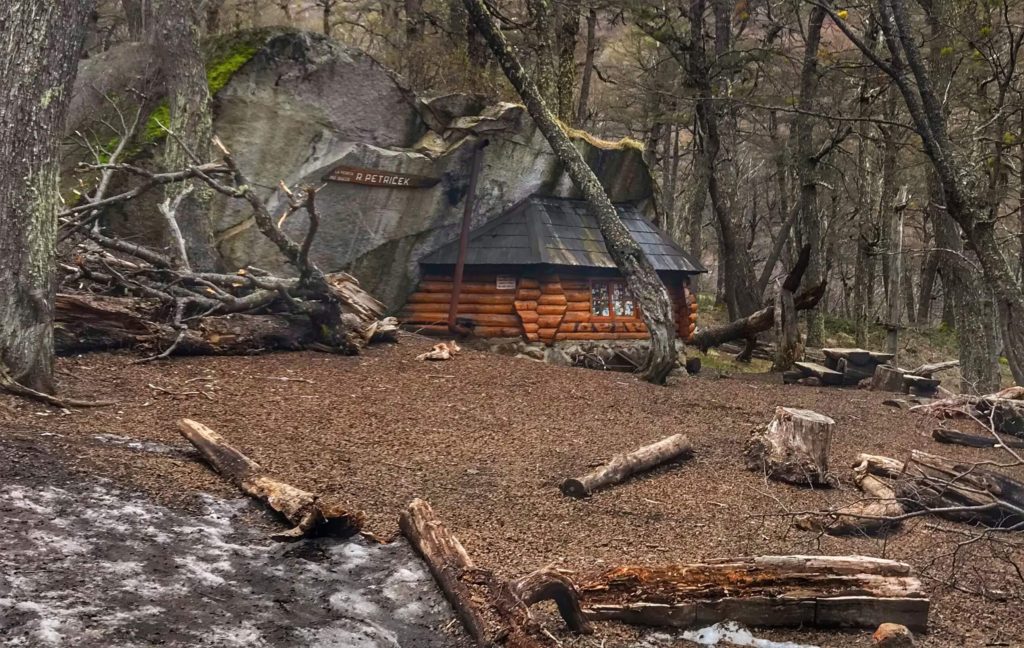 So we pointed our rueful faces downhill and started walking back.
Not long after we turned around Trin began to sing. He had been silent the whole way in. This was a relief to me because I knew he was pretty happy about turning around as well. My fever was back that night but thankfully didn't linger too long.
Tip: When you first get to Bariloche stop by the office of Club Andino for a trail map and information about current trail conditions. It is also a great place to meet other hikers who might want to split the cost of a car with you on a tour of the seven lakes road. There's free wifi there as well. They recommend registering your hike just in case you run into problems while you are out on the trails.
Seven Lakes Road
We were drawn to Bariloche because of the lakes and the famed road to seven lakes.
"We were able to visit at least 10 of the 7 lakes," I told my sister late one night.
"Oh, cool." she responded, "Wait, what?"
There are many lakes in this region, and there are different versions of which seven lakes are in the route. But don't let that be a bother. All of them are good.
Bus vs Bicycle vs Car
There is a bus from Bariloche that could have taken us to over the road to the seven lakes and up to San Martin, but we knew that we wanted to stop along the way and get off the main road to some of the lakes not listed among the seven. Many ride the route on a bicycle but given the lack of a good shoulder on the road and the threat of cold rain or sleet we opted for renting a car.
Since leaving the USA over two years ago driving a car has been rare for us (check out the list of things that Trin hasn't done since we started this journey). We drove the truck belonging to the hacienda where we stayed in Panama and then drove again during our house sit in Colombia. That's it, till this past week. It felt like good old times on our road trips through the USA.
Shortest River in the World
We stopped at most of the lookout points along the way and drank in the beautiful views. One of our first detours was to see an old bridge across what the guidebooks here call the shortest river in the world. The Guinness Book of World Records bestows that title to the Roe River in Missouri. We didn't really care if it was actually the shortest. It was pretty.
Tip on getting to the old bridge: Follow Maps.me to get to the old bridge over Rio Correntoso. It's a slight left before the current bridge. There are online guides that lead you through Cacique Antirao road which winds through some neighborhoods. It is much easier to take a left on a dirt road just before the bridge. The left turn will take you under the highway and directly to the old bridge
From the vantage point of the old footbridge, we could see Lago Correntoso on one side and Lago Nahuel Huapi on the other end. The river we stood over connected the two. We looked down into the deep waters running swiftly and could clearly see the bottom of the river and the large fish swimming against the current. It was pristine as is most of the water in this region.
The water was so clear and so beautiful it made me want to jump in and swim. The water is also snow melt and freezing, so nope, not going to happen.
Where to rent a car: There are lots in Bariloche, but Hertz gave us the best price (about ARS300 less than the other companies). What route to take: From Bariloche, follow Hwy 40 north until San Martin de los Andes, then backtrack to Hwy 65 (graded gravel, good for even small cars) then Hwy 237 back to Bariloche.
My Favorite Detour
Before we reached the final lake, we turned off the paved road and started bouncing our way down a dirt road. We dodged mud holes and skirted far to the side of large pools of water not knowing how deep they might be.
"This lake better be worth it," Trin said after bouncing around for a while.
"It is named Lago Hermosa, it must be," I joked.
I navigated from Maps.me on my phone as Trin continue down the twist and turns of the dirt road. The clouds were low so we knew the white-capped mountains would be hidden from view. If there even was a viewpoint at this random pin in this map that we were headed to.
Then the lake appeared. We parked and walked over to the edge of the water. We were both silent as we gazed at the old dock reaching out into the misty lake. The waters edge flanked by majestic mountains whose peaks hid under the mysterious cloak of clouds. It was quiet and peaceful and we had the viewpoint to ourselves.
Yeah, it was worth it.
Note: Ads on this site provide a small commission to 43BlueDoors. All proceeds are donated to supporting young girls rescued from human trafficking.