Note: Ads on this site provide a small commission to 43BlueDoors. All proceeds are donated to supporting young girls rescued from human trafficking.
Imagine being in a cave with marble walls. Colorful veins in the stone make intricate patterns all around you. You reach out and run your hand across the surface and feel the cold from the stone sapping the warmth from your hand. The marble has a million miniscule ridges carved out by wind and water but it is still smooth to the touch. Then you look down into crystal clear waters with blue hues reflecting beams of sunlight. It creates a glow as inviting as a beach in Bali. Maybe you are not dreaming, maybe you are in the marble caves of Chile.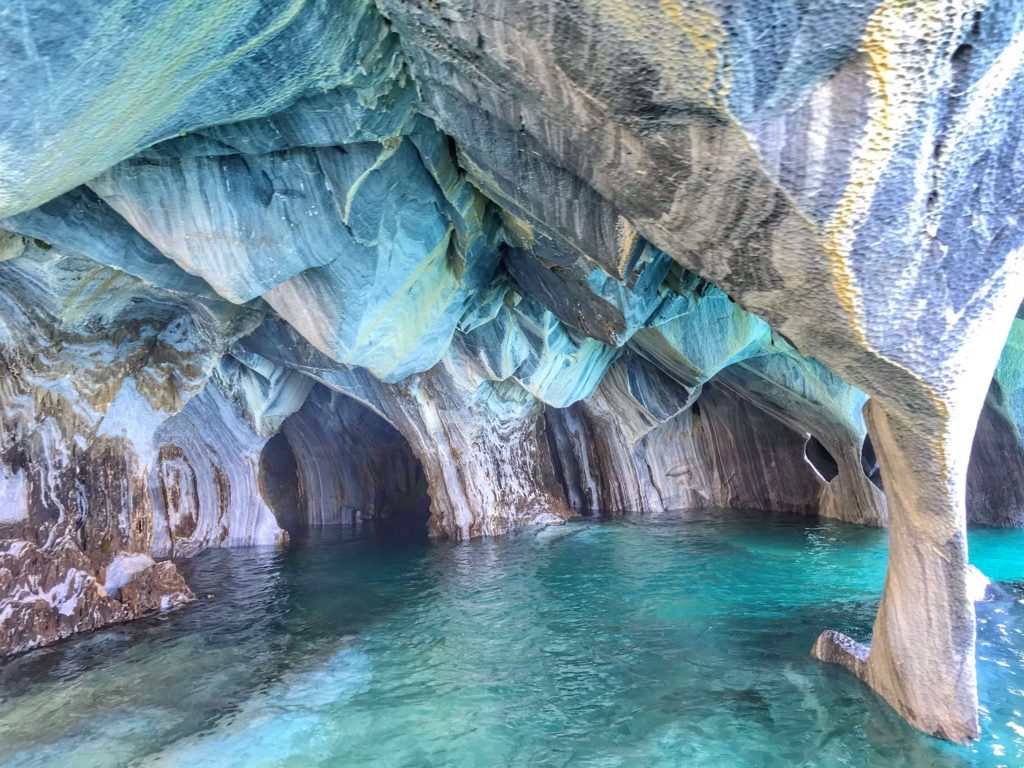 The marble caves are a mineral formation of calcium carbonate located on a remote glacial lake. The lake itself is bright azure. Glacier movement grinds stone to tiny particles that eventually become suspended in the melted water of the glacier that created this lake.
The lake has two names due to the fact that it straddles two countries. Argentina named it Lake Buenos Aires, while Chile named it General Carrera Lake. Both names are internationally accepted, but the marble caves are on the Chilean side.
General Carrera Lake is the biggest lake in Chile and second biggest fresh-water lake in South America. At its deepest, it has a depth of 1,923 feet (586 m). Our host at the campground in Elqui Valley where we stayed two months ago told us of a time from his much younger years. He was crossing this lake from Argentina to Chile when a storm broke out. The waves were so high they were crashing over the boat. Many of passenger, he said, feared for their lives.
Death on General Carrera Lake
On a calm, sunny day in 2015, six men paddled off in sea kayaks in General Carrera Lake.
"In 10 minutes the lake can turn from glass to hell," said Philippe Reuter, one of the six men on this fateful voyage.
The lake is in the path of strong winds known as the "roaring forties" which is a reference to its latitudinal location. The large bay of the lake can act as a funnel amplifying these winds. They were on the lake when the wind suddenly picked up. Within minutes they were struggling with six-foot waves. Doug Tompkins was in that group and he did not survive the storm.
Preservation of Patagonia
Before his death, Doug Tompkins and his wife Kris McDivitt Tompkins bought and preserved more than 2 million acres of wilderness in the Patagonia region. Eventually, much of the land was donated to the government to be preserved as National Parks. The gift became the largest donation of land to governments within South America. Doug died in the frigid waters of General Carrera Lake that created these marble caves.
We planned to spend a few days in the tiny village of Puerto Rio Tranquilo in case of rain and clouds. The village is a popular stop along Chile's Carretera Austral and is the launching point for tours to see the caves. Good weather and sunshine are necessary to see the caves in their greatest grandeur. The sunlight hits the caves best in the morning so we planned our days based on what the weather was like when we got up each day.
A Homey Cemetery
While waiting for sunshine we walked around town. Due to the village's small size, it doesn't take more than a half hour to you walk up and down every single street. On the north side of town, a trail takes visitors by a small waterfall and up to a viewpoint of the valley.
On the south side of town, there is an interesting little cemetery. Each burial plot is covered with a tiny house complete with sloped roofs and windows. Some display curtains in its tiny windows along with nick-nacks that were owned by the deceased. Mourners could place flowers or possessions of the lost loved one inside. It's worth a visit if you are in town and only takes a few minutes.
Marble Caves Chile
Thankfully our second day in town looked like it would be a clear morning. We headed down to the docks and joined a group. The boat ride to the caves takes about a half an hour. The day was cold but the wind was low and the sunshine was perfect.
I wondered many times if the caves would live up to all the hype. At first we were a little disappointed with our initial glance. Then our guide navigated the boat into the cave and the colors inside were astounding. From sporadic photo-taking, the group turned into a frenzy of activity. Everyone was taking pictures from different angles non-stop, maneuvering around each other, courteous but determined.
These caves are marble carved out by water, a substance that always takes the path of least resistance. Yet with all its passivity with persistence, volume, or temperature, water can destroy anything or create something beautiful like this. The pure clean water here can sustain life and it can take a life. What sometimes appears weak is, in the end, the strongest.
What will you persist at today to make your life better?
———
Blue Door Tips:
The caves are best seen from September to February and earlier in the morning when the sunlight streams inside. 
All the tour guides in town have the same price so just pick a friendly guide. Everyone we talked to was pretty nice. 
An English speaking guide is not necessary as they don't say much about the caves themselves. No legends or stories of discovery were shared. 
If you are traveling down the Carretera Austral (which I'll discuss more in our Patagonia overview) I definitely recommend this stop to see the caves. They are small and the caves are not deep. I wouldn't suggest a trip down to Chile just to see the caves though.
Note: Ads on this site provide a small commission to 43BlueDoors. All proceeds are donated to supporting young girls rescued from human trafficking.