On our first year of travel we managed to spend under $5000 each. Within the first month of Year 2, we promptly blew halfway through that figure with a trip to the Galapagos Islands. Forget about having a budget streak.
The end of our second year also marks the end of our adventures in South America. We will be back home for a few months, and then it will be time for the next continent.
In the first post of this annual series I talked about things I had stopped doing since starting full-time travel. Read about it here. A quick update: I have since bought a used pair of jeans from a ropa americana in Cochabamba, Bolivia and it was like being reunited with an old friend.
Our Year in Review
Our second year of traveling took us to six countries, surpassing our previous year's count by a massive margin of one. We're really motoring along now.
We welcomed 2018 in Arequipa, Peru, dodging wayward fireworks in the Plaza de Armas with Australian friends. Then we moved on to Cusco making the requisite visit to Machu Picchu and then spending some time in the Sacred Valley while getting to know a local family. We stayed in a tiny hamlet called Yanahuara, 20 minutes east of Ollantaytambo.
For almost three weeks (we would have stayed longer if our visa had more days), we lived in that idyllic farming town against the backdrop of the majestic mountains that form the Sacred Valley. We bought our food from the local market and drank chicha with the local folks at the corner store. This brings me to the first item in this list of things that surprised me about full-time travel:
1.My favorite thing about traveling is staying put. Once in a while we like to stay in one place for an extended period, from a week to more than a month, at a place where there may not even be a few day's worth of activities to do.
Doing multi-day treks, going to the world-famous attractions and enjoying the scenery are all great and I love doing those. But staying put and giving ourselves time to absorb the experience or that scenery that we have just enjoyed makes it more meaningful.
Staying put is also very relaxing and worry-free. It's like the weekend in which you had already decided to do nothing in particular.
We crossed over to La Paz, Bolivia, biked the famed Death Road (and survived) and discovered our favorite thing about Bolivia: Torotoro National Park.
Torotoro was the saving grace of the country that we considered skipping due to other traveler's polarized opinions and its $160 visa fee. It is also where I injured my toe and had to be sidelined in Sucre. The highly-acclaimed Uyuni Salt Flats, pretty as it was, could not assuage our disenchantment over how they treat their visitors. The contrast was made stark by Chile's San Pedro de Atacama.
We paid a visit to Bonnie's friend from school who were ministers in Iquique, Chile, volunteering to paint the interior of their house before their return from their furlough in the United States.
Recharged and with my toe almost fully healed, we explored the little towns in northern Argentina before taking a 18-hour bus ride to beautiful Buenos Aires. The buses in Argentina have been the best ones we've taken in Latin America. The seats were comfortable and the service is first rate.
2.I don't mind long bus rides. I used to dread the prospect of sitting in a bus for hours on end, and I've had to make stops at intermediate towns just to break up the long ride. But now I find that a 12-hour bus ride doesn't bother me. I even look forward to it, especially if we get the top front row seats in a double-decker bus. When we arrived in Buenos Aires we felt a little disappointment when the bus entered the Retiro bus terminal, our final destination.
Granted, the buses in Argentina have been the best buses we've taken. 18 hours in Nicaragua's chicken buses would be a different story.
Waiting at bus terminals and airports are also oddly relaxing.
A ferry hop over to a couple of cities in Uruguay rounded off our stay in Buenos Aires. With great anticipation, we went to see Iguazu Falls (another 18-hour bus ride). It's one of the destinations that we've wanted to see since day 1 of this adventure, and it did not disappoint. It was also a good entry point to Brazil.
Brazil became my current favorite country in Latin America. Its people and places left me wanting to go back for more. It was also a departure from our usual manner of traveling in that we had to plan our entire itinerary ahead of time and we took more flights than buses. We daisy-chained our lodging and flights like a string of firecrackers that would go non-stop once lit. It worked without a hitch and it didn't feel hectic since we allocated sufficient downtime along the way.
Back again in Argentina and Chile, we visited wineries in Mendoza, gazed at the stars in Elqui Valley, and admired street art in Valparaiso before doing a house-sit at a minister's home in Puerto Varas while they vacationed. There I got to mow a lawn for the first time in more than two years.
They had a kind-hearted, adolescent puppy named Carson (they were Eagles fans) that had the most enjoyable time playing around the mower. At some point while I was mowing, I had apparently found Carson's potty place. As if to confirm this, Carson laid a fresh one next to me. This ascertained two things for me: First, that I had found Carson's potty place, and second, that dogs do smirk.
3.We did not meet a lot of American travelers. We encountered a lot of French, German, Brits, and Aussies, and local tourists, but so few Americans in Latin America. Maybe we don't hang out or stay in the same places. No doubt, we love meeting people from all parts of the world, but spending time with the American family in Puerto Varas before they left for vacation felt like a slice of home, even more so for Bonnie.
On a related note, I've only had a total of three encounters with Filipinos so far: in Machu Picchu, in Rio de Janeiro, and in Chiloe, Chile.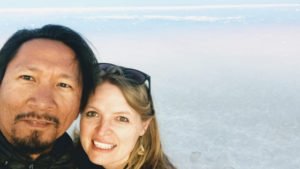 After the relaxing house-sit, we set off for the final leg of this Latin American exploration: Patagonia.
Patagonia is a vast area on the southern tip South America covering a million square kilometers. We did a lot of research on things to do and places to visit there and there's a ton.
We hiked and enjoyed scenic drives in Bariloche, engrossed in Chiloe's unique culture, explored the Carretera Austral, hiked El Chalten, gawked at the Perito Moreno glacier, and trekked Torres del Paine. We ended 2018 at Ushuaia, the city at the "End of the World."
Did we see and do everything that is there to do in Patagonia? Far from it. But that's okay.
4.I don't need to see everything. This is a game-changer for me. I used to pore over travel guides and blogs to see what a place has to offer and make sure that we didn't miss anything. But then we accepted that we can't see everything and we were okay with that.
It takes the stress out of travel, what little of it was left. It takes out the fear of missing out. It takes out the pressure of doing something for the sake of doing it, because it's the thing to do in the town that we visit.
It's been a great two years filled with adventure and wonderful experiences. Maybe too many to remember now. I start to find myself struggling to recall the names of the towns that I used to pull up from memory in a snap, though I do remember the experience and the way I felt then.
Once in a while some fragmented memories break into my mind that make me smile, like that Asian lady in the Bolivian Salt Flats who was wearing a face mask, the kind that keeps one from breathing air contaminants. I watched as she pulled down the mask to take another pull from her cigarette. Or the guy at the bus station in Los Antiguos who was wearing a shirt that said, "I'm a good girl with a bad attitude." Or the lady at a park in Santiago who was openly fawning over a baby duck that was perched on the armrest of the chair she was sitting on. It was such an adorable scene, the lady sighing in that helpless way that she had to cover her mouth, looking at other people as if to say, isn't it the cutest thing? It was a rubber ducky.
5.Even the most memorable experiences fade. I suppose it's the nature of the human brain, and this shouldn't really come as a surprise. Traveling to a strange place is an assault to all the senses and I somehow thought or perhaps hoped they would be etched in my memory.

I think keeping memories is a deliberate act that you have to consciously do. The best way to forget something is to think about it less – this I read in a book that I no longer remember (ha!). Blogging has been a great help in keeping those memories. I don't know what this new year will bring, but I hope it will be filled with new adventures, new places, new experiences…
And more memories. If my mind can't keep all of them, then we'll make some more. There's a whole lot of world out there.