"Whooowee!" a child from across the river yelled.
"Whooowee!" an echo from our side answered.
I thought it was just Dundee that did that, but I guess it's common here. We were camped at Pebble Beach beside the Murray River on the border between Victoria and New South Wales. It is one of the last rivers we would see in a while. The drought is really bad right now in most of New South Wales and up through Queensland. Many of the waterways up north have dried up.
To see a map of the Australian states and where we have been so far check out our Australian map progress page.
The sun was setting as we watched the water lazily flow by the sandy shoreline. Pebble Beach is a local hang out on the weekends and we arrived on a Saturday night.
When we first pulled up we asked another camper if it was OK to park where we were.
"You can park anywhere you like, mate. No dramas," he said in an easy welcoming tone. And there are not many dramas here. It's not just a live and let live. It's a live and help each other live society. Australia is a place where people mind their own business but are there in a heartbeat if you need help.
It's for the birds
We sat in our lawn chairs outside of Lil' Beaut and watched the horizon changing into night. A few locals stood thigh-deep in the river water cooling off as they talked. Loud laughter emanated from the camp behind us.
"I wonder what the animals think of noisy humans," I mused to Trin.
"I think they…" but then he was cut off by the laughter of the Kookubura Bird.
"I think that is your answer," Trin eventually said when we both stopped laughing.
The birds here are amazing. They like to sing like nobody is listening, as if they're singing in the shower. I'm not sure I've heard such long and complicated songs from birds before anywhere, nor such beautifully colored birds in so many varieties. It is not just the length of the songs it is the variations and the beautiful tones.
Then there are the sulfur-crested cockatoos, pure white except for the yellow crest on their heads. They seem to scream at each other as they fly overhead, making us feel like some large bird of prey is getting ready to attack.
The magpies have become one of my favorites. They sing beautiful symphonies and just like the Australian Raven, midnight blue and pale blue eyes (in the young), they seem to look at us with intelligence as if they are figuring us out.
The colors of the birds are amazing. We are constantly pointing out birds to each other as we walk or drive along as a bright red flashes by, or an iridescent blue that shimmers in the light much like the Morpho butterfly of Central and South America. From brilliant white, and blues, to pink and pure white, the variety is astounding. Even the little finches here are brightly colored. But what else could we expect in a country where Peacocks roam wild.
Comfort of a Bus
We have been living in Lil' Beaut for two months now. Lil' Beaut is a Toyota Coaster, short wheel base with a diesel engine. She used to be a 21 passenger bus but was converted to a motor-home before we purchased her.
Our Waeco refrigerator runs completely off our solar batteries. The two-burner stove inside uses LPG gas from a tank secured and accessed through a little door outside the vehicle. We have a sink, shower, toilet, and lots of cupboard space. At the rear of the bus rests our comfortable double bed surrounded by large tinted windows.
If you are in the Sydney area and need help with your solar I highly recommend A-One Caravan Repairs. Peter and Alan were an excellent help to us and gave us a great education on our system.
The large windows all around the bus give our little home great views when we camp in beautiful locations like this spot beside the river. The windows also have heavy curtains that give us privacy when we camp at a truck stop.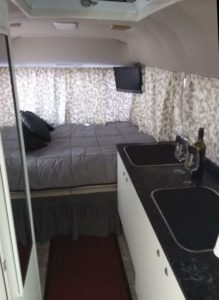 Plugging in
Our bus is set up to be able to plug in at campsites, but so far we have only spent two nights at powered sites. While on the river bank we could see the paid camping area on the other side down beyond the bend in the river. All of the RVs were parked closely together on a green riverbank. Our spot among the locals with space in between had a more laid back feel and it is free. Even if the other one was free, we would prefer this spot.
Heating and air conditioning
We have a diesel heater that hooks into the diesel tank. It is convenient to not have to carry separate fuel just for the heater. So far we have only needed it in Tasmania.
Currently Lil' Beaut does not have an air conditioner, but we hope to schedule an installation before summer gets too hot.
I purchased a large roll of silver insulation from Bunnings. When we camp each night I have been measuring out the windows and creating silver coverings for each. It has made a drastic difference in reducing the heat that comes in each day, as summer approaches this will become more important.
Maintenance
In some respects we are still settling in. There were some normal maintenance items we knew we had to address before we purchased her, tyres (that is how it is spelled here in OZ!), oil change, bleeding the brakes, replacing the transmission and differential oils, painting some tiny rust spots before they become an issue.
We have spent hours at Bunnings (similar to Home Depot in the USA) getting tools and things to make her ours. Bunnings has become one of our favorite places, they're easy to find, they have free WiFi that extends over at their massive parking lots, they open early, they have water fountains, bathrooms, and they usually have what we need at low prices. The cool thing is many of their locations allow overnight parking. We park at the far end of the lot to work and can just run into the store if we need another tool or item.
I also wanted to install a new table that was a bit bigger than the previous one and lighter in color (the prior one was black). We found an excellent deal on a table top in the Returns corner of IKEA and this table is where I am now writing this post. 🙂
Dumping (this is a shitty section)
So far there have been ample free dump stations. A dump station is a place for caravans and RVs to dump their black water (sewage). We have a cassette toilet and it is very easy to dump and maintain. The cassette that holds all our waste is accessed from outside the bus. We unlock it, pull out the cassette, extend the dump tube and pour it down the dump station, easy peasy, no mess, no fuss.
Grey water, which is shower water or water from our sink, can also be emptied at the dump station. But due to the drought, many campgrounds encourage dumping the grey water on the ground so, when appropriate, we open up the grey drain when we park and let it freely flow as we wash the dishes.
It is illegal to let the grey water flow on the roads as the soap can make the pavement slippery. Also grey water that has been sitting in the tank for more than 24 hours becomes black water due to the bacteria, so we try to be careful. If it has been in there too long it goes in the dump station. We also make sure there are no chemicals going into the grey water that will end up on the ground.
Showers
One of the amenities that was an absolute must for me when we were searching for vehicles to purchase was an indoor shower. Some campers rig up a curtain outside their van and take showers outside. No chance I'm taking a shower under a curtain that could blow around unexpectedly, and I have no desire to take a shower outside when it is really cold, like to morning we woke up in Tasmania with a fresh coat of snow on the ground.
So far in two months I've only taken two showers in Lil Beaut. Funny how we adapt. We've been able to find free hot showers in gas stations and truck stops, and surprisingly, in some libraries. It's like going to a spa, we come out relaxed and refreshed.
We are also now in areas of severe drought, so we have been limiting the number of showers we take trying to conserve as much water as possible. Wet wipes and baby powder to the rescue.
Level 5 drought restrictions
Some towns are on a level 5 drought restriction which means that each person is only allowed to use 160 liters of water a day. Since we are visiting, and they have assured us that they do not want the tourism to stop, we try to use much much less. The fresh water tank on Lil' Beaut is 100 liters. We have been able to last more than a week without filling up. We fill up in the city where there is more supply and try not to be a burden to the smaller towns.
Drinking water is stored in a separate 20-Liter can. It is the only water right now we don't skimp on. It is hot and dry and we need to stay hydrated.
I'm still glad we have our own shower. It's nice to know that at anytime I can have my own heated shower. Things, I'm sure, will be very different once we leave the East coast where most of the population of Australia lives.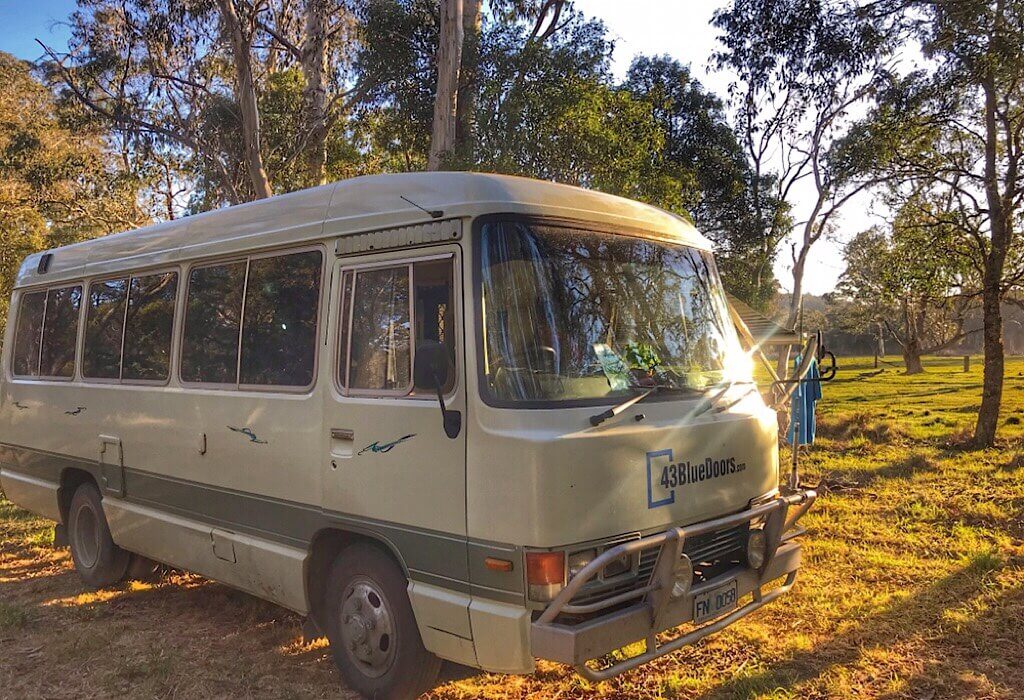 Where we camp
One of our best purchases on this trip has been an app called wiki.camps.australia. It uses crowd-sourced info to list all the places caravans, motor-homes, or tent camping can park overnight. It is also great for finding water refill and dump stations. The comments from the users also enables us know ahead of time if there will be level ground or if our bus with its 2WD would be able to navigate the roads leading to the camp.
In Tasmania, free camping was easy to find and often in wonderful locations hidden in the woods or out by a secluded lake. Here on the east coast of the mainland the free camping spots are not as nice but not too bad either. Of course this makes sense since 80% of the population of Australia is here on the east coast. Property is at a premium.
We are loving our new home and grateful for this opportunity to explore Australia.