I'm fascinated by the comfort that water brings. Its life-sustaining power is so simple, so soothing. Especially as I sit here by a slow-moving deep river in the middle of an arid desert just outside of Marble Bar.
From Port Hedland we turned inland to see what we could see in Marble Bar. There did not seem to be a lot of tourist information about the town, but I can hear Toby, Sandra, and Andy, our generous hosts during COVID lock-down, saying the name Maaable Baaah. I just love the Aussie accent. Something about the name, the way they said it as if it was a fond memory, and the remoteness intrigued me.
In researching the town there were really only a couple facts we could find. 
Click here for an amazing video done by Toby and his father Andy of a trek to Marble Bar.
Marble Bar:
has a population of 174 people (2016 census).
is known as the hottest spot in Australia.
has a massive bar of Jasper over a swimming hole.
We drove two hours inland over the mostly flat desert when we saw a mountain ridge appear in the distance, almost like one long mountain with a few peaks. It only covered a portion of the horizon.  Near this mountain range, we camped at Coongan Pool on a site right next to the water, forty minutes outside of Marble Bar.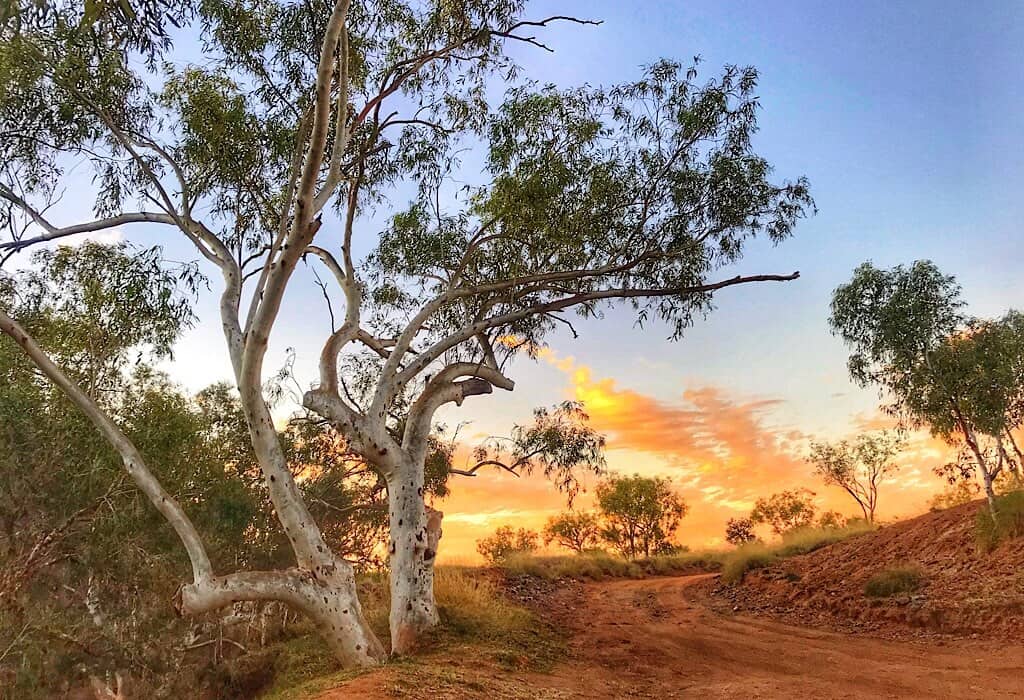 We arrived at the free camp at around 3PM giving me time to sit by the water and write. Trin hung a little mirror on a tree branch and cut his hair. When he was done he jumped in the river for a little swim.
"I felt something on my foot. It was probably a croc tail, but he was too lazy. 'No Asian, taste like fish sauce,'" he said as he climbed up the river bank, the last phrase uttered in a gutteral approximation of a crocodile's ficticious voice. I should mention that he is Filipino and he LOVES fish sauce.
I asked another camper down the road first to make sure the water was safe to swim in. We are now in the Pilbara where crocodiles live.
"Yeah, no bities, it's all good," the other camper said.
There are not many long words used here. Nothing that will bite your leg off or kill you is simply no bities. An electrician is a sparky, breakfast is brekky, Christmas is Chrissy, a teacher is a chalky, relatives are rellies, if you are sick you're crook, and the list goes on. It feels like a more relaxed culture, no dramas.
Hottest spot in Australia
In 1924, Marble Bar set a world record for having 161 consecutive days with temperatures that never dropped below 37.8°C (100°F). That record has never been broken.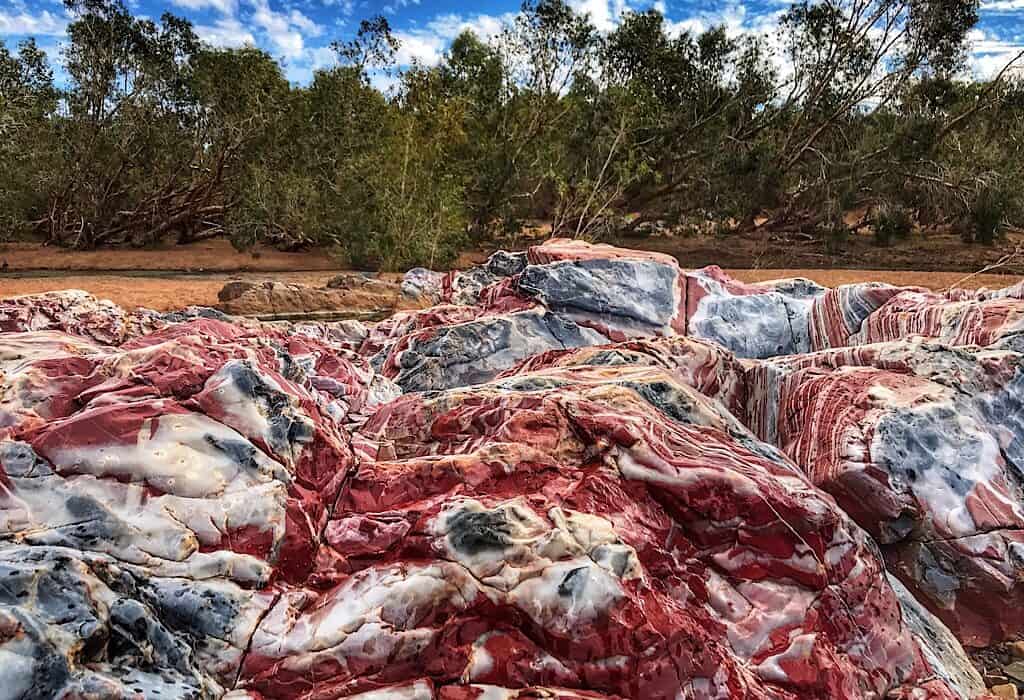 Where is the hottest spot on earth?
Wikipedia claims that the hottest spot on earth is Death Valley. In July 1913, Furnace Creek in Death Valley, California had the hottest air temperature recorded at 56.7°C (134°F). Nine years later in 1922, El Azizia, Libya recorded a temperature of 58°C (136°F). Libya still holds the record for the highest air temperature measured (according to NASA)
Still, there are many hot spots on earth so remote that it is impractical/impossible to maintain a weather station. They simply are not being recorded by ground-based instruments. Satellite imagery can record skin temperature through infrared technology, but that is often much hotter than air temperature. Skin temperature is the temperature on the surface of the ground. You could fry an egg on a sidewalk. In that same place you can carry a dozen eggs home without them cooking because the air temperature is much cooler.
The hottest recorded air temperatures on earth have not been broken for almost 100 years. It's a cycle. It's why people look at the 50-year and 100-year flood maps before purchasing a property. One has to look at the big picture, the overall cycle. A ten-year study is like looking at 10 days in the middle of one winter and predicting the future.
We are in the age of information, but there are so many places on earth that we know so little about.
Marble Bar, of course, is a settlement so we have records. As Sandra put it, "Marble Bar is a special place in winter. In the summer it is bloody awful."
We are in the middle of winter and the forecast for the week is almost 32°C (90°F) each day.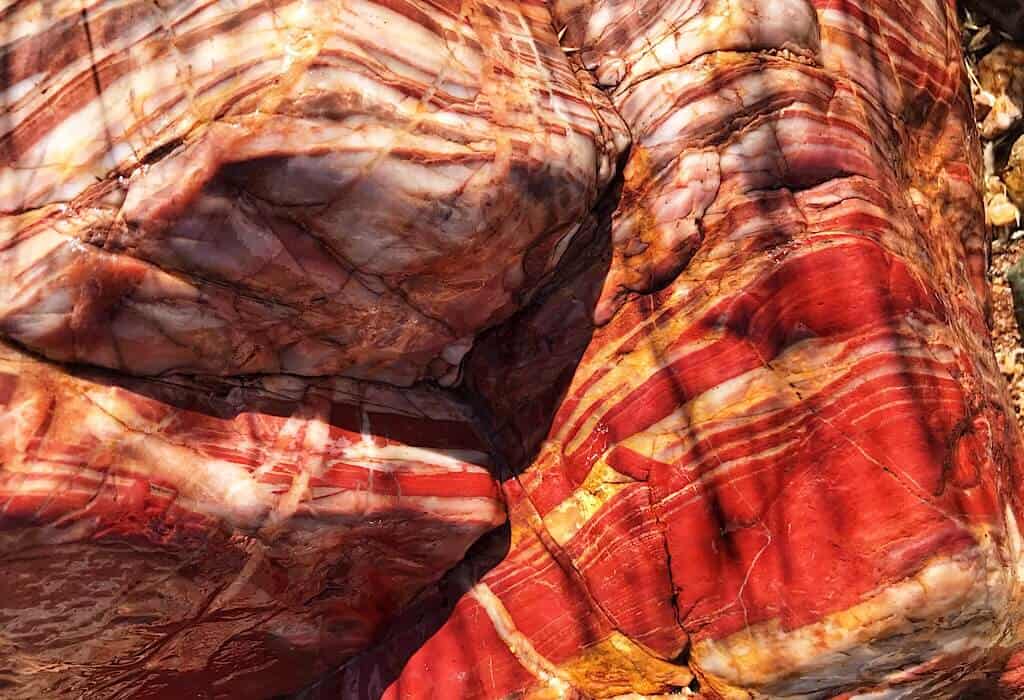 Bar of Jasper
The town of Marble Bar got its name from a large vein of deep red rock that runs along side the river. The original settlers thought it was marble. Later they found out that the deep red stone was Jasper.
In the Marble Bar picnic area I wandered up and down the mostly dry riverbed looking for large chunks of Jasper. I found numerous rocks showing deep red sometimes in large chunks, sometimes in stripes layered with other solidified sediment.
The river flows at its strongest during the summer/rainy season. Now, in midwinter the river is no longer flowing, but there are still numerous water holes along the river bed.
After exploring the river bed for an hour we drove further upriver. We hit the payload at the Jasper Bar lookout. We walked down into the rocks from the lookout and exclaimed our excitement at the large deep red veins of Jasper running in brilliant lines all around us. I splashed some water on them to make the colors pop, and took a hundred pictures trying to capture the beauty.
Swimming holes
Marble Bar is the place where Toby grew up. I asked his advice about special places only known by the locals. He told us to make sure we turned onto Garden road and follow it down to the river. The sandy riverbed at the end of the road was dry, but the river bank was still green. The trunks of the trees were a stark white against the green and red that surrounded them. I could see, even without the water how special this place could be.
Andy, Toby's father, sent me two pictures of what it looks like during the summer when the river is full. I love these.
This is a beautiful, quiet town. With the swim holes, jasper veins, and red rock mountains this truly is a special place.
Painted skies
Havings spent all day exploring the natural vein of Jasper we once again camped at Coongan Pool by the river. The sun set casting a glow across the sky and softening the colors of the earth and trees.
I wandered away from Lil' Beaut to capture the sunset from the top of the hill. The spinifex ground cover has gone to seed creating a golden fluidity to the ground that weaved in the gentle breeze. Crimson from the rocky hills in the distance stood in stark contrast to the pastel colors of the sky. The beauty filled me and moved me to tears. Such beauty in this world, such artistry.
Maybe I feel too much, but I would rather it be said of me that I love too much than not enough. For if you believe that beauty heals then we have been given all we need just outside our doors.
While worldwide travel is still restricted maybe our opportunity right now is to see the beauty near us. Maybe this week's blue door of opportunity is to get outside our city or town and take in the healing beauty of nature. Even if it is only a trip to the backyard to see the sunrise or set. For even the rocks cry out in majesty.