Everyone experiences things beyond their control that impact their lives. As nomads, this has caused various quick changes in our plans. One time, we stood on the street in a tiny town in Costa Rica with no lodging as night was falling. Our Airbnb could not be found and the owner was not responding to any messages. Last year when the pandemic hit, we had to scramble to find a "home," a place to park two months for lock-down.
This week that flexibility was tested again – and it felt like a test even greater than what we had faced since selling it all in 2016 and taking off to travel the world.
The Best Laid Plans
Our original plan when we came to Australia was to spend two years exploring the country then move on to New Zealand. Our visa allows us to stay until July 2021, almost two years, if at the end of the first year we did a border hop*. But then the pandemic hit, we had to self-isolate for two months and we could no longer do a border hop as countries closed their borders.
After the lockdown, we felt the need to speed up our normal pace and finish the Big Lap around Australia. We officially completed it in December. Then we spent time detailing our Toyota Coaster motorhome and then putting her on the market. She sold quickly and we had to say goodbye to our Lil' Beaut our beautiful home on wheels on January 5th.
Time is Relative
So our two-year plan is cactus. Since a border hop was not an option, nor would it be wise, we paid the fees to apply for another year's visa. They granted me six months. They gave Trin three months even though we applied as a married couple. 🤷‍♀️ Did they pick the grants out of a hat?
"That's the government for ya," an Australian friend told us.
Trin's three months will end on January 19th, 2021. We would need to apply again or move on. Our plan was to book an Airbnb and stay put until this pandemic was under control then move on to New Zealand.
The Beauty of Routine
Our Sydney Airbnb was near the beach and a beautiful rock pool for swimming laps. We fell into a comfortable routine. In the morning I got up to work on my to-do list. One big item is to catch up on writing about some of the amazing places in Australia. In the afternoon we walked to the beach to swim. One night we sat down with our hosts for a glass of wine and some fascinating conversation. They both grew up in Russia and have a lot of insight into different cultures. They both experienced the collapse of the USSR.
It was so nice to have a routine and know that we had a couple months in one place.
Then comes the monkey wrench
When we applied for our visa extension in lieu of a border hop back in August it cost $370.11 AUD per person. That's what we were expecting to pay this time too.
I filled out the application and prepared all the paperwork once we were settled into our Airbnb. When we got all the paperwork together I clicked submit. The next screen was the payment screen and I was stunned.
The fee was $1,065AUD for one person. It felt like a bucket of cold water had been dumped over my head.
"We have a problem," I said to Trin and told him the price.
"I'm not paying that. That's too much," he said.
I thought that maybe I clicked something wrong so I spent an hour trying different options.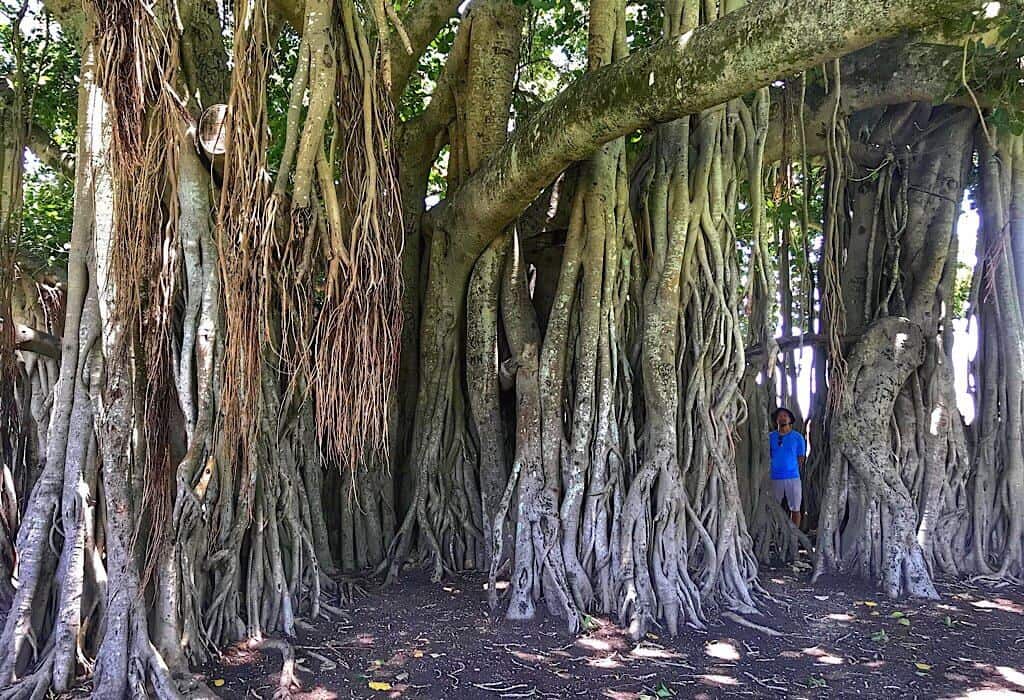 No luck with immigration
Eventually, we called immigration.
"No, that is the fee when applying from within the country the second time," the agent informed me. She was polite, we thanked her for her help and said goodbye.
Under normal circumstances, the expensive penalty tacked on to subsequent extension requests makes sense in order to deter perpetual visitors. We'd have to do a border run, something that is not possible right now because of the Aussie border covid restrictions. It was such an unpleasant surprise. I suppose we were hoping for some leniency given the situation with the pandemic and visitors are having to stay longer than intended.
New Zealand, Indonesia and other countries automatically extended visas for visitors already in the country – no fee, no application needed – because everyone staying put is better for the world – not just them.
We would have to pay at least AU$3,000 for the possibility of keeping to our original plan of staying until July 2021, possibly a few thousands more if they only give us a month at a time. I would need to renew my visa at the beginning of April.
Paying the fee doesn't guarantee an extension either. They reserve the right to deny an application altogether and there is no refund. There's no telling when New Zealand will open up to the much-anticipated travel bubble with Australia.
"I think it's time to leave," Trin said.
But Go Where?
We began a frantic pace of research. Where could we go that was open and safe? Do we go stay with Trin's brother or my sister in Phoenix – currently a major COVID hotspot? If we go back to the USA we need to change our health insurance and we could be stuck there longer than four months which impacts our taxes. All something we could deal with but are a major complication.
"Are any of the islands nearby open?" I asked. Then we can wait there for New Zealand to open. More clicking away on our keyboards.
"Let's go to Helsinki," Trin said.
"Where is that?" I asked.
"Finland."
Back to google to find out more about this city. Trin looked up visa requirements and what we would need to enter.
Could we really pack up in a few days and just end up on the other side of the globe with so little preparation?
"There's also Hawaii, we could pitch our tent on that beach in Maui again and stay there. Get around the island on bicycles like we did before," Trin suggested.
I wanted to stay
I was really enjoying this Airbnb and the idea of having a few months with a routine with swimming, writing, and research. We had a beautiful calm spot with very cool homeowners.
By the time we went to bed Trin was leaning toward Helsinki and I wanted to stay in Australia. My sister in the USA offered us a place to stay and the use of her car until we got settled. She was making the deal sweet and it would be awesome to spend some time with her talking and laughing by her pool in the backyard.
We decided to sleep on it and make a few calls in the morning.
Weighing the risks
In the morning I got up, had my coffee did my reading and then was ready to discuss it again.
Trin had been in all the forums overnight talking with thousands of others here in Australia who have also been shocked by the visa fees. No one had an alternative or legal way to reduce them.
Some people suggested letting the visa lapse and then getting an emergency bridging visa (BVE) within 28 days. But that would mean going illegal and having that on our record forever. Ironically that option is free, no penalty, just illegal. We did not even want to consider that. We may not like the rules but we are here as guests and feel it is our duty to follow the law – even if we spent the day carrying on about it.
I made a spreadsheet with all our options with the corresponding cost for each – visa fees, airline tickets, and cost of living. We wanted to compare both the risk and the cost of staying vs leaving.
To Hel With It (-sinki, that is)
In the end, we decided that it was time to leave, to bugger off, as they say. The costly visa game where approval and time given is seemingly drawn out of a hat was not a game we wanted to play. They have a right to make up their own rules and our right is to abide by them or get stuffed.
So, we're off to Helsinki, in the land of the sauna, Santa and Nokia, and the birthplace of Angry Birds and (for my geek friends) Linus Torvalds.
We purchased two one-way tickets to Helsinki. As soon as we received the email receipt and flight itinerary I felt the anxiety from the prior day evaporate. We made a decision and now we could move forward. I started to get excited about our new adventure.
For our first few weeks, maybe even months in Helsinki we plan stay in one place, we don't want to be a Mary Mallon. We hate to even risk the flight but coming from a relatively COVID-free country (currently 227 active cases in all of Australia as of Jan 17th) we feel we are a lower risk to people in Finland as long as we don't pick up anything on the plane.
We know it's not best to be moving around now, we had hoped to stay in Australia until things settled down – that worked for us during the first year of COVID.
Europe has already started distributing the vaccine. We hope that it is only a matter of time before we can move around freely again without putting others at risk.
Change Possible
Flexibility and willingness to change with the seasons is part of the nomadic lifestyle. I really can't complain about any of this. We are grateful to have spent so much time in Australia. It is the lifestyle we have chosen and it comes with it's own brand of bumps in the road. We still love our freedom to roam. Now that we have started our planning and I'm excited about Helsinki I think I would be disappointed if something were to happen and we got to/ had to stay in Australia.
One of my friends, Joe Martino, uses the phrase "Change Possible" as his podcast byline. His podcast is a weekly talk show about how to have better relationships and not react negatively to outside occurrences – like exorbitant visa fees from a country you are visiting.
Did we make it?
The story is not over yet. Did we make it to our Airbnb in Helsinki in these uncertain times?
---
*Border Hop: Many countries do not allow visitors to stay in the country for more than a specified length of time without going out and coming back in. For Australia that is 12 months. Our original visa was for one year with multiple entries allowed within the first year. Each entry resets the clock for a year. Our original plan was to spend some time in Bali near the end of our first year and then re-enter giving us an automatic extension in Australia until July of 2021.
Note: We still love Australia and its culture. The government….well to be fair I've not been in a country yet where everyone can be proud of all their government does. This does not diminish our love for the country nor would I call it a bad government.